Insight-driven businesses find success quite often. But have you ever wondered why? What makes them stand out from all their competitors and dominate the market? Yes, the correct answer is the customers. Your customers are the identity of your business, the new market-makers, and true indicators of success.
"If you're competitor-focused, you have to wait until there is a competitor doing something. Being customer-focused allows you to be more pioneering."
- Jeff Bezos
The only way to survive and become acknowledged in today's market jungle is to listen to your customers and employees on how you can improve the customer experience. Adapting to this fact will lead you to a leadership position in your business area. Let's check out why collecting insights matters so much and how you can use forms and surveys to get the best feedback! (We have also got you excellent feedback form templates to make things faster 😉)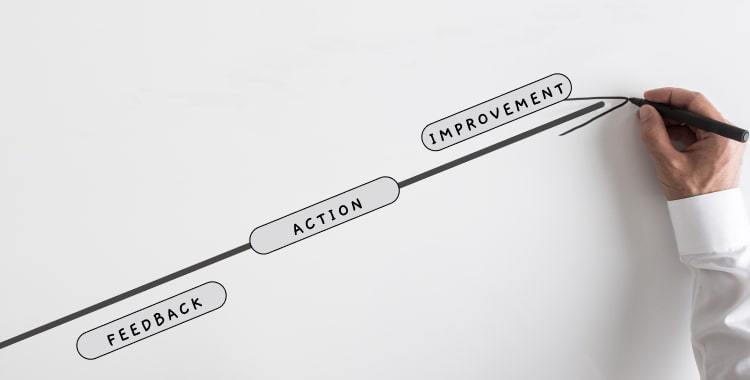 The route to success
Why do you need a feedback form on forms.app?
As a crafty and powerful survey maker, forms.app lead by example and always encourage its user to give feedback. The feedback provided by our valuable customers helps forms.app's developer team in a significant way. Developers also share their insights into finding the weaknesses and improving customer experience even more.
No matter where these insights come from, be it from customers, employees, or other people, they provide you with valuable data. Thanks to the feedback, you have an idea about what your customers want to see, or what your employees think you should be doing. While there are many ways to gather insights, surveys and feedback forms are among the most direct and effective methods. And make sure to use customer satisfaction metrics to increase the feedback quality even more. Let's take a look at them and then learn how to create powerful feedback forms and satisfaction surveys.
What is the best way to gather insights?
Being data-driven is undoubtedly a great attribute to have. There are, however, many ways to gather insights and use the Voice-of-the-customer (VoC) techniques. It is best to combine them and compare the data you receive for the desired effect. For instance, you can examine the behavioral data from Google Analytics, SEMrush, or your main dashboard and see if they match with user feedback or reviews. Here are other methods to use alongside gathering feedback:
Customer reviews
Collecting behavioral data
Showing random variations to analyze customer behavior (A/B Testing)
Support mails and tickets
Net-Promoter-Score (NPS)

Voice-of-the-customer
How to create an effective feedback form
Whether it is for consumers or employees, well-prepared feedback forms with effective survey questions bring the best results in every business field. By following a few simple steps, you can learn how your customers or employees feel about the product or service. Here is a quick tutorial to learn how to create a feedback form in seconds:
Now let us take a look at these proven tips and see how to create better survey forms.
Determine the objectives of feedback
Before starting to create your first form, first, you have to set the goal you want to achieve. Suppose you are making a form for training evaluation, for example. In that case, you can ask your employees for detailed explanations, briefs, or simply if they find the training useful at all.
By determining your main objectives, you can add the perfect feedback form question and get the answers in the desired format. You may consider adding these objectives to the welcome page of your training feedback form, as well. This way, your employees, or customers, if you're creating another type of feedback form, will clearly understand what information they provide.
Create customized feedback forms
While some of the customer feedback questions may seem similar and standard, it is always better to add your own questions and form fields. By doing so, you can get feedback on a specific point you like. Instead of starting from scratch, however, you will have an option to use free employee feedback form or customer feedback form samples. These feedback form examples will act as a starting boost and simplify the form creation process greatly.
Make them feel you listen to their voice
People will only give their honest opinions or care to write feedback in the hope of a change. That's why it is utterly essential to show the respondents that you value their opinions in the customer feedback forms or employee satisfaction forms. Having a feedback form alone shows that you aspire to grow and appreciate their opinions, and you can take this to a whole new level by emphasizing the importance of their feedback and experiences.
In case of any improvement, let them know first
Another way to show how much you value their feedback is by letting them know you have improved the specific points they pointed out in the past. To be able to do this, you have to collect feedback and contact information at the same time. This will increase customer retention or employee engagement; in fact, they will want to give more feedback on other points.
Encourage them to participate in feedback programs
Filling out surveys or client feedback forms can be time-consuming and boring for most people. Therefore, you may use a little encouragement to get them to participate in your surveys. These rewards can be a discount, a free demo, or even a single motivational phrase. Remember more feedback means more accurate data and more effective actions. Also, you can create more engaging surveys and feedback forms for them. This way, they will continue, finish their forms, and enjoy while doing so.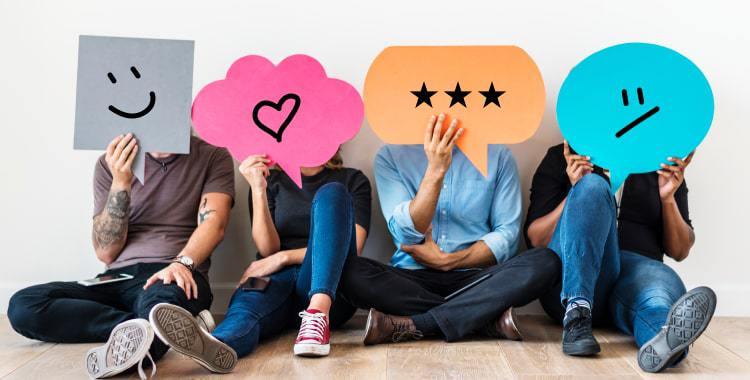 Customer feedback
Awesome feedback form examples
In order to make this process quicker and easier for you, forms.app offers great features and excellent feedback form samples. As a cherry on the top, these employee and customer feedback form templates are completely free and super simple to use. If you plan to gather insights about your customer service, for example, just select a related feedback form template and add your own questions.
As these feedback form examples are created and designed by an expert team, you can even start using them with a few changes. If you prefer, however, you will have every feature to customize and edit your forms and surveys. For instance, you can open the contact us form template and change the design according to your business area. Choose a free template and start creating custom forms in a faster and simpler way on forms.app!