Web forms have been used to collect data from customers by large and small businesses for a long time. The more information they can gather, the better their business will be. Because web forms help businesses to create a marketing strategy to improve their products and services and as a result, enable their business to grow.
Web forms are easy to use and can be embedded in a website, so customers don't need to email or call the company to fill out a form. The data collected from web forms give insight into what people like about a product/service, how often they buy something, etc., which helps make important decisions such as whether or not a service should continue. Eventually, business growth is achieved.
The benefits of using online forms
An online form builder is basically an application that business owners can use to create online forms. There are many types of forms you can use for your website, such as customer forms, job application forms, registration forms, order forms, complaint forms, and so on. Businesses can benefit from them in many ways. Possibly the most obvious benefit is, as said, that online forms help businesses improve their products and services.
Another benefit of online forms is that they can be used as a way to increase customer retention. As you will see, online forms are the most effective way to communicate with their customers. A customer who cannot contact a business by mail or phone will stop trying to reach you, but thanks to the contact forms, you will not miss your customers. Because it is very simple to use, you will attract more potential customers.
Unlike non-online forms, it is cheaper, faster, practical, easy to follow, global, and has more responses from customers. So businesses have no reason not to use online forms. All you have to do is find sites like forms.app where you can create a form for your website.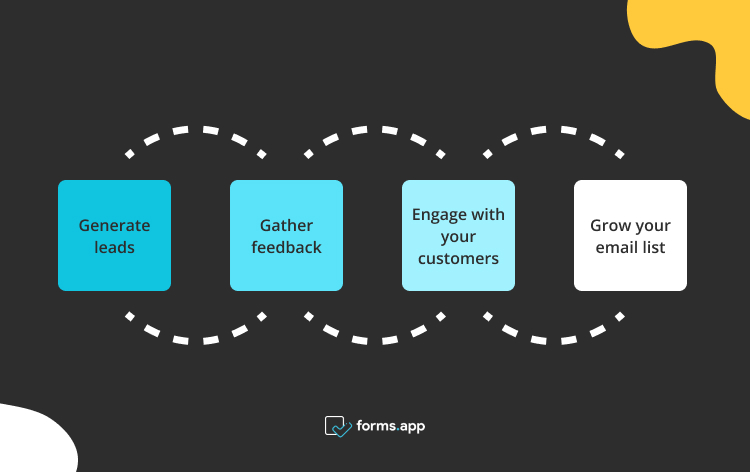 Advantages of using online forms
Online form elements you should include in your forms
In order to create a web form that is successful, business owners should include certain web form elements. The first element to consider is the purpose of the web form. Is it being used to collect data, sign up for a newsletter or mailing list, or just something fun like a contest or giveaway? Once the purpose is clear, business owners can move on to the next element - the web form's title.
The title should be clear and concise so that customers know what the web form is for. Then, it's important to consider the web form layout. How will the questions be presented on the web form? Will they be in a step view, or will they be in a list view? After that, business owners need to think about web form design. It's helpful to use web form elements that are consistent with the website design so that web forms don't stand out in an unsavory way.
Finally, business owners should be sure to include form instructions on their forms if their forms require additional information or instructions. It can also help to explain why certain questions are being asked. You can do this by adding a welcome page or an explanation field, and if you still have a question, you can visit our help center for further information.
Proven tips to make your forms as seamless as possible
The online form industry isn't something new. Most people started using web forms because they were "easy." Business owners who use online form builders find that time is saved by not having to create a web form from scratch, and they enjoy being able to easily edit their online forms as needed. Now that you have decided to create a web form, be sure to keep the following tips in mind for a smooth customer experience:
1 - Keep the web form short and simple; keeping your form too long can prevent a potential customer from continuing the form
2 - Use web form elements that are consistent with your website design
3 - Use ready-made templates so you will be able to use your time more efficiently
4 - Explain why certain questions are being asked and obtain consent from your respondents
5 - Make sure the web form works properly and is error-free
6 - Use conditions and the calculator to make your form more complex
7 - Avoid using industry jargon and use general words

Conclusion
The benefits of using online forms may seem hard to quantify, but the numbers don't lie. Online surveys and contact forms are two ways that companies can gather customer feedback on how they feel about their business or product experience. These reviews provide a window into what customers think about your business and will be able to help you improve at every stage in the customer journey – from attracting visitors with compelling content to converting them into paying customers. If this sounds appealing, we encourage you to try out some of these tips for making your business forms seamless for customers. Start to create online forms!