Are you looking for example questions for your demographic survey? forms.app has gathered 10 demographic survey questions that will be perfect for your questionnaire. You can use these questions or just use the ready-made templates or, much better, create your own from scratch.
In this article, you will learn what demographic questions are, some of the most common subjects, and how to ask demographic questions. You can find the key methods of creating demographic questions in this article. And also, you can see some example questions with answers and suitable form fields to use them with.
What is a demographic survey question?
The demographic survey is a method to gather data on population characteristics, such as gender, income, education, and occupation. It can be used for market research, political polling, and social science. You can gather data to understand the structure of a population and find the trends. You can use forms.app to create and customize your demographic survey.
It is easy to cover a wide range of subjects using demographic questions. How you can ask a demographic question may vary depending on the survey. Researchers can use different types of questions to collect filtered answers from responders, and only relative questions must be used. Most common demographic questions cover topics like:
Age
Educational level
Income
Geography
Religion
Marital status
Ethnicity
Gender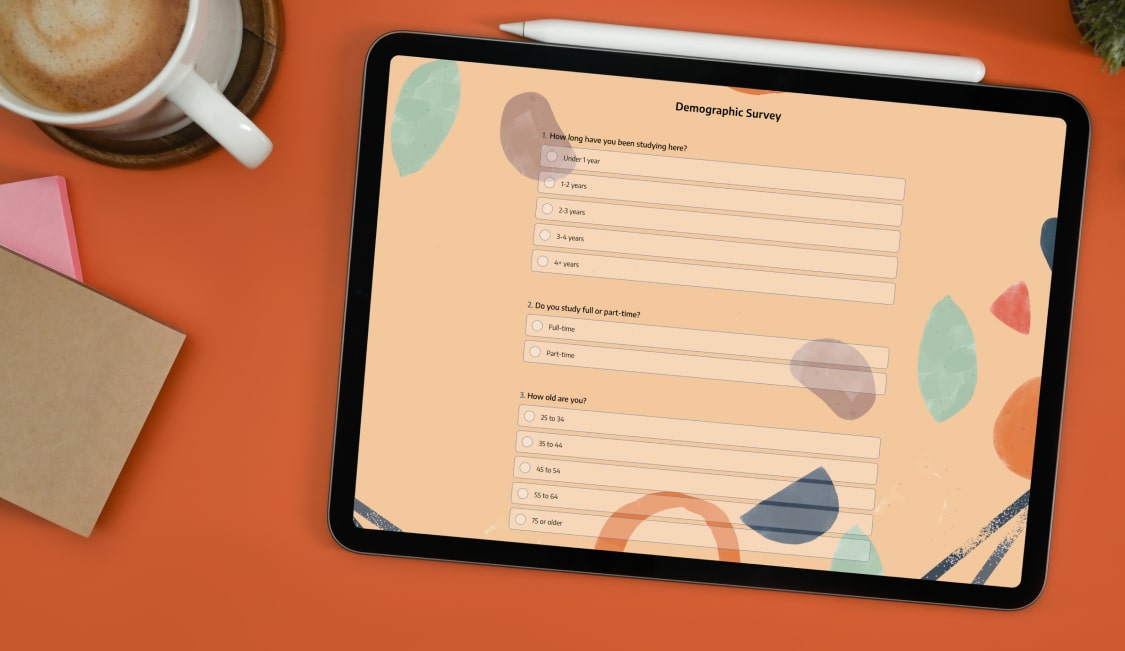 When & how to ask demographic questions in surveys
Your main expectancy might be a particular subject like age range, religion, ethnicity, or any other subject. While it's possible to get some of these via analytics tools, social media statistics, and other data sources, asking your audience is the best way. In these types of surveys, you also ask other relevant questions to collect complete information from your target audience.
For this reason, you should follow these important key factors; you should be respectful and sensitive. For this reason, you may ask questions related to religion, ethnicity, or marital status indirectly. If you are looking for a detailed way to create these types of questions, take a look at ethnicity questions in surveys and questionnaires article on forms.app.
Were to ask your core questions: Before addressing the issue of interest, ask demographic questions at the start of the survey. Clarify your question's aim is a research purpose.
Being considerate and sensitive: Be considerate of the respondent's privacy and show respect. Asking about sensitive topics like religion or money should only be done when it is absolutely necessary for the research.
Instructions about how to answer: Give the respondent specific instructions on how to respond to each question.
Which form fields to use: Make use of form fields and features. You can use an opinion scale, multiple selections, star rating, and other features of forms.app
The tone of voice: Be careful with your language. Keep your language simple and not too complicated, and consider the questions' cultural context.
Avoiding biased and leading questions: Unbiased questions are a must. The respondent's identity or ethnicity or any kind of leading questions must be avoided to get a better result.
Privacy and skipping option: Give respondents the option to skip demographic questions if they'd rather not respond.
Aim of the research and ethics: Lastly, think about the research's ethics. Be clear with survey responders about your research.
10 demographic survey question examples (& their answers) to use in your questionnaires
Collecting precise and qualitative data is crucial when conducting research. Demographic surveys are a great way. Researchers can learn more about the background and characteristics of their subjects by using these surveys. Here are 10 examples of demographic survey questions you could use in your questionnaire, along with some possible responses and form fields.
1 - What is your gender? (Single selection)
Male
Female
Transgender
Trans
Androgyne
Bigender
Genderfluid
Nonbinary
Other
2 - What is your current marital status? (Single selection)
Single
Married
Divorced
Widowed
I prefer not to answer
3 - In which city or town do you currently live? (text field)
4 - What is your monthly household income? (Single selection)
$2000-$4000,
$4000-$6000
$6000-more
5 - How do you identify your racial or ethnic background? (dropdown selection or a text field)
Hispanic
Latino
African American
White
Asian
Native American
Other
I prefer not to answer

6 - What is your primary language spoken at home? (text field)
7 - What is your highest level of education completed? (Dropdown Selection Field)
Less than a high school diploma
High school diploma
Some college
No degree
Associate degree
Bachelor's degree
Master's degree
Doctorate degree
Professional degree
8 - What is your primary mode of transportation? (Multiple selections)
Car
Public transportation (bus, train, subway)
Bicycle
Walking
Other
9 - Have you ever served in the military? (Yes/No)
10 - Do you see yourself as a member of a specific racial or ethnic group? If so, which one? (text field)
How to create your own demographic survey
Creating any kind of survey with forms.app is an easy task. You can use hundreds of ready-made templates to start with and customize your own survey with the easy-to-use interface. Create your demographic survey, customize your design, form fields, and theme, and you are ready to share your survey with others. Be sure to look at the sharing options so you can find a better way to publish & share your survey. Just follow these 3 easy steps:
1 - Choose a template

* * *
2 - Customize your form field

* * *
3 - Publish & share

Free demographic survey templates to use
On forms.app, you can use ready-made templates and these questions to create your survey faster and save time. You can easily collect data about age, gender, education, and more. You can save effort and easily gather and analyze your demographic data. With all the useful features, you can create the perfect demographic survey for your brand. Here are some free demographic survey templates for you: