The workplace is evolving and so are the customers that are coming in contact with those workplaces. Customer service is more important than ever before for many businesses. As the market is more competitive than ever, knowing about your client's wants and needs is a must. And this is where the customer service questionnaire comes in handy!
forms.app is a powerful survey maker that can help create a questionnaire to assess customer satisfaction. In addition to forms, polls, and quizzes forms.app allows anyone with a device to build a questionnaire. Among many helpful survey templates, you can easily determine the one best suits your needs and design your questionnaire online. Let's explore what you need to do to create an effective customer service questionnaire.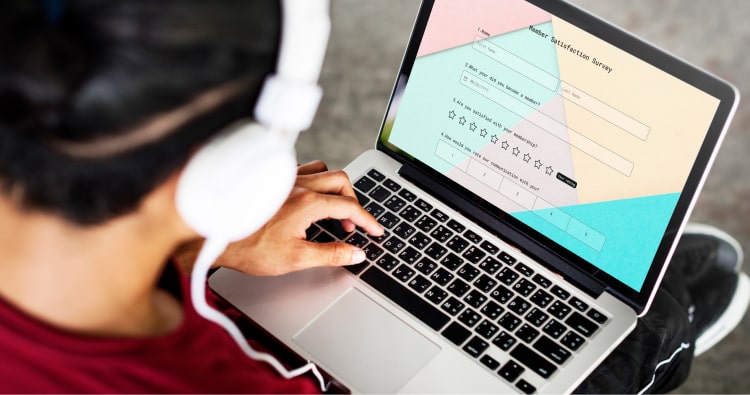 How to create a better questionnaire for customer service
Building a questionnaire to collect customer service feedback is super important to keep up with your client's wishes. Because, there are many businesses that offer the same qualities as you, and the number one step to shine among others is keeping an eye out for customers. There could be a small bump on the road to finishing a purchase and you may not even know about that issue.
By asking the right questions using a questionnaire maker online, you will get the insight you would otherwise not get. Afterward, it is a piece of cake to plan your future projects and increase your growth. However, you should be mindful in every step from choosing questions types to market research. Here are some vital tips to have in mind:
1. Keep it short and sweet
The first and most important tip for creating a great customer service questionnaire is to keep it short and sweet! No one wants to answer a long, drawn-out survey with 100 questions. Not only is it time-consuming, but it's also overwhelming and can lead to inaccurate responses. Stick to 10-15 questions maximum so that your respondents can easily provide honest and thoughtful answers.
2. Make it relevant
Another key tip for creating an effective customer service questionnaire is to make sure it's relevant to your business and your customers. There's no point in asking questions that won't give you useful information or that aren't relevant to your business. Stick to questions that will help you understand your customers' needs and wants so that you can better serve them. After asking the right questions, by acquiring the exportable data, you will have accurate customer feedback.
3. Ask the right questions
Asking the right questions is essential for getting useful feedback from your customer service questionnaire. Avoid yes/no questions as they don't give you much information to work with. Instead, opt for open-ended questions that will allow your respondents to really share their thoughts and experiences. You can also go with multiple choice questions on your client questionnaire.
If you want to know more about the available question types, you can check out the article called the ultimate guide to form questions: tips and types for more information.
Finally, make sure you're using the right tools to create and distribute your customer service questionnaire. There are a number of great survey tools out there that will make the process much easier and more efficient. Choose a tool that's easy to use and that will allow you to collect and analyze your data quickly and easily.
One of the best online survey maker with a helpful free plan is forms.app! forms.app makes questionnaires making online and accessible to anyone. You do not need to know coding to create surveys with the easy templates of forms.app.
You may have some questions in your mind about the differences between a survey and a questionnaire, and when to use which. If so, check out forms.app's blog to visit the article on differences between a survey and a questionnaire. Thanks to that article, you will have your mind at ease about the subject.
Free templates for collecting customer feedback
There are many templates to choose from on forms.app. They can help in subjects such as education, entertainment, data collection, and receiving payment. You can choose a survey, poll, questionnaire, or form according to your goal.
If you want to know the opinion of your customers on your business or product, here are some helpful templates:
Conclusion
By following these smart tips, you can create an effective customer service questionnaire that will help you gather useful information from your customers. Use this information to improve your customer service and make your business even more successful.
What's more, forms.app is a free questionnaire creator and helps with free survey templates. If you want to know more about customer satisfaction, you can also check out the article on creating a customer satisfaction survey. Go on and create your own questionnaire and collect data in an effective way!