Online clothing stores can benefit from using order forms to manage and process their sales. Order forms are a versatile solution that can be used by businesses of all sizes, and it provides a number of features that are ideal for online retail. Especially for small businesses ecommerce website is a big asset as it requires less manpower. Therefore, using an order form of some kind will surely lead to success.
If you're thinking about starting an online clothing store or looking for the best online store platform for small businesses to streamline your current operation, then order forms should definitely be on your radar. In this article, you will learn some of the benefits of using order forms for your online store and how forms.app can help you get started.
The benefits of using order forms for online stores
The benefits of using order forms for online stores are many. From saving time and resources to simplifying the purchasing process. You can easily maximise the benefits by using some smart features. And forms.app offers a number of advantages to its users. Moreover, even in the free plan you get to use all of them.
Customizing your forms and adding small touches to your forms make a huge difference. It is one of the most important things that guarantee success. Therefore you should always be mindful of the small but important parts. Now, here are the benefits of using online order forms:
First and foremost, order forms provide a simple and efficient way to process payments. You can start accepting payments immediately with built-in integration with popular payment processors.
Order forms make it easy to manage your inventory. You can quickly and easily add, delete, or edit products from your form and track your sales data over time.
They are a huge help when it comes to saving time, resources, and papers. It is good for both your company and the environment.
Order forms help people reach you easily. Anyone can visit your store from the comfort of their homes and place an order.
They also help with order accuracy, as orders taken on the phone may lead to misunderstandings. And a written order will eliminate this risk.
Order forms allow you to list and visualize your products in an attractive way. People like to buy products they can see in detail.
You can add units and measurements easily.
Finally, order forms offer several features designed to improve the customer experience, such as custom thank-you pages and automated email notifications.

How to create an order form on forms.app
One of the first things to consider when setting up an online store is how you're going to process payments. After all, without a way to accept payments, you won't be able to sell anything! Order forms provide built-in integration with a number of popular payment processors (such as PayPal and Stripe), so you can start accepting payments right away.
In addition to payment, you should also mind small details when creating your ecommerce forms. Because small details create the best result. Here are the steps to follow when creating your form:
Go to forms.app and log on to your account. If you do not have an account, you can create one in a matter of minutes.
Go to templates and choose the one that is best for you. It can be a clothing order form, or a T-shirt order form if you want to be more specific.
Creating a form from scratch also takes only minutes.
Customize the design, and the colors according to the colors of your company. There is also animated background options.
You can edit the questions and the fields according to your wishes.
You can make some questions required if you want them answered every time. These question could be their contact information or address.
You can add a product basket to list your products. You can add categories to your clothing store, such as skirts, dresses, pants, etc.
You can also add stocks, measurements, and different color options.
You can check the end result by touching the 'open the form' button.
You can set up a welcome page, thank-you page, and even a custom message to make your customers feel welcomed and appreciated.
Finally, you can embed the form on your website, or you can share it via email.
If you have any more questions on how to craeate online order forms, you can visit the blog of forms.app today!
Different features you can use in order forms
When it comes to online stores, one of the most important things is making sure that the customer experience is smooth and easy. Order forms were designed with this in mind and offer several features designed to improve the customer experience.
For example, order forms allow you to create custom thank-you pages. This means that you can redirect customers to a specific page after they complete their purchase and thank them for their business. They will feel appreciated when they see the page specifically made for them. And, customer satisfaction should always be priority number one.
Additionally, order forms can send automated email notifications to keep your customers updated on the status of their orders. These features are just a few of the ways that order forms can help you provide an excellent customer experience. If you have any more questions on the subject, you can visit this ultimate guide on building online forms on the blog of forms.app today!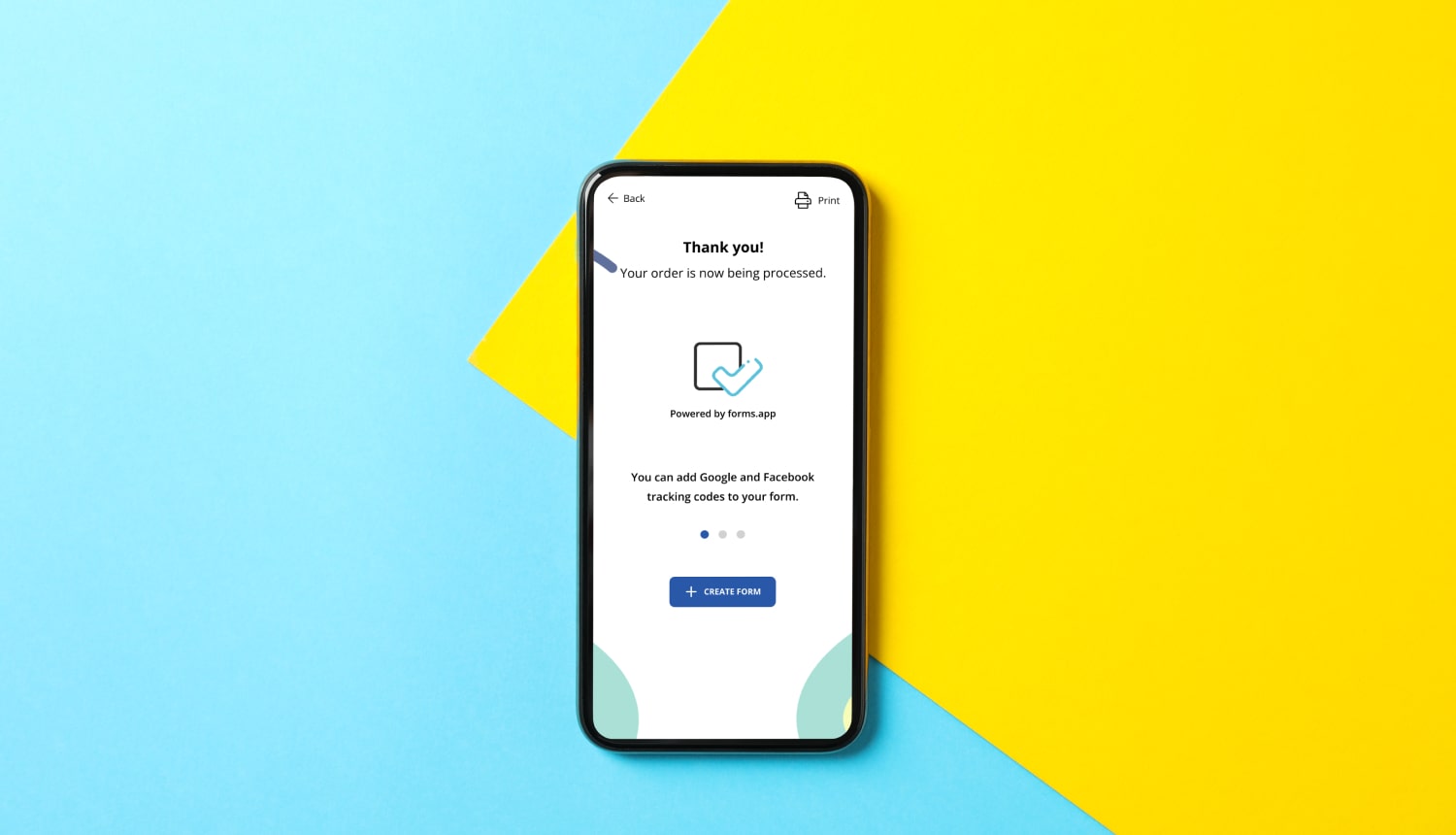 13 effective tips for creating order forms
You decided to open up an online clothing order store for your company. And after that, you may have gone through the best eCommerce sites for small businesses to find the most suitable one for you. And, without a doubt, forms.app offers numerous features and templates appropriate for anyone. It is especially a good eCommerce solution for small businesses as it requires no coding experience and is completely free.
But, just because it is the best platform for businesses of any size does not mean you can not change it. You can customize it however you want, and making small adjustments will set your business apart from the rest. Let us have a look at the tips for creating best order forms:
1 - Have a unique design
Attracting your customers at first glance is important. You should keep them engaged with a unique design of yours. If you use colorful designs and pictures, it would be the best. A good design will make your customers interested and ensure the form will be filled to the end.

* * *
2 - Keep the form as short as possible
People do not like looking at long and boring forms if they do not have to. If you keep your form as short as possible, you will guarantee that the visitor will finalize a purchase as they will not feel intimidated by the length. And having a finalized form is the end goal of every form.
3 - Ask only what is necessary
If you want to sell your products, list them. If you want to get the customer's address, ask an open-ended question. You can keep the form easy and simple by keeping the questions to a minimum. Using the 'condition' feature, you can decide which questions to show.
4 - Adjust product basket settings
You can visualize and list your products in product baskets. It means that you can categorize the products for customers to find easily. The categories could be skirts, dresses, electronics, cupcakes, etc. Additionally, you can add stock limits, colors, and details.

* * *
5 - Use conditions
You can add conditions to some questions. That means you can ask a certain question, and the next question would be shown according to the answer of the customer. Thanks to forms.app, setting conditions on questions is no trouble.

* * *
6 - Keep it visually interesting
Just like you have a say in the design, you can decide on the images shown. Customers like to see what they are purchasing in detail. If you put simple descriptions and realistic images, the customers will know what to expect.

* * *
7 - Add stocks and details of products
You can easily add details such as stock information, color, size, shape, fabric type, etc. When ordering online, customers should have no questions unanswered. When they see all the details when they are ordering and decide with that information, they will always get what they want.

* * *
8 - Use safe payments gateway
forms.app allows its users to use one of the multiple safe payment gateways. One of the most important aspects of online ordering is payment. You need to make sure you are going to get your money in a secure way.

* * *
9 - Make the form accesible
Forms created on forms.app can be viewed and completed from computers, mobile phones, and tablets. It is essential to make your form accessible in multiple ways, as nowadays, people buy stuff even when they are having lunch.
10 - Keep your notifications on
You do not want to miss out on any new orders. Therefore, keep your notifications on the be notified as soon as possible. When you see an order has been placed, you can start preparing right away.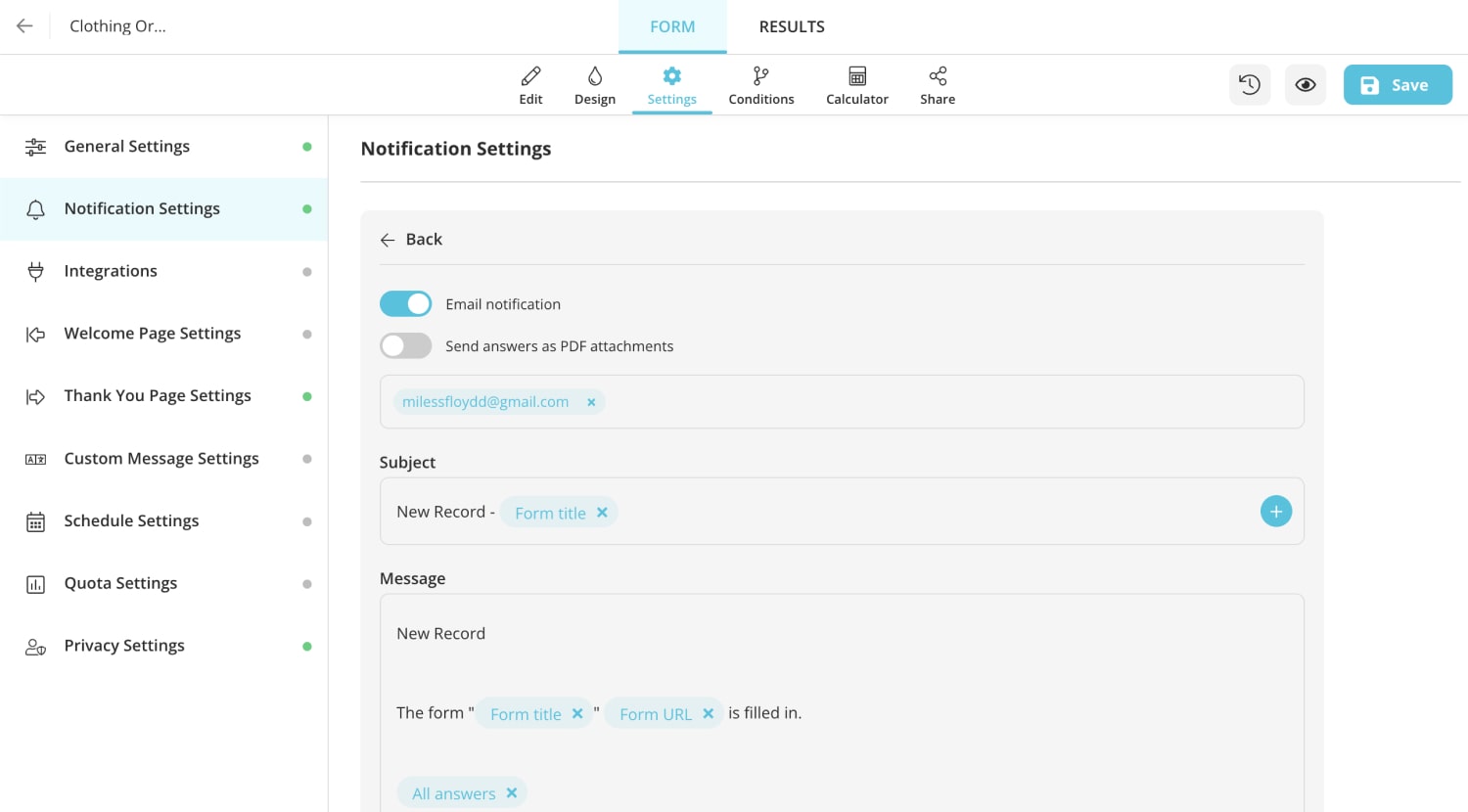 11 - Make the address field required
If you make the address field required, you will save yourself from the trouble of calling the customers to get their addresses. Sometimes people may make mistake of leaving the address field empty.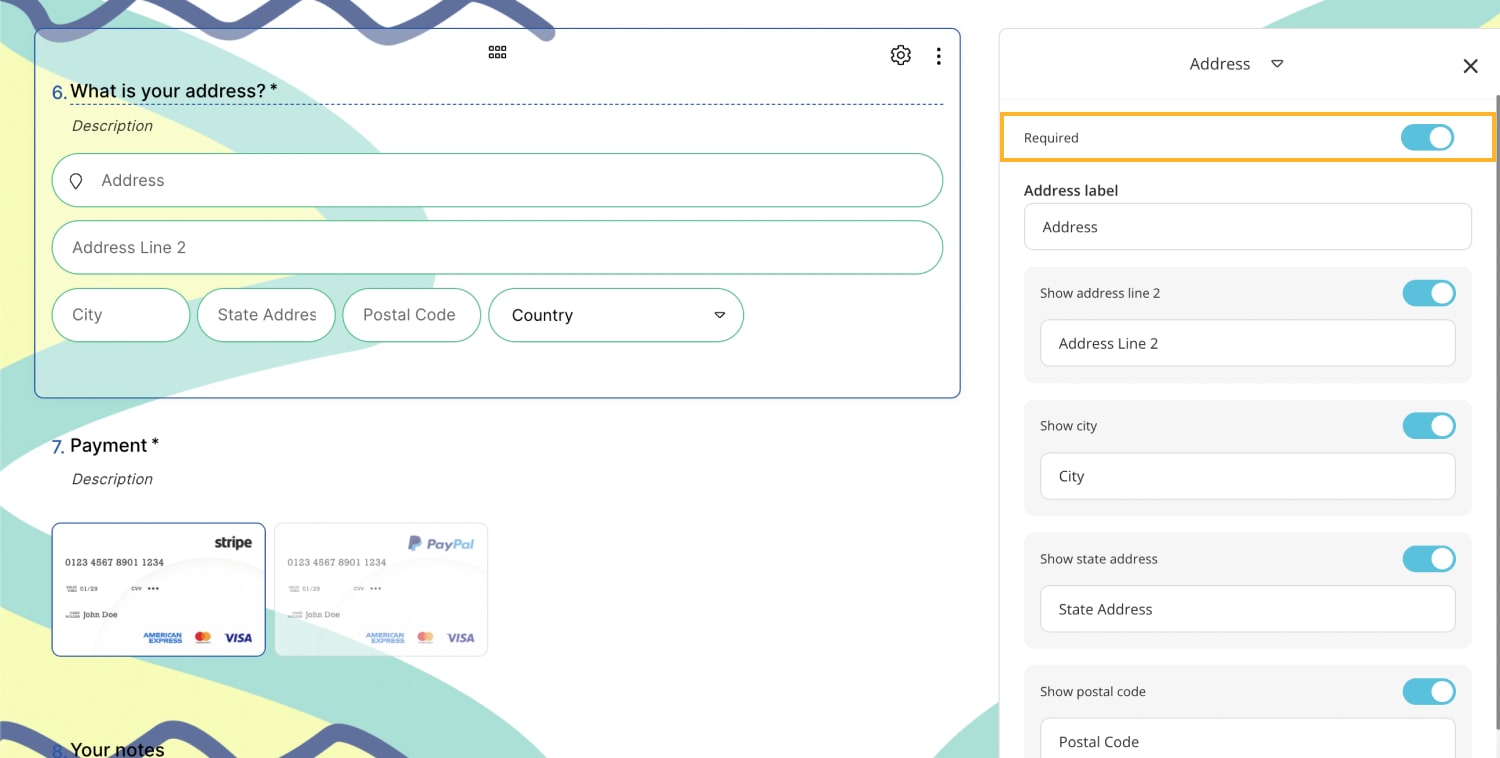 12 -Ask your client if they have anything to add
You can add an open-ended field for your clients. You can ask if they have requirements or wishes. They may want a product you have not made yet. Or they may ask to be informed when another product that is out-of-stock is available again.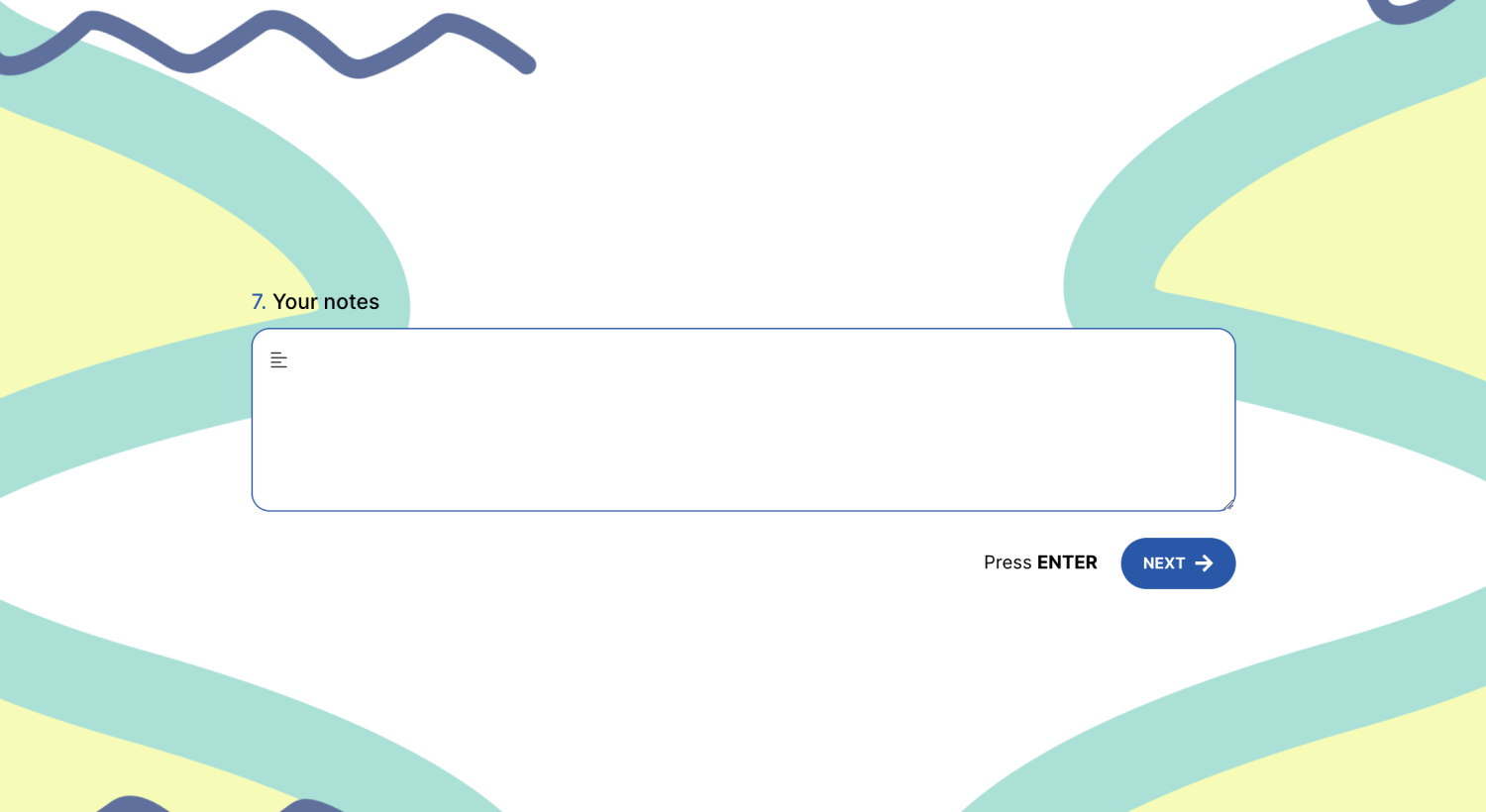 13 - Embed it or share it with your clients
When you are done with your form, the next step is to share it with your audience. You can easily embed the form on your website or share the unique link with your clients. Either way, you can easily collect orders.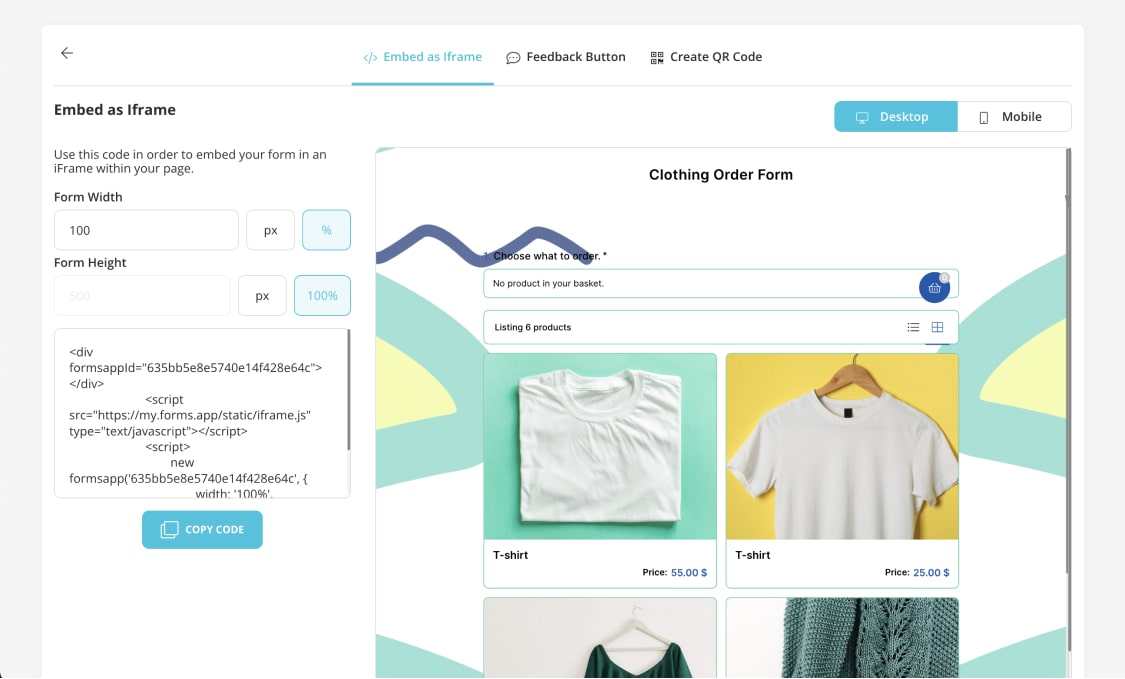 Conclusion
We have gathered this information to give information on the benefits of having an online store with order forms. This online store can be about clothing, food delivery, or any other product. You can have this online order form embedded in your website, or you can use Instagram. Selling on Instagram is another popular way of selling stuff.
And forms.app is a great way to make your forms and surveys. It is an effective form builder that requires no coding experience and no money. Therefore, it is the best option for e-commerce for small businesses. There are so many benefits to creating your order forms. And maximizing the result by minding the smart features is up to you. Sign into forms.app and start selling with an order form today!