Are you looking for an efficient way to collect data from your guests or potential customers? Data is vital for your company to grow as a business. It is possible to collect important data from your website guests or potential customers through the online registration form. These forms will make it easier to collect information for your business from your customers, members, or participants and will allow you to learn useful information.
Gathering registration information and getting people to contact you is not only a very functional way but also has many benefits. You can have them contact people through these online forms on your website. Creating an online form can be quite complicated for most people. The process is actually simple. To simplify the process, in this blog post, we will talk about what a registration form is, how to make your own online registration form, and use ready-made registration form templates.
What is a registration form?
On websites, the value of well-designed registration forms is frequently underrated. However, the registration form is the first way that potential consumers can get in touch with your business, particularly when it comes to digital customer acquisition. A registration form is a document with a set of fields that a person fills out and sends to a business or individual to register for an event, program, membership, list, and so on.
Using the online registration form, you may gather contact information and encourage people to interact with you. For the purpose of enrolling customers in subscriptions, services, or other programs or plans, businesses utilize registration forms.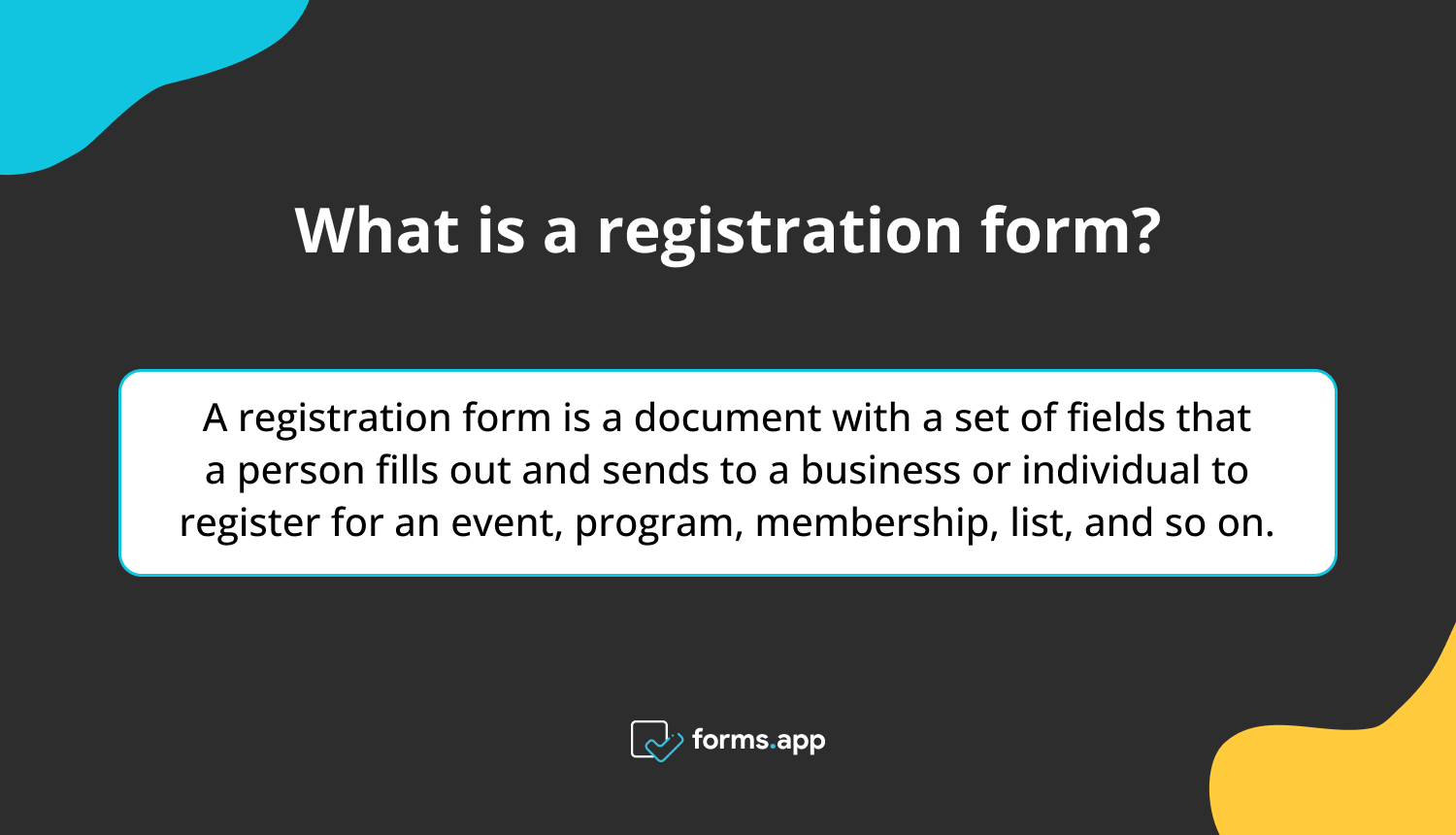 What is a registration form
An online registration form is very easy to use for both you and your customers. You may quickly construct a form and find out additional information about the people that fill it out. On forms.app, you can find the right form for your business, school, community, or book club. Using forms.app's free templates, you can create your own online forms in no time.
Benefits of using a registration form online
The answer varies for customers and organizers. First, let's take a look at the benefits it will bring to you as an organizer.
Saving on time
Small registration fees
24/7 secure online payment
Central data management
Event efficiency increase
Detailed reporting
Fundraising and donation option
It also has advantages for customers. Let's look at these now.
Saving on time
Improved customer support
Secure payment option
Automatic confirmation receipt
Early registration pricing
Receive email and notifications
Take advantage of discounts
How do I create my own registration form?
Online forms have the same basic features for almost every form and survey. And we realized that we should have these online registration forms. Creating these forms is a very important way to collect information or data about events, guests, and guests. In this section, we will explain step by step how to create an online registration form with forms.app's form builder. Let's take a quick look at how to create a free online form!
Step 1: Create your forms.app account. Before starting your form, you need to create an account or log into your account if you have one. You can create an account for free.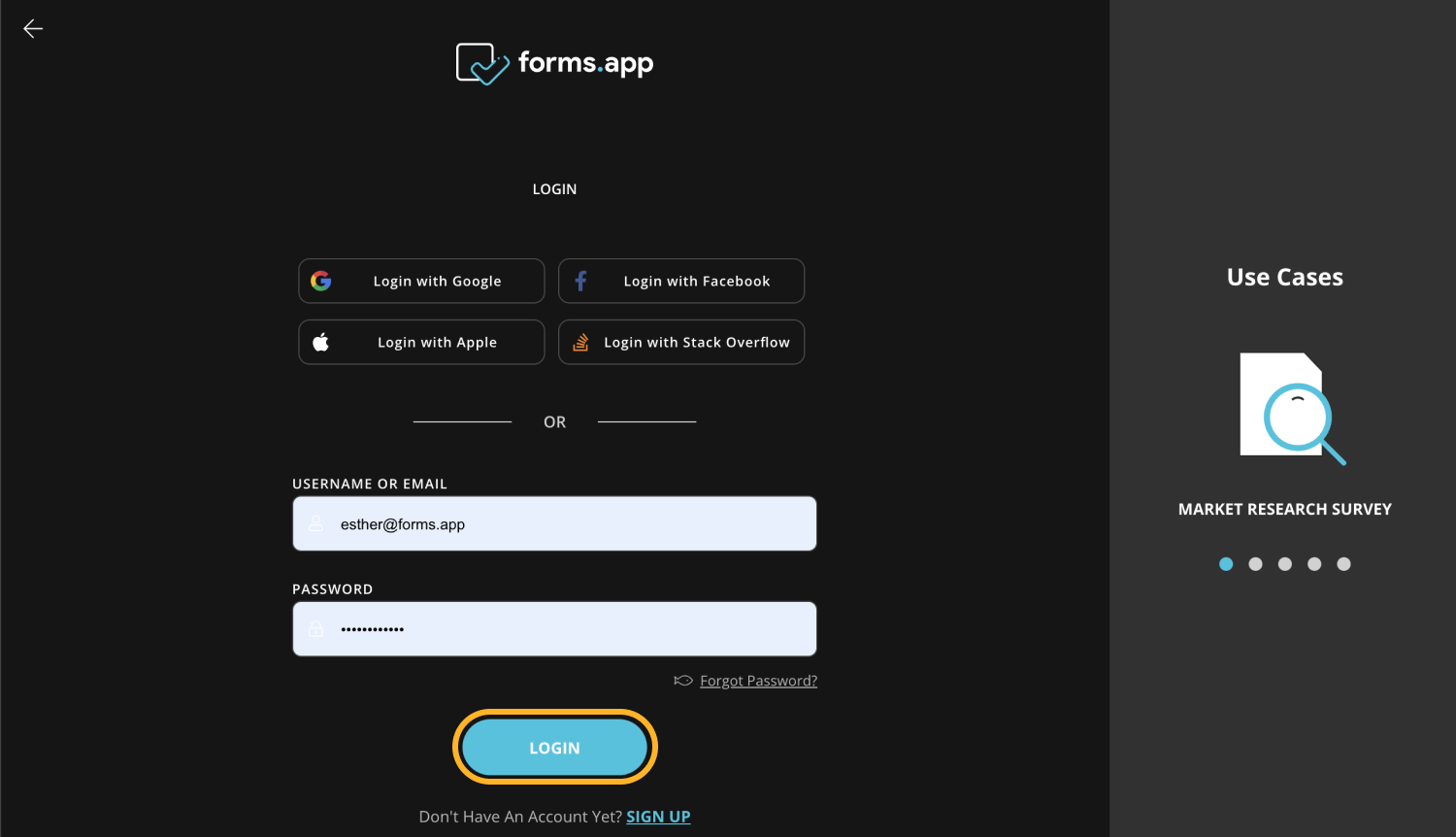 Log in to your forms.app account
Step 2: If you are going to use a ready-made template, you can choose one of the registration forms you like and get started.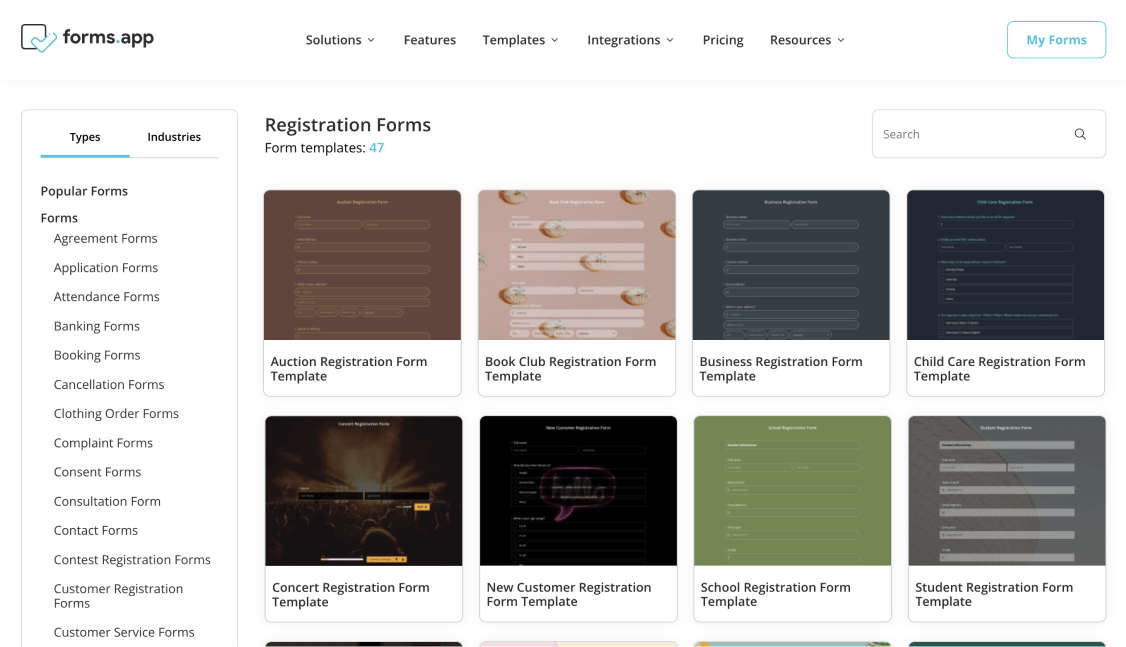 Choose a ready-made registration form template
Step 3: If you are going to create a registration form from scratch, create a blank form from scratch using forms.app.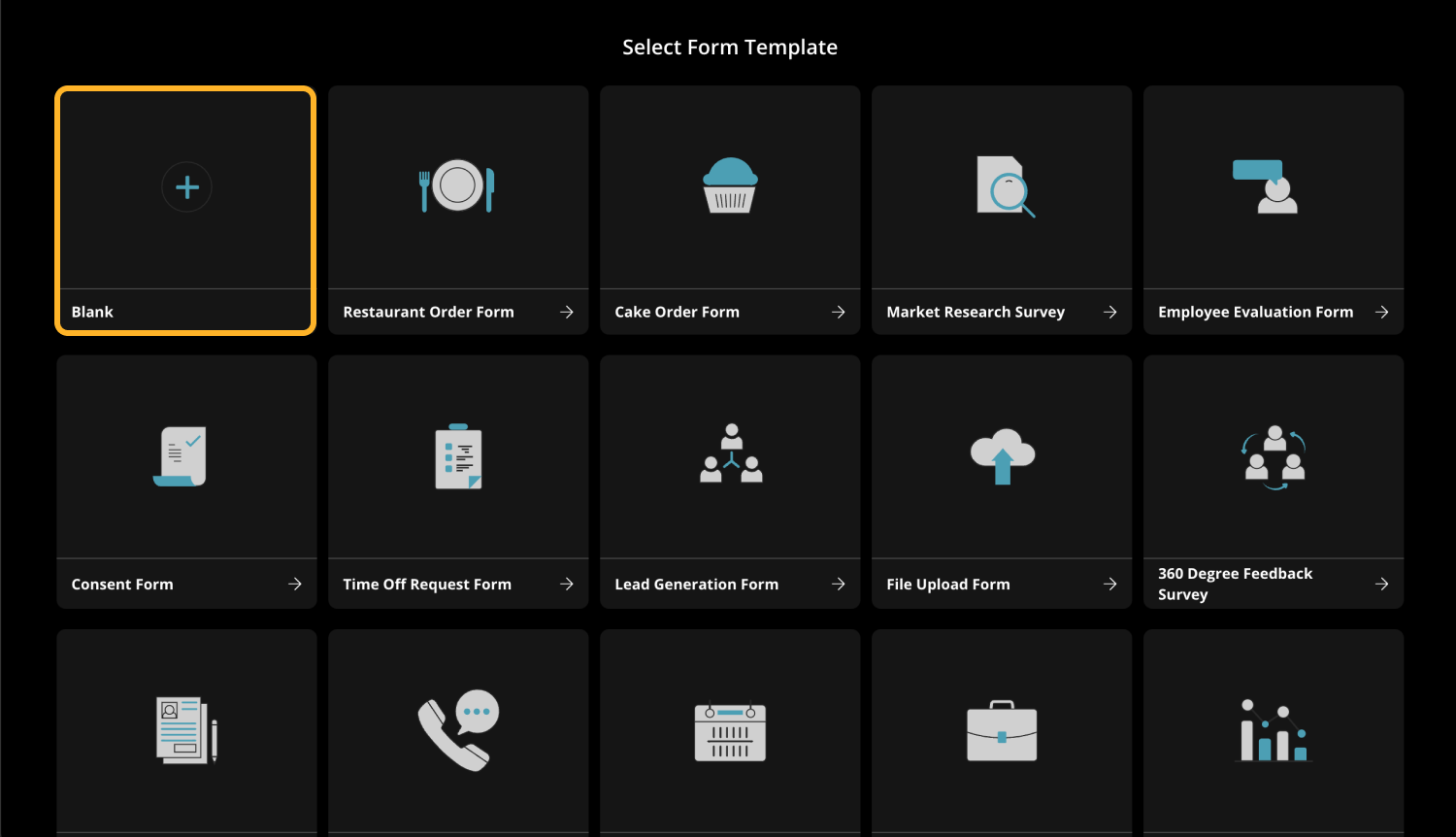 Create a blank form from scratch
Step 4: Add the questions you need to your form. Customize your questions to include important details such as contact information. For example, the data you may collect may be email addresses, contact information, and social media.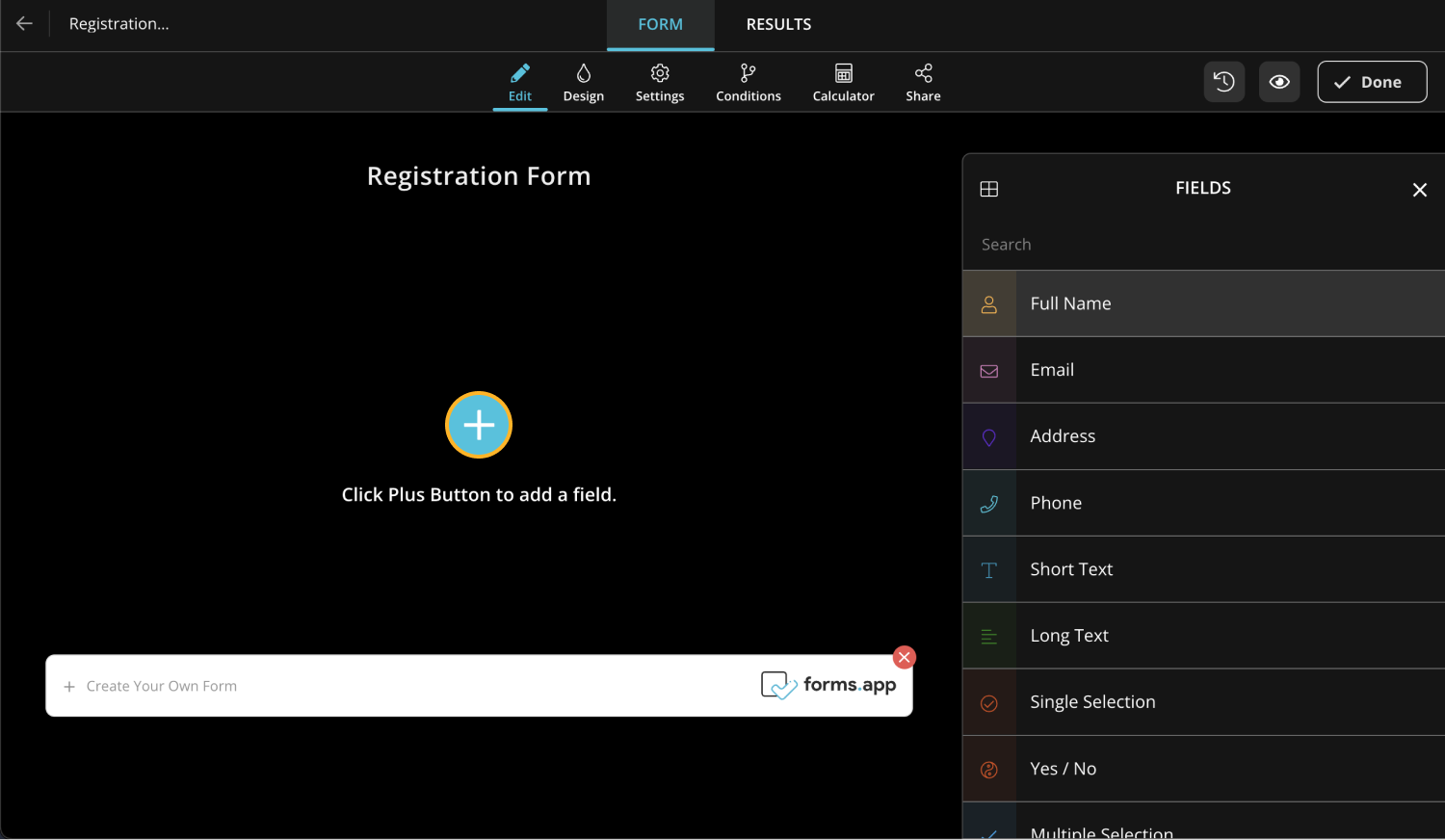 Add form fields and questions to your registration form
Step 5: Edit the settings and use conditional logic. The "Settings" tab has some features you might like. For example, you can add "welcome and thank you" pages.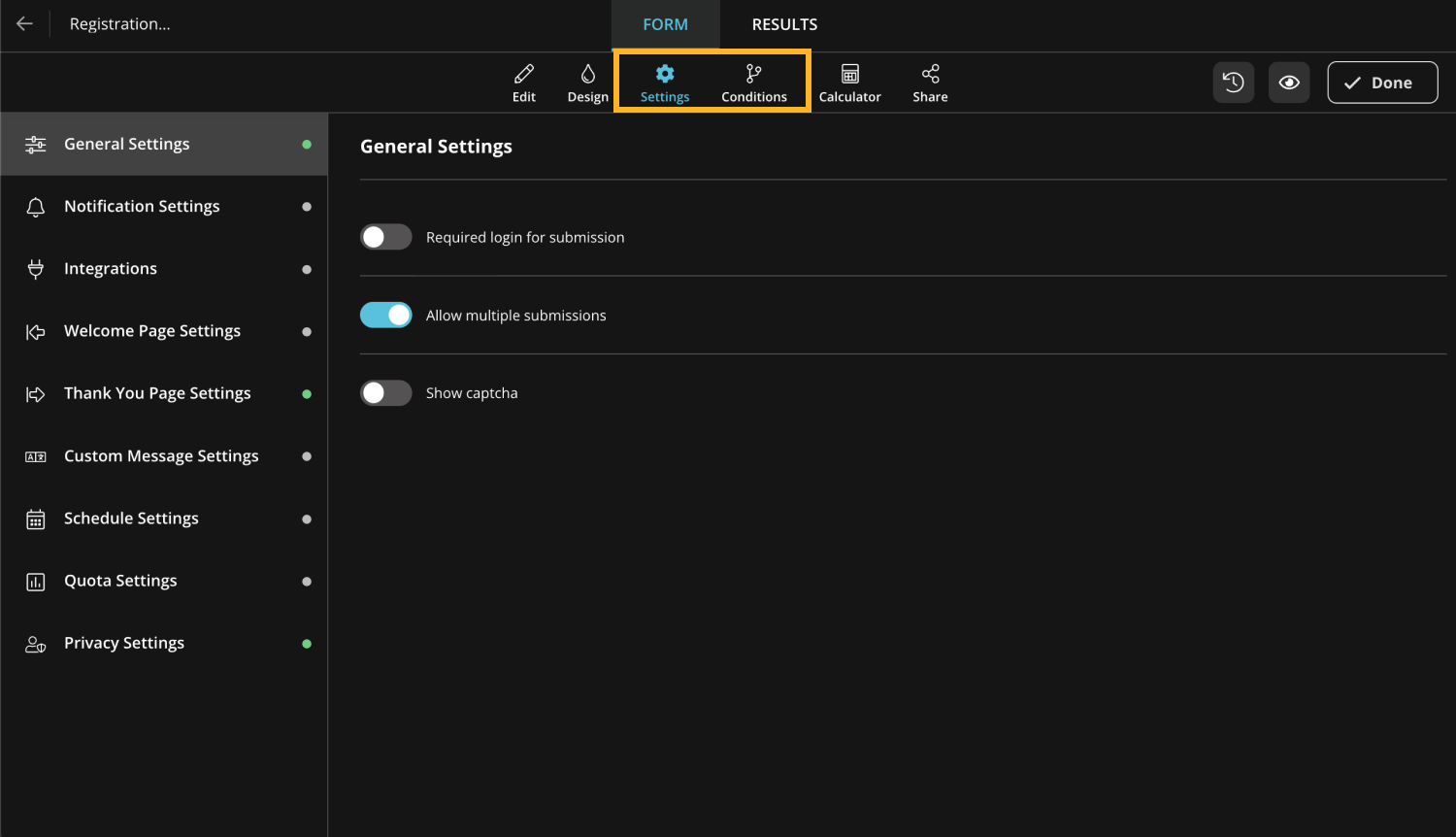 Adjust the settings and add conditions
Step 6: In the "Design" tab, design your form as you wish, use themes and customize it as you wish.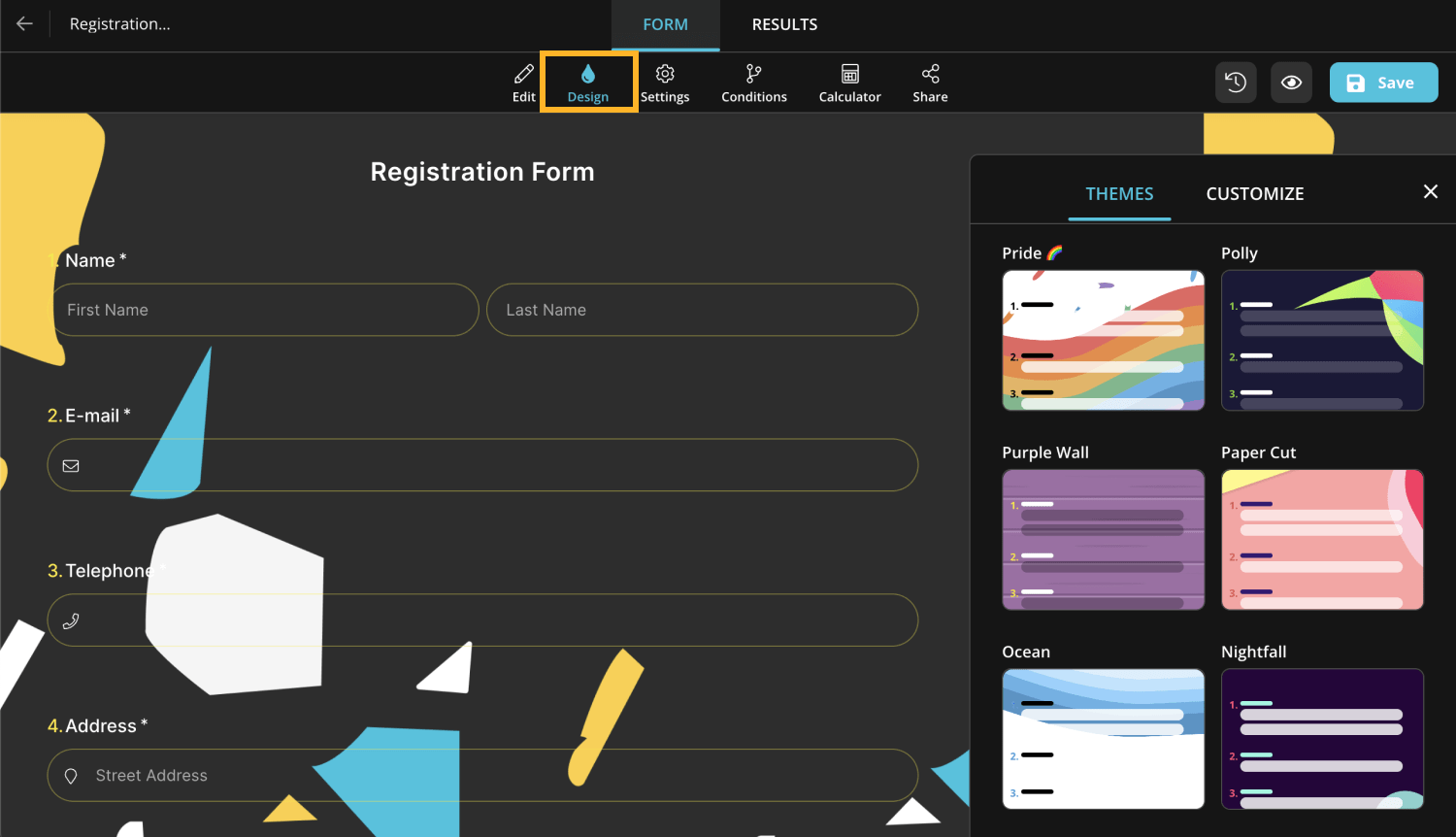 Customize the design of your registration form
Step 7: Save as the last step and click the share button, and you are ready to share your designed online form.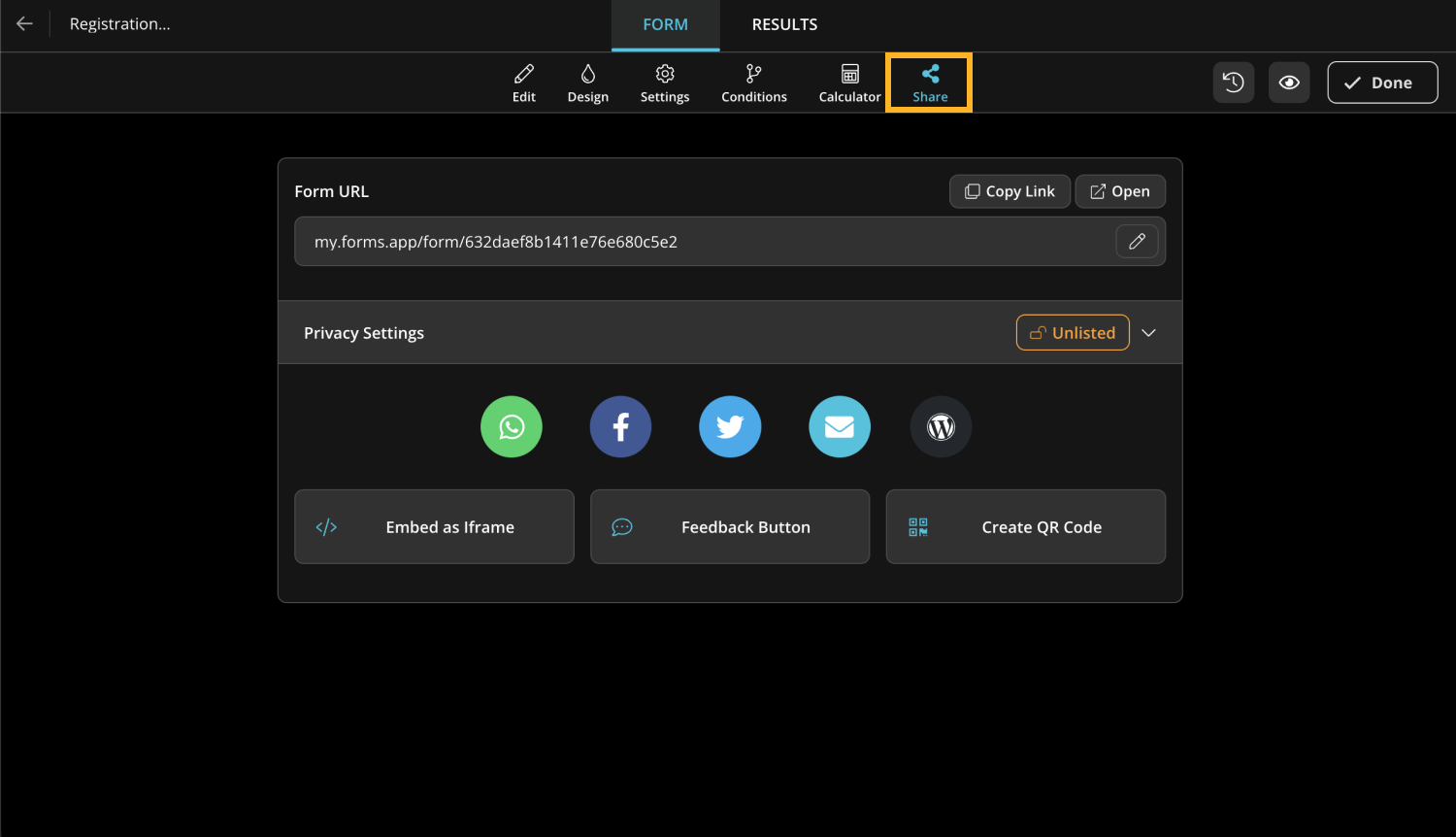 Save and share this online form with your audience
Free templates for creating registration forms
Creating online registration forms has never been easier. Thanks to the ready-made templates in forms.app, you can create a registration form very quickly and effectively. The amount of features that forms.app offers you an online registration form free and will help you with any form or survey needs. These registration form templates come with general questions or form fields that you'll likely want to add to your form. Naturally, this will save you time and help you create better forms and surveys in less time.
Summary
A powerful form is good for any organization, event, job, education, etc. It allows people in your audience to sign up and monitor and collect vital information about individuals during the pandemic. A lovely and easy-to-use registration form gives potential attendees a good first impression of your company and draws more people to your event. To create such a form, it would be very useful to use forms.app, which has many templates and is free to use. Register or sign in to forms.app for examples of registration forms and more.