Along with the changing and developing world with technology, many habits of human beings have also changed. Eating habits, dressing habits, and more keep track of time and keep up with change. The culture of shopping is also a part of this change and develops itself over time. Everything moves more quickly now, especially with the widespread use of technology and the internet. In addition, it paved the way for the change of this shopping culture with the increase in the use of the phone at a very young age.
One of the biggest reasons for this is that people of all ages are affected by advertisements. With these advertisements shown on televisions and phones, people tend to buy more easily. Moreover, while shopping used to require effort, nowadays it is enough to click a single button. People now prefer to buy things they can buy from the market online. As a result, people have become more accustomed to shopping from home. For this reason, making attempts to sell online is one of the most preferred jobs in 2023.
Why do you need to start selling online?
Deciding to sell online is so popular these days; however, it can be difficult at first. Especially if you don't know much about this business method, you will approach this idea with fear but knowing the good sides of this job will encourage people to do it. Online store businesses are a great way to start a new business because usually, you can spend less money on this job if you don't want to take risks. Opening a shop online is a great advantage not only for beginners but also for those who want to grow their businesses.
1 - First of all, your business start-up costs will be reduced by almost half because there are no costs such as electricity, rent, and workers while starting an online business.
2 - Those who want to deal with e-commerce do not have to stay in one place because they can do this from anywhere.
3 - If you become a popular seller, you can increase your profit and earn more income.
4 - After you set up your online store, you won't have to waste any more time because a system takes care of this for you; all you have to do is ship incoming orders.
5 - In addition, online shopping sites provide analysis to the seller, giving statistics about which product is viewed and sold more.
6 - Finally, you can grow your business with access to customers from all over the world thanks to an online shop.
How to find products to sell
While online shopping for a business is always a good idea, sometimes you just don't know what to sell. Finding and selecting the right product to trade can be challenging since you have to determine how much it will cost you and how much you will get in return. Finding the most popular, trending products and starting to sell them in your online store will take you one step ahead. Even selling on Instagram will help you to increase your income; the only thing that you should do is decide. While finding a product, one of these methods may be suitable for you. Then you can find a satisfactory online store builder and start your e-commerce business.
Dropshipping: Dropshipping is a type of online retail. This method allows retailers to purchase their products from third-party sellers and ship them as soon as an order is received instead of storing them in a warehouse.
Hand-made products: If you trust your dexterity, this is for you. You can buy materials cheaper and put higher prices on your handmade products. Accessories such as handmade necklaces, earrings, and bags are very popular and trendy in this field.
Print on demand: This sales method is to print when there is a demand, as the name suggests. Special prints are made on demand, especially on products such as books, sweatshirts, t-shirts, and mugs. If you would like to test new products or do not want to have a stock of merchandise, print-on-demand is the way.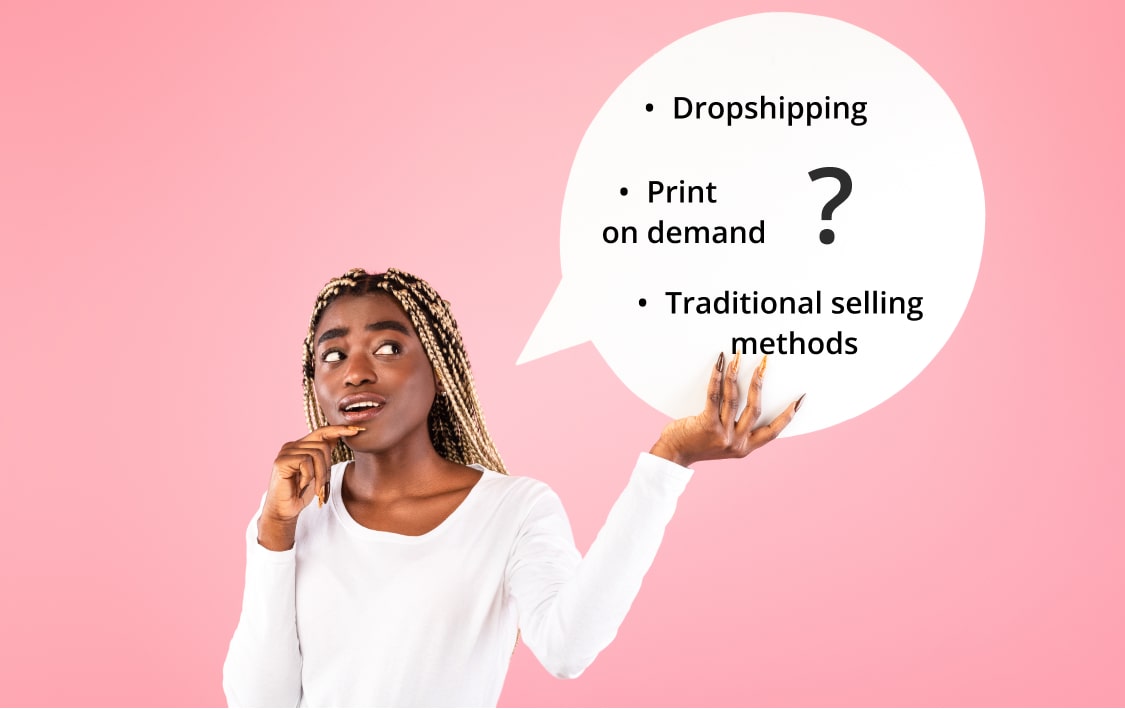 How to set up your online shop
Now that you have chosen which product to sell, you must decide on which platforms you will sell these products. Starting an e-commerce business may be challenging for you at first, but it is rather easy. There are many different options where you can sell products, and you can use all of these options if you want. Selling in many places without relying on only one platform will also affect your business and recognition. In addition, it helps you earn more money by increasing your profits. Your potential clients will have greater faith in you if you organize your products into categories and thoroughly describe their features.
e-Commerce platforms
E-commerce websites are advantageous in a variety of ways since many of them let you sell for free, or they may demand a tiny commission. You can put all your products on sale in different retail online stores and benefit from their different customer potentials. According to the balance small business website, the most used e-commerce sites in 2023 are Shopify, BigCommerce, and Volusion, respectively. Using these popular e-commerce sites, which are frequently used, will increase your sales speed.

Opening a website
If you want to do a retail business online, opening a website is another way of selling. You can create your own retail store, and you decide every detail of the website and its appearance. When creating your own website, you use the entire site to promote yourself, which is a method that will affect your sales. These are some tips for you to follow when setting up your own website.
1 - First of all, you need to find an impressive brand name for your site.
2 - Then you can set a theme according to the product you will sell when creating a website.
3 - Apart from these, determining shipping options and payment options is also an important part of your website.
4 - Finally, you must advertise your website and persuade customers to buy from you.

Creating order forms
As a final, order forms are just as effective as the others. If you do not know how to set up a website or if you find it difficult to become a member of e-commerce sites, creating order forms is just for you. The free online store builder, forms.app, provides facilities to fulfill all of your requirements. All you have to do is create order forms, edit them, and share them with your customers. In addition, you don't even need to spend time creating the forms; you can use one of the ready-made templates. Let's check the features of forms.app and tips for creating an order form!
1 - Product Basket: It is an aspect specifically designed for online order forms. ıt helps you add your products to your form without wasting much time. When using the product basket, you should pay attention to the following:
Thanks to the product basket, you can easily show the names, ingredients, prices, and photos of the products in the form.
You can give your product a variety of options, like color, size, and pattern.
You may make it easier for clients to find what they want by classifying the goods with the product basket.
2 - Ready-made Templates: Thanks to the many ready-made templates that forms.app offers, you can start adding your products in no time.
3 - Payment Methods: By offering reliable payment options such as Stripe and PayPal, you provide convenience for both your customer and yourself. In addition, forms.app does not charge any commissions on payments you receive.
4 - Thank-You Page: You can give the message you want to your customers by adding a thank you page to the end of your order form.

If you want to start e-commerce and earn money as soon as possible, download forms.app and benefit from all its features without wasting time. Moreover, do not forget to use ready-made templates specially prepared for you to create an easier order form. Here are those templates:
Tips for success in eCommerce
While people are under the influence of the digital world, it is a must for sellers who want to do e-commerce to change and develop themselves. Sellers must do business by paying attention to the changing trends and popularity; otherwise, it is very difficult to be successful in e-commerce. Here are some tips for success
The customer is always right. Being customer-centered will add value to your brand.
Don't forget to add pictures showing every detail of the product
Be active on social media. Don't forget! a lot of your customers will come from there.
Use a site where people can also buy products over the phone.
Take into account the suggestions and complaints of customers. As Bill Gates puts it: "Your most unhappy customers are your greatest source of learning."
Conclusion
In brief, in the ever-changing world, there is no one way to make money anymore; on the contrary, there are many different methods and some of them are online. For this reason, keeping up with innovations and following them will be better for both you and your career. Use forms.app and create your order form today to get started with e-commerce!