Creating an online form to take orders might just be the thing you need in your business. With great customization, payment methods, and useful features that forms.app provides, taking orders online and keeping track of them will be a piece of cake!
What is an online order form?
Having an online presence for your business, whether large or small is quite important. Being online comes with great advantages. Reaching more people, managing business-related affairs, etc. are hard to pass on. A great advantage this provides is getting orders online. If your business takes orders from customers, having a great-looking online order form will be beneficial.
An online order form includes whatever product or service you're offering. Customers can pick or describe what they demand, and you can get it ready for them. Instead of having to contact your business directly, they can just make an order with the online form. You can add images of your products, descriptions, prices, and whatever else you need. This way, customers also have a menu that they can browse. You can add a payment field and have customers use their credit cards to pay you directly. You can add a field for order notes so that customers can leave notes on their orders.

Selling online
How can online forms help you transform your business?
When you make yourself an order form, you get rid of many unnecessary steps. Instead of having customers browse the menu and contact you separately, having to ask for more information, and paying, they will be able to do all of that within a single form. Moreover, you can set it so that you get notified whenever an order is submitted. This should make it easier to manage orders. Also, if you're interested, you can easily view what item is in high demand thanks to the "Results" tab of forms.app.
Another great thing about online forms created by forms.app is that you can embed the form in your website. You can have your customers directed to the order form by clicking on a button, so that they can immediately begin.
Being able to design your form freely means that you can make a very good-looking, comprehensive order form. As a powerful store builder, forms.app allows you to add images of the items, your logo, colors that represent your business, and more. You can make your business appear professional, and urge your customers to place an order. These are easier and more practical compared to an eCommerce store. With all these benefits, your business can:
Manage more orders
Reach more customers
Appear professional
Be more effective
Be ready to grow
5 awesome points to create better order forms
There are some key elements as you create an order from. We wouldn't want our users to miss out on the opportunity to create a great order form. So we decided to give some tips to create order forms for businesses. For further information, you can check our guide to create an online order form.
Have images that accurately represent your product
We think it's important that you include an image that is not only relevant, but also faithful to what you actually offer. If your customers get what they see, they will develop some trust. And having loyal customers will benefit you.
Allow online payments
It's quicker to have customers pay directly in the form itself. Otherwise, at least include a field that determines the manner of payment. You can easily do all of that in the "Edit" tab of your form builder. Just pick whatever system is plausible to your situation.
Make use of the thank you page
Our thank you page can be set in the "Settings" tab. We advise you to have some sort of order summary on the thank you page, and some information as well. This will help customers feel acknowledged, in turn, find your business reliable.
Check out advanced features
forms.app's advanced product basket feature is great for creating order forms. You can make it so that when a menu item is selected, they get to pick more options. For example, when they pick a burger, it allows them choose extra ingredients, size, and so on. These option are quite easy to set up under the "options" menu in product settings.
Design your online form well
There are lots of customization options included in forms.app. You can pick one of the themes if that suits you, and you can add your own background image to have your business' logo. We have CSS support, so if you're experienced, it's possible to create a great-looking form! A well-designed form might actually interest customers and make them place an order. Moreover, our easy-to-use form will show how professional your business is.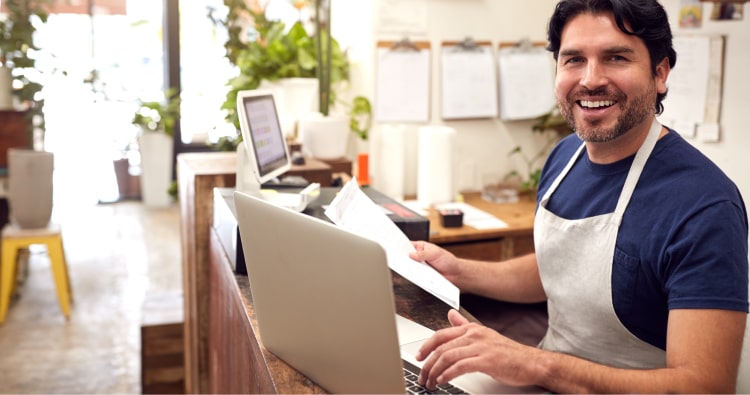 A happy storekeeper
How to share your online form and get orders
After you're done with your online order form, it's time to put it into use. You'll realize that you can go to the "Share" tab at the top right. There, you can choose to copy the link, send it by email, and more. However, it might be the most effective if you embed your order form into your website. You might not know how to do that of course. Worry not! forms.app is quite easy to use, and for website developers, we provide a code so that it's simple to embed the form. Here's how to do it.
Free order form templates and guides
If you are still worried about the process of creating your own online order form, we have a vast variety of templates that you can use. Either use them as they are, or build upon them to start making your online business more effective! With the templates and guides provided, by getting help from the tips given, you too can create an order form that is beautiful and effective. You can use the information given by the customers for lead generation. Don't waste any time and start now by either clicking on the templates or by starting a form by yourself!