Survey studies are becoming increasingly important in today's developing and changing world. In order to conduct research and come to conclusions, a survey study is to gather data by posing a specific question or set of questions to various individuals. At least once in their lives, every person has taken the survey. Both voluntary and coerced participation in surveys is possible. In contrast to surveys you complete as a volunteer, you might experience a suffocating feeling from the questions in studies requiring you to fill out surveys.
The purpose of the survey is to use a list of written questions to get people's opinions, evaluations and suggestions. Being a survey participant is not something that only some enjoy, although surveys are intended to improve customers' wishes and desires. This article will explain step-by-step how to make interesting survey questions.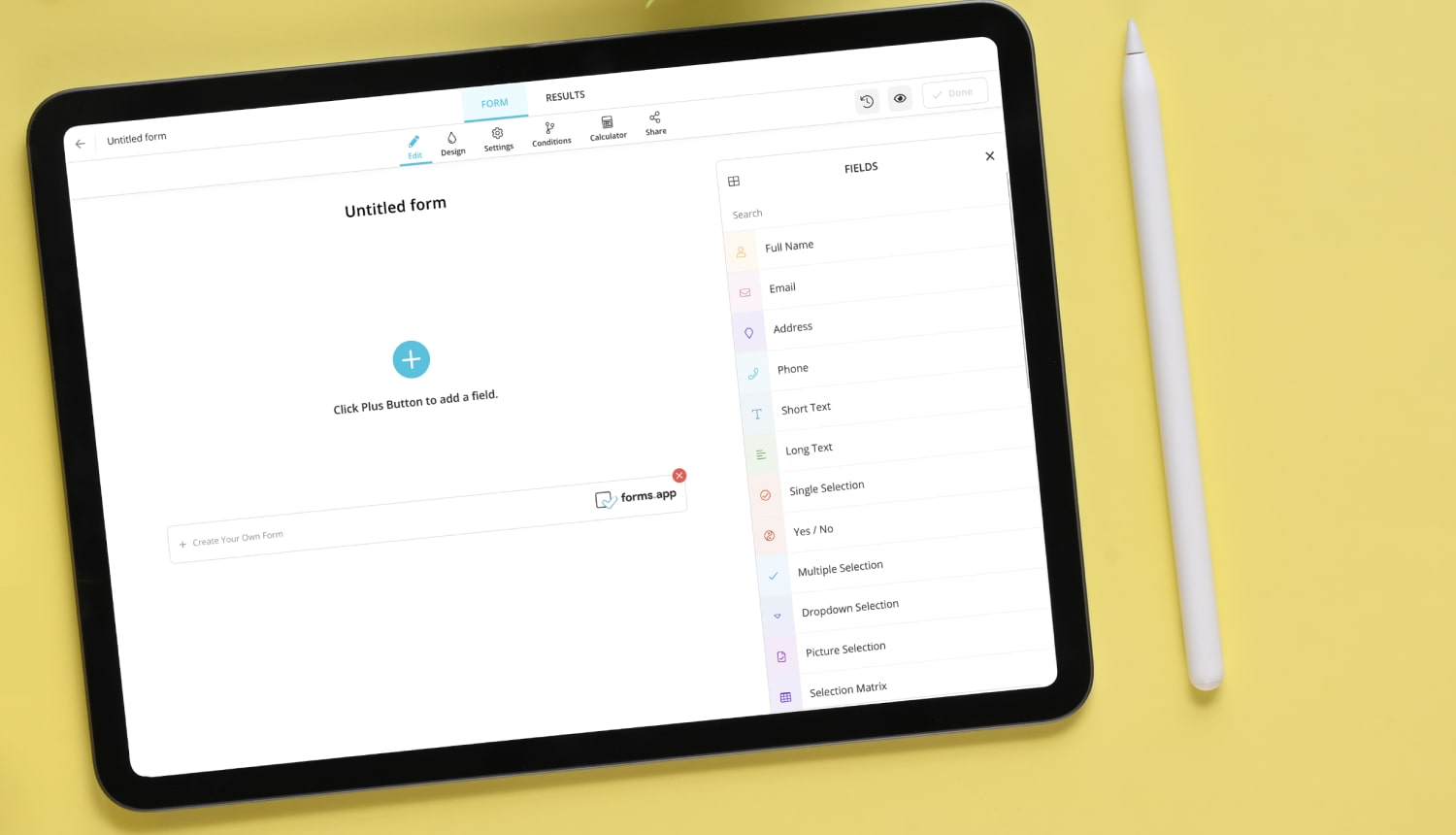 Why is it crucial to make your surveys engaging?
Have you considered the significance of the surveys that are constantly published everywhere? Although surveys may seem unimportant, they actually have an essential place in our daily lives. Let's look briefly at the importance of surveys:
1 - Surveys give the opportunity to voice opinions.
2 - Surveys offer concrete figures.
3 - Surveys ensure that answers are clear and accurate.
The most important part of the survey is the preparation of the questions. Firstly, you need to decide which type of question to use. There are both closed-ended questions and open-ended questions to which respondents can add comments. Then it would be best if you also decided how to ask your questions. At this point, this article is going to show you that you can make survey questions interesting and fun.
How to make your surveys more engaging and actually enjoyable
In survey work, sustainability is essential. The primary purpose is for the survey participants to go to the end of the survey and complete the survey. Since participants lose interest in the survey after a few questions, surveys are frequently abandoned. Asking survey questions in a long way with standard question patterns can make survey participants feel like they are taking a written exam. For this reason, long and standard questions should be avoided. The survey's results will be more effective the more people it polls.
Let's look at suggestions that can make the survey questions more funny and interesting.
1 - Asking questions in humorous ways
Common questions are predictably uninteresting. You get funny survey questions and answers, when you ask the questions humorously. In this way, the survey questions you will ask humorously way can be an option that people can choose to get rid of the general boredom of life. When asking humorous questions, the most important thing to remember is to identify your target audience and prepare your questions accordingly.
2 - Asking questions in a friendly tone
When asked formally, survey questions may become monotonous for the participants. By making the survey questions more friendly, participants will feel more at ease, and the survey will become more familiar. When creating poll questions, it's crucial to use icebreaker questions.
3 - Using the power of emojis
Emojis' power cannot be denied in today's society. On a typical day, almost everyone employs emojis. Respondents may be interested in emojis being added to poll questions.🧐
4 - Engaging theme selection in the survey
Theme selection is essential in the survey template. When creating the survey template, using color can help participants pay attention. Using colorful themes can be of interest to the respondents. Participants may be more eager to provide answers if you choose a colorful theme. You can design ready-made survey templates, which forms.app has prepared for you completely free of charge.
5 - Using images in the survey
Using images in surveys can be different and exciting for respondents. A colorful page with pictures rather than a boring page full of text attracts the attention of almost everyone. Images can also be used in fun survey questions for work. The survey's use of images based on the subject and questions ensures that the survey attracts attention.
6 - Asking personal questions in surveys
People love to talk about themselves. Including personal questions, while preparing survey questions may appeal to participants and increase their motivation. Personal questions you will ask regularly will make fun questions by breaking the seriousness. There are many multiple-choice poll questions that you can personally ask. To give a few examples:
Are you a cat person, or a dog person?
Are you a coffee person or a tea person?
5 fun survey questions to get inspired
Creating humorous survey question examples can help you improve your response rates and increase responder engagement. As the responders realize you've sprinkled humor throughout, they'll begin to wait for the upcoming questions to see how you've used humor instead of dreading them. Here are some examples of poll questions that might interest the participants: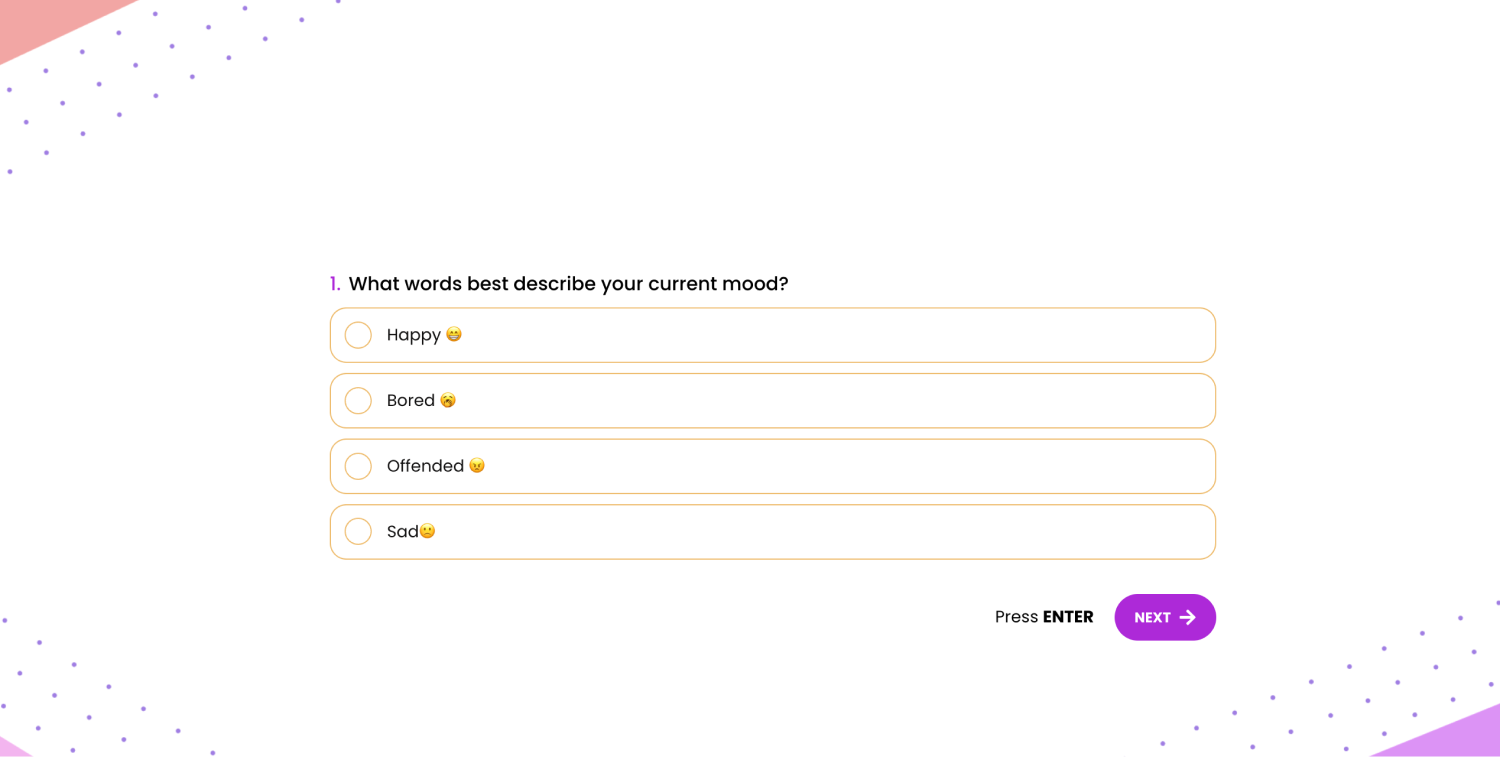 Question 1
* * *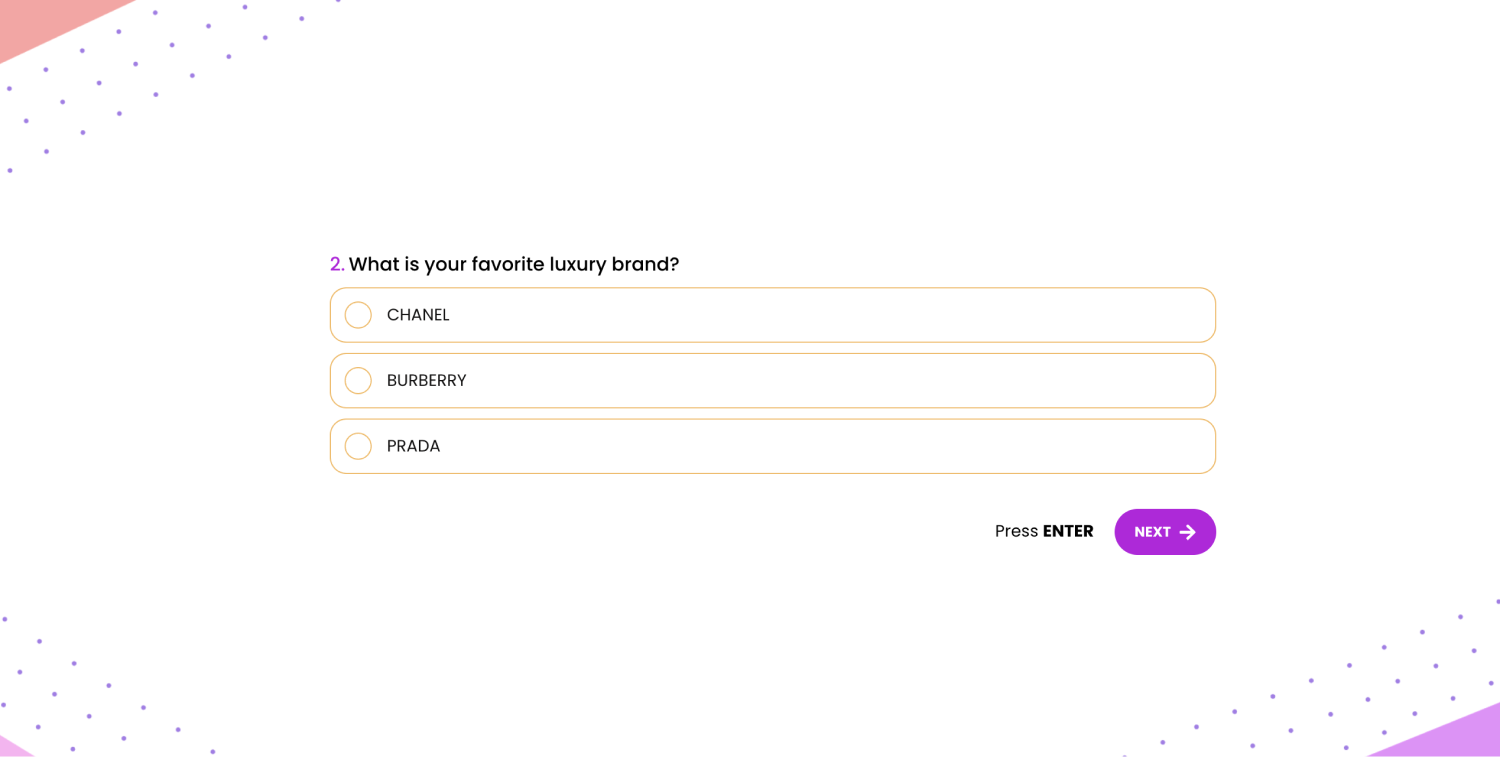 Question 2
* * *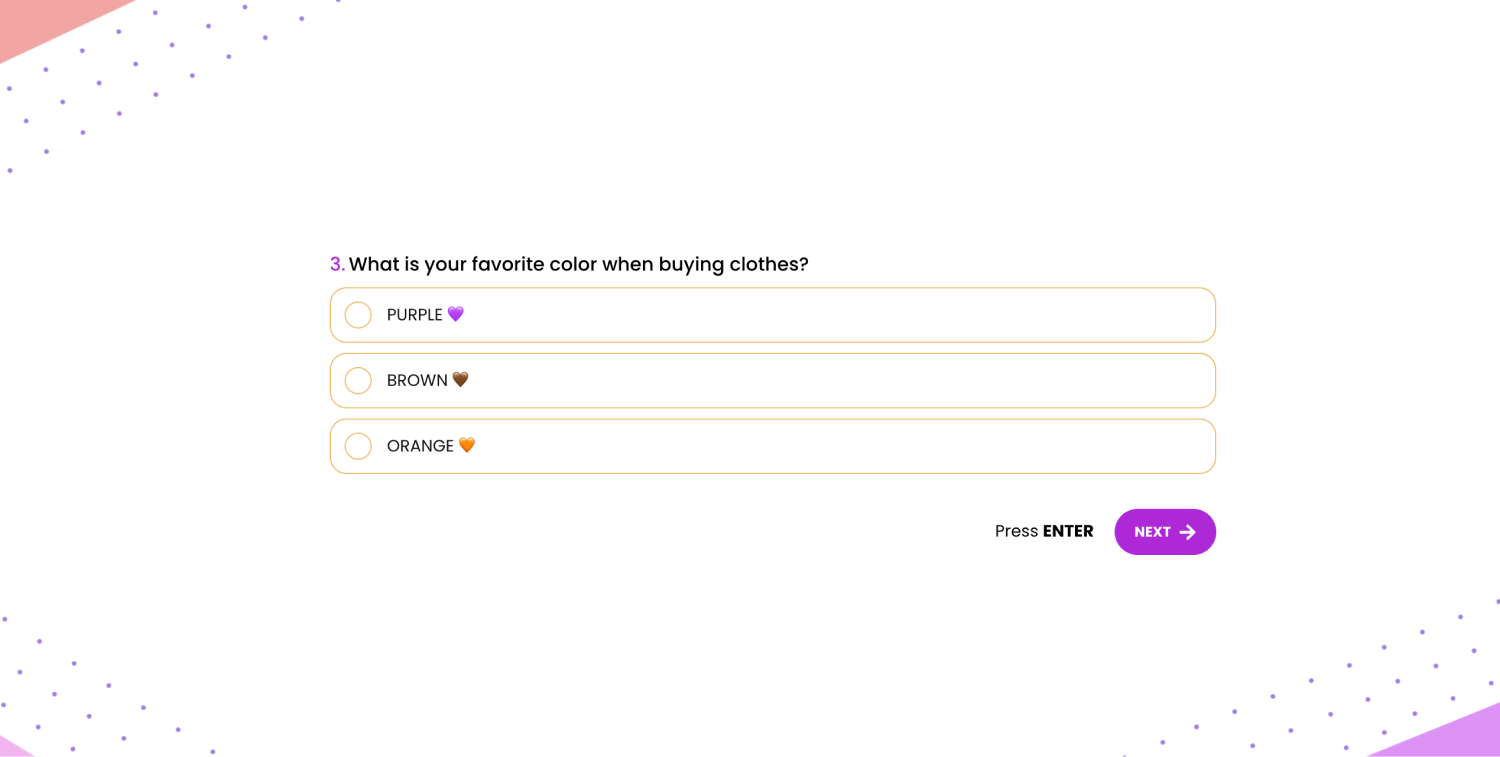 Question 3
* * *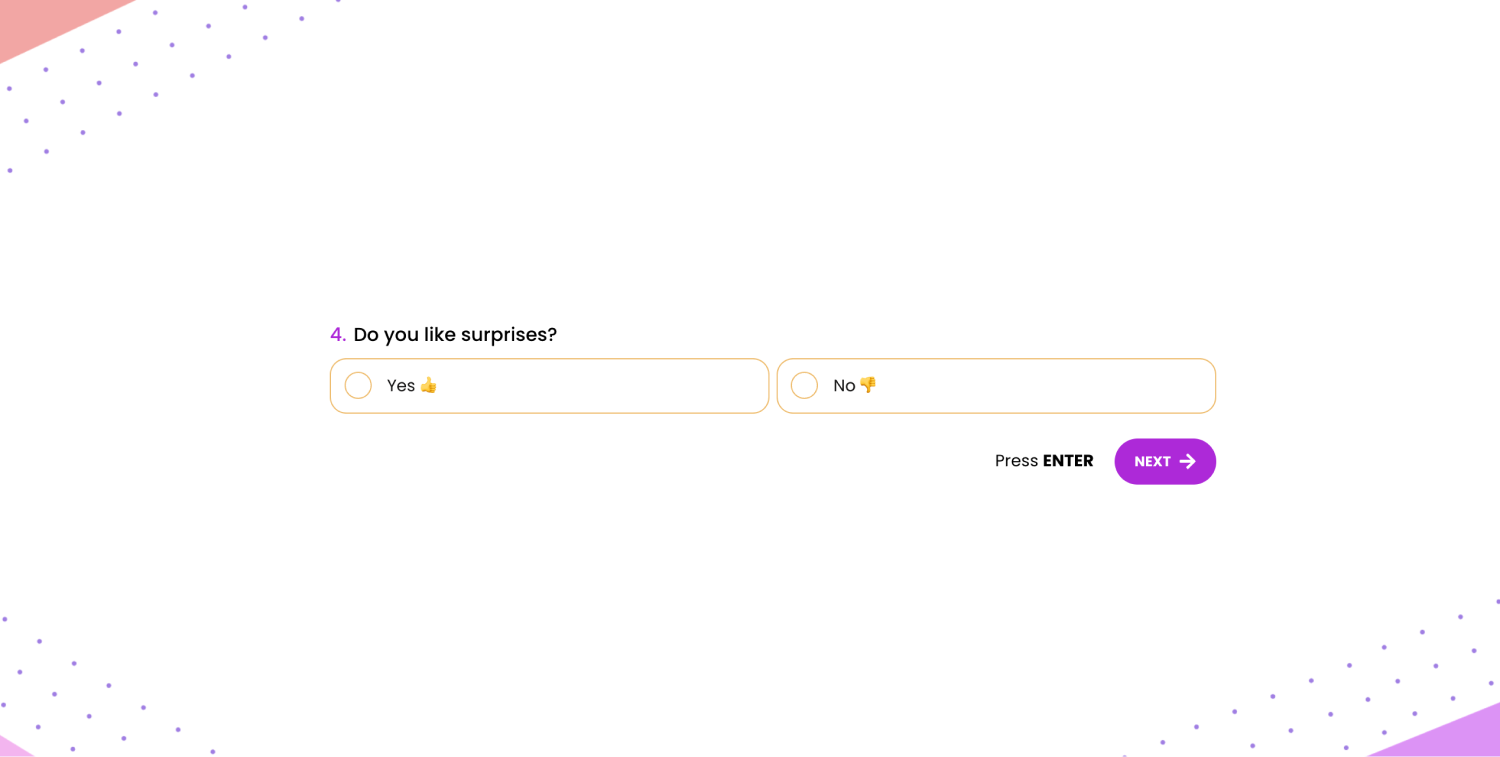 Question 4
* * *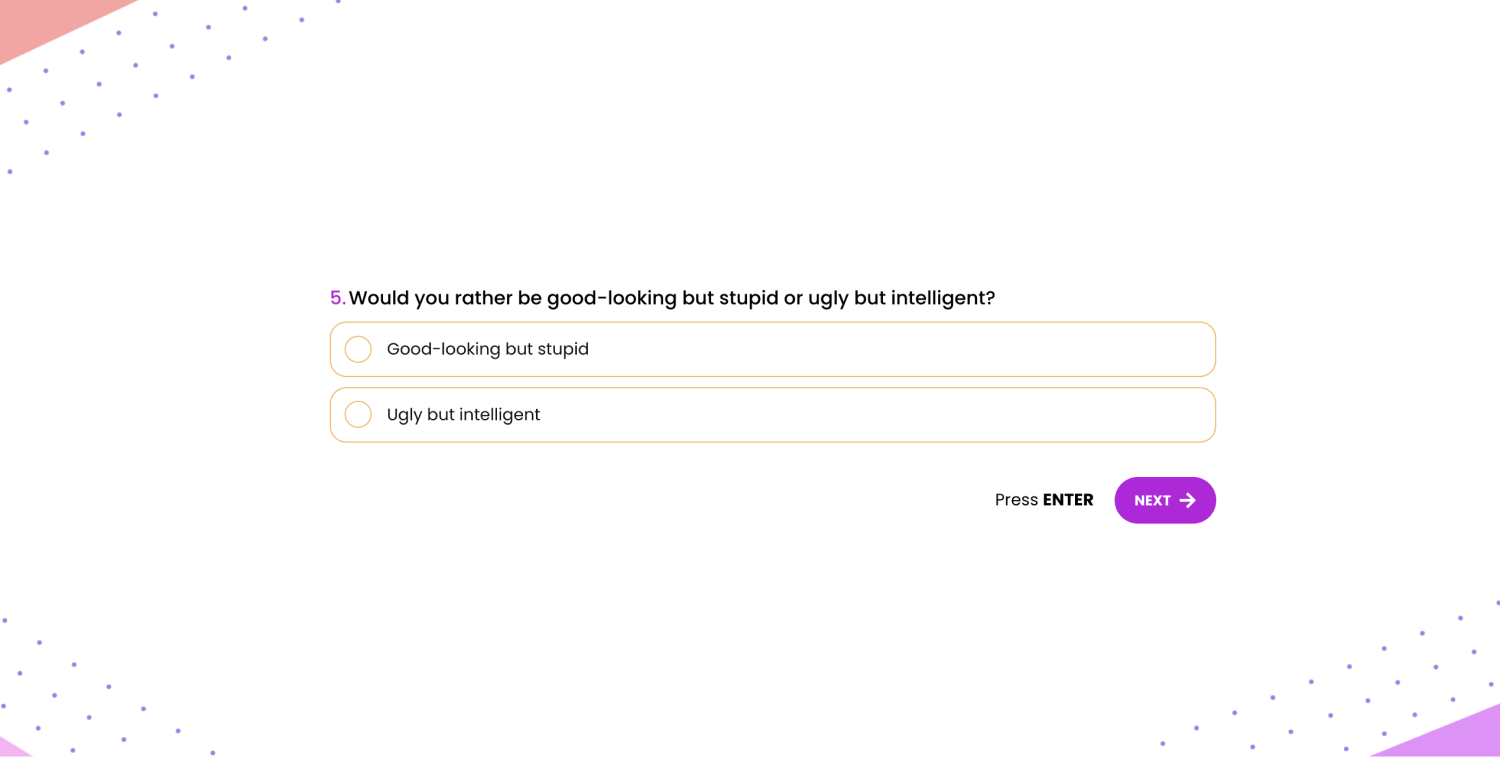 Question 5
Conclusion
In conclusion, surveys are becoming a more common way to collect crucial data. They are not only a brilliant way to get detailed feedback from many respondents but are also less expensive than traditional market research techniques. It is clear why more people and businesses are using satisfaction surveys to collect feedback and data when you consider that given the numerous options available to make them exciting and unique.
Surveys are the best way to understand your customer satisfaction if you plan to combine a business. The integration of games, polls, incentives, and humor should be carefully designed and embedded to ensure that your customers enjoy completing the survey without affecting the actual results. This article shared how survey questions can be fun polls and engaging. You can take advantage of the survey templates offered by forms.app.