Most people now make their reservations online. And they hope to be able to do that directly. That's why you need to create your online reservation system correctly in order not to waste your customers' time. It will make your job easier to create a customized online reservation form to collect all the information about your customer during the reservation process. So, you won't need to hire someone to take notes on your customers' past or current status.
In this article, You will learn what a reservation scheduling form is, the benefits of using online forms to schedule appointments, and how to make online scheduling forms for reservations and appointments. We also touched on how you can integrate your forms with Google Calendar.
What is a reservation scheduling form?
The tool to use when managing reservations for your service is generally called an online booking system. Reservation scheduling forms can be used to collect booking requests and schedule your time better for your customers.
Online booking systems can be used by a pool business, fitness facility, gym, yoga studio, park, or entertainment center to accept online reservations and appointments, as well as telephone and personal allows you to manage reservations. In most cases, the terms reservation, reservation, and online appointment booking form all refer to the same document and are used for similar functions.
Benefits of using online forms to schedule appointments
Using online forms for appointment scheduling systems saves time and money. The availability of this technology around the clock ensures service continuity and allows it to be connected with other customer relationship management systems. Online appointment forms frequently feature the ability to accept online payments, provide automated messages to respondents, and record date&time. Let's take a look at the benefits of using online forms to schedule appointments now.
You are immediately notified of appointments.
It is quick and easy for customers.
You can collect potential customers.
Online forms are compatible with mobile and provide web integration.
It provides a secure and easy payment system.
It creates an organized space for your appointment system.
It provides the opportunity to collect feedback from customers.
It is compatible with every industry.
Your productivity increases with online forms.
How to online scheduling forms for reservations and appointments
An online booking form allows a potential customer to book and pay for a service directly through a website. This indicates that everything is taken care of, from the moment a customer decides they want to reserve a location for your service to selecting a day, selecting a time, and paying for the reservation, to membership administration.
For all this, you will need the right form tool. forms.app allows you to create all kinds of appointment forms for your needs with its free templates. And you will never have a problem placing your form on your site. For example, you have prepared a hotel reservation form. You can easily embed the hotel booking form with the HTML code on your website. Now let's see how you can create these forms.
Step 1: Open the forms.app and create an account or log in.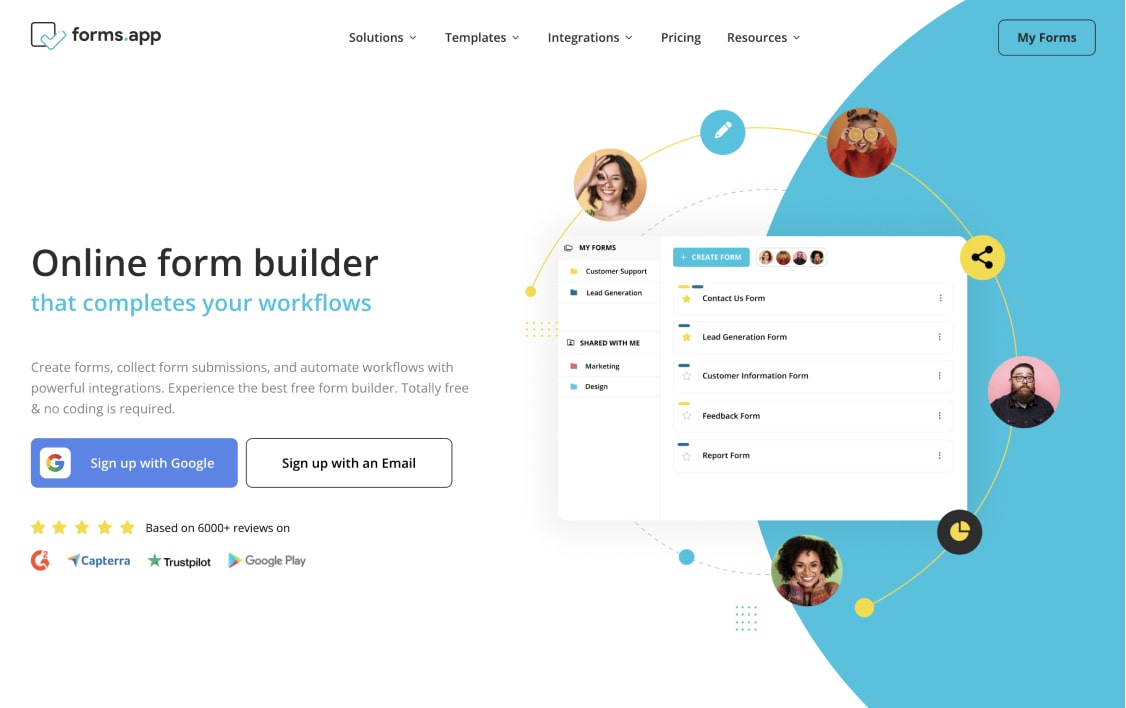 * * *
Step 2: You can choose one of the ready-made templates or create a template from scratch.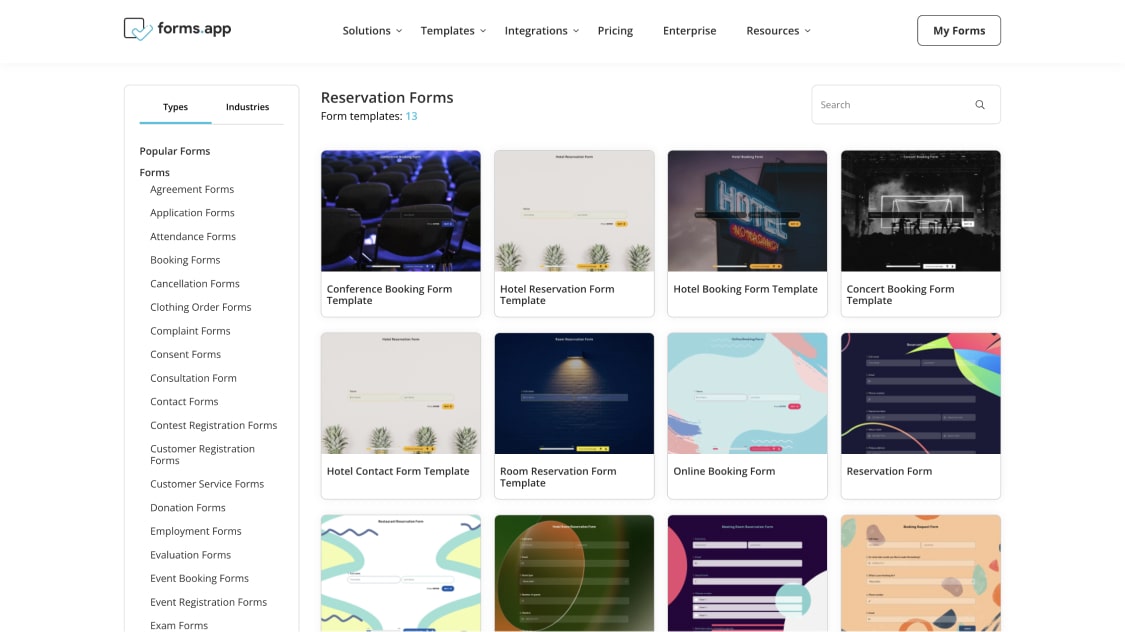 * * *
Step 3: Add form fields to enter the required information.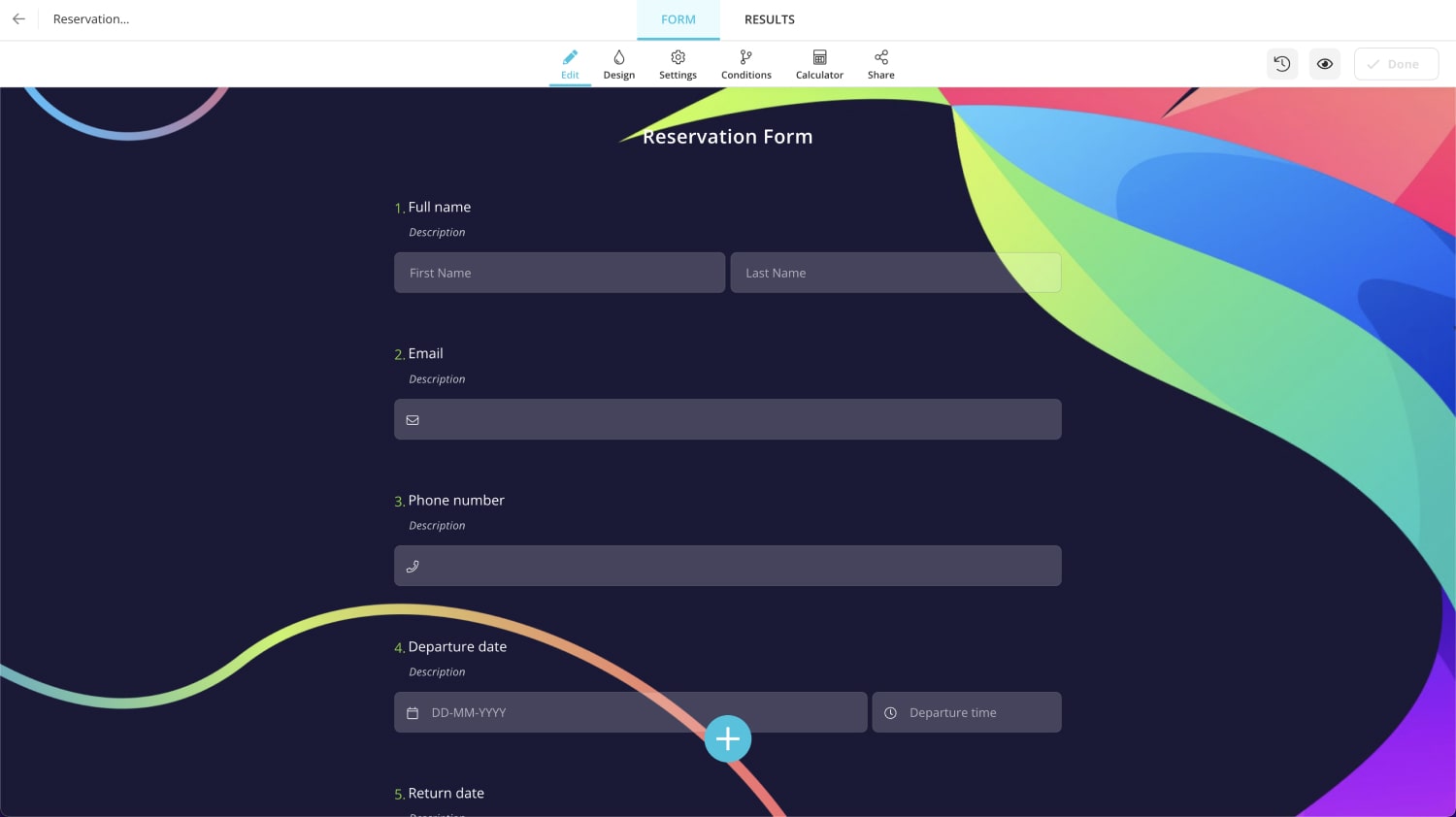 * * *
Step 4: Customize your form based on the type of your business.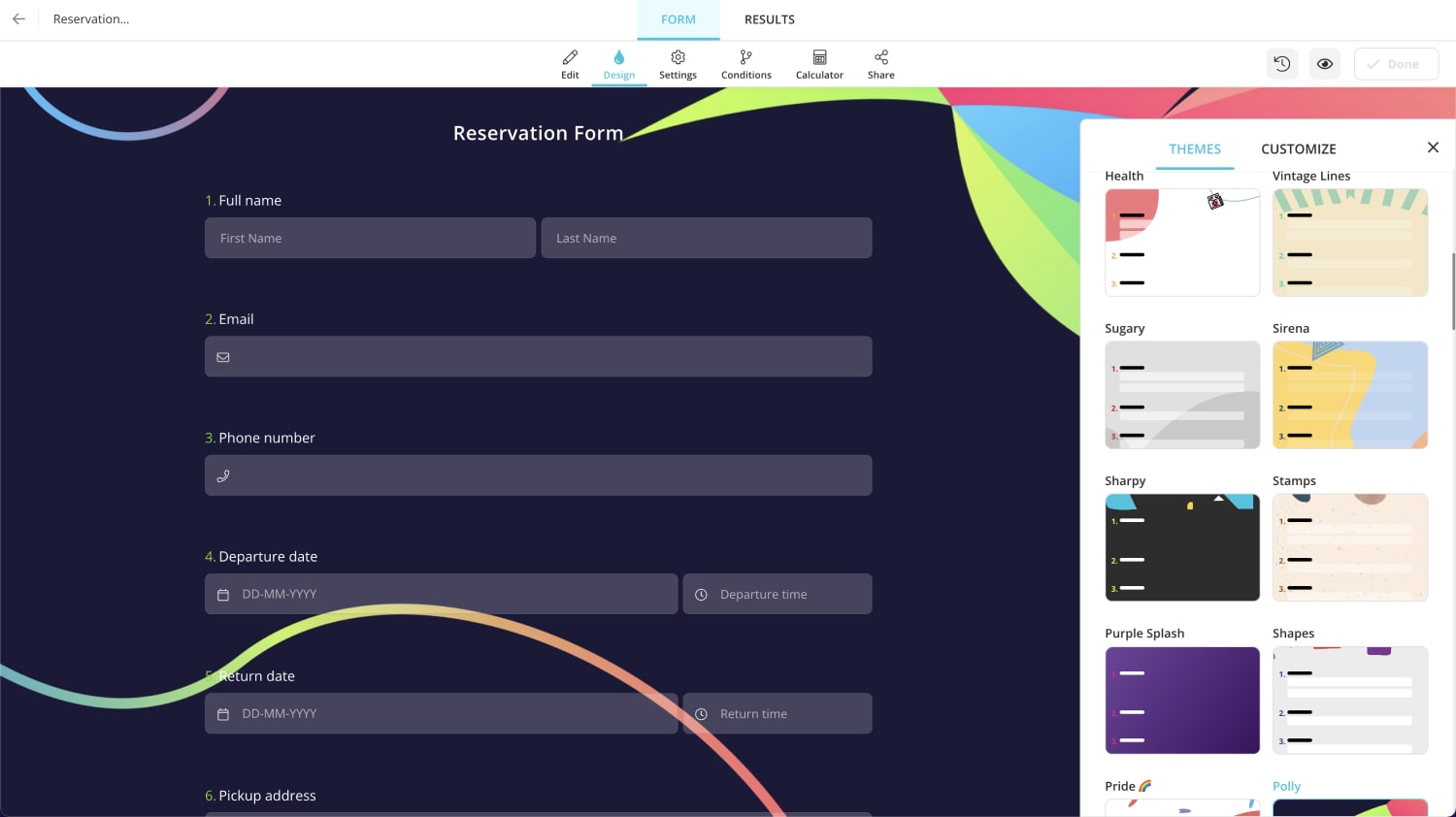 * * *
Step 5: Set up an email notification to be able to receive instant notifications.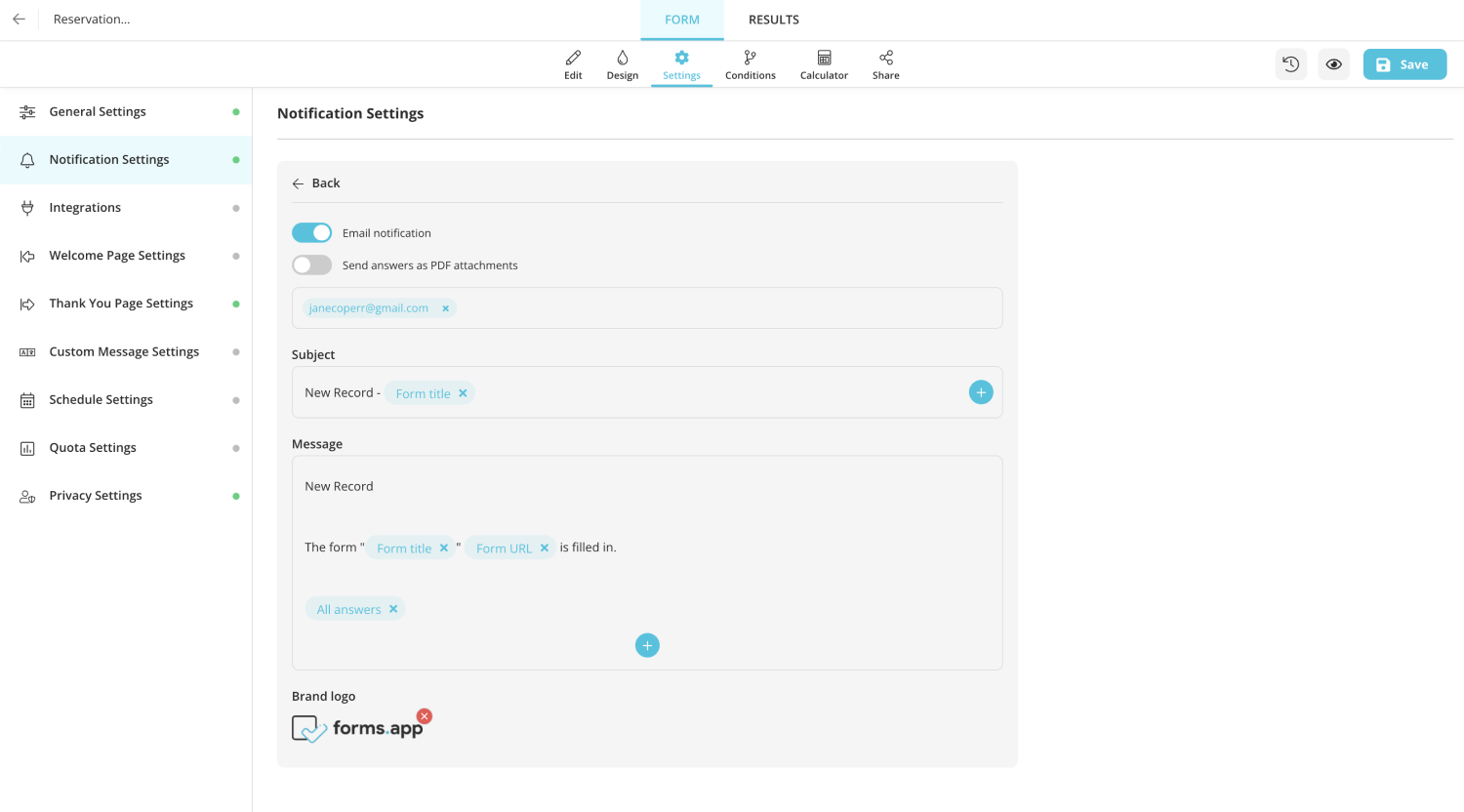 * * *
Step 6: Make final edits and preview your form.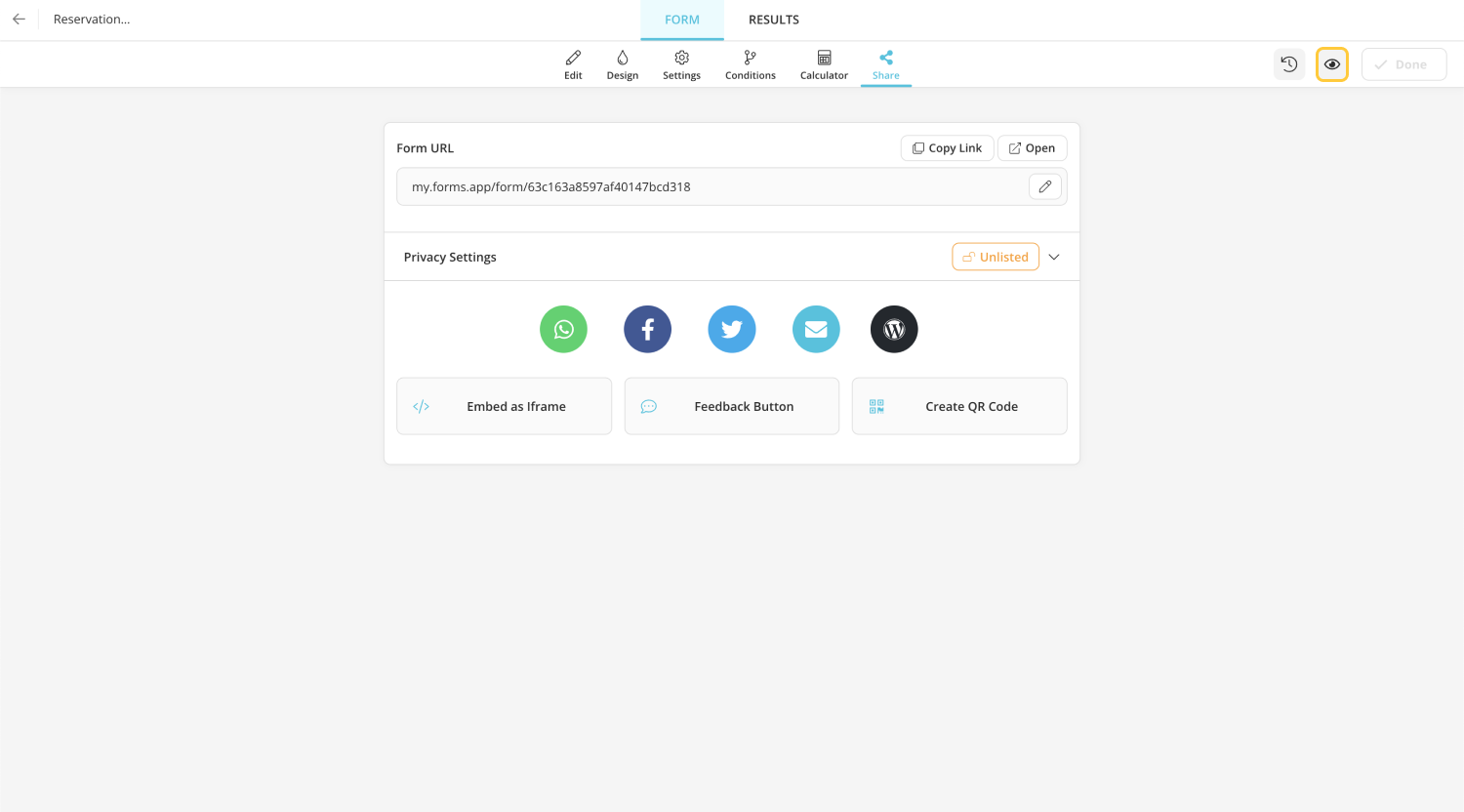 * * *
Step 7: Use a link to embed or share your form.

How to integrate your forms with Google Calendar
You can customize your form the way you want by using the online form builder forms.app, which also makes it easy to apply for appointment requests. It is also possible to set up an integration with Google Calendar if you want your appointments to be added there directly.
With forms.app's Google Calendar integration, each submission creates a new event on your calendar. Let's see how you can do this step by step:
1. Complete your appointment request form and go to the "Settings Tab"

* * *
2. Here, click on the "Integrations" button

* * *
3. Connect to "Google Calendar"

* * *
4. Match form fields and customize your automated event details

* * *
5. Prior to publishing your forms, make sure to test them

Free reservation form templates for you to try out
Online appointment booking forms make things easier for you and your customers. You should use the right form tool for this. For a stylish, expert, and personalized appearance, forms.app creates a lovely booking form that you can quickly and easily incorporate into your website. Your customers may book whenever and wherever they want because it is optimized for both mobile and tablet browsers. For all this, start creating online booking forms for your website with the free templates at forms.app!