The world is becoming more and more virtual. Phones, computers, and tablets have started to have an indispensable place in our lives. Instead of using notebooks and pens, we prefer to save notes on our phones, tablets, and computers. Virtual notes are more practical because we can always access them easily. You can access the notes anytime, anywhere. By saving notes, the possibility of losing notes is also very low.
The notion is a system that will organize, compile and collect every part of your virtual and real life. With this article, you will get to know the Notion tool, which helps us to tidy up the massive flow of information, such as resources, notes, and links.
First, let's get to know Notion
A notion is a productivity and project management tool where applications such as tasks, notes, and reminders are all in one. The Notion program collects notes, including databases and calendars. Users may maintain their note organization, which can improve note pages in terms of aesthetics and usefulness owing to its capabilities.
The basic idea and purpose of Notion are to enable you to manage and organize many different things you can think of from a single screen, such as notes, calendars, documents, to-do lists, and more. The notion is a nested, database-structured content storage tool with tables and filings.
1. Taking notes
The notion is an application that supports more than 30 media types and provides a spotless note-taking interface. You can separate the notes according to their categories, sort them as to-do lists, and quickly convert them into files. You will save time and keep your notes tidy by saving notes this way.
2. Tasking management
Task Management is the primary value proposition of Notion. You can assign all kinds of operations related to all project processes that you can do with other tools to individuals. You can follow and interpret the process. Thanks to this feature of Notion, you can efficiently distribute and manage task distribution among the team.
3. Creating web pages
You have conducted your study or written down every aspect of the project's process and thoroughly documented it. By selecting "Share to Web" in the upper right corner, you may create a website out of all your work. You may provide others the ability to modify the pages you create, ensuring that they contribute something.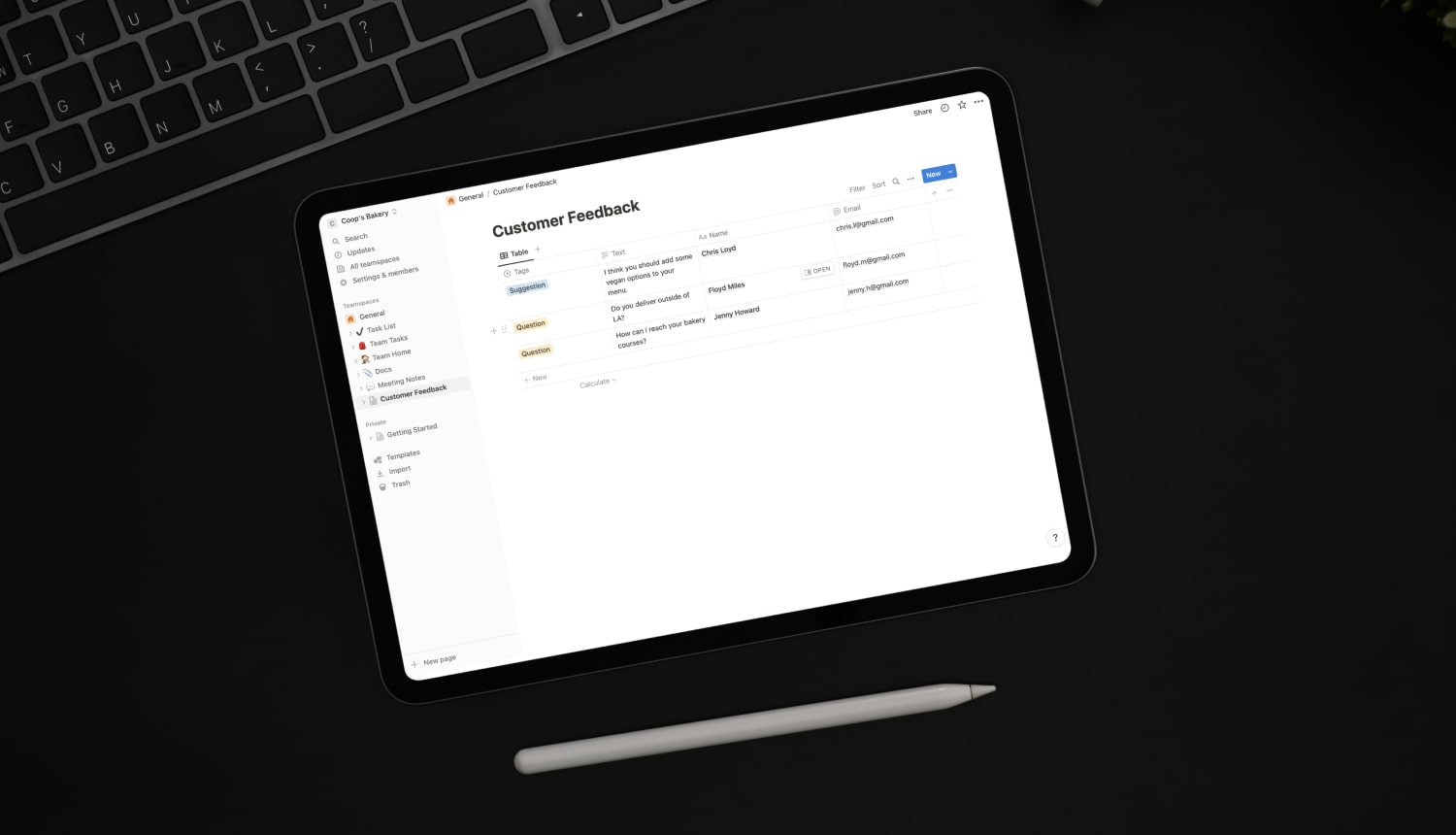 Why would you embed forms on Notion?
It can be time-consuming and confusing for users to switch to other apps to fill out a form. Embedding forms in Notion is proper when you have a document you want your users to fill out. That way, people won't need to leave Notion to complete the form. Filling out the form through a single application will prevent time loss and be more effective.
Your embed forms on Notion can speed things up when taking notes and making plans. Notion pages can be shared with people and used as websites, so you can also embed forms in Notion to collect information from others.
How to embed your forms on a Notion page
You can embed the form you created in forms.app in Notion. This way, you can easily access your form without switching between applications. In the next section, it is explained step by step how to embed the form you created in forms.app, which is one of the best form builders.
A) Create a form on forms.app
forms.app allows you to create forms in a free and practical way. You can easily share the forms you have prepared on forms.app with your users. Below we have explained step by step how you can create a form on forms.app.
All you have to do is choose ready-made notion form templates and customize them or start over with a blank form. Then, add new questions for your form, and edit or remove existing questions. Once you're done, choose the theme and complete the settings. Lastly, you can save it.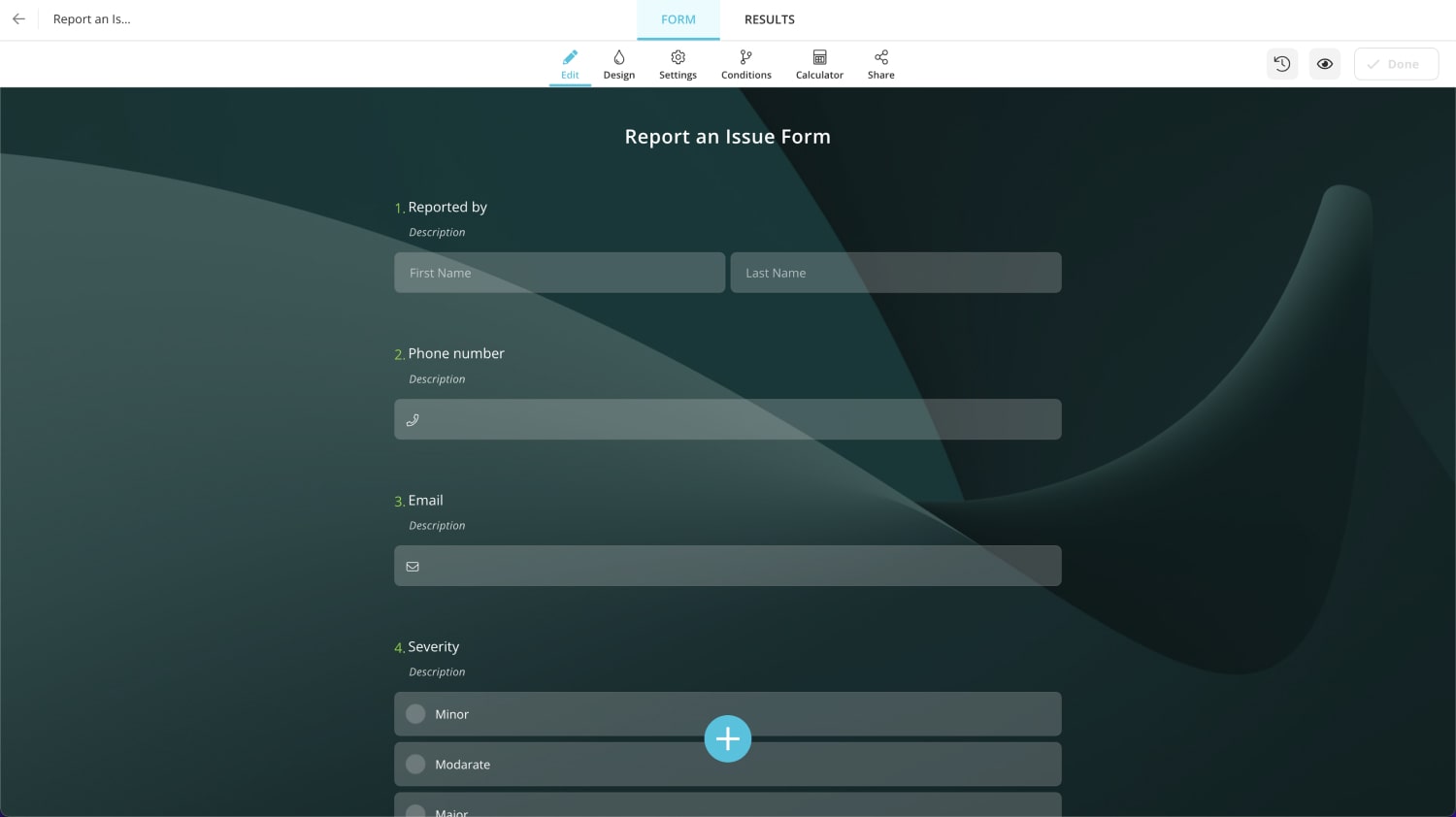 * * *
B) Embed the form on a Notion page
Notoin is very practical to use because it contains many different application features. Thanks to Notion, you don't have to switch between different applications. By embedding the form you created on forms.app into notion, you can quickly access your form from notion without switching between applications.
1 - Enter the form you created on forms.app and click on the share at the top of the form and then click on copy the link.

* * *
2 - After copying the link of the form, enter Notion.

* * *
3 - Click on the small plus button to the left of the place where you will write in the Notion application.

* * *
4 - Drag down the box that appears on the screen and click embed. Paste the link of your form in the box that appears and clicks on the embed link.

* * *
5 - Now you can see and use the form you created on forms.app in Notion.

What else can you do on Notion with online forms?
Notion application is customizable and can be shaped according to what you do. The notion can integrate with almost all applications. You can automate the data collection process. When you embed a form into Notion, the incoming answers can send the directions to a Notion data table. Here are the steps to save the answers to your form in Notion:
1 - Open the form you created in forms.app and click on the settings section above.
2 - Click on integrations on the left side of the screen
3 - You can see Notion on the screen and click connect.
4 - Log in to your Notion account.
5 - Select which pages you want forms.app to access, and allow the access
6 - Identify the databases you want to merge, and complete the settings.
7 - Now, the form responses will also appear in the Notion database.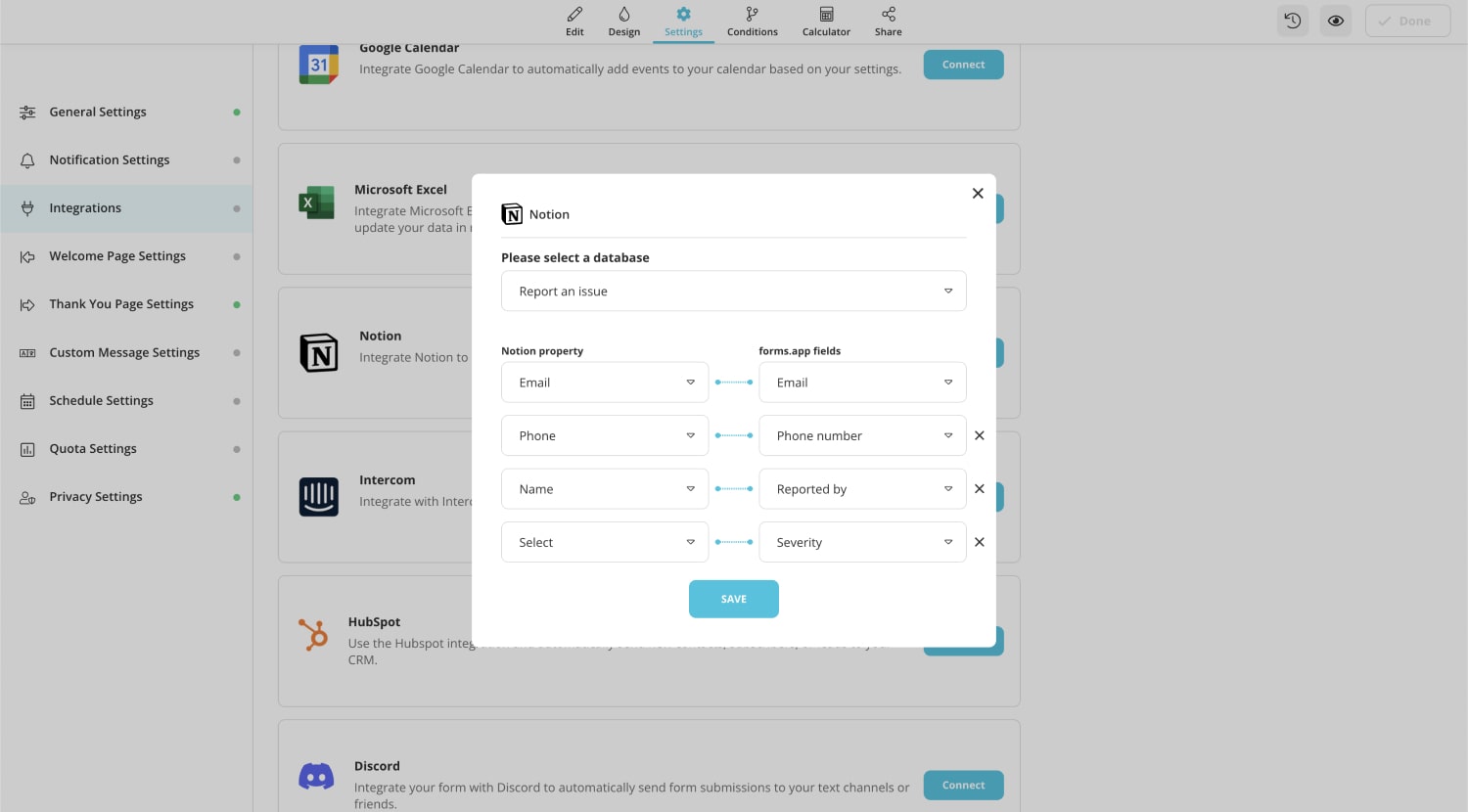 Create forms for Notion with free templates
With the power of Notion; your possibilities are endless. You can create websites from Notion pages. You can connect with different applications with its integration features. You can share it with other users through the file uploading form. This article explained Notion and how you can embed your form in forms.app into Notion. You can start creating your layout using the free templates below.