Many people do their business online these days. Online job applications are also increasing day by day. In the past, people saw job applications in newspapers or brochures and then called and made an appointment to meet. However, now with the advent of the internet, online job application forms have found their way into our lives. Job seekers can see job postings not only in their neighborhoods but also in other cities and even other countries.
Employment application forms are a method that has very positive aspects not only for employers but also for job seekers. In many ways, it saves both parties time and prevents spending extra money. With the help of online form builders, you can easily collect information about the applicants and decide which people are most suitable for your job. In this blog article, you will have an idea about why you should create a form for a job application.
Benefits of advertising job openings online
Employers trying to keep up with the digital world should not hesitate to publish online application forms for a job. One of the reasons for this is that employers track talented and valuable candidates much more quickly, thanks to online forms. Moreover, the internet allows your forms to spread to more people. You can reach applicants on a different platform with your social media accounts. Other benefits of creating an online job application form are as follows:
1 - You get lots of job applications in a short time.
2 - You can compare candidates more efficiently.
3 - It is a facilitating step for HR to evaluate job applications.
4 - You can interview the most eligible candidates by minimizing the possible candidates.
5 - You can see and evaluate by using online forms for collecting resumes of applicants instantly.
6 - You will decide how long the application will be published.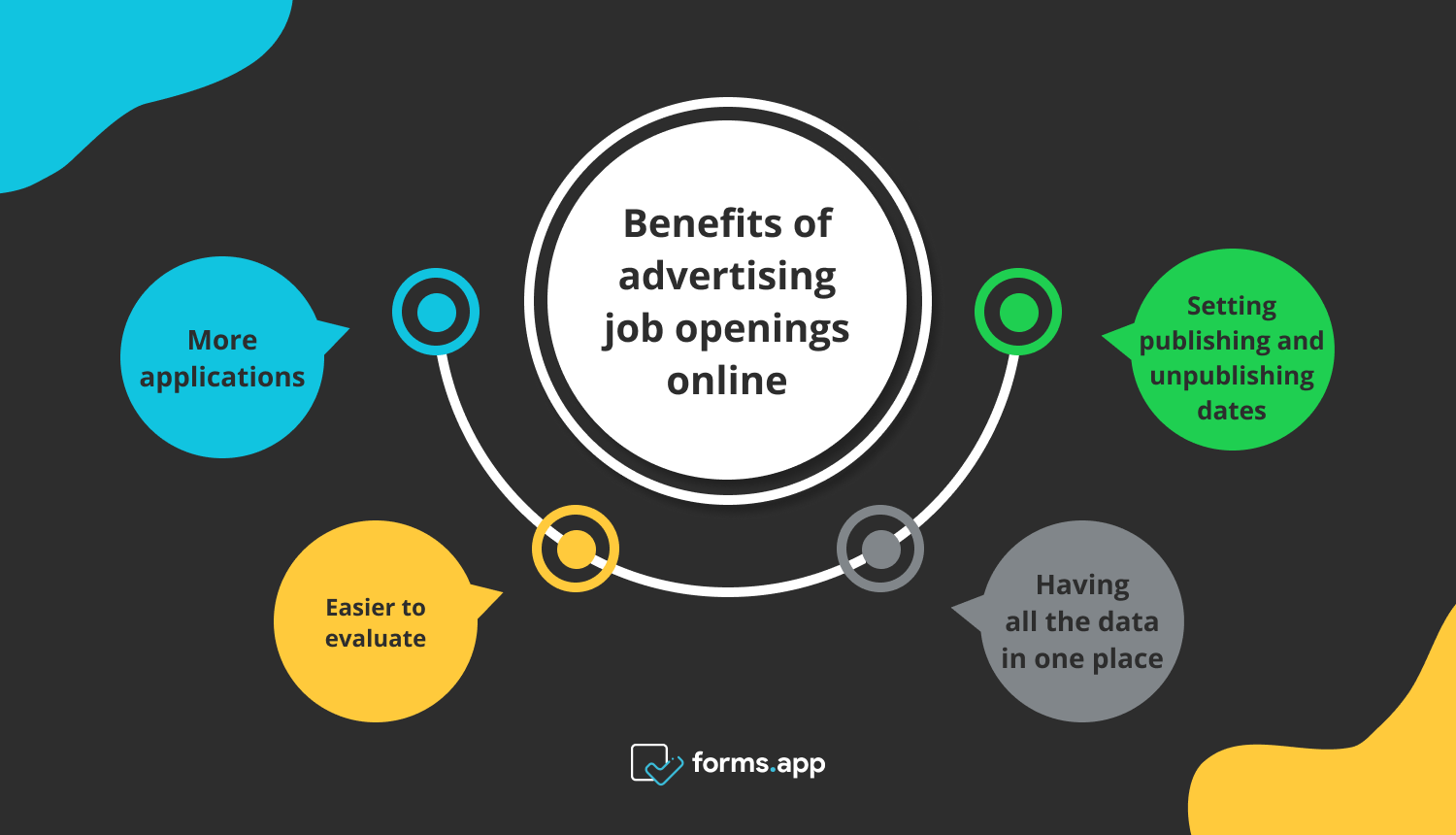 Benefits of advertising job openings online
Why should you use a job application form to accept applications online?
Recruitment processes can cover a very long period of time. Especially preparing a job application form and then evaluating the applicants is one of the parts that take a long time. The process doesn't just end there. After collecting all the applications, it is necessary to evaluate how well the candidates are suitable for the job. Then you invite eligible candidates for an interview to discuss in more detail. As a result, you hire a person.
Suppose you are preparing an online form and consider which processes will take less time. After this thinking process, you will probably realize that you will save time in many areas. In addition to saving time, there are also various advantages as follows:
You can organize recruitment processes.
You will find the qualified candidate you are looking for more quickly.
Applicants do not spend extra money to apply for a job compared to the round trip cost.
Since online forms will give a warning, applicants cannot leave any questions asked blank.
How to create the best job application form
One of the best free-form creators, forms.app offers you a variety of features to create job applications. With these features, you will make the application process more manageable. Employers can quickly obtain applicants' contact information or past work experiences even in a simple job application form. Here is a video tutorial to help you create your job application form faster and easier:
You can simply follow the steps to learn how to create a job application form and how to make your form look better and more professional:
1 - Open forms.app: you can open it on the browser or with a mobile phone.
2 - Choose one of the ready-made job application forms: You should select a suitable sample according to your taste from the template selection section.
3 - Add or subtract questions: depending on your request, you may change the questions in the ready-made template.
4 - Choose one of the suitable themes or backgrounds: According to your taste, select a color for your form.
5 - Customize your form design: Customizing your questions and other features according to your purpose will add a better look.
6 - Set geo-restrictions: Only accept candidates from a certain region for work.
7 - Turn on notifications: You can be notified quickly every time an application arrives.
8 - Use conditional logic: As an employer, prevent candidates from seeing unnecessary questions with conditional logic. For example, it is a waste of time to ask someone who is not working about their current job and its details.
9 - Add integrations: You can instantly share the forms with the relevant department by integrating them with other applications.
10 - Use the "Calculator" feature: With the calculator, you can assign points to answers to questions that are important to you. Thus, the candidates who answer the question correctly complete the form by collecting the points. Don't forget to show points only to yourself.
11 - Add a "welcome" page: Adding a welcome-themed text before starting the job application form will make candidates feel special.
12 - Add a "thank you" page: Do not forget to add your thank you message at the end of the form to express your gratitude to the people who value your job and apply.
13 - Share or embed your form: You may want to share the forms you have prepared in different channels in order to reach more people. That's why easily share your form on your website or social media platforms with forms.app.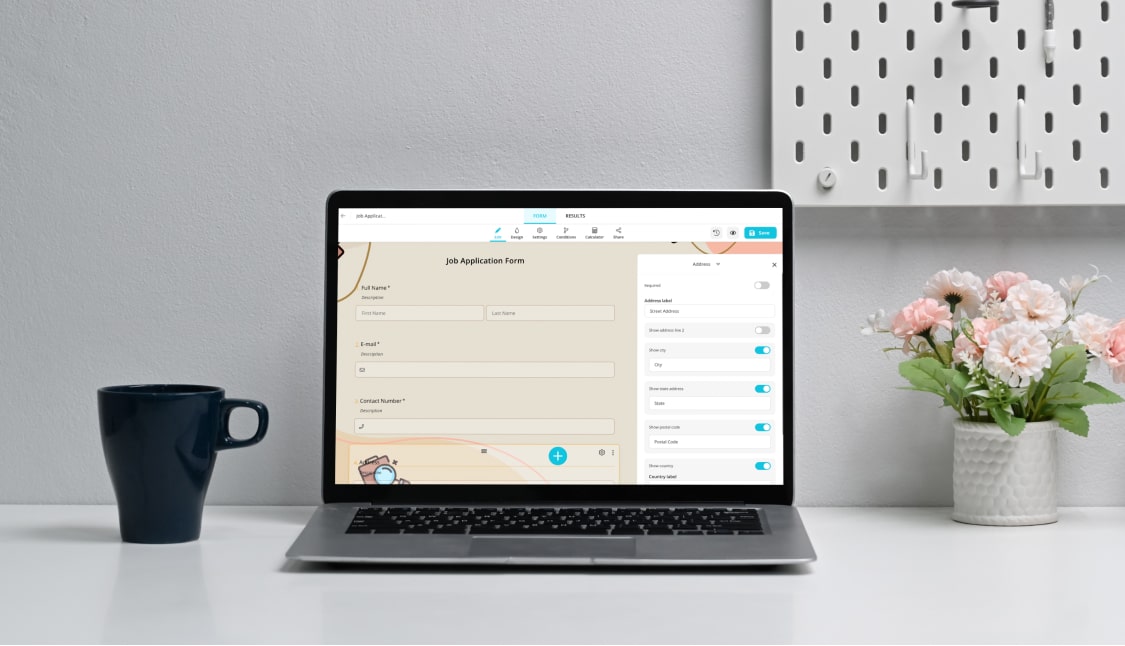 Creating a job application form online
Free job application form templates to get started with
If you think that using online job application forms makes sense in many ways, you should start preparing them without wasting time. However, if you don't know how to do it and where to start, the ready-made templates are for you. There are several job application form samples in forms.app. You can use any form template you want by customizing it. With the many different ready-made templates in forms.app, you can get started quickly and share your form with your candidates. You can use the 3 sample forms below to give you an idea:
Conclusion
In brief, not only selecting employees but also looking for a job is a very difficult process. For this reason, both employers and job seekers can experience difficult times. Creating a professional job application form is a very useful method for both parties. As an employer, you share vacant job positions, and you get responses quickly, thanks to online forms. Also, applying online is a beneficial part for the applicants. So, act fast and make a quick start using forms.app's ready-made templates!