Wufoo has a fairly good form builder if you've used it. The forms function well, and it's simple enough to use. However, there are situations when you may have different needs from a form builder, and you may want to consider your options. However, there are now numerous form builders to pick from. If you're prepared to make a change, we're here to help you sort through your options and decide.
The challenge of choosing the right form builder has grown as a result of the abundance of possibilities that are now available. But if your business depends on it, it's crucial that you address this issue and discover the best answer for you. Finding a suitable replacement for paper questions may be challenging because of the abundance of options; hence, we've produced a list of the top 15 Wufoo alternatives in this comprehensive guide. We're sure you'll find the best form builder option for your requirements by the time you reach the bottom of the list.
What is Wufoo?
Wufoo is a web tool that enables anyone to create online forms. Wufoo automatically creates the database, backend, and scripts required when you design a form, making data collection and analysis simple, quick, and enjoyable. No coding is necessary! It permits incorporating payment collecting and provides design templates that correspond to brand identity. By dragging and dropping a selection from a collection of predefined field types, users can create forms. Text, numbers, drop-down menus, checkboxes, and other field kinds are among the options.
Let's see if Wufoo plans are affordable.
Starter Plan: $14.08 (monthly)
Professional Plan: $29.08 (monthly)
Advanced Plan: $74.08 (monthly)
Ultimate Plan: $183.25 (monthly)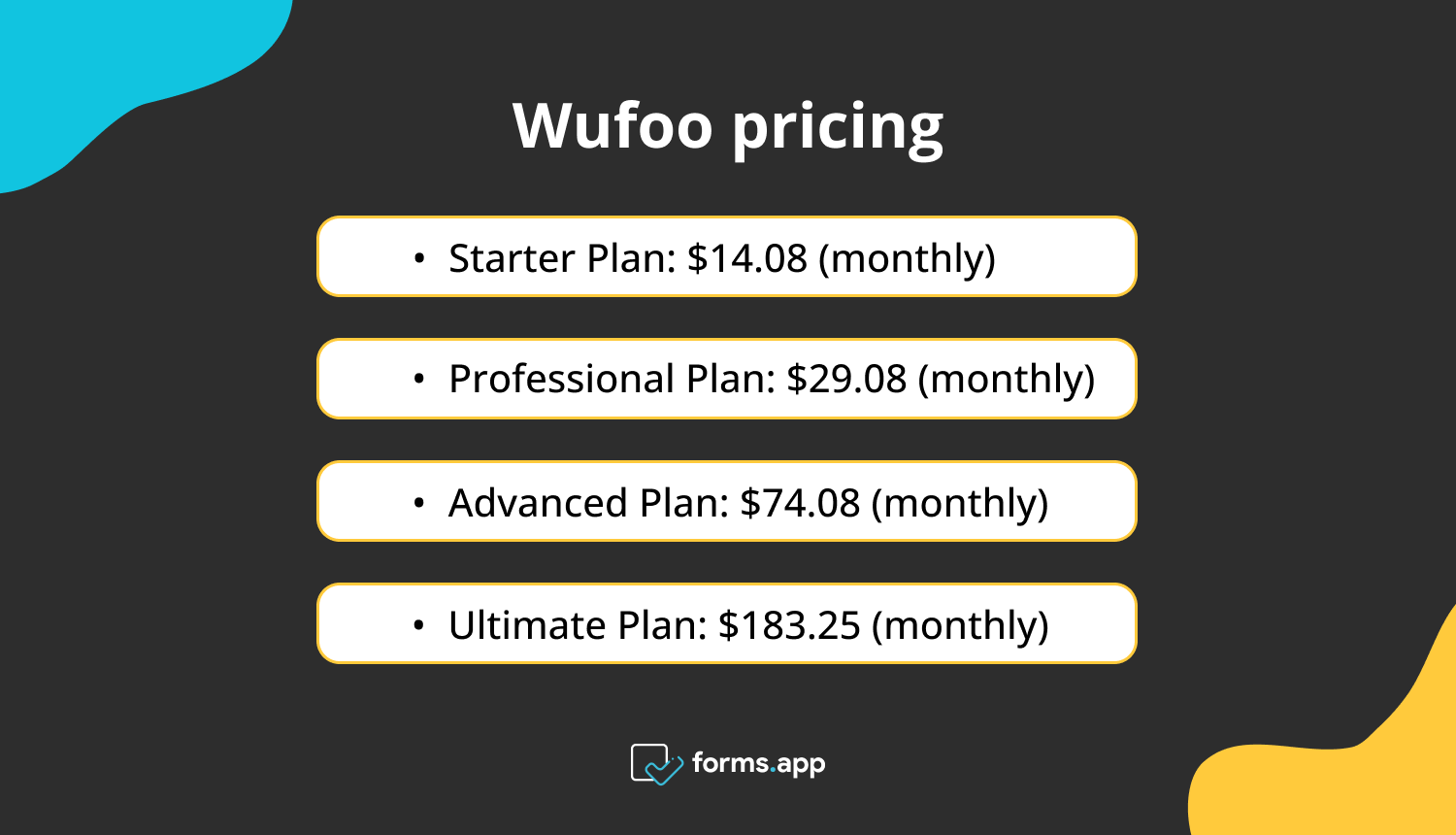 Wufoo pricing
With Wufoo, users can design and create online forms quickly and effortlessly, thanks to the platform's user-friendly drag-and-drop interface. Using the software, customers can add their own logo and color schemes, use the solution's selection of professionally developed color palettes, or use the theme designer to construct aesthetically pleasing forms online. While Wufoo's technical team of specialists supports their process from the design of online forms all the way to the program's data analysis aspect, Wufoo provides a solid and dependable web form builder platform to keep all the users' form data and submissions secure.
15 great Wufoo alternatives to try out in 2023
Today's form builders generally include a wide variety of capabilities, including progressive profiling, smart fields, and interactivity. Every business has a form for your needs and goals. However, There really isn't the best online form builder on the market, so consider your specific needs when making your selection. We have collected 15 Wufoo alternatives to help you choose the tool that suits you best. We hope you will make the right choice considering this valuable information.
1 - forms.app
forms.app is the first free alternative to Wufoo. People may quickly and easily create online forms, surveys, and quizzes using the forms.app internet platform. All forms.app features are completely free for all users. You may construct forms using the forms.app software without spending any money or disclosing any card information, and you can then gather the responses. Choosing unique layouts and altering the color scheme or background images, it enables employees to personalize forms. The application also has a reporting feature that enables users to view analytics-based insights regarding customer activity.
Free Plan: Yes
Price range: $19 - $99
Main features:
Easy-to-use
Custom message
Calculator feature
Notifications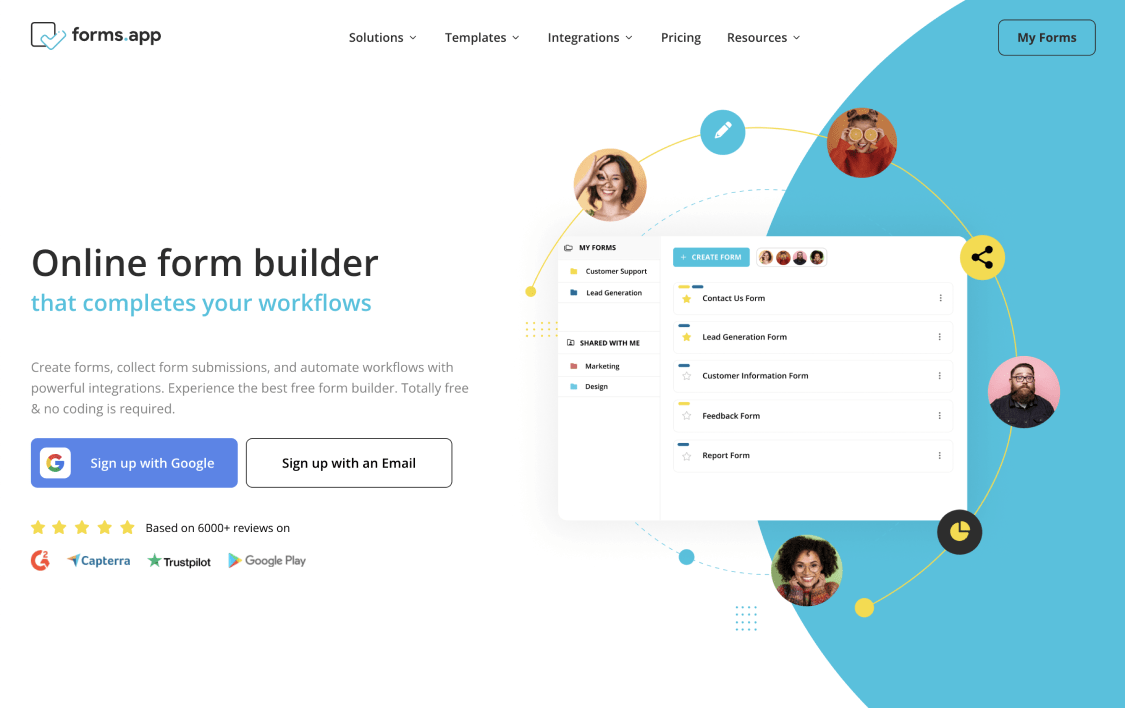 * * *
2 - 123FormBuilder
A user-friendly, versatile, and innovative online form builder, 123FormBuilder lets you create forms online quickly and easily. It is used to create online forms, surveys, quizzes, and polls by individuals, small businesses, and enterprises. The number of submissions isn't capped. There are a number of tools that can be integrated with 123 Form Builder, unlike other form builders. This means that there will be no more manually inputting data and exporting and importing data. You can also visit our list of 123FormBuilder alternatives to learn more.
Free Plan: Yes
Price range: $24.99 - $199.99
Main features:
Drag-and-drop tool
Email notifications
File uploads
Multi-language forms
Conditional logic fields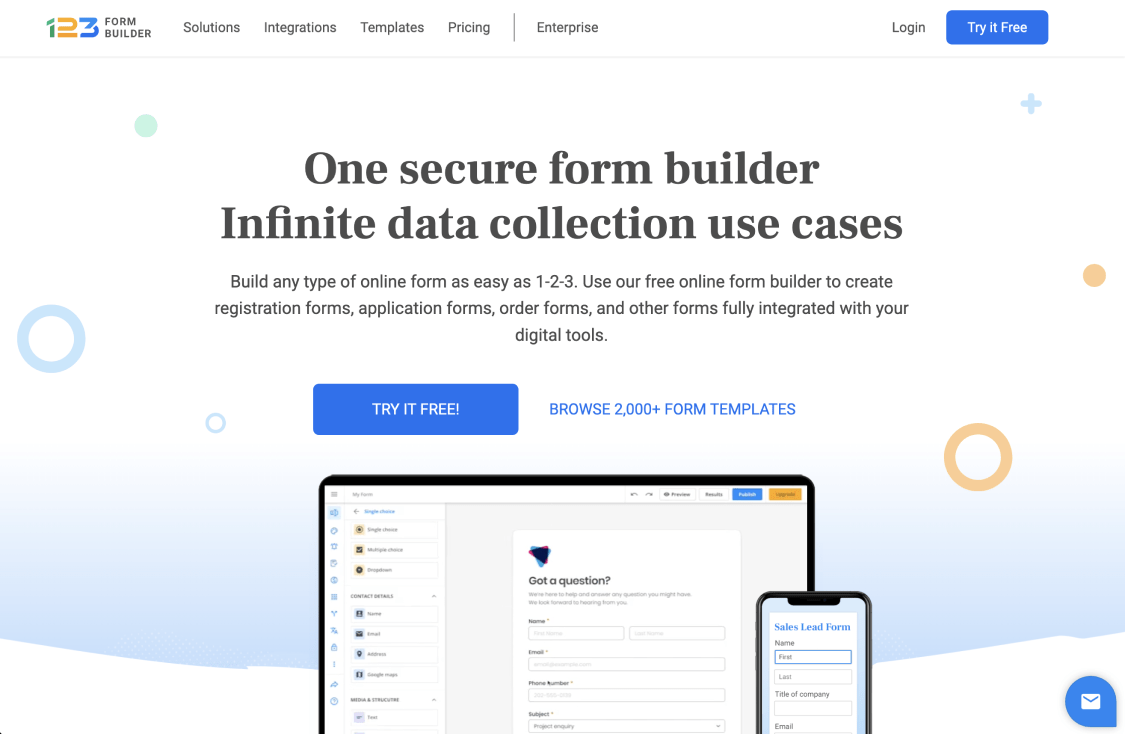 * * *
3 - Hubspot
Hubspot is an online form builder that is both free and customizable and can assist you in converting leads from unidentified website users. To receive notifications when a form is completed, users can automate emails and other notifications from within the form builder.
Free Plan: Yes
Price range: $50 - $890
Main features:
Direct integration with HubSpot CRM, Salesforce, etc.
Analytics
Automatic emails and notifications
Drag-and-drop form builder
1,000 form fields and 12 different field types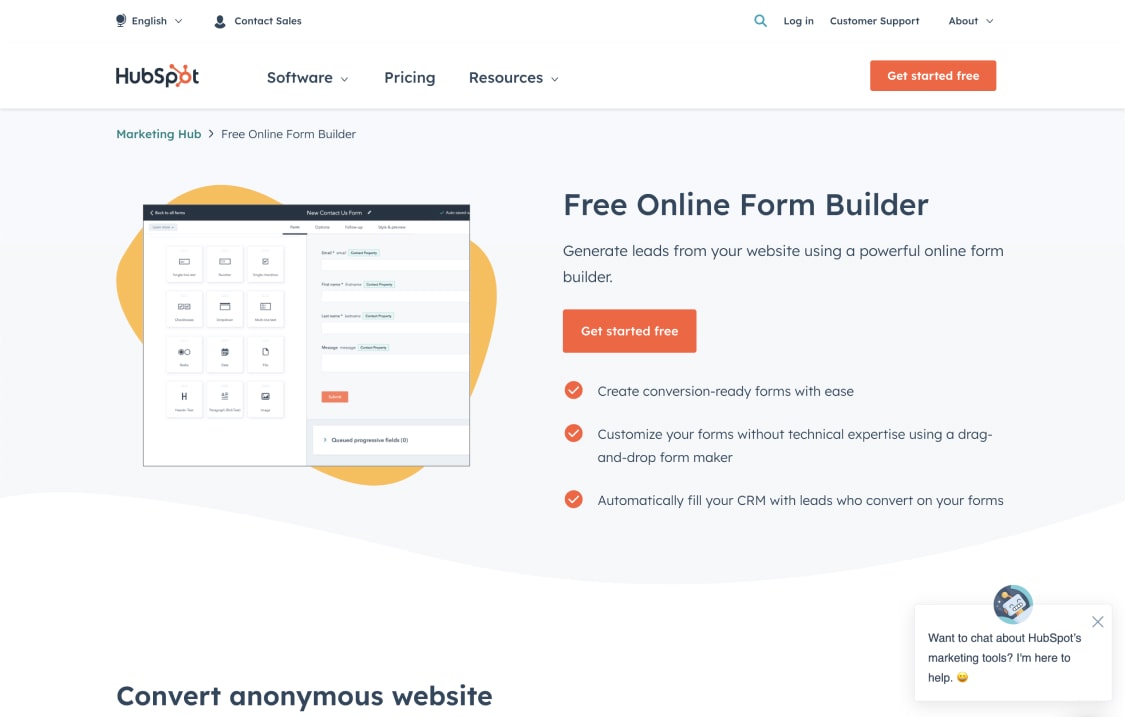 * * *
4 - Zoho Survey
One of the online survey tools for doing market research and collecting feedback is Zoho Survey. It makes it simple and cost-free to build online surveys and quizzes. Options for data collecting and social sharing are numerous. Utilizing email and social media campaigns, you may quickly distribute your surveys to the people on your list. With Zoho Survey, you can create a responsive form that you can edit and respond to from any device. It also generates real-time graphs based on survey responses, assisting you in making informed decisions.
Free Plan: Yes
Price range: €29v- €89
Main features:
White-labeling
20+ different question types, piping, and skip logic
250 expert-designed templates
Smart reports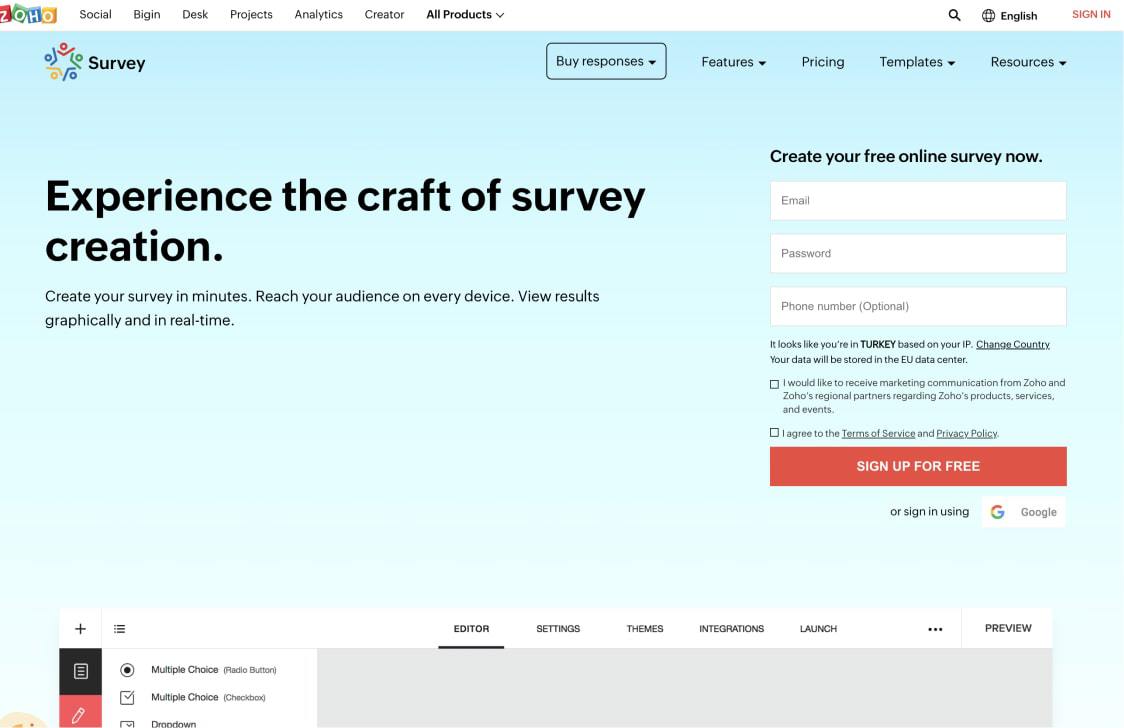 * * *
5 - SurveyMonkey
SurveyMonkey is designed specifically for the creation of online surveys, as its name implies. SurveyMonkey offers a unique format with greater functionality than using a form builder to construct a questionnaire. You can use SurveyMonkey's services for a variety of audiences, including your employees and clientele, or you can use its software to carry out concept testing or market research. Wufoo and SurveyMonkey interact because SurveyMonkey is the parent business of Wufoo.
Free Plan: Yes
Price range: $25- $74(team plans) , $32 - $119(individual plans) - (annual plans)
Main features:
Options in multiple languages to better serve audiences worldwide
Market research capability
Partnerships for further services
CX solutions for trend tracking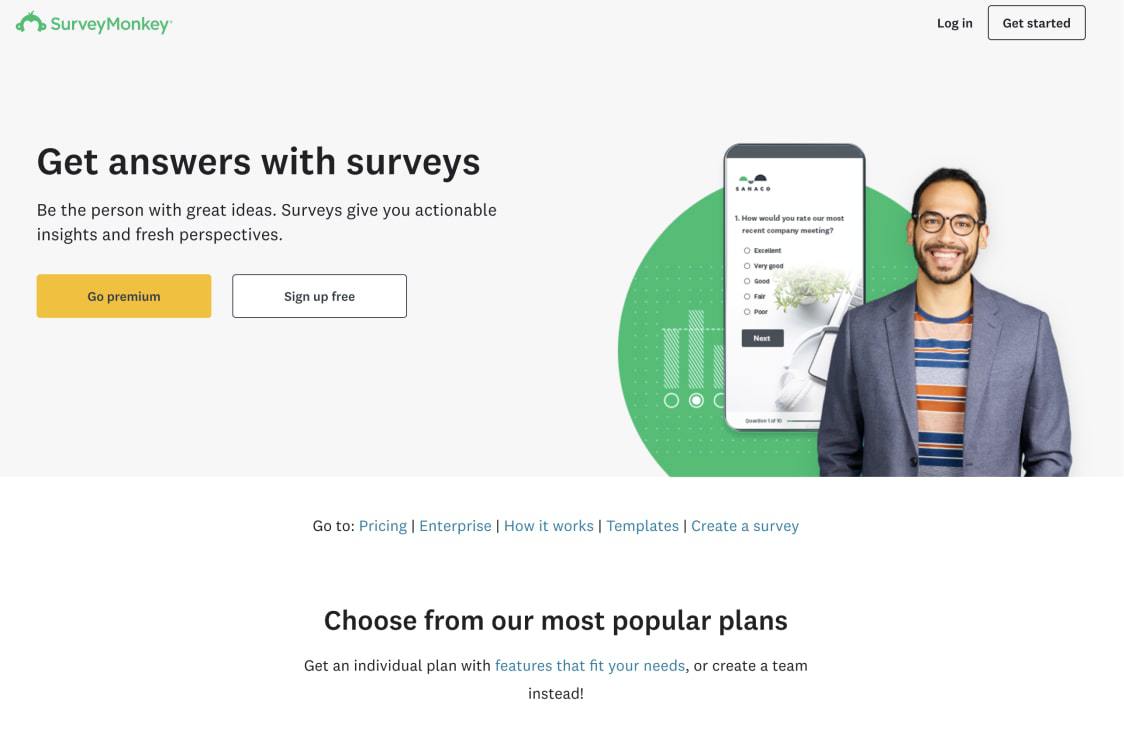 * * *
6 - Formstack
Data collecting is simplified and streamlined via Formstack. You may develop forms using its software in a matter of minutes. You can create additional papers with Formstack and gather necessary add-ons from any device, including digital signatures. With Formstack's System for Cross-domain Identity Management, you can manage your accounts and streamline your workflow using your own system. To learn more about Formstack, you can read our article Top 15 Formstack alternatives to check out in 2023.
Free Plan: No
Price range: $59- $249
Main features:
Easy form control with conditional logic
A/B testing
Drag-and-drop builder
Offline capability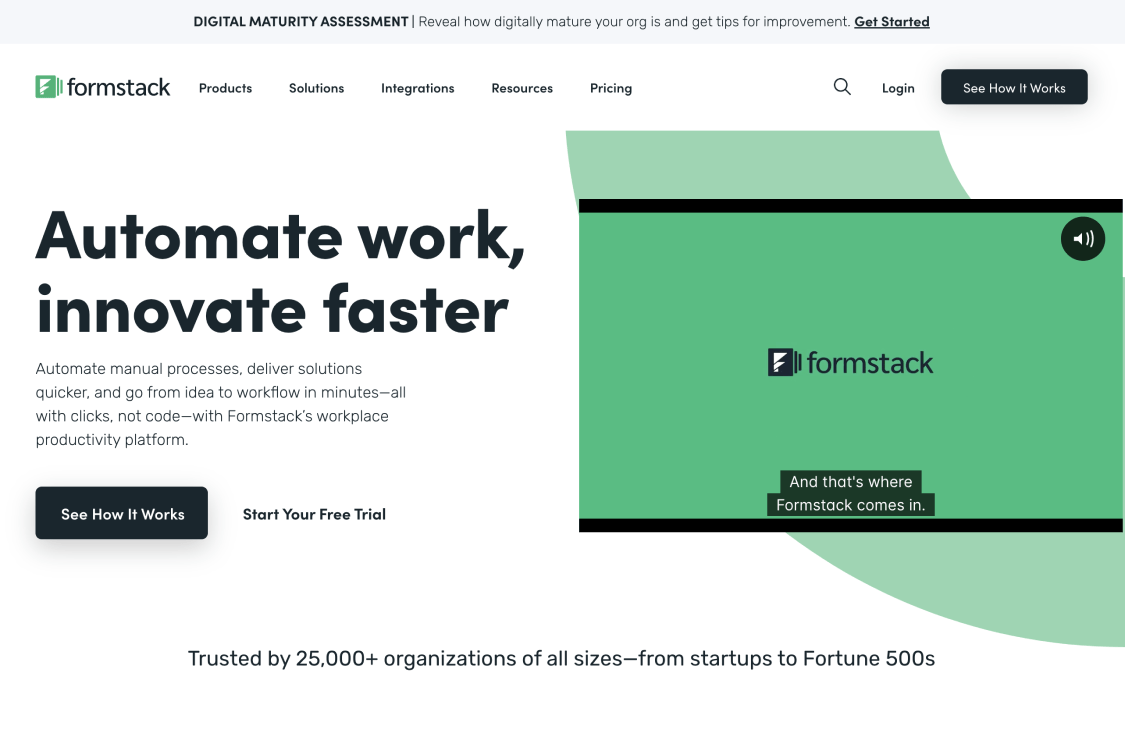 * * *
7 - Sogolytics (SoGoSurvey)
Sogolytics is a cloud-based platform for developing, publishing, and analyzing multilingual surveys, forms, quizzes, evaluations, and polls. It is a secure online survey program and has a number of cutting-edge features. Through the gathering of feedback, the tool can assist you in improving the experience for both customers and employees. With the help of its crafted surveys and assessments, you may acquire information about user experience and analyze responses. The platform's adaptability enables you to start a range of data collection projects.
Free Plan: Yes
Price range: $25 (per month) - $299 (per year)
Main features:
Third-party integrations
Templates for ready-to-use surveys
Predictive analytics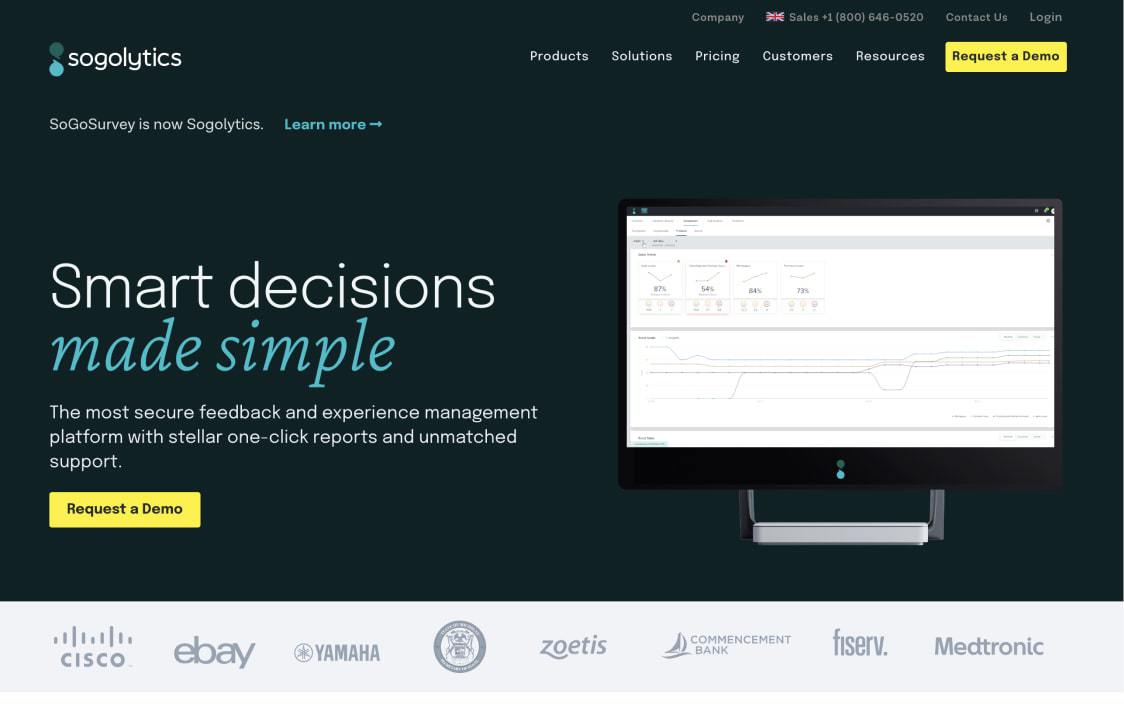 * * *
8 - Qualaroo
Software called Qualaroo collects user and customer feedback. It may be used by businesses to conduct surveys and receive real-time feedback on their website, user experience, product, and conversion rate. The Qualaroo NudgeTM technology may ask the appropriate questions at the appropriate time without necessarily being intrusive on websites, mobile sites, and in-app.
Free Plan: No
Price range: $100 - $200
Main features:
Templates created by experts
Custom questions
AI-powered analytics and reports
Feedback survey in real-time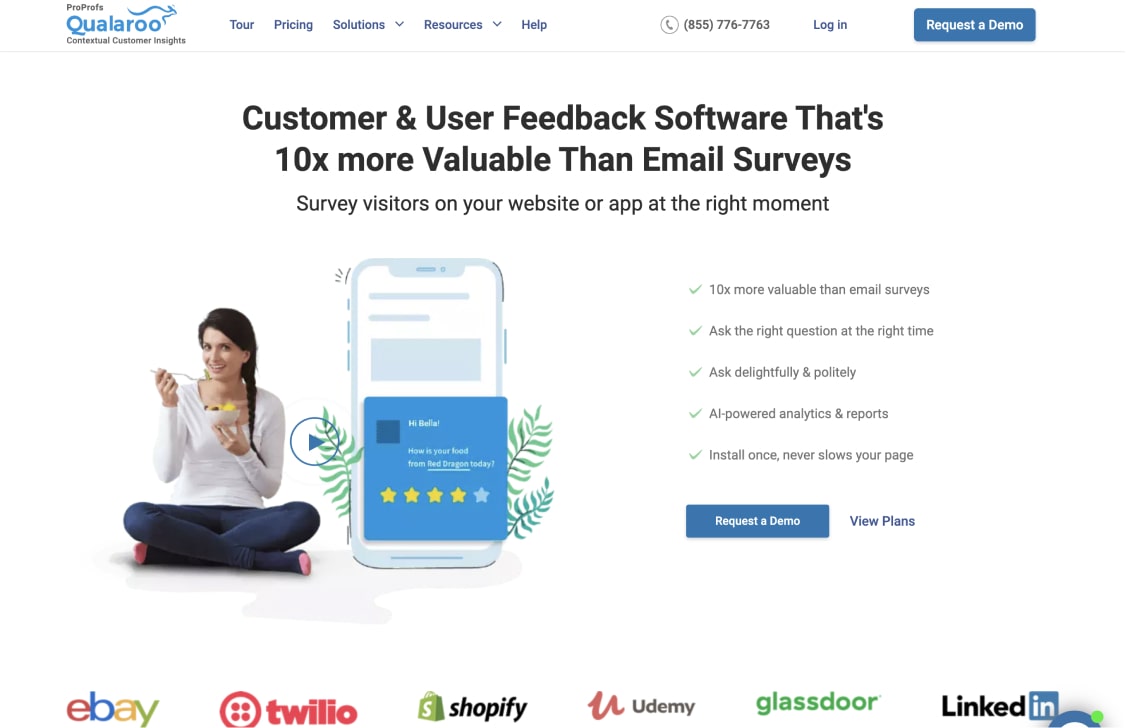 * * *
9 - ProProfs Survey Maker
ProProfs Survey Maker is the flexible survey and form-building software available today, allowing users to ask any question in any way. You may create online forms using this tool, including contact forms, product feedback forms, and job application forms.
Free Plan: Yes
Price range: $0.10 - $0.20 per response
Main features:
Questions under different categories
Advanced reporting features
Branding options
Surveys for feedback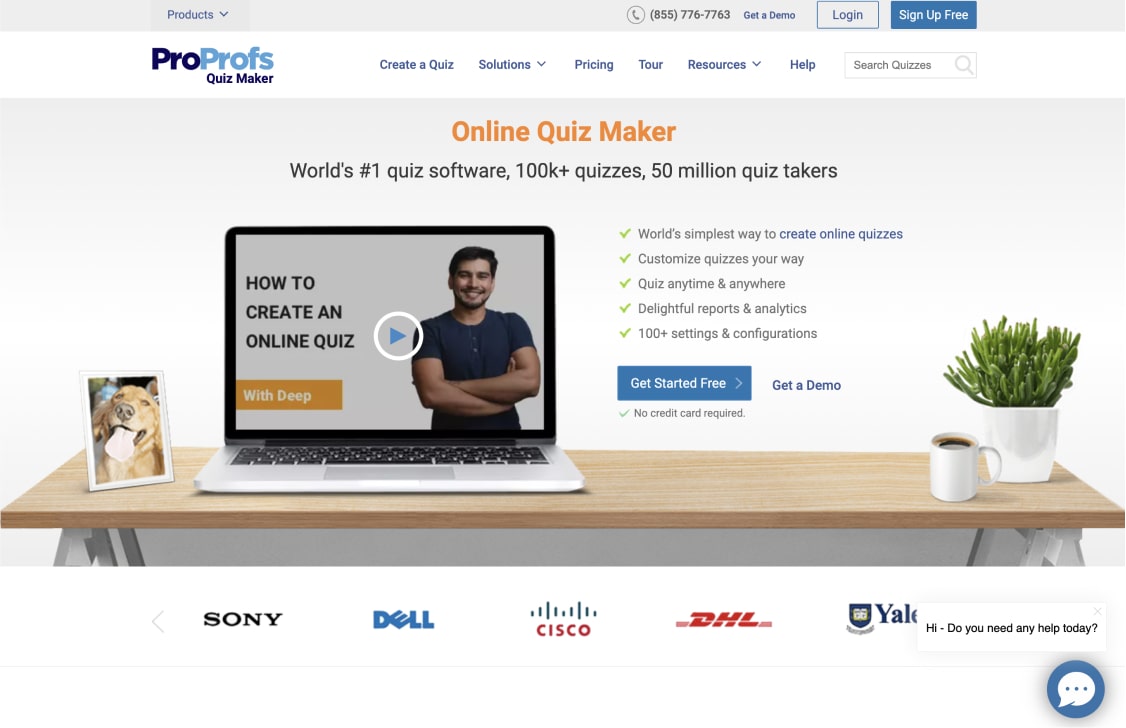 * * *
10 - Typeform
The UI of Typeform is simple and engaging. It follows that it creates shapes that are both aesthetically beautiful and useful, as well as adaptive, to make lead creation simple. Typeform is an expert in conversational forms that seem natural. Conditional logic is used by the service to create more robust online forms with customized query pathways. To entice customers, it also adds welcoming touches to its services.
Free Plan: Yes
Price range: $29 - $99
Main features:
Create custom reports based on data
Personalized form greetings
Logic Jumps that meet unique needs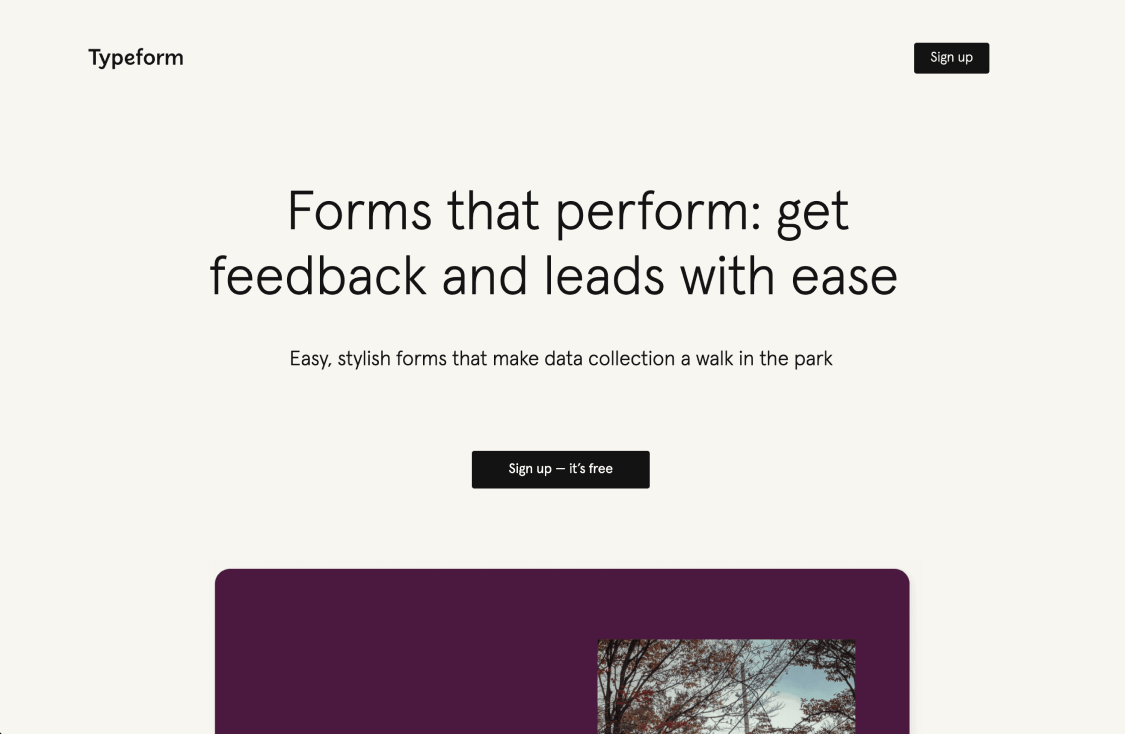 * * *
11 - Cognito Forms
Cognito Forms is a simple online form builder to automate and streamline your labor so you can complete your own digital transformation. You can rapidly and effectively develop forms using Cognito Forms. The service offers drag-and-drop builder capability along with a customizable infrastructure.You can also visit our 15 best Cognito Forms alternatives to learn more.
Free Plan: Yes
Price range: $15 - $99
Main features:
Various payment structures
Tracking and analytics abilities
Conditional logic for forms can be used simply with a logic builder
Data encryption
Multi-page forms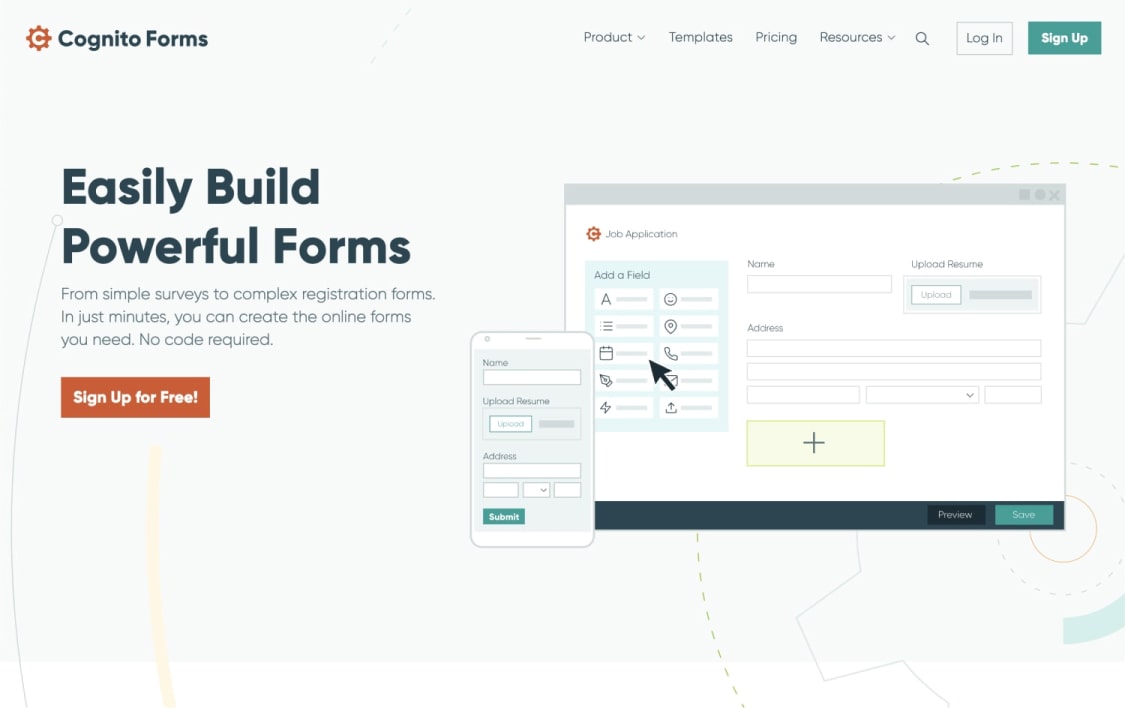 * * *
12 - Snap Surveys
Snap Surveys is a provider of comprehensive survey solutions created by professionals. With a history that dates back to the early 1980s, it has made a name for itself as a leader in the sector and offers competence in both market research and software development. Snap Surveys offers comprehensive solutions, including survey development, paper surveys, questionnaire design, data collection, experience measurement, and analysis & reporting.
Free Plan: Yes
Price range: $73 - $126 (billed annually)
Main features:
Multiple survey formats and languages
Collaborative project-sharing
Smart reporting
The platform for measuring user experience
Visual questions
Dynamic material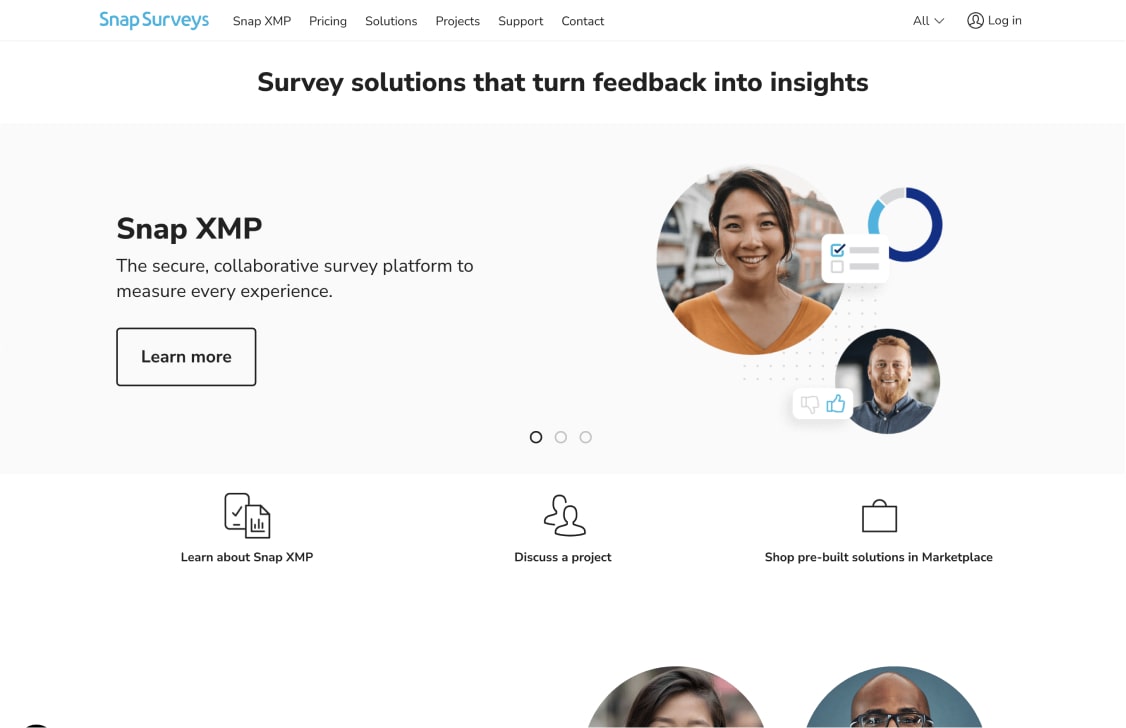 * * *
The Elementor Website Builder plugin provides a pop-up builder that allows you to make pop-ups that you can use for different forms if you're looking for a more WordPress-focused option. You can tailor the information you want to present in any type of pop-up with the Elementor Popup Builder. Styles available include full screen, fly-in, and bottom bar. This fulfills the requirements for building the form and dynamically delivering it to your client.
Free Plan: No
Price range: $49 - $999 (annual plans)
Main features:
A hundred or more eye-catching templates
Smooth animation
WordPress compatible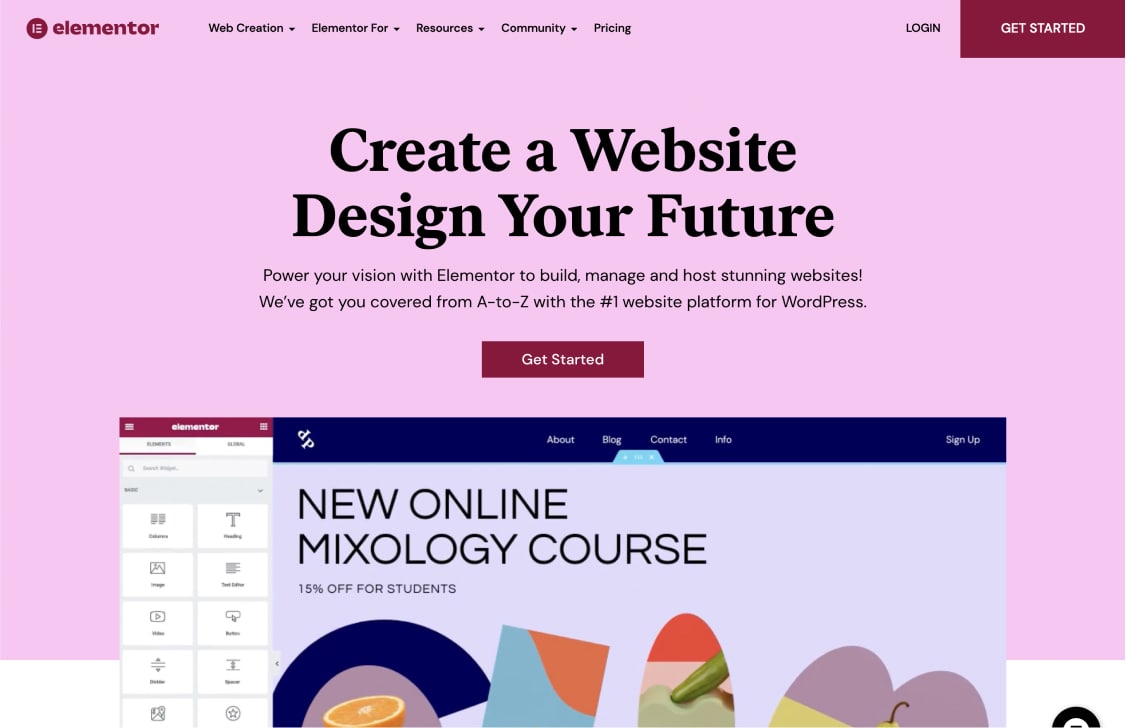 * * *
14 - PandaDoc
PandaDoc, another option to Wufoo, makes it simple to gather information and eSignatures from customers, workers, job applicants, and suppliers. A PandaDoc form can be easily shared by direct link or by being embedded on your website. There is no need for coding. Businesses, healthcare providers, educators, government agencies, non-profit organizations, and online retail outlets all use the solution. PandaDoc allows you to design a variety of forms, such as registration forms, employee surveys, feedback forms, membership forms, registration forms, and order forms.
Free Plan: Yes
Price range: $29 - $59
Main features:
Workflow control
Compatibility with current systems
Onboarding services
17 distinct form categories
750+ editable business document templates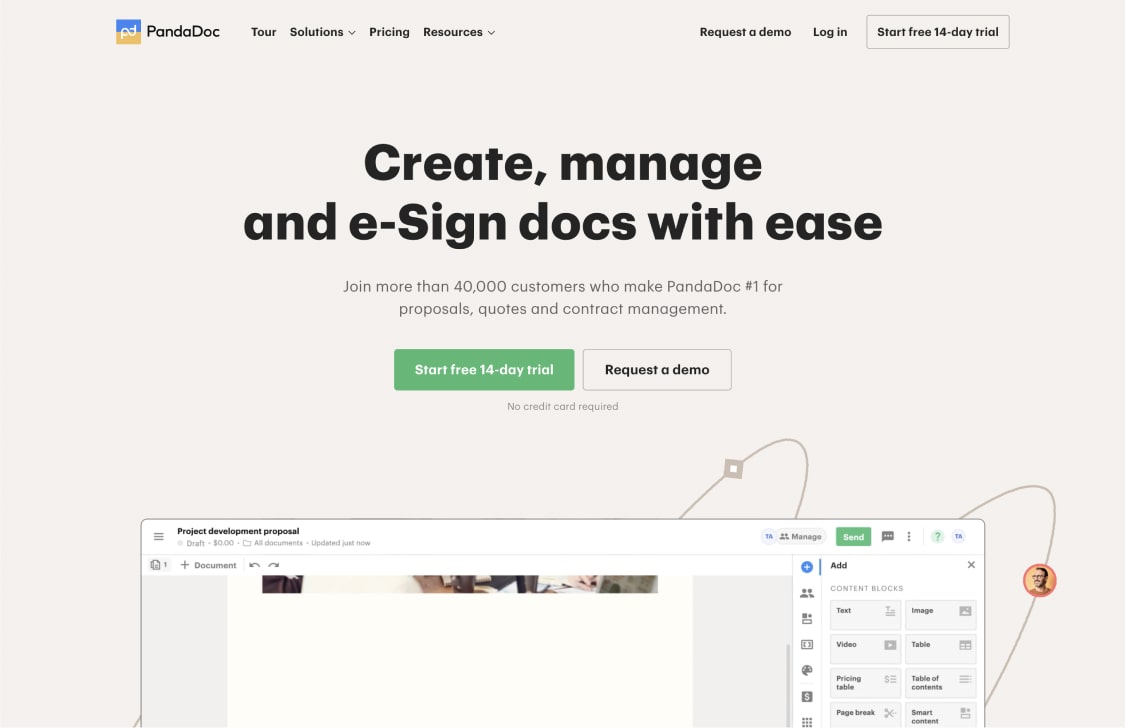 * * *
15 - JotForm
JotForm's dedication to staying current and useful for its consumers is seen in the form's contemporary UI. JotForm is a fully comprehensive platform for creating forms that can be used on desktops, tablets, and mobile phones. For all of your website's needs, JotForm features a library of more than 10,000 free templates. It smoothly connects with well-known programs and supports a variety of payment methods. For more on Jotform, you can read our article Top 10 Jotform alternatives.
Free Plan: Yes
Price range: $34 - $99
Main features:
Options for sharing survey results via SMS and QR codes
Capacity at the enterprise level
Easy-to-use API
Offline building
Automated backups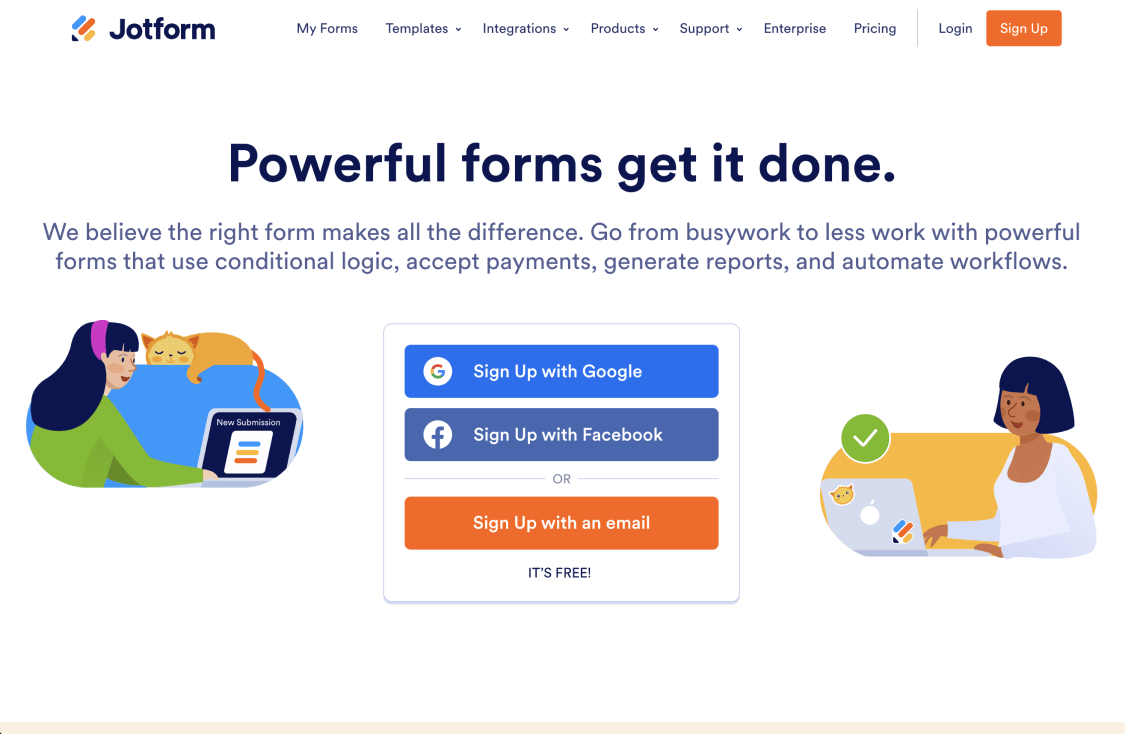 It's crucial to create an effective form for your business. The good news is that you can create high-quality web forms with the aid of a variety of form builders. There are many options to choose from, and you can use the form tool that suits you best by examining the Wufoo alternatives we mentioned above.
When choosing a form creation tool; you can choose the right form by looking at the answers to questions such as does it suit your business goals, does it satisfy you in terms of price performance, how user-friendly it is, the features it offers, and whether you can customize your forms. To tell the truth, forms.app is a platform where you will get answers to your questions. Try it and see the difference.
Conclusion
The majority of form builders include all the features required to create a simple form, but when you want better customization and in-depth data analysis, your options start to become more limited. Our goal was to make the process of choosing the best online form builder a little easier for you.
Check out 15 Wufoo alternatives that will work for you, and choose the one that suits you. That's how you'll be able to determine which form tool is right for you for your team's goal and your specific company needs.