In a changing and developing world, phones are used for many things other than communicating. With the widespread use of the Internet, phones have become a necessity for all people. In this way, you can finish much of your work quickly via your phone. In addition, it is effortless to keep track of these works.
One of the jobs you can trace over the phone is forms. You can easily track your forms from your phone thanks to mobile-friendly forms. There are many mobile form builders with mobile apps. One of them is forms.app. In this article, you will have information about how you can learn all the notifications about your forms immediately, thanks to the forms.app's mobile application.
Advantages of using a mobile application for online forms
Digitalization is gaining importance day by day in the world. That's why everyone is trying to make their work compatible with using online. One of them is online forms. Creating a mobile form is pretty helpful in many ways. For instance, it is beneficial both for gathering data collection and determining user experience. The only need for preparing forms is an internet connection. Here are some advantageous features of creating exquisite forms with apps:
Easy to share: You can prepare forms on many different topics. It is a helpful tool in many different subjects, from satisfaction research to product marketing. For this reason, advertising and social media platforms will be very advantageous for your business. With form builder tools like forms.app, you can embed your forms on your website. You can also share your forms on any social media you want.
Save time: In the past, paper forms were very popular. Therefore it was complicated to prepare, distribute and collect data. However, now you can prepare your forms from any mobile device, thanks to online forms. With online forms, you save time while preparing and collecting information. Furthermore, you can use this time you earn more efficiently to improve your business.
Better service: Online forms are also a better choice for your customers. Customers can control and access at any time may be one of the reasons for choosing you. Providing better service helps you reach more customers. Moreover, it also supports the growth of your business.
Accessible from everywhere: When you create your forms online, all you need is an internet connection to access the forms. You can create forms wherever you have an internet connection or quickly learn the details about the forms.
Save money: Online forms also help you save money. There are many costs involved in paper forms, such as printing, distribution, and employees. However, there are no such problems with online forms. Using online form builders, you can quickly create your form and share it wherever you want.
Ease of storage of form data: When online forms are filled, it is also possible to preserve files online. Thanks to these forms, you can safely store your data for many years. In addition, you do not need to be afraid of situations such as deletion of records.
Increased productivity: You can complete your work faster with online form builders. You can easily store and analyze your business-related data and feedback. As a result, you speed up your business and provide a better service to everyone.
More secured forms: Online form builder lets you decide who can see your forms. Only you or the people you specify can see your forms. It is only up to you to decide.
How to create mobile-responsive forms on mobile or desktop
It is possible to create online forms without any effort. In forms.app, every form type is optimized for mobile devices. You can quickly prepare your forms from the phone, thanks to the free form templates. Additionally, people can also fill out their forms from any device with an internet connection.
Creating online forms is easy with forms.app. You can finish your work quickly by making use of hundreds of online ready-made form templates. Moreover, with forms.app, you can control how your forms will appear on phones, tablets, and laptops.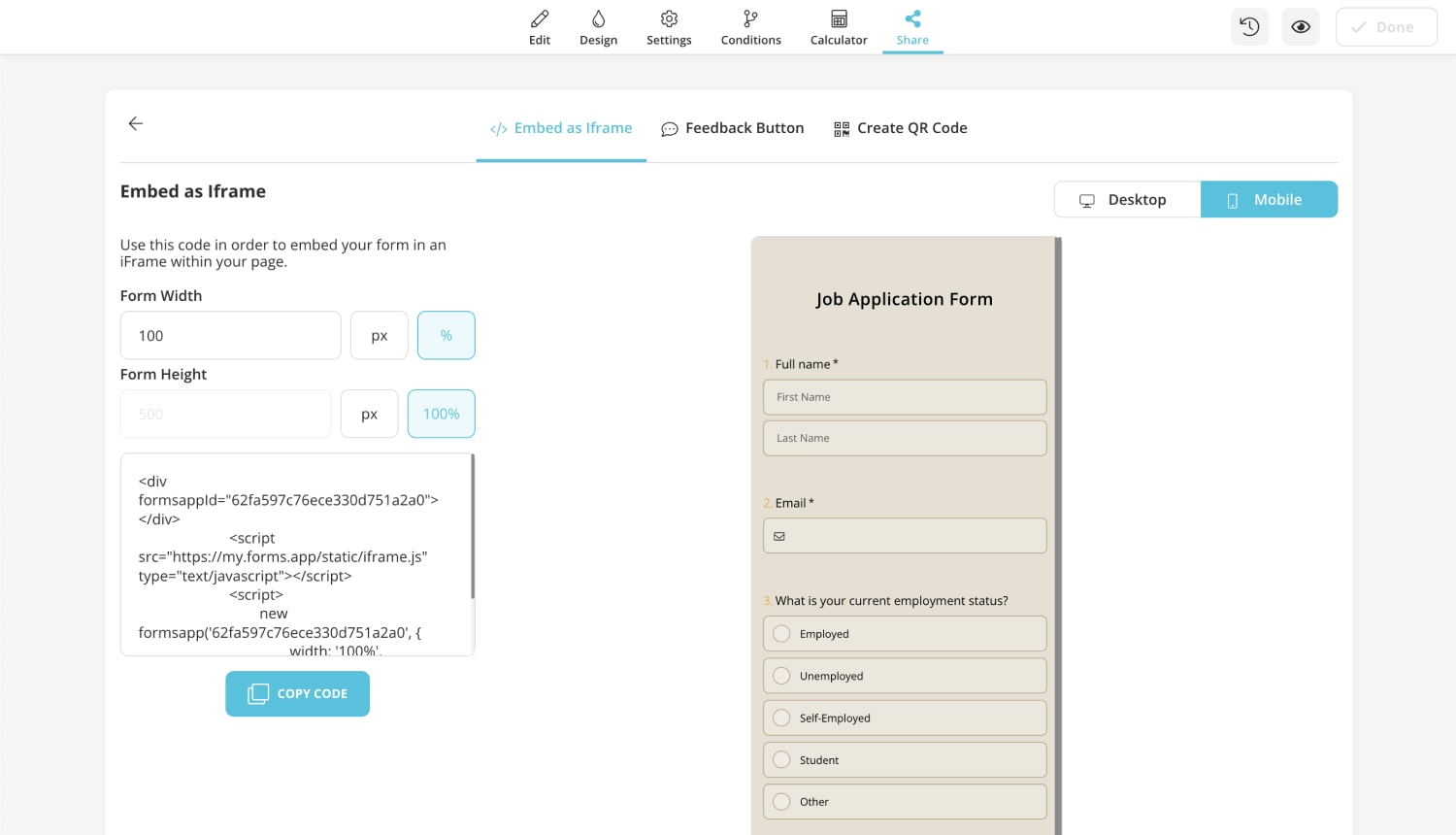 How to track your forms on the go
You may be wondering how tracking your forms will be with forms.app. Firstly, you can download the application of forms.app. This app is compatible for both Android and IOS and Huawei devices. You can read this article for detailed information on how to download forms.app.
You can instantly check every detail of your forms from the application of forms.app. You can find out how many people answered the form in the "My forms" section. In addition, after clicking on the form, you can even see how many minutes the form was completed and from which devices it was answered in the "Results" section. In addition, you can access details such as submission time and percentage from the "Statistics" section on mobile.

Download forms.app to your smartphones
In summary, creating online forms has many benefits for both your business and your customers. Having online form builder applications in your pocket also makes your work easier. You can access the analysis, responses, and many more details of your forms from anywhere you want. If you want to save both time and money, download the forms.app and start creating your forms without wasting time!