Using form builders to make your workflow efficient is nothing new. Businesses use these new methods to save time and money in numerous ways. Getting feedback from employees or insights about customers to make more efficient improvements are now a necessity. And professionally, doing this with form builders is your key to success.
If you are looking for a form builder for your business, you might be familiar with Crowdsignal. Thanks to its features, you can design customized forms and surveys using Crowdsignal and get flexible with your surveys. But there are lots of Crowdsignal alternatives that you may consider before creating your first survey to achieve better results.
About Crowdsignal
Crowd signal is a survey maker that can be used to create polls, quizzes, and surveys, and you can share them via e-mail, Facebook, and Twitter. Crowdsignal enables you to analyze your surveys, and you can export your survey results to google sheets and excel to allow you to have more control over your data.
Crowdsignal enables you to customize your surveys with suitable colors for your brand, and you can also use ready-made themes. Also gives you an opportunity to use features such as enabling CAPTCHA and disabling giving more than one response to each survey.
Even though it gives you a free plan option with a limitation of 2500 responses, there are few paid options to choose from with their advantages. Crowdsignal pricing:
Premium: $25 per month if billed monthly and $15 per month when billed yearly.
Business: $59 per month if billed monthly and $45 per month when billed yearly.
Team: $29 per month per user, and there is only one option which is billed yearly.
10 Great alternatives to Crowdsignal you can use in 2023
Considering Crowdsignal's limitations when it comes to ready-made form, survey, and poll templates, you might be interested in taking a look at different form builders like Crowdsignal to have more features, pricing options, and template options. For this reason, we have gathered 10 great alternatives to Crowdsignal you can use, and we will look at prices, features, and highlights.
1. forms.app
With more than 1000 template forms.app can be a perfect alternative for Crowdsignal.
Its ease of use and affordability with lots of templates put forms.app on top of the list. It offers users a lot of beneficial features, and you can make customized forms at no cost. It provides you with all the form features you need to design ideal forms. You can use free templates as a base and customize them to match your needs.
You may make modifications and build unique forms. You can create beautiful and functional online forms, surveys, and quizzes. It is a cost-effective product, use it and start collecting responses immediately. Additional to a free plan, their paid plans range from $19 to $99 per month. The yearly plans show a reasonable price range between $12 and $59 per month for extra capacity and features.
Highlights:
More than 1000 pre-made templates are available. As a result, developing your forms won't take much of your time.
You have many integration options to better fit your working environment.
Special field types are available for your different needs. And you can change them whenever you want.
A lot of advanced customization features (calculator, conditions, product basket, etc).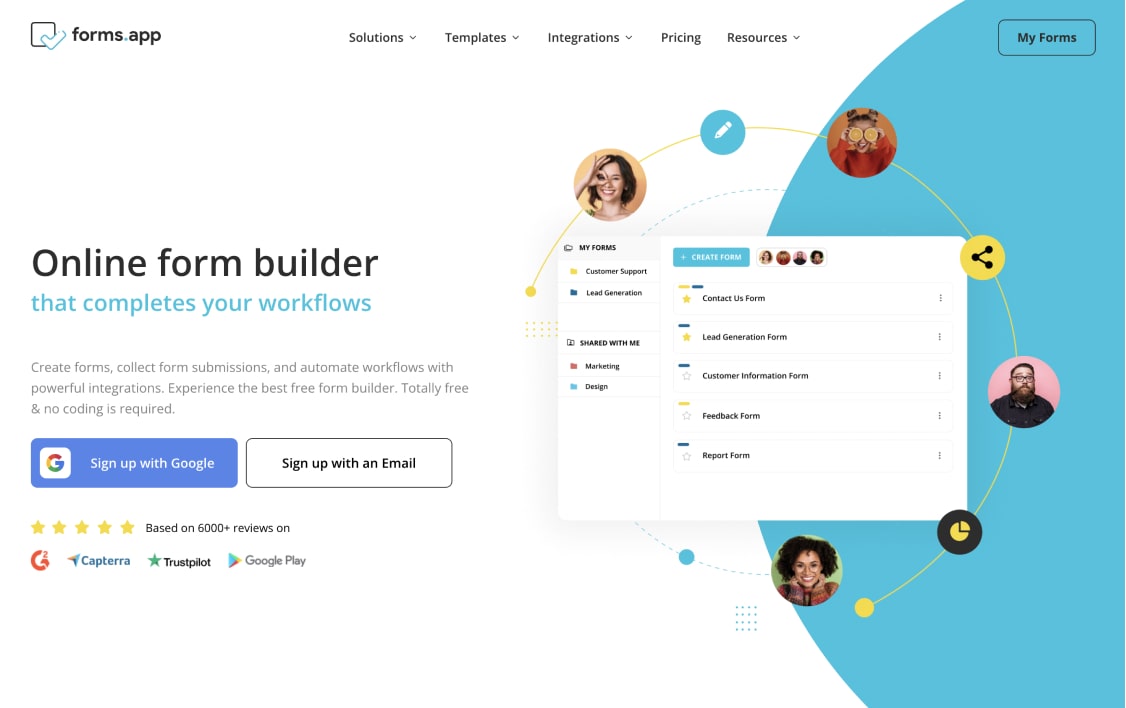 #1 Crowdsignal alternative - forms.app
* * *
2. Typeform
Typeform is another alternative form builder. You can create forms and surveys using the Typeform online form builder. Thanks to its useful tools for designing and customizing design options, you can create beautiful forms, and with the membership package, you can include a wide variety of question kinds and third-party integrations. Additionally, it is free to use with some restrictions. On the other hand, paid plans range from $29 to $99 per month.
Highlights:
It features pre-made form templates and offers sophisticated design choices for customization.
The free plan has unlimited survey creation options.
Although the platform is suitable for creating short and simple forms, for creating complex forms, you may prefer other form builders.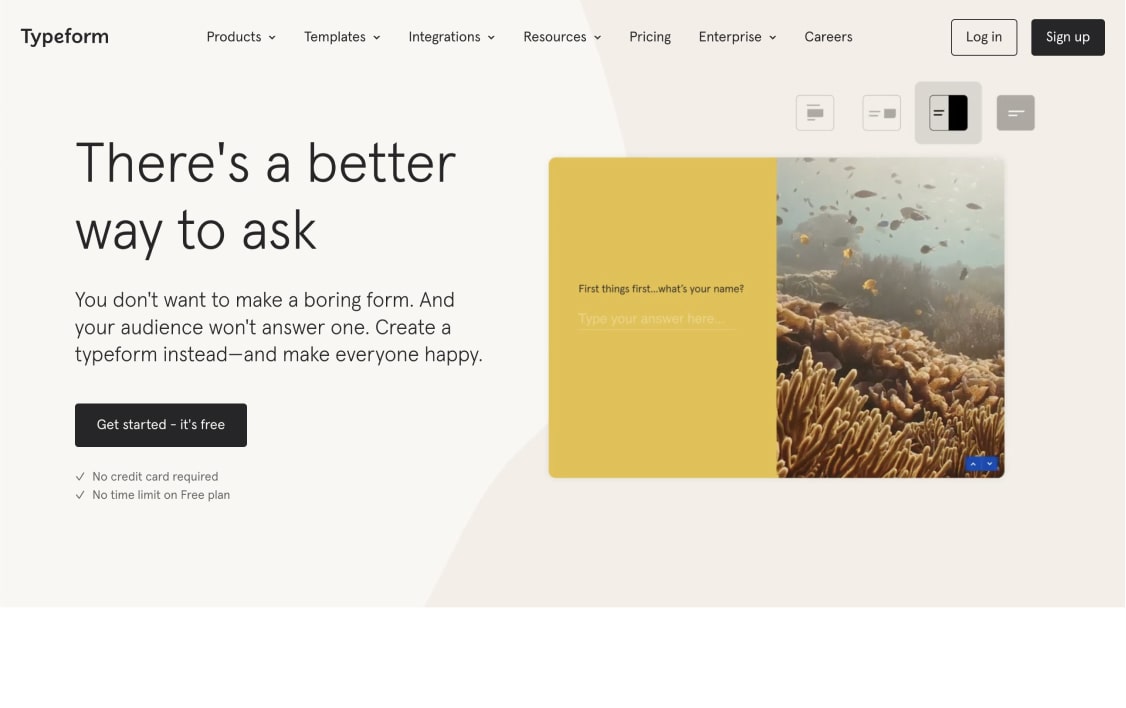 #2 Crowdsignal alternative - Typeform
* * *
3. Gravity Forms
Another good alternative to have is Gravity Forms. Even though it is a good form builder that enables making forms without coding, unfortunately, there is no available free plan, and it is only possible to use a 7-day free trial. And addition to that, prices may surprise you; paid plans range from $59 to $259 per month.
Highlights:
It is quite pricy as being one of the most expensive form builders
Gives great freedom when it comes to creating polls and surveys with its drag-and-drop feature.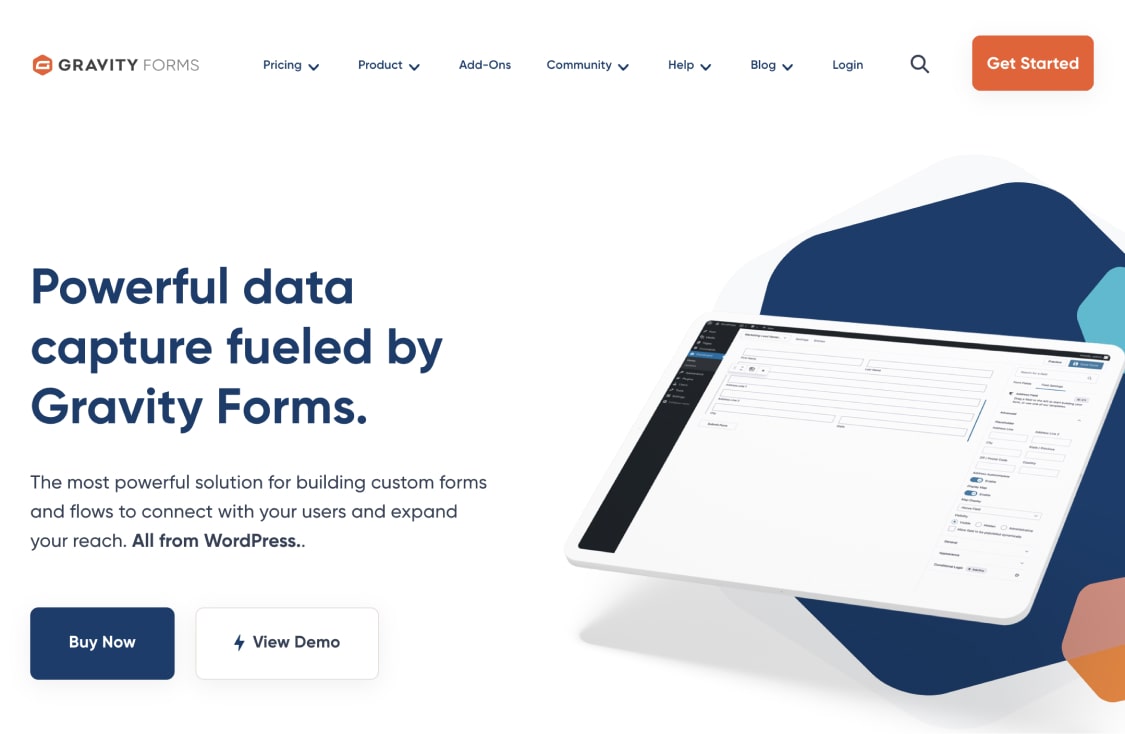 #3 Crowdsignal alternative - Gravity Forms
* * *
4. Form.io
Form.io is another alternative that gives a drag and drops option. You can use its ready-made templates to customize your forms and use its automated features to collect payments with its payment software. Form.io also offers a self-hosted service for its customers, but that comes with a price. Its paid plan starts from $300 up to $2100 and may be preferable for bigger enterprises that would like to host their servers.
Highlights:
You can use an integrated payment system.
It may not be suitable for personal use and small enterprises.
You can self-host your forms.

#4 Crowdsignal alternative - Form.io
* * *
5. Survio
Survio is an online survey maker alternative that offers more than 100 survey templates. It has an interface that allows you to integrate your system with various third-party platforms, such as Google Analytics. You can also share your surveys and create links to engage with the target audience through emails or social media platforms. You can use the platform for free, and if you want to use additional features price range is starting from $18 per month to $73.
Highlights:
No live customer chat option if you have a problem.
You can create surveys, collect responses and analyze the results.

#5 Crowdsignal alternative - Survio
* * *
6. 123FormBuilder
With 123FormBuilder, you may simply create forms, polls, and surveys without any coding knowledge. Creating both basic and complex online forms is possible. Also, this form builder has a drag-and-drop interface to design your forms easily. You can also check 123FormBuilder alternatives to explore your options more. Free usage on 123FormBuilder is available, and paid plans start from $19.99 to $199.99.
Highlights:
The free version limits you to create five forms and cannot use features; also, form fields are limited.
Enables you to create multi-language forms
More than 2000 templates.

#6 Crowdsignal alternative - 123FormBuilder
* * *
7. Jotform
You can create professional-looking forms without coding using Jotform, and it enables you to style your forms with your logo, fonts, and colors. It is possible to send form submissions automatically. Jotform has 150+ integrations to make your forms reachable and useful. Jotform has a free-to-use option with limited service and paid plans starting from $39 to $129.
Highlights:
150+ Integrations to expand your experience.
You can limit the questions with the conditional logic feature.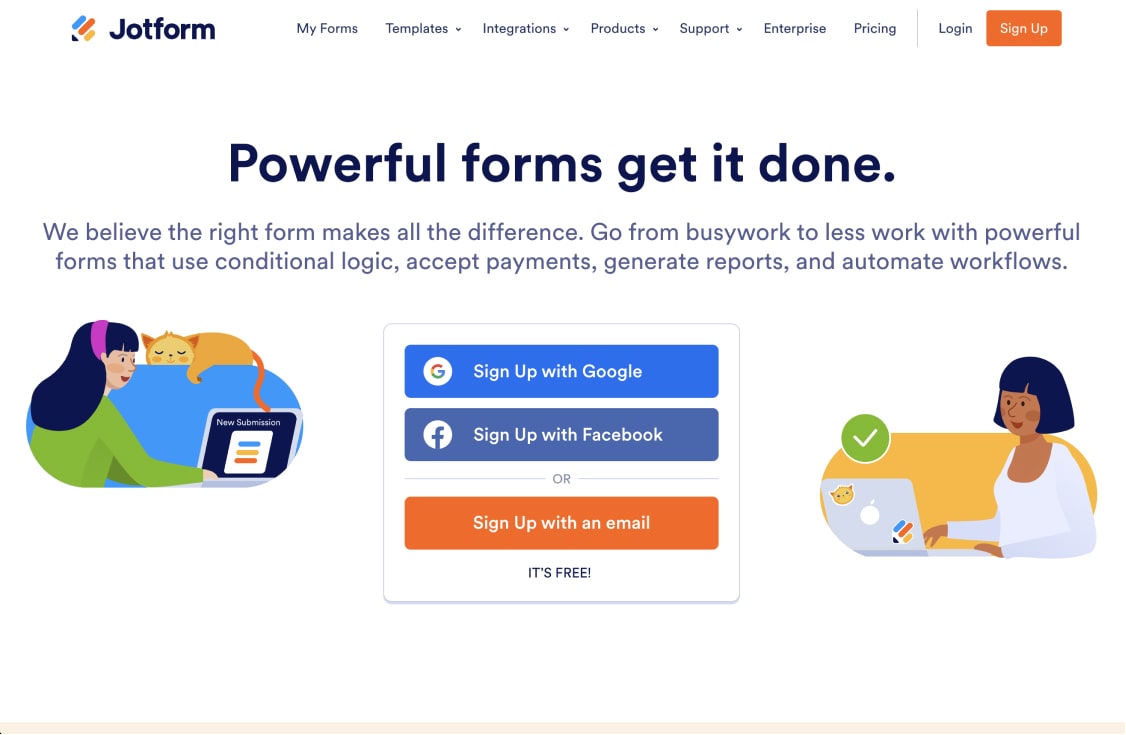 #7 Crowdsignal alternative - Jotform
* * *
8. Formsite
Formsite is another alternative that allows customers to design unique forms, surveys, and quizzes and collect replies online. It has a number of features that make it simple for users to develop and manage online forms, including customizable templates, connectivity with other applications, and real-time reporting. Businesses, organizations, and people all use Formsite for different things, such as getting customer feedback, doing market research, and collecting registration data. It offers a 14-day free trial, and paid plans start from $21 to $249.
Highlights:
It has more than 100 templates, 40 question types, and adjustable features.
It just has a 14-day free trial and no free option.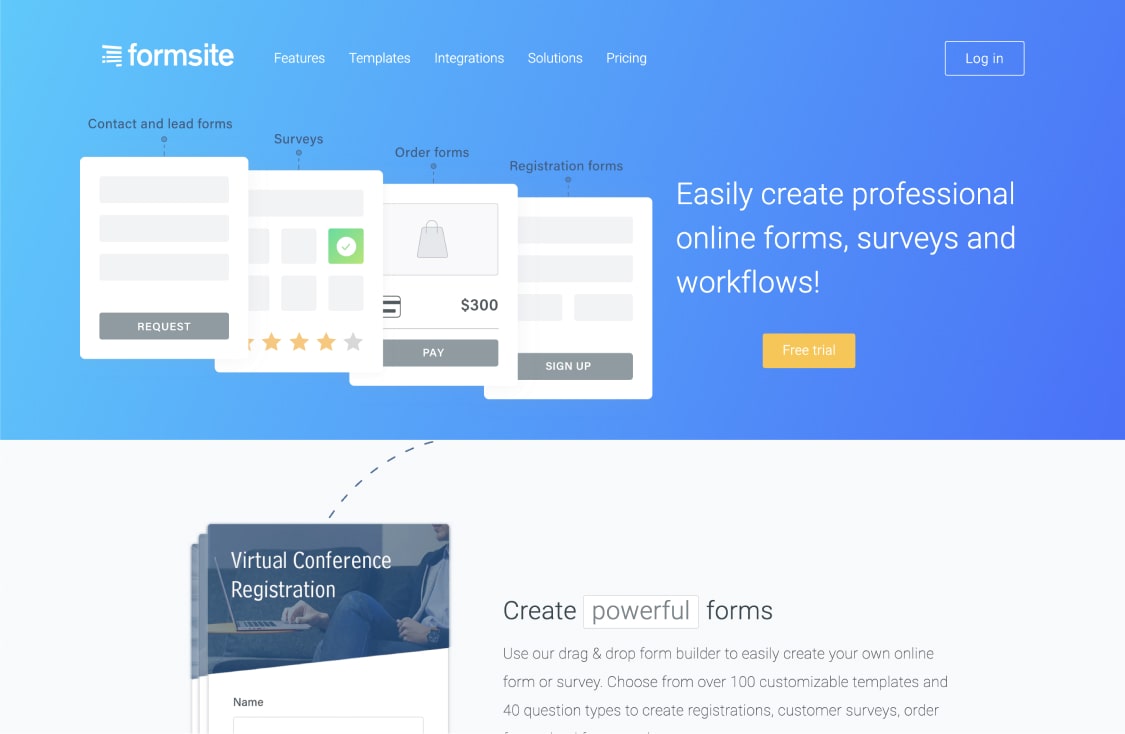 #8 Crowdsignal alternative - Formsite
* * *
9. ProProfs survey maker
ProProfs survey maker is another way to create personalized surveys through various themes. You can customize pre-made survey templates and create yours easily and offers a wide range of pricing with a selectable response limit starting from $10 for 100 responses and $299 for unlimited but offers just a 15-day trial for free.
Highlights:
It is cheaper than other poll makers.
It offers a limited free plan just for 15 days.

#9 Crowdsignal alternative - ProProfs Survey Maker
* * *
10. Cognito forms
The alternative on our list is Cognito forms. It offers a quick way to make effective forms. Options for form customization are available in a range of designs. Useful features like payment connections and conditions are available. Cognito Forms also provides a free plan for use, and paid plans are starting from $15 monthly to $99.
Highlights:
It has more than 150 templates; however, this amount is relatively insignificant compared to the others.
Conditional logic is present. You can more easily find results that are more pertinent by doing this.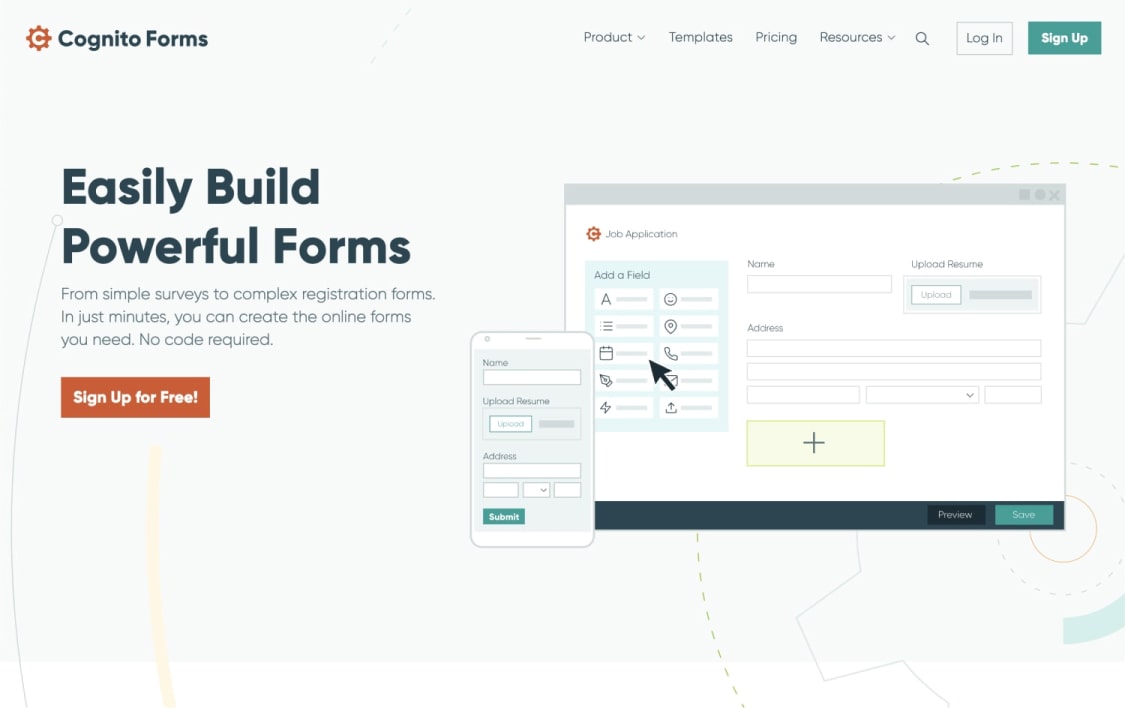 #10 Crowdsignal alternative - Cognito Forms
Which Crowdsignal alternative is right for your business?
We have listed 10 Crowdsignal alternatives for you to make a decision in this article. Depending on the prices and features forms.app is standing out from the list. But depending on your preference, there are 10 suitable choices you can make, and it is impossible to make right or wrong decisions since it simply matters of preference suitable for your business.