A contract is a document that almost every adult person has to prepare. The contract is actually a compromise between the two parties. While these agreements can be made orally, it is more permanent to make them through with these written texts. In addition, contracts are legally binding as both parties sign them.
You can also prepare contracts on many different subjects. In addition, it is in your favor to prepare these contracts, and it is a useful way to protect the rights of both parties. There are many types of contracts, and one of them is an open contract. This article will cover what an open contract means, its rules, and how to create contracts online.
What exactly is an open contract?
An open contract is a type of contract signed without a specific date range. As long as both parties are satisfied with each other, the contract continues. For example, if you are making a purchase agreement, you include details such as the product you purchased and the delivery date in this agreement. However, you do not give a date with an open contract. For this reason, you agree that the other party will bring the products whenever they are available.
The open contract can be adapted to many contract types. For example, partnership agreements, disclosure agreements, and payment agreements are some of them. Just like the other contract types, an open contract includes general terms and conditions, terms of service, and other terms of the agreement. It is also a legal document, and it is legally binding before the law.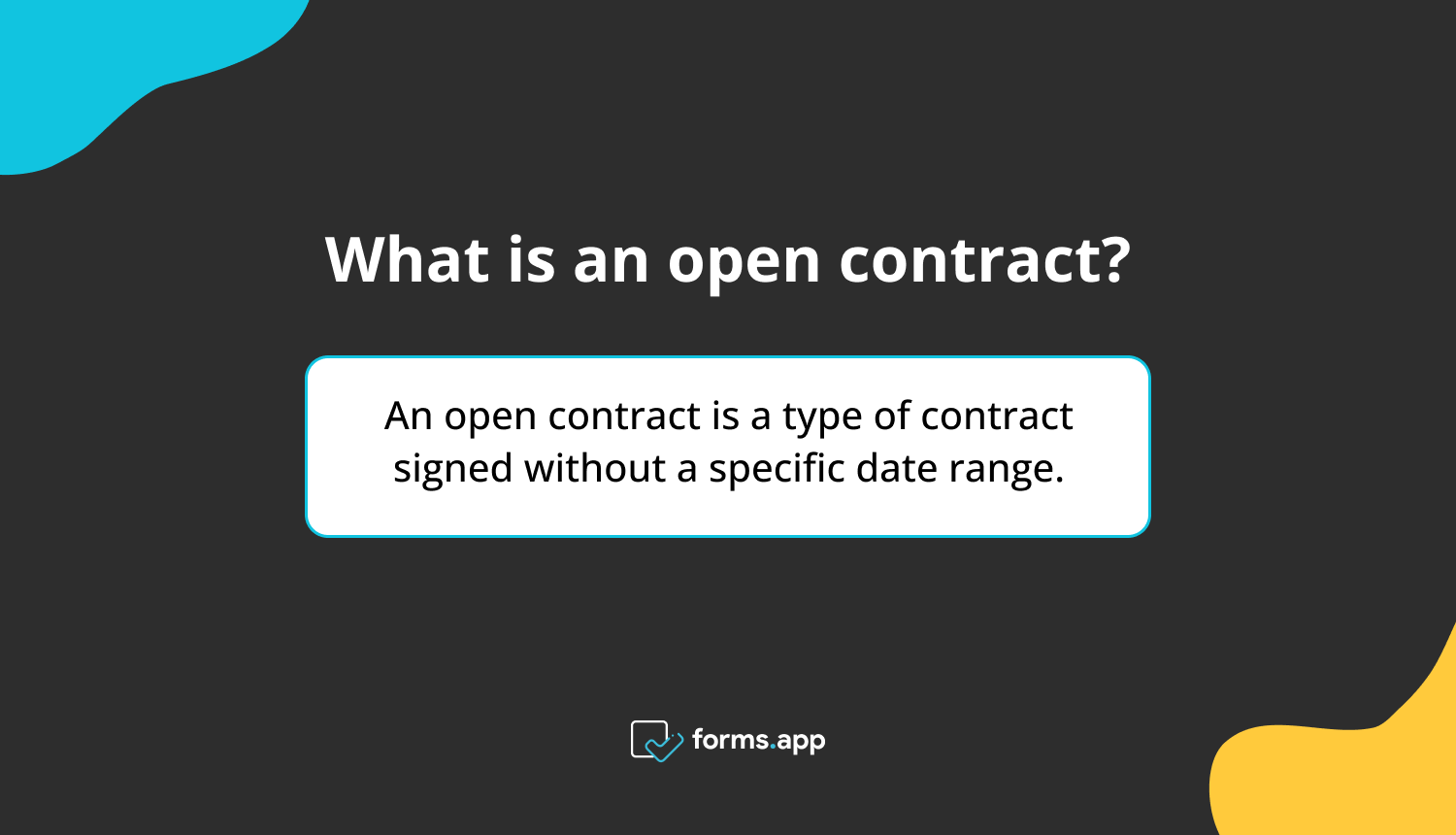 The definition of open contract
Open contract rules: Open contract contracts have emerged over time within the needs, and this type of contract has some rules. For example, it tries to reach a conclusion if certain terms or conditions are not set in a contract. In addition, regardless of time, if one of the parties does not comply with the rules in the contract, the other party may also have the right to terminate at any time.
Advantages and disadvantages of using open contracts
Preapringing an agreement is something you should do before many of your businesses. Creating a contract may give you the privilege of protecting your rights. However, like every contract type, the open contract has some perfect and imperfect sides. Here are some advantages and disadvantages of open contracts.
Advantages:
You don't have to worry about renewing the contract.
You won't spend time and money over and over preparing a contract.
You avoid the lack of communication.
You avoid misunderstandings about terms and conditions.
You get better management of what you do.
Disadvantages:
The uncertainty of dates is problematic for the other party in the agreement.
The contractor takes no responsibility for dates.
Employee may not be able to protect their employee rights.
How do I create my open contract online?
Do you know that you can also prepare these open contracts online? You can find agreement samples with forms.app, one of the best free form builder tools. There are also many contract templates for free you can use as online. By using open contract examples, you can save time.
In addition, you can also benefit from free agreement form templates in order not to waste time. You can sign contracts on a wide range of subjects, from employment contracts to sales contracts. The steps you need to follow while creating your open contract form with forms.app are as follows:
1 - Open forms.app from your browser
2 - Create your own form or choose one of the free ready-made templates
3 - Add or subtract questions from your ready-made template
4 - Choose one of the themes according to your want
5 - Customize every field as you wish
6 - Add terms and conditions to inform the other party
7 - Add signature field to become legally binding
8 - Share your open contact form with whoever you want
9 - Embed the contract to your website if you have
Free contract and agreement form samples
When everything is taken into account, Open contract forms are just like any other contract. Both have terms and conditions, and also, In both, the parties sign, and it is legally binding. Moreover, it has the same value as any other agreement before the law. As in every subject, there are some advantages and disadvantages to an open contract. Considering these, it is the most logical to prepare an agreement in favor of both sides.
It is also quite easy to create open contract forms online, and you can find many contract samples in forms.app, one of the form creators. In addition, you can add an e-signature to your online forms in forms.app to be legally binding. If you want to create your open contract forms in no time, start by using the free ready-made form templates below.