Now more than ever, people around the world rely on digital tools and platforms to get their work done. But many businesses still use manual tools. Because people are afraid that it will be difficult to make changes and it will disrupt their business. But the situation is precisely the opposite. Online tools make your market research, data collection, and analysis even easier. Additionally, form builders, an online tool you often hear about, allow you to collect data quickly. One of these tools is forms.app.
Online forms are commonplace and can be used to collect a variety of data for many different reasons. You can rapidly create completely responsive forms that will instantly take and store data with the right online form creation tool. In this article, you will learn what it is to create a free form, how to create it, the use of templates, and more.
What is a free form?
Forms are tools that you may use to produce and distribute aesthetically pleasing and useful forms that add value to your staff and branches. When creating these online forms, form builders will make your job easier. An example of an online form builder is forms.app, and it allows you to create online forms and surveys easily.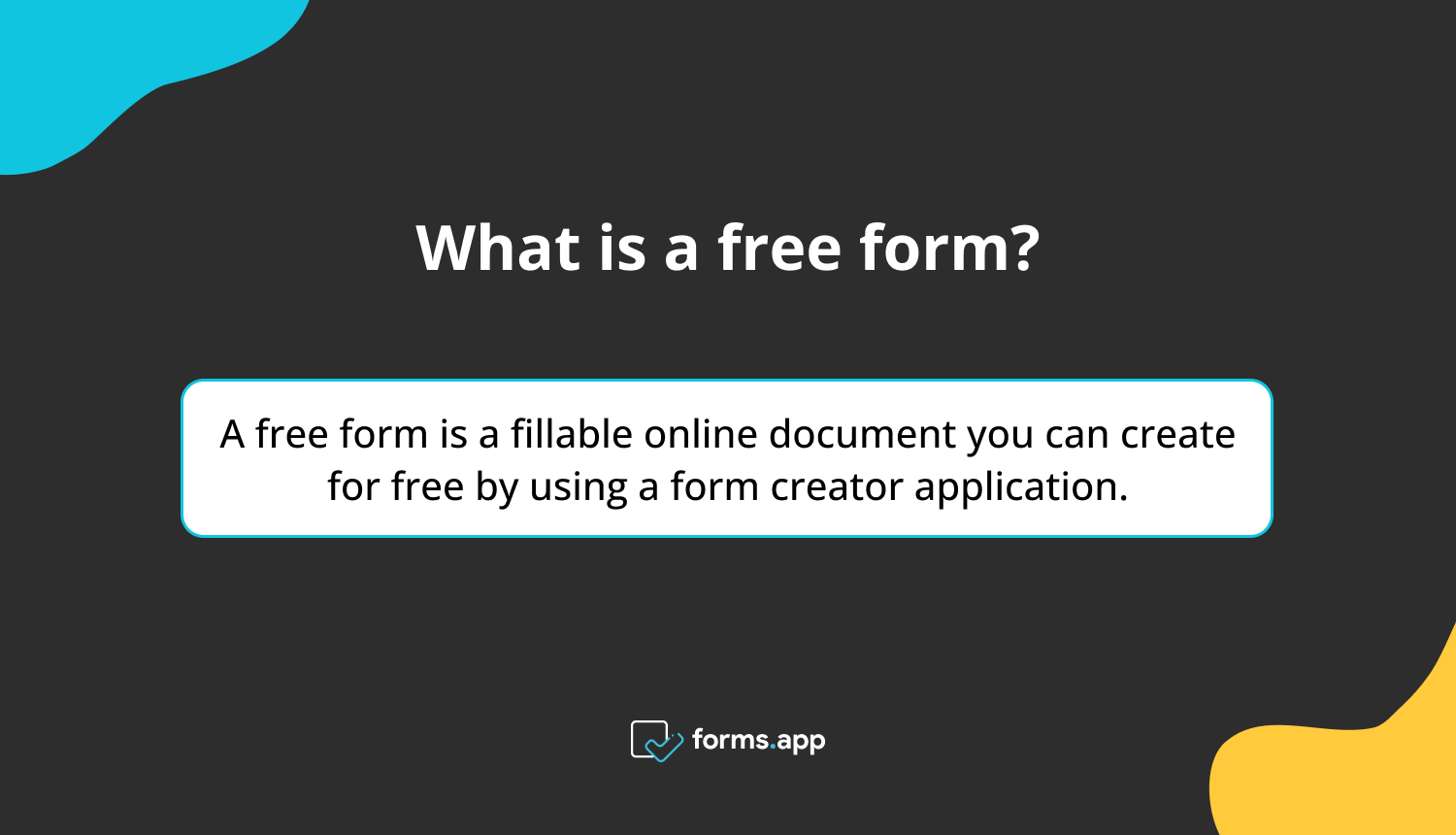 What is a free form?
Today, online free forms are used for a wide variety of purposes, such as providing feedback on software or services, signing up for free trials, and recording event registrations. They also play an important role in market research. Although there are paid uses, most of the free features forms.app offers may be sufficient by themselves. Its easy-to-use software allows you to quickly and easily create and manage online forms without knowing any programming. If you're going to create a free form, you can give forms.app a shot.
If you don't have online forms on your website, you're losing out on a great chance to communicate with visitors and get to know them better. Online forms are a quick and easy way to collect visitor information, and they may give you essential insights into what your customers are interested in and what they want from you. Considering everything, maintaining a professional appearance is crucial for your business and clients because the documents you produce show how much you value your position. Let's see how to create a free form.
How do I create a free form on forms.app? (step-by-step)
If you need to create great-looking free forms quickly, forms.app is the best tool for the job. Questions and form fields are easily dragged and dropped to the desired location. In just a few minutes, you can create the online forms you need without coding. And every modification you make to a form is instantly saved. Also, when starting a new form, you are given the option to choose a template. However, you can always start from scratch if you want. You can also follow the simple steps below to create your form.
Step 1: Log in to your account or create one by visiting the forms.app website.
Step 2: Select the contact form template you prefer, or click the add button on the page if you want to use a blank template.
Step 3: Include questions and conditions that fit your purpose.
Step 4: Customize your form's design and colors by clicking the design button at the top.
Optionally, you can turn on form notifications so you don't miss submissions. Thus, you can instantly collect data about your form.
Step 5: By previewing your web form, you can ensure that it works.
Step 6: Share the URL of your contact form if you like.
Here is the end result:
Free templates to get started
As you can see, creating a form is very easy. With forms, you can choose from a variety of templates to suit your needs. You realize that in a matter of minutes, you can start creating forms and collecting responses instantly. And you know you can create free forms and design them according to your needs.
In addition to creating forms for free, you can create colorful and effective forms with forms.app's free templates. You can share your form via social media or email by copying the unique link of your form. Or you can embed the form on your website for your web visitors to use. Let's start with the templates below.