Web forms can be a key component of any business-to-business sales process in today's digital world. Online forms allow easy data collection and analysis, rapid response to information requests, and qualify leads in a convenient way. This article will help you learn how to create an effective form to have successful B2B sales process all the time!
What are web forms?
Web forms are digital documents that allow companies to collect data from customers or other people. Web forms can be used in a variety of different ways, but they are especially powerful in b2b sales processes and gathering information about potential customers. For business-to-business sales, a web form may help to ensure that customers have the same expectations before speaking with a company representative.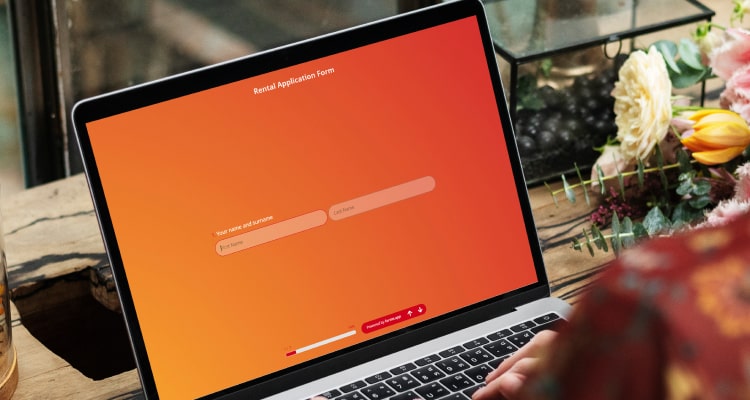 A web form example
How can a web form help you with B2B sales?
In addition to the points given above, web forms can help businesses to more easily collect and analyze data, which can make it easier for them to find new prospects and sales leads. With an online contact form, for example, you can collect organized information and contact details, then speak with a representative to actually sell your products or services. Moreover, web form creation is now easier than ever with free form templates of forms.app.
This will help your sales and marketing team to save time and work more efficiently. With a powerful form that you have placed on a landing page or a contact page, you can easily collect data from potential B2B buyers. For example, you can build a fun quiz about your industry, and at the end of the quiz, you can simply ask them if they are working with an agency or interested in your products. With a web form builder like forms.app, it is all about your imagination.
Best practices for creating web forms that will help your business grow
When creating a web form, there are a few best practices to keep in mind in order to make sure that it is effective in generating leads and sales. These points are also valid for B2C sales and can be used for other customers forms (learn more about customer forms and surveys). Let's waste any time and see how you can achieve effectiveness in your forms.
Keep the form short and simple: When creating a web form online, keep in mind that the fewer fields you ask for, the more likely customers are to complete the form. This way, customers will not be frightened by the form length and can easily fill it out.
Make the form visually appealing: Whether it's a contact us form or a survey, online forms represent your company and should be looking professional. Make sure to use attractive fonts, colors, and images to make the form stand out. To have astonishing designs instantly, check out contact form templates and free themes on the edit page.
Place the form prominently on your website: When building a form for a website, it is important that you place it prominently so that it is easy for customers to access. Web forms can be placed anywhere on a web page, but they should be located in an area where they will be easily seen by everyone who visits your site.
Include only necessary information: Web forms only ask for the information that is absolutely necessary in order to help you better serve your customers. A webform should never ask for information that is unnecessary to the sales process or that your customers wouldn't feel comfortable sharing. For more tips on the topic, you can check out how to create a contact form to automate your business.
Ensure that contact information is collected: Webforms allow companies to collect the respondents' names, email addresses, or phone numbers so that they can easily follow up with them if necessary. This contact information can be used to build contact lists, generate leads, and make more B2B sales.
Provide a clear Call to Action: Web forms don't always require a clear call to action (CTA) in order for customers to fill them out. However, web forms that do include CTAs are more likely to get completed and submitted back to you. A webform should have a clear CTA that immediately tells web visitors what to do next. For example, you may include a CTA such as "submit for free" or "fill out now".

Contacting leads
Examples of web forms that can be used in a B2B sales process
There are a number of different web forms that can be used in a B2B sales process. What's greater about them is that you can create a web form for free on forms.app. You will also have access to a giant library of form templates instantly. Some of the most common web forms you can use include: Contact forms, registration forms, survey forms, request forms, and more.
Start your web form journey now
forms.app offers powerful features to build a way for a powerful B2B sales process. In this in-depth blog post, we've covered how web forms can help your business grow! From why web form is important, to making sure you have an effective web form that will generate leads and produce sales - let us know if you need assistance with these digital web forms.