Are you looking to increase your survey response rates? Conversational forms could help achieve that, as they are mostly rule-oriented web forms, almost like chatbots. Conversational forms are more human than traditional forms. Moreover, conversational forms make the data-filling process smooth and natural.
These forms are much better than other web forms, especially in some scenarios, as they offer a dynamic way to enter data. Such types of forms can help build trust with customers, all the while getting the information you want. In today's article, we will explain how conversational forms can help to boost your survey response rates.
What you need to know about conversational forms
First things first, what is a conversational form?
A conversational form is a type of online form that turns a mere information collection process into a conversation-like process. With conversational forms, it is much easier for developers and designers to engage with web application users in a more compelling manner.
Conversational forms bring much value- to both web users and owners. According to a study, conversational marketing bots can significantly reduce customer service costs by 30 percent. Also, many companies say conversational marketing substantially influences customer loyalty, sales, and revenue. Moreover, conversational forms also play a significant role in increasing survey response rates.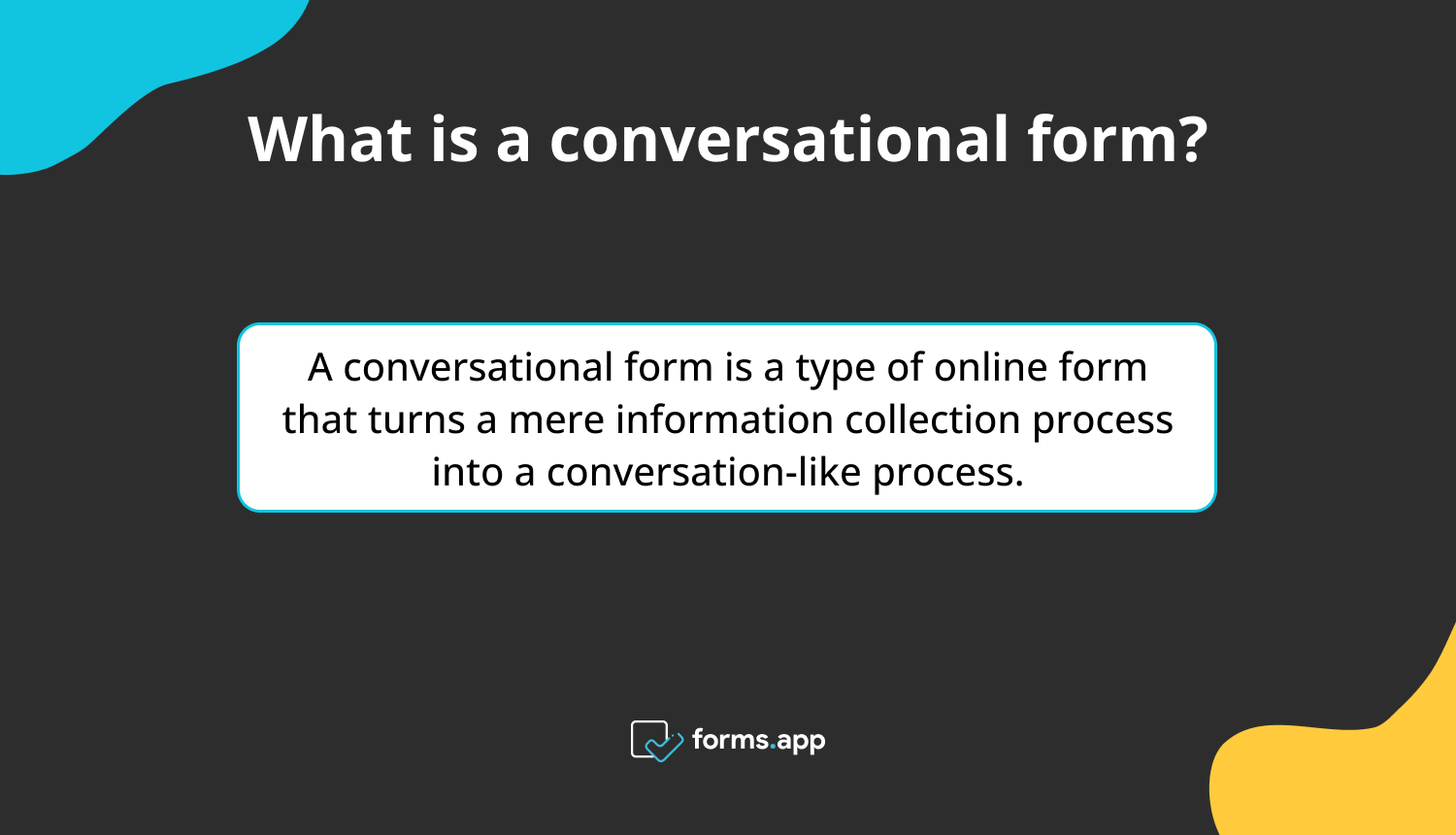 What is a good survey response rate?
The survey response rate refers to the number of people who complete a survey compared to the total number who received the survey. The figure is arrived at by dividing the number of received survey responses by the total number of views and multiplying the figure by 100.
Most people I have interacted with have always wanted to know what a good survey response rate should be. Different experts and researchers have articulated their thoughts on what they think a good survey response rate should be. A study in 2018 considers 33% as the average response rate across all survey channels. However, another research in 2019 suggests that 20% is the benchmark for a good survey response rate. One good way of surpassing this benchmark is by using conversational forms.
How can conversational forms increase your survey response rates
You understand the essential details about conversational forms and survey response rates. It is now time to explore how conversational forms and survey response rate relates to each other. The following are a few ways conversational forms could help foster strong relationships with your customers and increase response rates.
1 - They help to establish strong customer trust
When interacting with your clients, it is a must to establish a strong rapport and connection before going personal. You must establish a sense of trust in your customers and keep personal questions at last, or else you will have a tough time with your survey.
Conversational forms help you to collect information from users. They help initiate conversations with users and assure them that their information is in safe hands. Unlike traditional forms, conversational forms provide a personal touch to the users. For instance, it is easy to design a conversational form that has background information before proceeding to ask for personal data. This early rapport can easily be achieved on forms.app with a welcome page.
Moreover, conversational forms tend to use a friendly and informal tone that customers find pleasant, and they will enjoy completing your survey without having any second thoughts. Your conversational forms should be secure and make people feel safe, and you can achieve this by stating you are GDPR compliant, collect data in accordance with the law, and have branded SSL certs with strong encryption.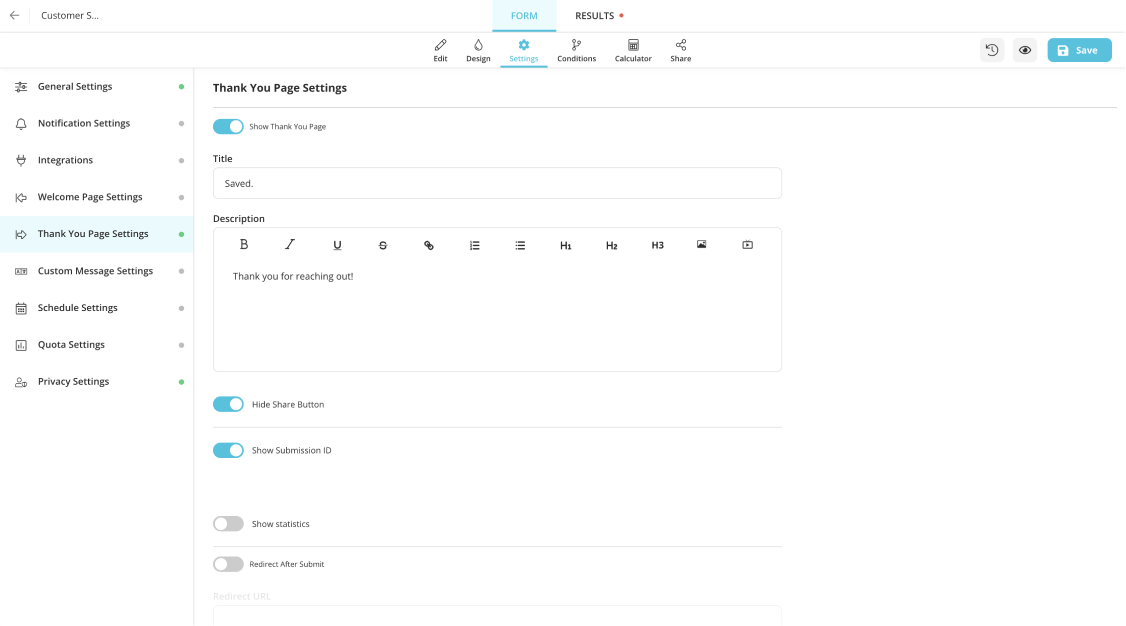 * * *
2 - Conversational forms provide decision support
Picture a scenario: You are filling out a survey, field after field. Each field is a box into which you must insert text. You insert all details into the fields and hit the submit button. To your disappointment, you cannot submit the form because you have made errors in the details you provided, so you have to start all over again. How tedious could that be!
However, the case is different with conversational forms on forms.app since users get decision support at every stage of their survey journey. This technique helps to get correct responses from customers at every stage of the online survey process.
Providing text descriptions and media assistance at each step of the survey process makes the survey journey smooth and flawless for the customers. And you can even add placeholders to show them what information they should enter. As such, your customers do not leave the survey until they reach the end of it. This plays a significant role in increasing the response rates of your survey.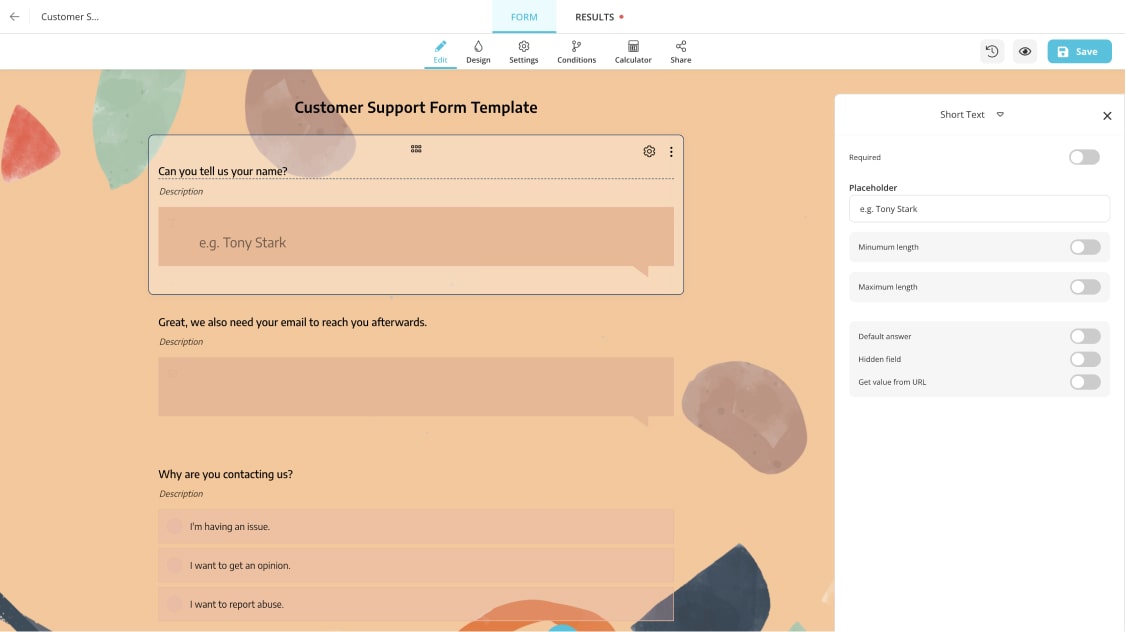 * * *
3 - Enhanced customer experience through a stylish design
We all know what excellent user experience does. People get attracted to beautiful and sleek things, and survey designs are no different. People love excellent first impressions and whether or not they interact with an online resource or network depends on that. According to a previous report, over half of internet users consider design as a crucial factor that determines the opinion they formulate about a brand.
Conversational forms you will create on forms.app can come with excellent designs. You can provide customized and more engaging customer experiences in conventional forms. They have a user-friendly design and sleek interfaces that make it easy for customers to fill in the surveys.
One thing most people prefer about conversational forms to traditional forms is their ability to provide a customized user experience. It is easy to customize everything- from the background to the type of questions in the survey- almost everything can be customized. Concisely, the smart user interface and sleek usability features provided by conversational forms make it a customer's choice and help to increase survey response rates.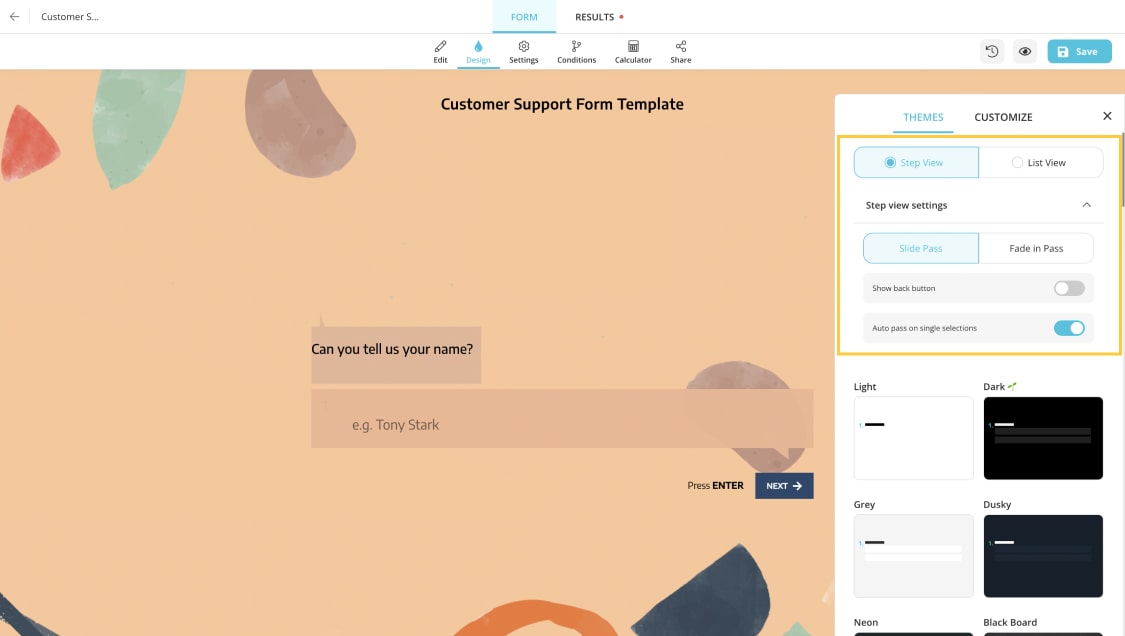 * * *
4 - Personalized conversation
Brand personalization is one of the most critical success factors for almost all brands. Several stats and research reports show how crucial brand personalization is. They include the following:
According to a Yieldify research report called Personalization after Covid-19, 75% of internet users say they are more likely to buy from a brand that offers personalized customer experiences.
A survey by SmartHQ shows that 72% of internet users claim to respond to online messages that give a personalized touch.
A Salesforce 2020 State of Personalization report shows that 97% of brands witnessed a rise in business outcomes due to personalization.
These figures show the role that personalization plays in the success of brands. The same applies to online surveys, where respondents need a sense of personalization to fill out the surveys. On forms.app, you can easily make your surveys more personalized by adding conditions to show or hide some questions based on their answers.
Conversational forms provide you with the unique ability to expand this brand authority. Because you have pertinent customer details, it is easy to create personalized questions that appeal to survey respondents. This could help to boost the overall survey responses.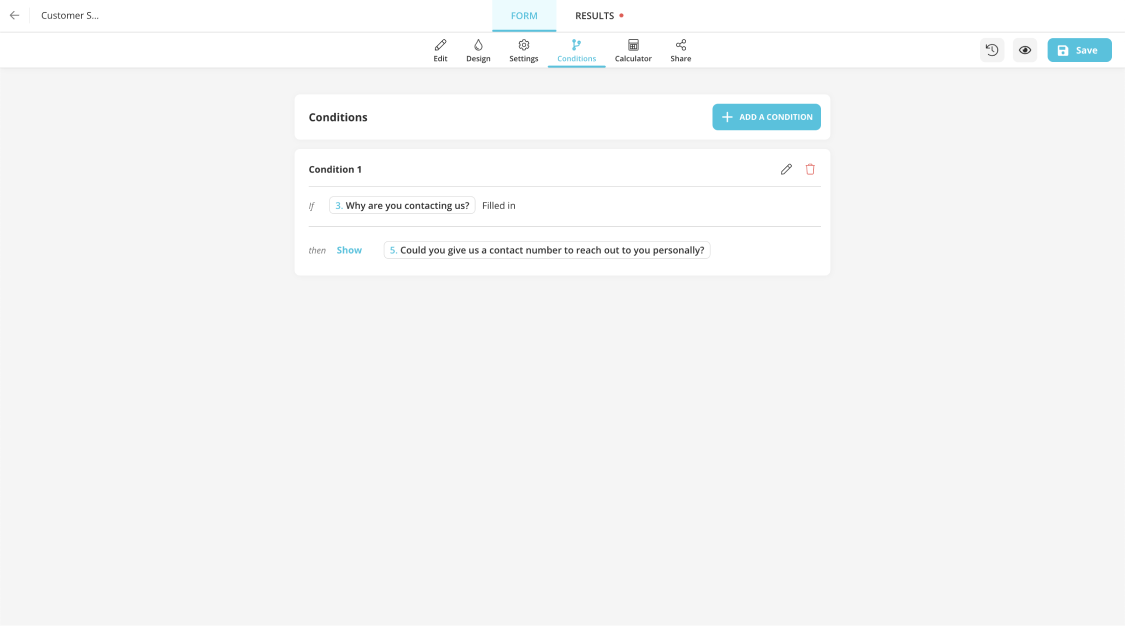 * * *
5 - The inconvenience of CAPTCHA can be eliminated
CAPTCHA is a vital security tool, but it is not convenient for users. They are incredibly annoying to people who have problems with image identification. They are also time-consuming, and most users would exit an online form or page without filling out the CAPTCHA.
The good thing is you can eliminate the inconveniences of CAPTCHA on forms.app. Users do not have to struggle to identify images and waste time they would have instead used to fill out the survey. In the end, the overall survey response rates will increase.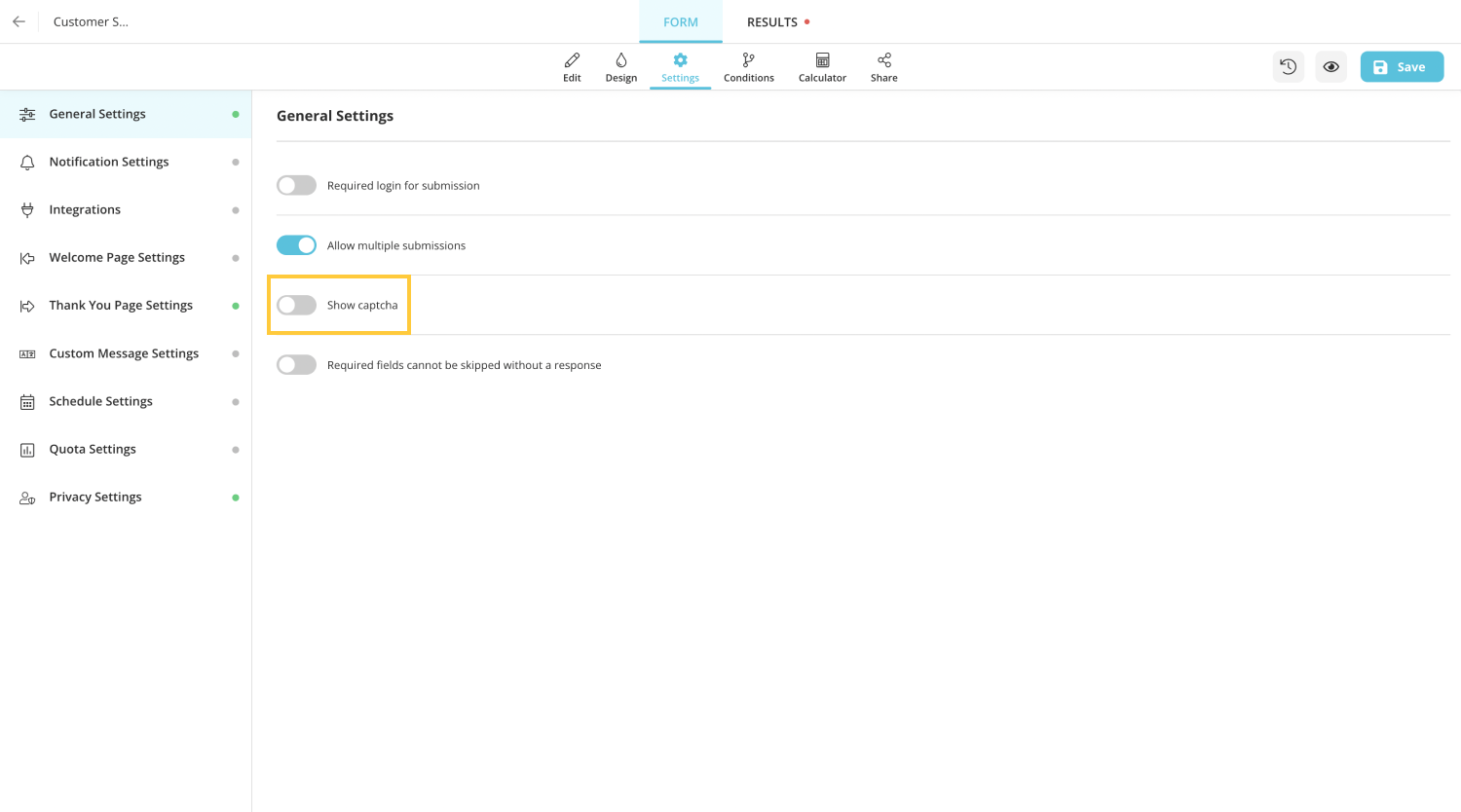 In a nutshell
As the statistics above show, conversational forms have higher conversion rate than static forms. The ratio of conversion is 70% (conversational forms) compared to 30% (traditional web forms). We can say that conversational forms can provide a personal and custom-made experience to users along with a user-friendly appearance. But you can find both options on forms, with the list & step view options.
This article has given you the fine details about how conversational forms help increase survey response rates. It has also touched on the aspects of survey response rates and conversational forms. It is now time to go ahead and start creating your own conversational form today. You will soon realize the benefits it will bring to your business.
If you want to have a conversational form quickly, you can always create your own form and choose step view or simply import the form below (by clicking the three-dot button) and just add the questions you want: