Imagine receiving form responses instantly on a communication platform like Slack. That'd be amazing, right? Well, it is amazing and can be quickly done with our Slack integration. Now with the collaboration of your two favorite applications, you will have a seamless workflow and view your responses on Slack.
"Workflow is understanding your job, understanding your tools, and then not thinking about it anymore."
- Merlin Mann, American writer
That's right, having the right tools and using them effectively will definitely make your work life easier and more enjoyable. This is the case because working smart always brings more value than working hard. And the integration of these two powerful applications offers just that. In this article, we will cover the essential steps for Slack integration and its benefits.
What is Slack, and how can it help?
Slack is a messaging app for teams that allows for easy communication and collaboration. With Slack, you can easily send messages, share files, and join conversations with your team. Slack also offers a host of integrations with other apps, which makes it a powerful tool for team productivity.
This allows you to keep all of your work in one place and avoid having to switch between multiple apps. Overall, Slack is a powerful messaging app that can help improve communication and collaboration among teams.
How to enable and use Slack integration
Using forms.app, an online form builder, and Slack, a great messaging platform in unity and harmony, is quite easy thanks to our direct integrations. After following a few simple steps, you can easily receive form responses on a Slack channel or choose a person as a receiver. No matter which form types you are working with, this will help you work faster and not get distracted when doing so.
1 - Go to Form Settings and find Integrations after creating your form: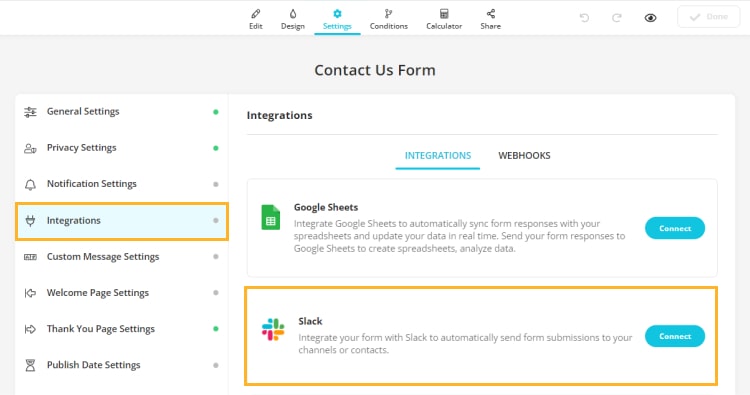 2 - Select a workspace and connect to the Slack app: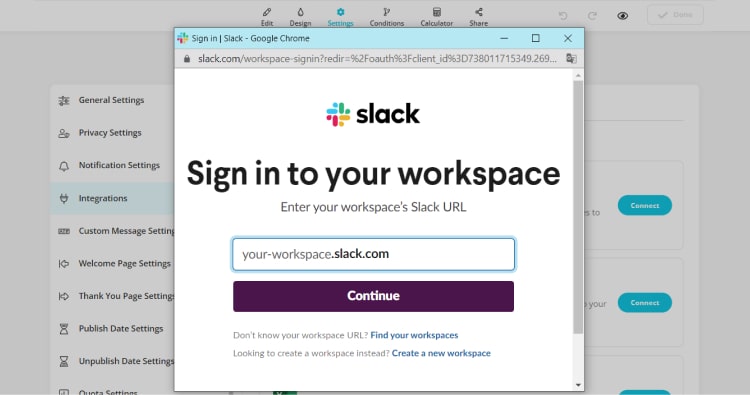 3 - Choose a channel and form fields for advanced notifications: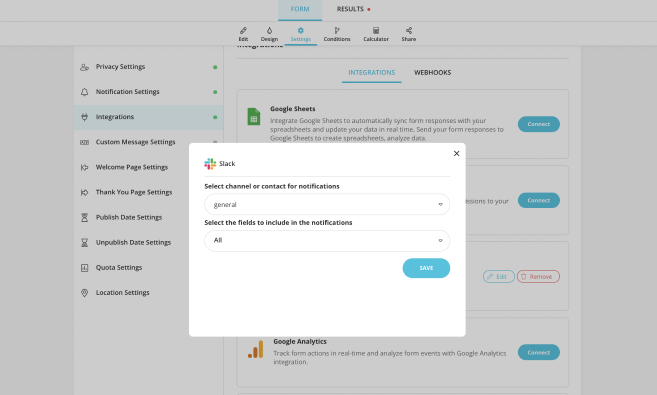 4 - That's it! Make sure to test it before publishing your forms: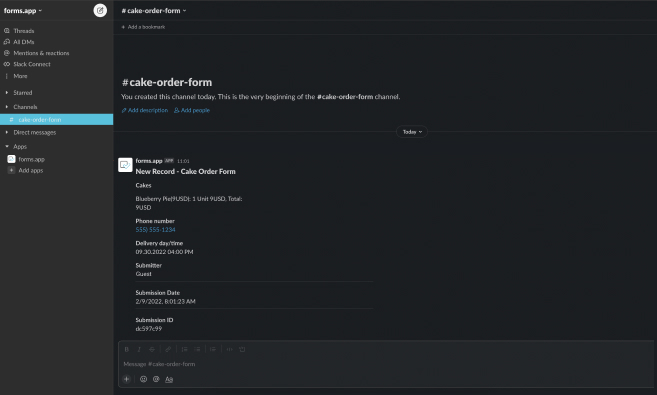 Use cases and scenarios
Thanks to its wonderful features and easy-to-use interface, forms.app provides the perfect setup for collecting information and payments online. And it is possible to double down its power by integrating with other powerful applications. Let's take a look at how Slack integration can help in having a simpler and smoother workflow for businesses and individuals.
Online order forms
When it comes to collecting payments and selling products online, order forms are one of the easiest and most effective solutions. By simply adding a product basket and a payment field to the forms, you can display your products, offer different payment methods, and allow your customers to make payments with their debit & credit cards.
Now, let's imagine you own a pastry shop and you are quite famous for your delicious cakes ( the best in your area 👨‍🍳👩‍🍳). After integrating your cake order form with Slack, you can easily receive responses in real-time without even closing the app. Moreover, it is possible to select which form fields you want to include in your notifications. So, when an order comes, you will immediately see its details, such as contact information, delivery address, and so on.
Feedback forms
If you are gathering feedback with customer feedback forms, you already have an easy and effective way to view them on forms.app. But wouldn't it be nice to view them in real-time on your messaging application without interrupting your workflow? And with our Slack integration, it is also possible to get these notifications on any channel you want. And if you are collecting feedback with a customer service or customer satisfaction survey, you can share the responses with other team members by selecting a common channel.
Sales leads
Online forms are also a great way to generate and capture leads. By asking the right questions, you can easily get in touch with potential customers and start a strong sales process from the start. In order to do that, you can use contact forms, survey forms, or even quizzes. After integration with Slack, you can keep track of the information you collect without leaving Slack.
The benefits of Slack integration are there, shining brightly. So why wait? Start using our Slack integration today to work smarter and faster!