The internet influences the majority of people's lives. There are certainly more and more instances where companies use online sources more often. The online transformation of organizations has several advantages for consumers since it saves time and money in numerous ways. And creating powerful forms thanks to online form builders is now simple for everyone.
You may be acquainted with Tally.so if you have an interest in online forms. Tally.so is a useful online form generator explicitly created for enterprises. You can design organized, professional forms using the platform even if you are unfamiliar with computer languages. Tally.so is a flexible and straightforward software, although it might only meet some of your needs. There are many Tally.so alternatives available, and we will cover them in this article.
Let's get to know Tally.so
A form creation app inspired by Notion - Anyone familiar with Notion can get used to it quickly - Simple and beautiful forms. You may utilize some of the sophisticated features that are available for free, such as money collection, conditional form logic, response piping, computations, hidden fields, and many more. Additionally, you may share a form URL, link custom domains, and embed your form into a Notion page or website.
Tally.so pricing:
At $29/month or ($290 when billed yearly)
It looks like it's free, but it's hard to use for free except for individuals; This is because even basic features are included in the paid plan. You will only be able to upload a certain number of files, and you cannot send fully customized and dynamic emails to yourself or respondents after form submission. You cannot invite team members to work together on forms in shared workspaces and share form results if you are not paying.
Best 10 Tally.so alternatives to try out in 2023
Considering the downsides of Tally.so you may need to see alternatives. Following are ten influential form builders' features and pricing structures. After looking through this list, you may choose a form builder that suits you the best and start building your first form.
1 - forms.app
forms.app is popular due to its ease of use and affordability. forms.app offers users a lot of beneficial features. On the expertise platform forms.app, you can make customized forms at no cost. It provides you with all the form features you need to design ideal forms. You can use free templates as a base and customize them to match your needs. You may make modifications and build unique forms here.
Pros of forms.app
More than 600 pre-made templates are available. As a result, developing your forms won't take much of your time.
Because of conditional logic, you can avoid asking consumers pointless questions and let them fill out your form gladly and without getting bored.
You can manage who gets access to your forms by using privacy settings.
There is a calculator available to make calculating exam results simpler.
It has an easy-to-use user interface.
Features for advanced customization to create unique forms.
You have many integration options to better fit your working environment.
You may gather electronic signatures.
Mobile applications expand their accessibility.
Cons of forms.app
Fewer available payment methods.
It does not offer drag and drop feature to build form.
forms.app pricing:
Free Plan: Yes
Basic Plan: $19 per month ($12 when billed yearly)
Pro Plan: $29 per month ($19 when billed yearly)
Premium Plan: $99 per month ($59 when billed yearly)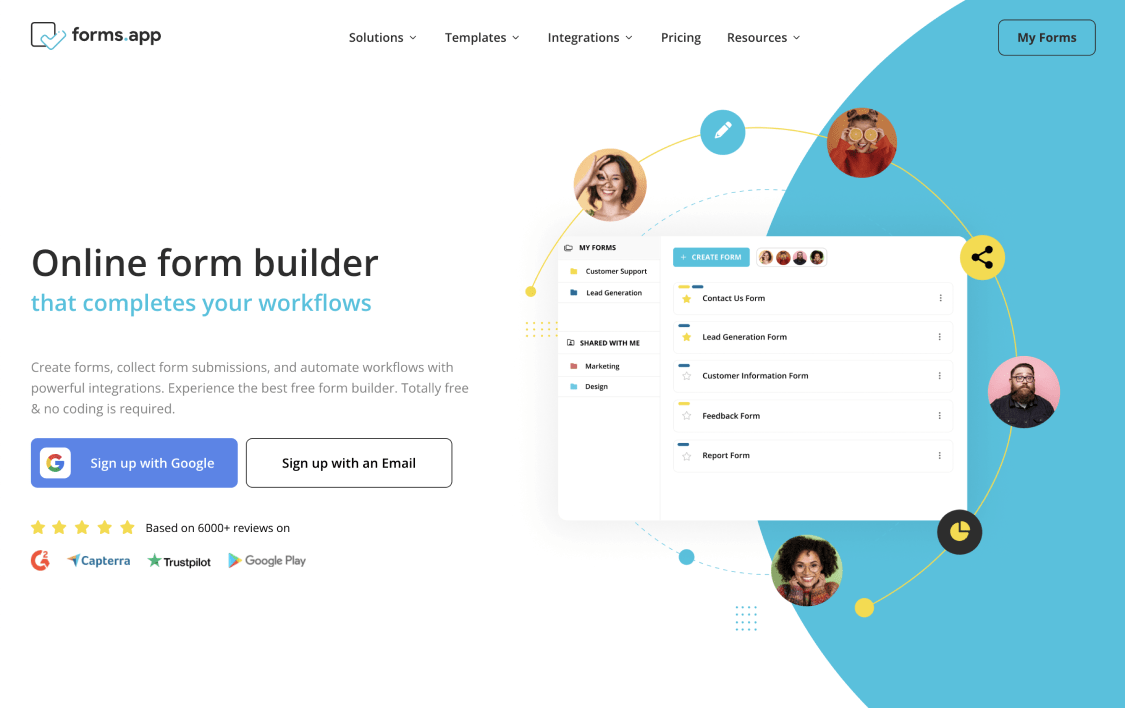 #1 Tally.so alternative - forms.app
* * *
2 - Typeform
You may develop forms and surveys using the Typeform online form builder. It provides a wealth of useful tools for designing eye-catching shapes. The membership package includes access to a wide variety of question kinds and third-party integrations. Additionally, it is free to use with some restrictions.
Pros of Typeform:
It features pre-made form templates and offers sophisticated design choices for customization.
There are several connectors available for exporting the survey data.
Cons of Typeform:
If you are not going to use it frequently, it might be expensive.
Typeform pricing:
Basic Plan: $29 per month($25 when billed yearly)
Plus Plan: $59 per month($50 when billed yearly)
Business Plan: $99 per month($83 when billed yearly)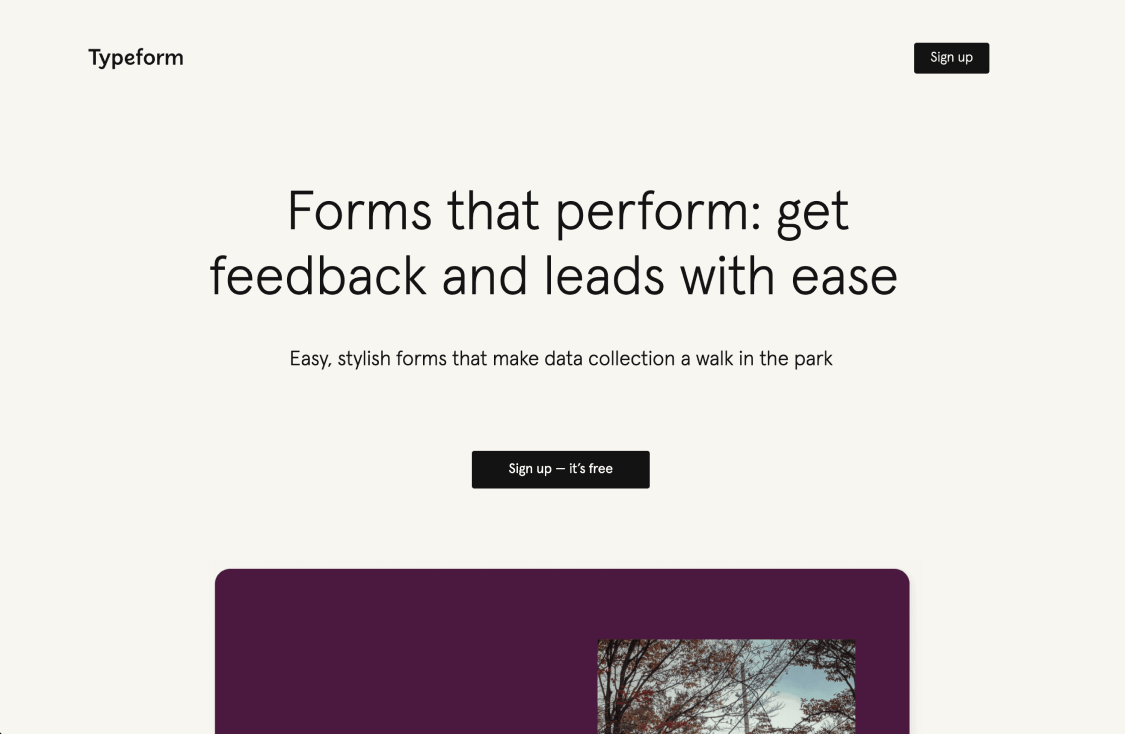 #2 Tally.so alternative - Typeform
* * *
3 - 123FormBuilder
123FormBuilder is simple and enables you to publish your first form in a matter of minutes. With its drag-and-drop functionality, it enables you to swiftly design your forms. It's a good option for developing both basic and sophisticated online forms.
Pros of 123FormBuilder
Offers integration with your digital tools
Secure Online Forms
Enables you to customize everything about your form
Cons of 123 Form Builder
The free version limits you to create five forms and cannot use features; also, form fields are limited.
123FormBuilder pricing:
Gold Plan: $24.99 per month($19.99 when billed yearly)
Platinum Plan: $44.99 per month($37.99 when billed yearly)
Diamond Plan: $84.99 per month($69.99 when billed yearly)
Enterprise Plan: $199.99 (only annual billing)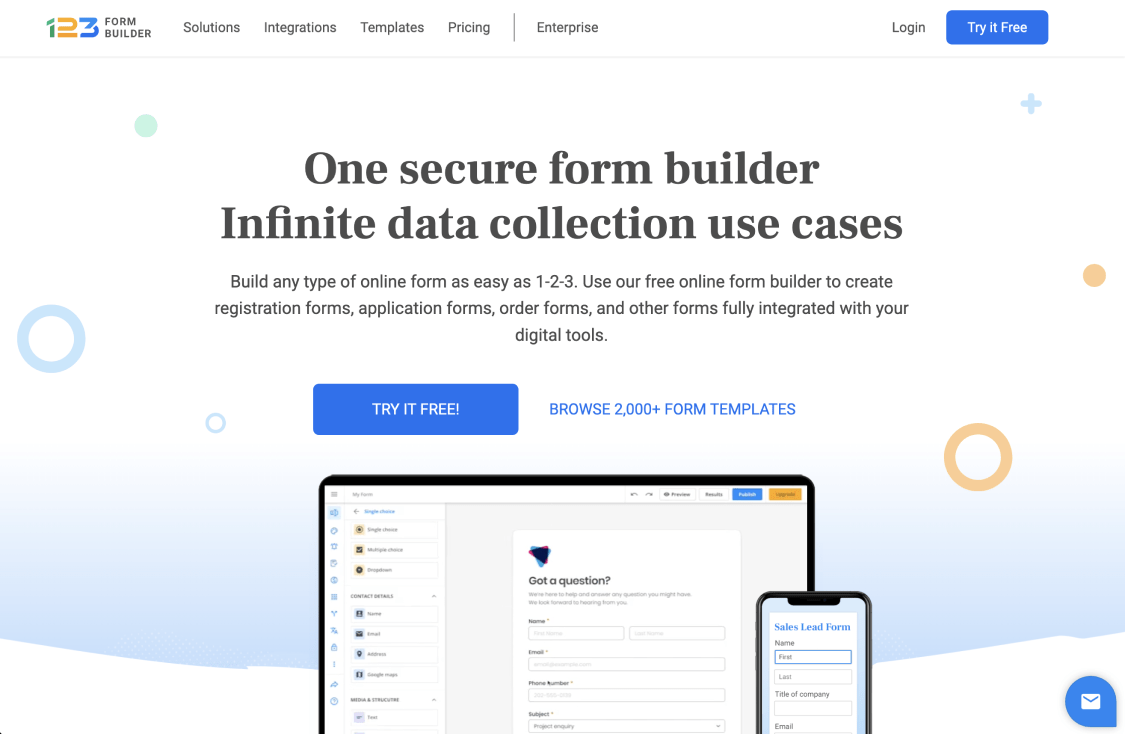 #3 Tally.so alternative - 123FormBuilder
* * *
4 - Microsoft Forms
Microsoft Forms offers you an ecosystem that eliminates the necessity for third-party applications. You can store all of your form responses in Microsoft Excel by using the online form builder Microsoft Forms. Microsoft Forms also has a free-form creator. A free one-month trial of the Microsoft Office 365 plan is also included.
Pros of Microsoft Forms:
With the help of intelligent suggestions and built-in AI, you can collect the right feedback.
Outlook integration makes it simple to send forms via email.
If you feel there are not enough templates, paid subscriptions provide you access to more templates.
Cons of Microsoft Forms:
It lacks capabilities for mathematical calculation.
A submitted response cannot be changed, and online forms cannot be saved for later use.
Microsoft Forms pricing:
Microsoft 365 Family: $9.99 per month($99.99 when billed yearly)
Microsoft 365 Personal: $6.99 per month($69.99 when billed yearly)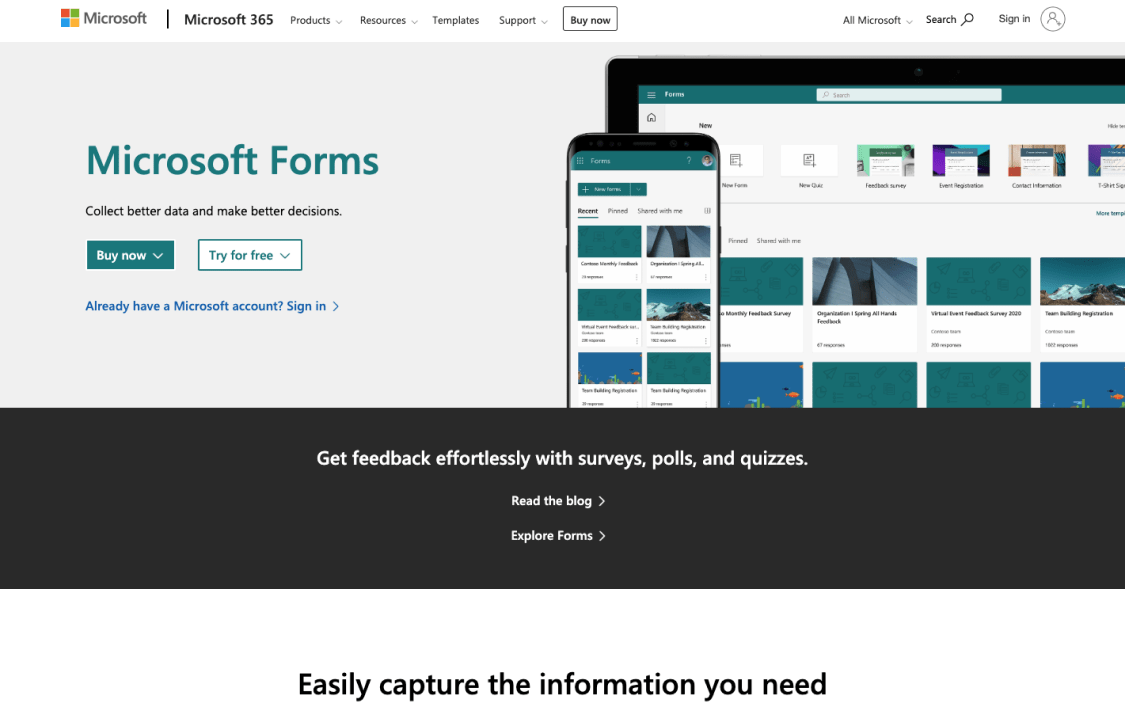 #4 Tally.so alternative - Microsoft Forms
* * *
5 - Formstack
One option that can help you create numerous forms on any subject you require is Formstack. Formstack supports the integration of a number of third-party applications, such as MailChimp, Salesforce, PayPal, Amazon S3, and WebMerge. To remotely manage your work, there are mobile apps for iOS and Android.
Pros of Formstack:
You can find your solutions more quickly by using conditional logic.
You may use it from any device because it is mobile-compatible.
Cons of Formstack:
There is no choice for a free plan. The trial period is just 14 days long.
Since there aren't many pre-made templates, they might not satisfy all of your needs.
Formstack pricing:
Starter Plan: $59 per month ($50 when billed yearly)
Team Plan: $99 per month ($83 when billed yearly)
Pro Plan: $249 per month ($208 when billed yearly)
Enterprise Plan: You should contact them for the price of this plan.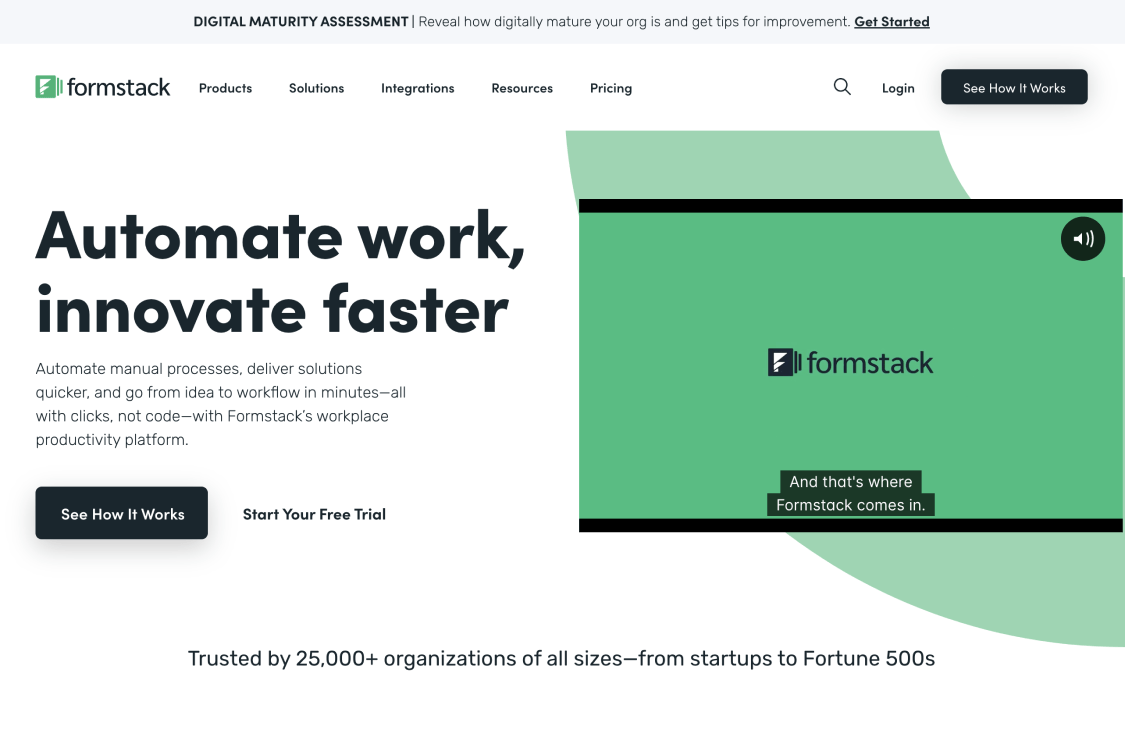 #5 Tally.so alternative - Formstack
* * *
6 - Form.io
Form.io is another tally.so alternative that people can use to create simple forms. Using drag-and-drop form builder, which features wonderful form templates, you may create web forms to automate your processes and collect payments using well-liked payment processing software.
Pros of forms.io:
Easy to use drag and drop feature.
You can use an integrated payment system.
Cons of forms.io:
There is a lack of user experience.
Form.io pricing:
Cloud: $14.99 per month($9.99 when billed yearly)
Enterprise: $74.95 per month($49.95 when billed yearly)
Hosted: You should contact them for the price of this plan.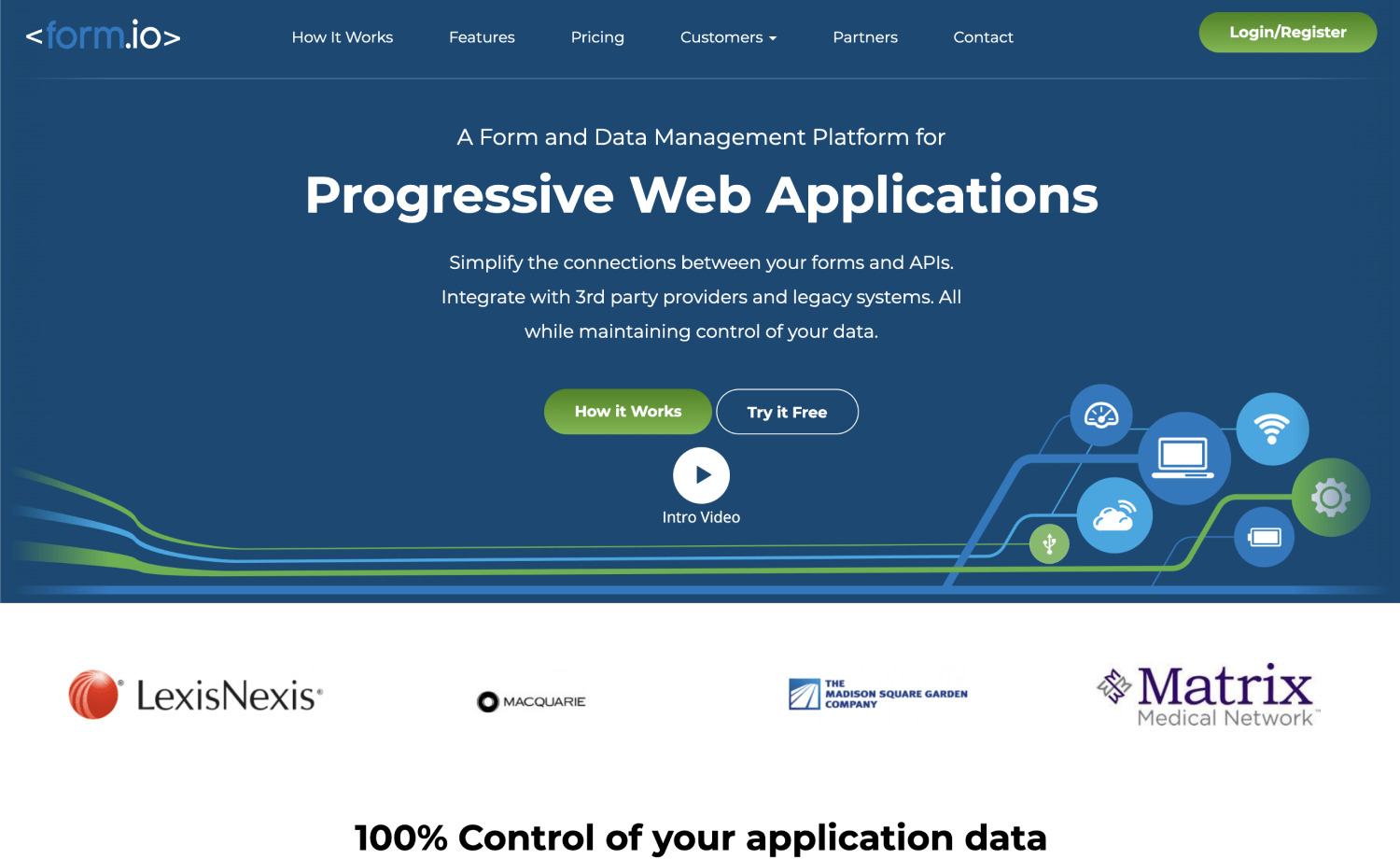 #6 Tally.so alternative - Form.io
* * *
7 - Cognito Forms
Another platform is Cognito Forms, and it provides a simple method to create powerful forms. Form customization choices come in a variety of styles. You may use clever features like conditions and payment connections.
Pros of Cognito Forms:
Your form is simple to distribute and embed on your website.
Thanks to the drag-and-drop capability, you will just need to spend a brief amount of time developing a form.
Cons of Cognito Forms:
Any subscription has a 14-day trial period.
The free plan has a 100 MB storage cap.
Cognito Forms pricing:
Pro Plan: $15 per month
Team Plan: $35 per month
Enterprise Plan: $99 per month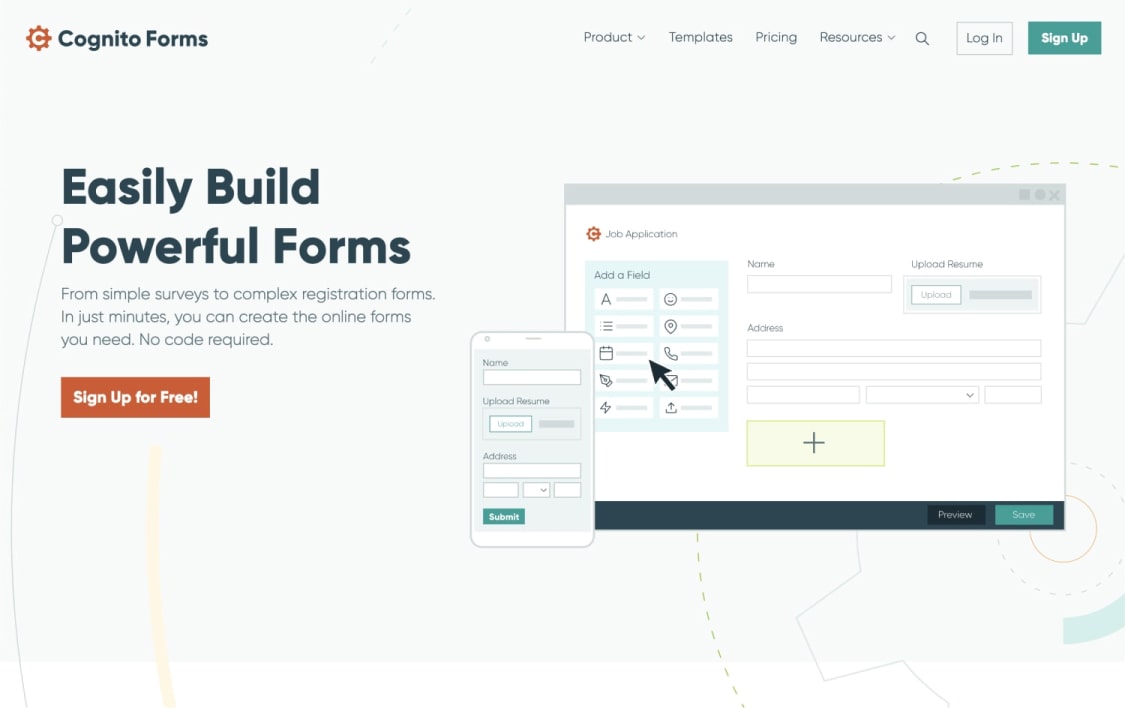 #7 Tally.so alternative - Cognito Forms
* * *
8 - Jotform
You can create professional-looking forms without coding using Jotform's Online Form Builder. Also enables you to style your forms with your logo, fonts, and colors. It is possible to automatically send form submissions to email marketing services, project management dashboards, CRMs, cloud storage apps, and more with Jotform's 150+ integrations. Whether selling a product or collecting a fee or donation, Jotform lets you get paid directly through your form.
Pros of Jotform:
Offers ready-made templates.
You can use Conditional logic to fill out your form.
Enables you to customization.
150+ Integrations to expand your experience.
Drag and drop feature to make building forms easier
Cons of Jotform:
The support is a problem. Finding responses may take 4-7 days.
The pricing structure is very deceiving.
Frequent updates cause errors on previous forms.
Jotform pricing:
Free plan: Yes
Bronz: $39 per month($34 when billed yearly)
Silver: $49 per month($39 when billed yearly)
Gold: $129 per month($99 when billed yearly)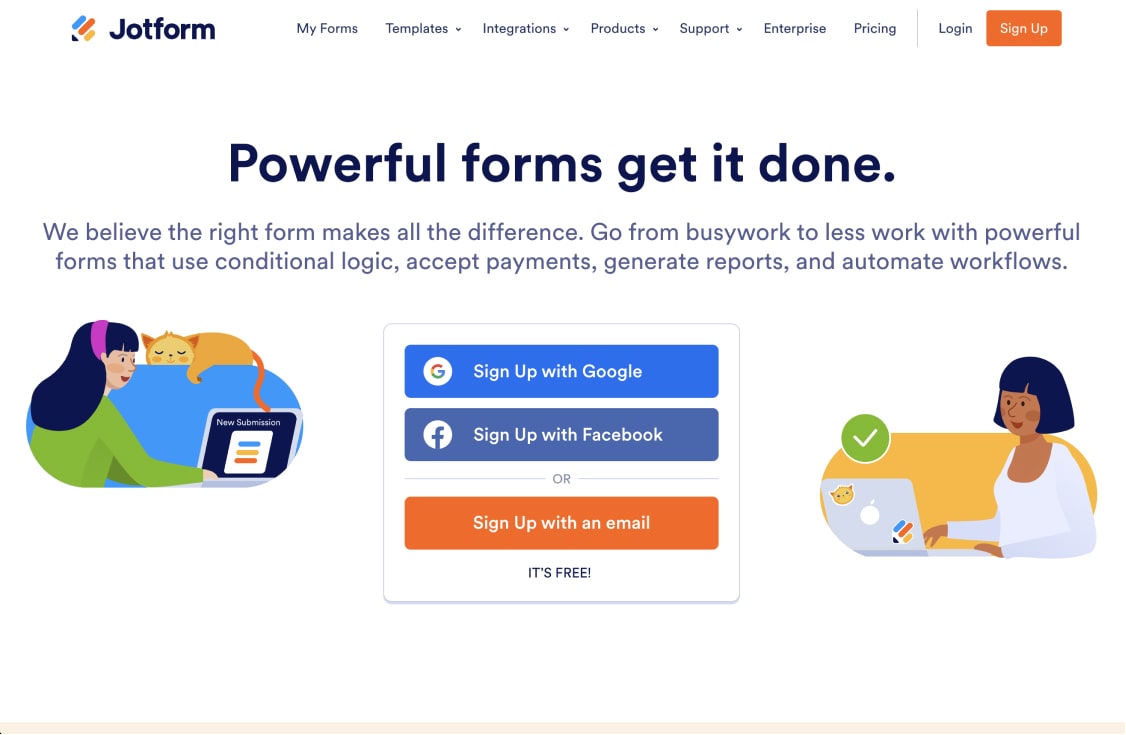 #8 Tally.so alternative - Jotform
* * *
9 - Google Forms
Google Forms is a survey management application included in Google Docs, Google Sheets, and Google Slides, along with Google Docs Editors productivity software and Google Classroom. Forms include all the collaboration and sharing features found in Docs, Sheets, and Slides.
Pros of Google forms:
It is a free online tool that allows you to collect information quickly and efficiently.
The interface is straightforward to use. Any user with average Internet knowledge can create forms using this tool.
Cons of Google forms:
Lack of integrations with third-party tools.
It doesn't include some of the features you get with paid form builders.
The design customization is minimal. Advanced users can change the design to use the tool for a more significant number of purposes.
Google forms pricing:
Google form is a completely free tool.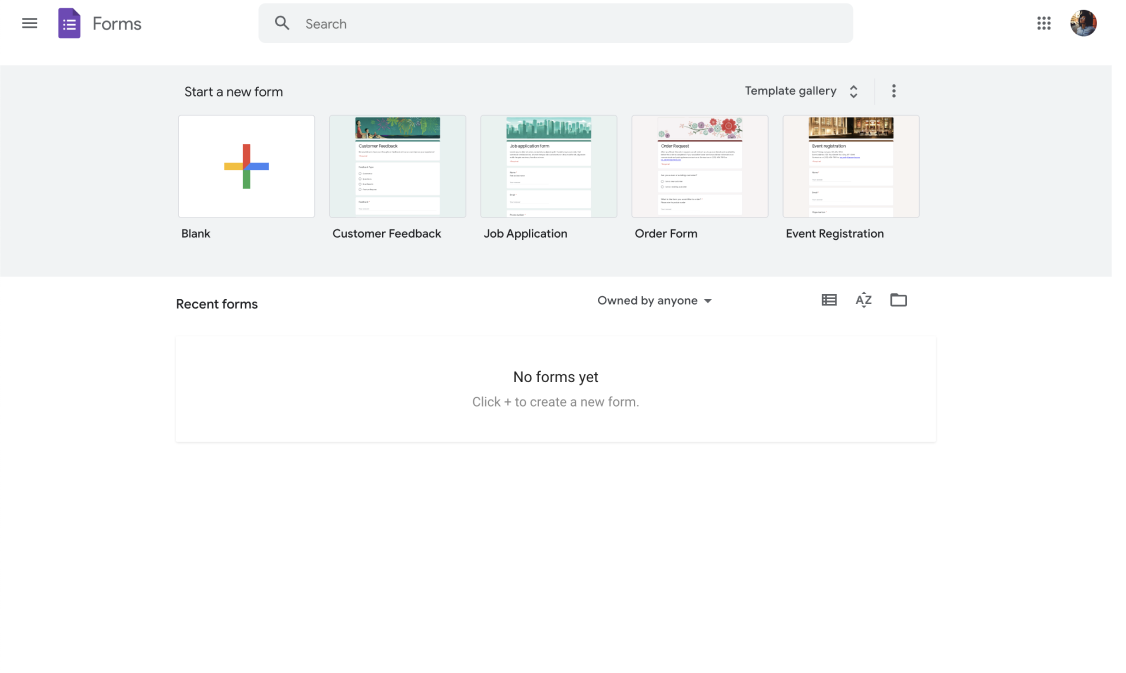 #9 Tally.so alternative - Google Forms
* * *
10 - Paperform
A useful online form builder created specifically for small companies is called Paperform. Even if you are unfamiliar with programming languages, the platform enables you to design organized, professional forms. With its modifiable templates, developing forms is quick and easy. Users can sell, take reservations, and communicate with customers all in one place using the system. It does not, however, offer a free plan. There is a 14-day free trial available.
Pros of Paperform:
Offers ready-made templates.
Enables you to customization.
Offers integration with your digital tools
Cons of Paperform:
You can continue to create forms with Paperform after the 14-day trial period by paying a fee.
For restricted use, monthly fees are extremely costly.
Despite being web-based, it has no desktop counterpart and no phone support.
Some features, like access controls, are absent from Paperform.
Paperform pricing:
Essentials Plan: $24 per month ($20 when billed yearly)
Pro Plan: $49 per month($40 when billed yearly)
Agency Plan: $159 per month($135 when billed yearly)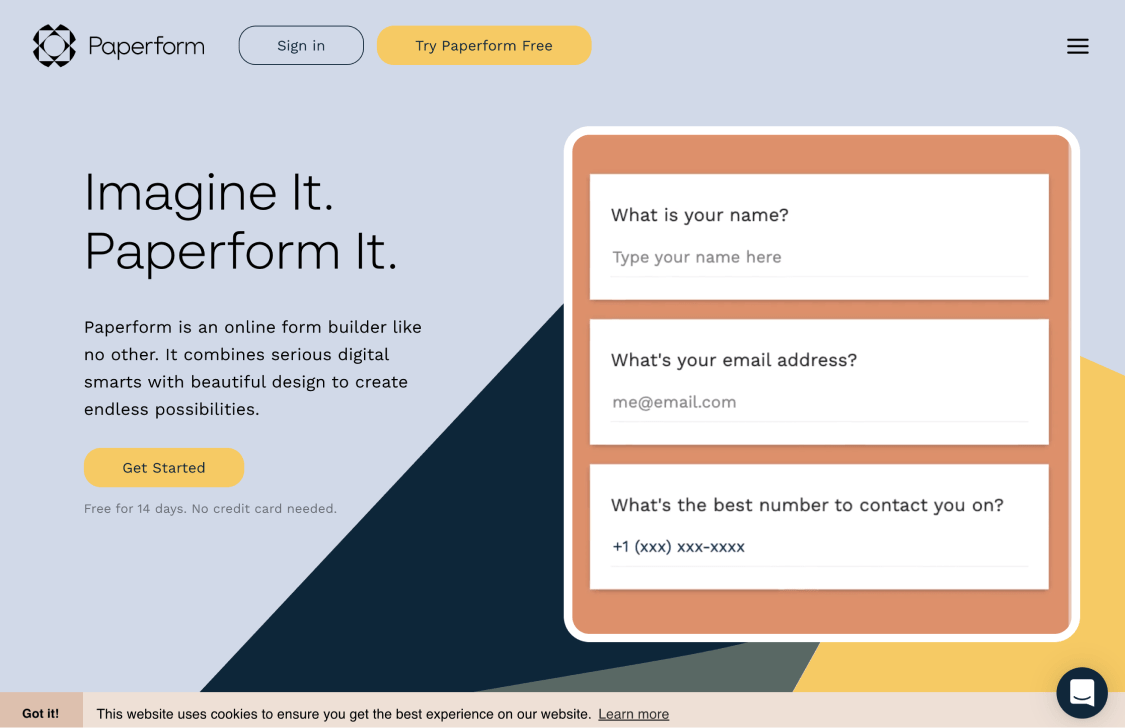 #10 Tally.so alternative - Paperform
Which Tally.so alternative should I choose?
In conclusion, every instrument has a unique characteristic. forms.app is one of the best in terms of price and performance. You can also create quizzes, shops, and form surveys using this platform, among other valuable features.
It features a qualified staff where you can discover an immediate resolution with customer care if you have any issues. With its user-friendly UI and pre-made templates, it also saves you time. Sign in right away and start using forms.app to get its features!