Businesses may quickly collect and manage consumer input by using online forms, often known as web forms. This valuable data enables you to make critical business decisions based on the right facts. And you can create your online forms using the right form tools. MightyForms is one of them. However, like any form creator, it has pros and cons.
In this article, you will learn what MightyForms is, its useful features, and the reasons why you should look for an alternative to MightyForms. You can also find 7 MightyForms alternatives and their pros and cons in this article. Thus, you will be able to find the right form tool for your business.
What is MightyForms?
With MightyForms, you can create contact forms, order forms, surveys, and more from scratch. It is an easy enough online form builder that anyone can use without coding knowledge. Your forms are built to enhance lead generation with easy-to-use integrations and submissions that quickly connect submitted data to thousands of applications and Real-Time Data Capture technology.
MightyForms does not offer you a free plan. You only have a 7-day free trial, and this is only available on the Pro plan. Paid plans are as follows.
Starter Plan: $19 per month (limited to 1000 submissions)
Pro Plan: $39 per month (limited to 10.000 submissions)
Business Plan: $69 (unlimited submissions)
You can get results by integrating your form with Google Analytics using MightyForms. You can also accept payments with Stripe. However, it does not give you the option to convert your forms to PDF. You need to use another tool for this. And users find conditional logic impractical. For such reasons, you should look for an alternative to MightyForms.
Top 7 MightyForms alternatives to create forms in 2023
MightyForms is one of many options for creating online forms. Important factors to consider when researching alternatives to MightyForms include templates and user satisfaction, and prices. Here you can choose from the list where you can explore other competing options and alternatives.
1 - forms.app
forms.app is a free MightyForms alternative. Using it, you can create eye-catching and functional online forms, surveys, and quizzes. It is a cost-effective product and comes with useful features. On forms.app, you can use a pre-made form template, customize it to your liking, and start collecting responses right away! Paid plans start at $19 per month. However, you can access all the features for free.
Pros:
You can manage who has access to your forms by using the privacy settings.
When you take payments, there are no commission fees.
You can choose from 400+ online templates, which provide you with what you need.
There are several sophisticated customization options available, such as a calculator, conditions, and product cart.
Cons:
On the free plan, you can only collect a certain number of responses.
The product basket can only contain 200 items in total.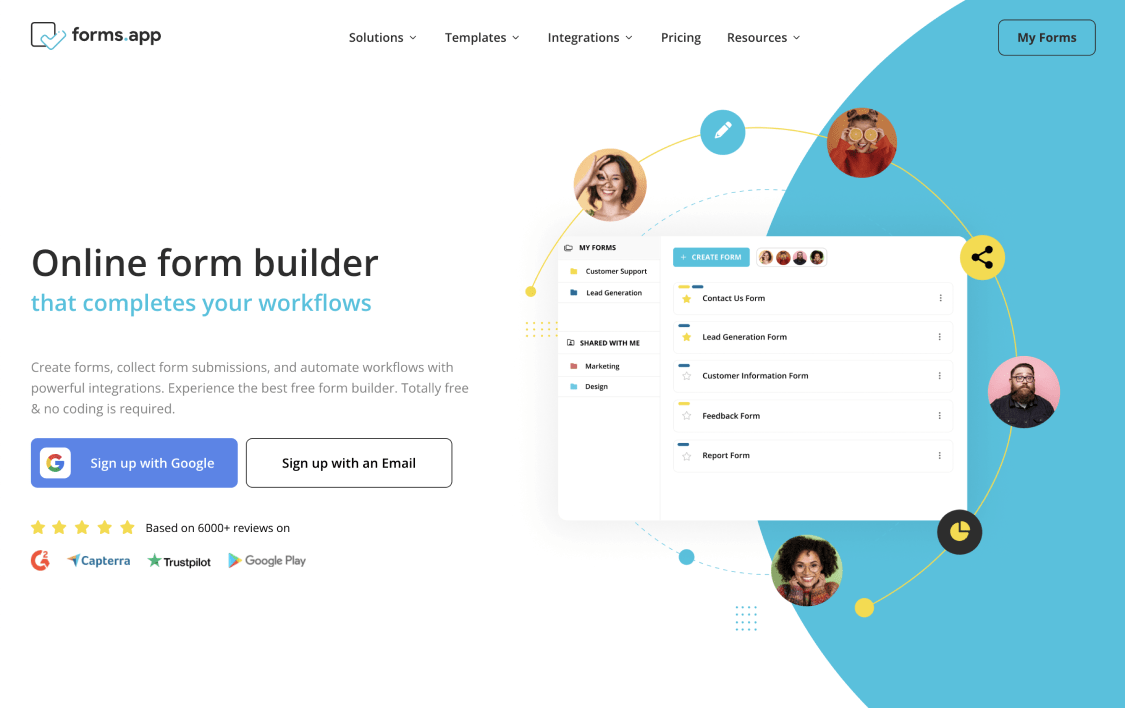 #1 MightyForms alternative - forms.app
* * *
2 - 123FormBuilder
With 123FormBuilder, creating both straightforward and complex online forms is possible. Thanks to the drag-and-drop interface, you can easily design your forms. You may simply create forms, polls, and surveys without any coding knowledge. Free usage is available, and paid plans start at $24.99 per month.
Pons:
Examining the necessary details is made easier by conditional logic in forms.
With more than 1900 templates, it provides customers with a wide range of alternatives.
The multi-language option makes it simple for you to build forms for everyone.
Cons:
There are not many distinct design alternatives available.
There is no relevant guide for a better understanding and application of all the functions.
On the free plan, only a few features are available to you.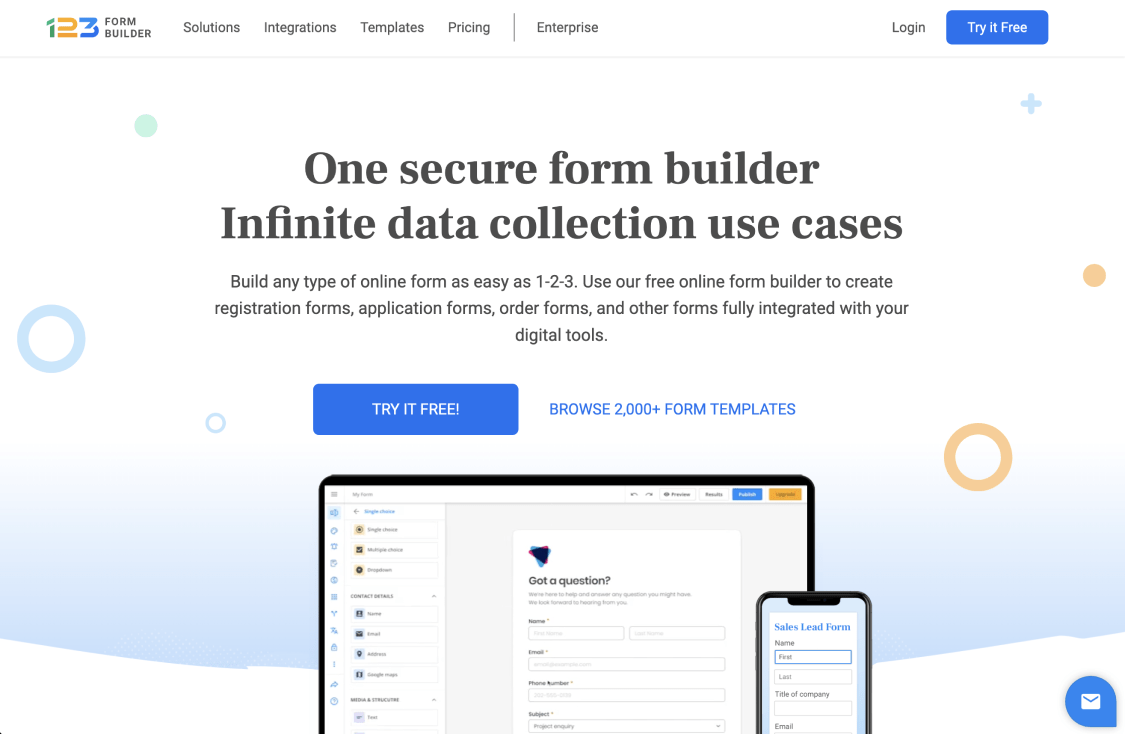 #2 MightyForms alternative - 123FormBuilder
* * *
3 - Cognito Forms
Cognito Forms is a fantastic website for creating simple yet useful forms. You can modify your forms with a variety of design options. Just two of the many clever features are conditions and payment integrations. You can use it for free, but paid plans start at $15 per month.
Pros:
The process of embedding and sharing your form is simple.
You can create a form fast and easily using the drag-and-drop tool.
Conditional logic is present. You can more easily find results that are more pertinent by doing this.
It is in accordance with HIPAA, GDPR, and CCPA.
Cons:
It has more than 150 templates; however, this amount is relatively insignificant in comparison to the others.
Storage space is extremely limited on the free plan.
Its user interface is not simple. It can be challenging to comprehend the system.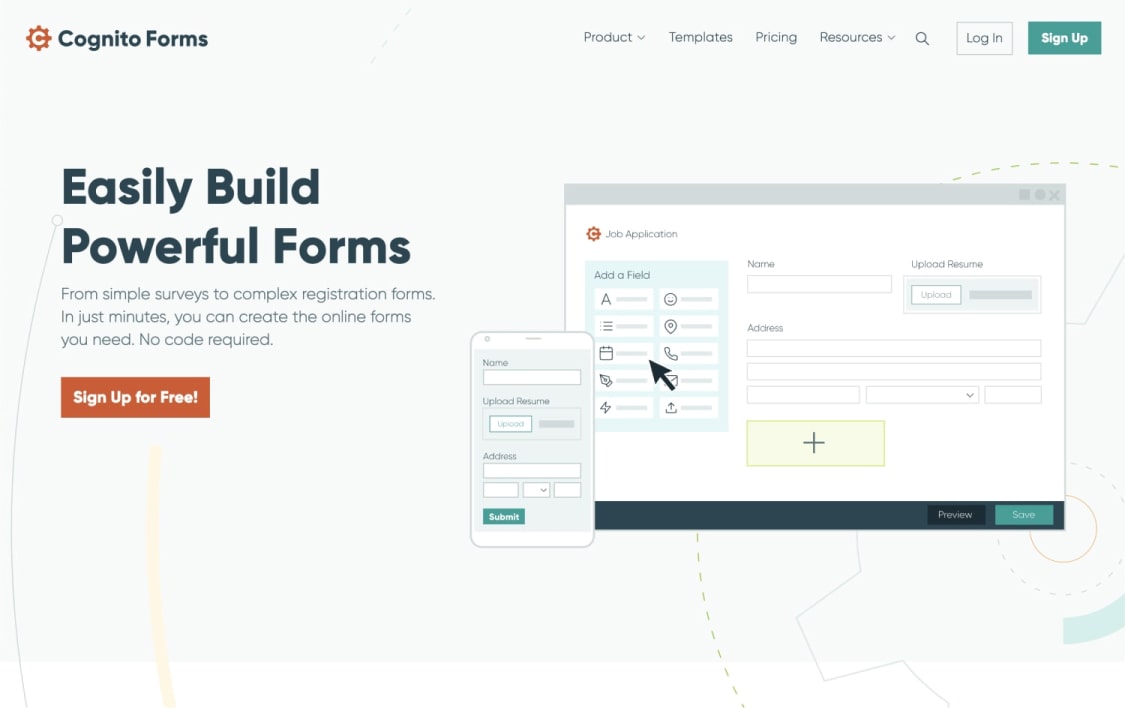 #3 MightyForms alternative - Cognito Forms
* * *
4 - Formstack
For organizations to build digital forms and surveys, Formstack automates data collection procedures. Without the need for coding, Formstack enables its customers to develop powerful forms. The process of embedding and sharing your form is simple. There is a 14-day trial period, and paid plans start at $59 per month.
Pros:
Using the e-signature tool, you can securely produce forms that are legally binding.
Results from the conditional logic feature are more thorough.
Whenever you wish, you can create forms and use mobile applications to gather data.
Cons:
There is no choice for a free plan.
For new customers, there is only a 14-day free trial plan with restricted features.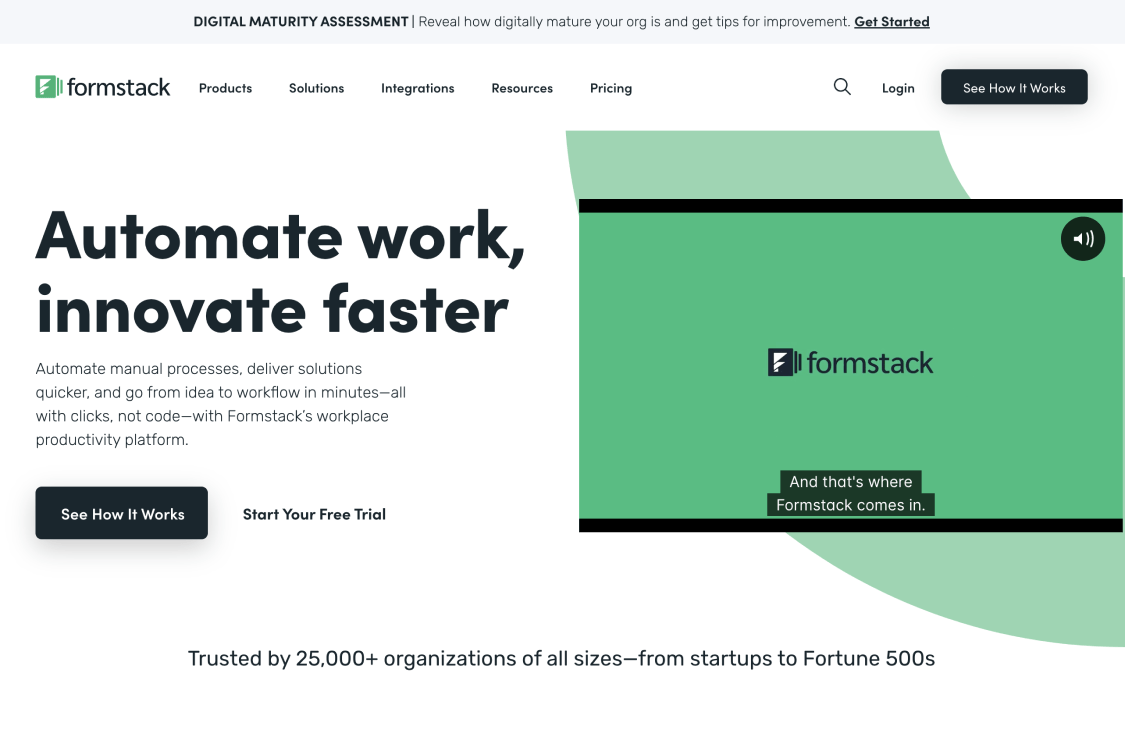 #4 MightyForms alternative - Formstack
* * *
5 - Paperform
Teams and small enterprises may streamline activities and accomplish more thanks to the online form generation tool Paperform. To use the platform, you do not need to know any programming languages. It has no free plans and paid plans start at $24 per month.
Pros:
Analytics allows you to check the results of your forms.
You are free to construct as many forms as you want.
The e-signature field makes it simple to collect signatures.
Cons:
Despite being web-based, it lacks a desktop client and a mobile application.
There is a risk-free trial period. However, there needs to be a free plan option.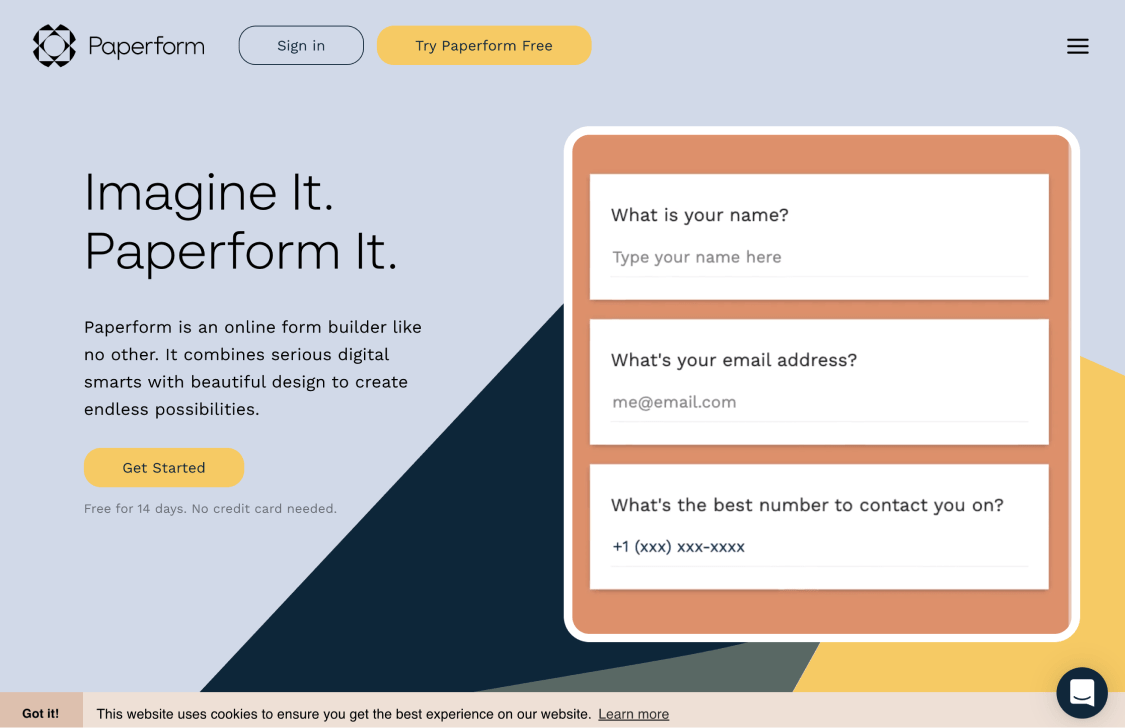 #5 MightyForms alternative - Paperform
* * *
6 - Jotform
Anyone may design specialized web forms with Jotform to suit their requirements. Users of Jotform's free plan can build up to 5 forms, get 100 submissions, and have 100 MB of storage. Despite having a straightforward design, it can manage your challenging jobs with ease. Free plans include all features, although they are limited. Paid plans start at $39 per month.
Pros:
You can easily accept payments by using a secure payment gateway.
You can choose from more than 10,000 templates. You may construct forms using pre-made form templates if you've never built one before and are unsure of where to begin.
It provides you with a range of intelligent features, including camouflage, conditional logic, page skipping, and calculation.
Form replies can be analyzed using Report Builder.
Cons:
Sometimes, form scripts can cause your website to load slowly.
The version is free, but it has restrictions.
It could be challenging to use for anyone who is not familiar with the user interface.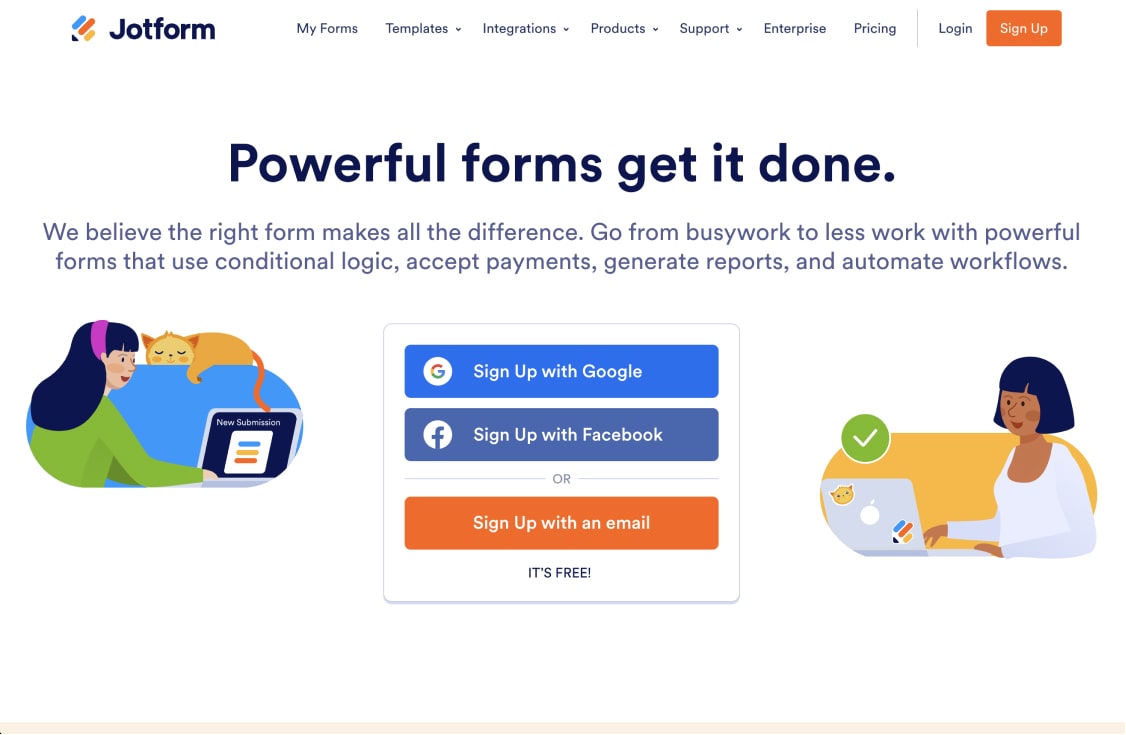 #6 MightyForms alternative - Jotform
* * *
7 - Formsite
Formsite is one of the most secure form builders for data collection, as it can encrypt form inputs. There are also many choices for data visualization, such as graphs, tables, and customized reports. A free 14-day trial of Pro is available, and paid plans start at $24 per month.
Pros:
With over 100 customizable themes and 40 questions kinds, it gives you everything you need.
With the drag-and-drop functionality, you can easily design forms.
You receive instantaneous email notifications.
Cons:
When switching to premium plans, some customers feel the price hikes to be excessive.
Paid plans might be pricey for new businesses or small corporations.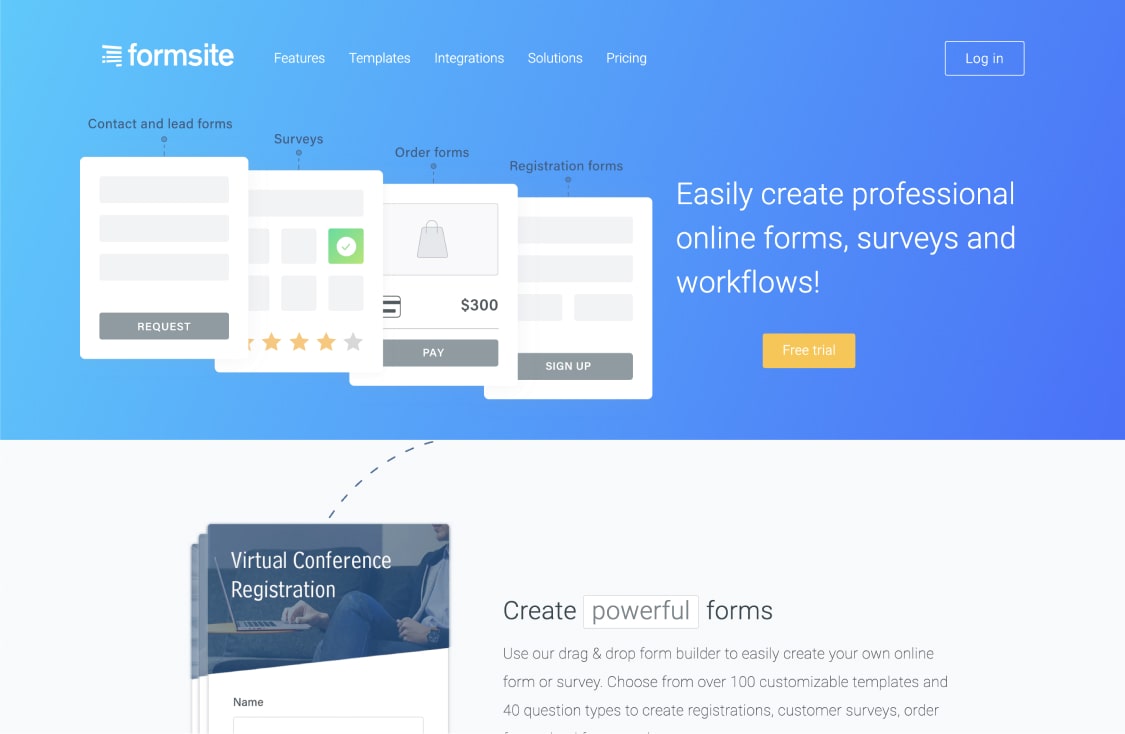 #7 MightyForms alternative - Formsite
Which MightyForms alternative is best for your business?
There are numerous helpful form builders that provide a variety of features and options. While some focus on larger corporations, others favor startups. Before using it, as a potential user, you should be aware of the specifics.
Based on the alternatives collected above, form.app is the best alternative. For the best features and offers, it has the most reasonable price range. It provides customers with a wide range of customization, integration, and other choices.