Customer experience feedback is a great way to help customers get the best results from their research. This way, you can see the pros and cons and improve your vision and mission. You can get instant feedback and respond to issues instantly using AskNicely. Live reporting, real-time leaderboards, text analytics, automated answers, and one-click integration are some of the key features.
AskNicely allows users to automatically capture feedback from customers on a daily basis or for specific events and times. Users have the ability to customize survey wording, logos, domain names, and languages. But AskNicely has its downsides, as well. In this article, you will learn many important points, such as what Asknicely is, Asknicely pricing, and Asknicely alternatives.
About AskNicely
AskNicely, a desktop-to-mobile platform for businesses, is known for its slogan, "Success starts at the front line." More precisely, it is cloud-based online survey software that allows businesses to create surveys and collect feedback in real time. The plus here is that it allows the implementation of net promoter scoring (NPS). That way, they'll be able to spot the typical problems or concerns that customers complain about and address them promptly.
Every application has advantages as well as disadvantages. AskNicely is a useful platform, but it doesn't have a fixed price plan. You have to reach out and book a demo. In addition, there is no free tariff. We will explain these in detail.
Why do you need an alternative to AskNicely?
Every application has its alternatives. In fact, AskNicely isn't an exception in this regard. If you've used the tool and are familiar with its limitations, you'll know what I mean. As AskNicely has limited functionality and cannot be used for many purposes, we may need to look into alternatives. The pricey packages of the AskNicely application are an additional issue. Although it is expensive, it does not cover all services. Users think that they pay more while getting less service. This leads us to alternatives.
AskNicely uses Net Promoter Score (NPS) to measure customer experience and there are no NPS or database alerts. You may experience compatibility problems on some devices because the interface is old. And considering that we will be using it as an online survey tool, this will be quite challenging. Now that you're aware of the reasons why you should look into AskNicely alternatives, you can also take a look at the list of form builder tools.
15 AskNicely alternatives to watch out for in 2023
After some research, we have listed the 11 best alternatives to AskNicely that you can choose from in 2023. Additionally, you may get information on each software's top features, cost, pros, and cons to assist you in selecting the best option for your company. In terms of related software categories, features, and the number of verified user evaluations, the following alternatives are comparable to AskNicely.
1 - forms.app
forms.app is a very easy-to-use and versatile form builder where people can create online web forms, create online survey templates, and add various question types in multiple-choice data collection. This platform offers many possibilities thanks to a very powerful online survey software. forms.app is a user-friendly form builder interface that is easy to use and offers many smart and effective features. In forms.app, you can access all these features for free. And it also starts at $19 per month on the paid plan.
Pros:
Easy to use, simple and fast.
Smart features like conditions, calculator, and shopping cart.
Geolocation restriction
Integration with 500+ third-party apps via Zapier and Google Sheets
Secure payment gateways
Cons:
200 item limit
The free version capacity is limited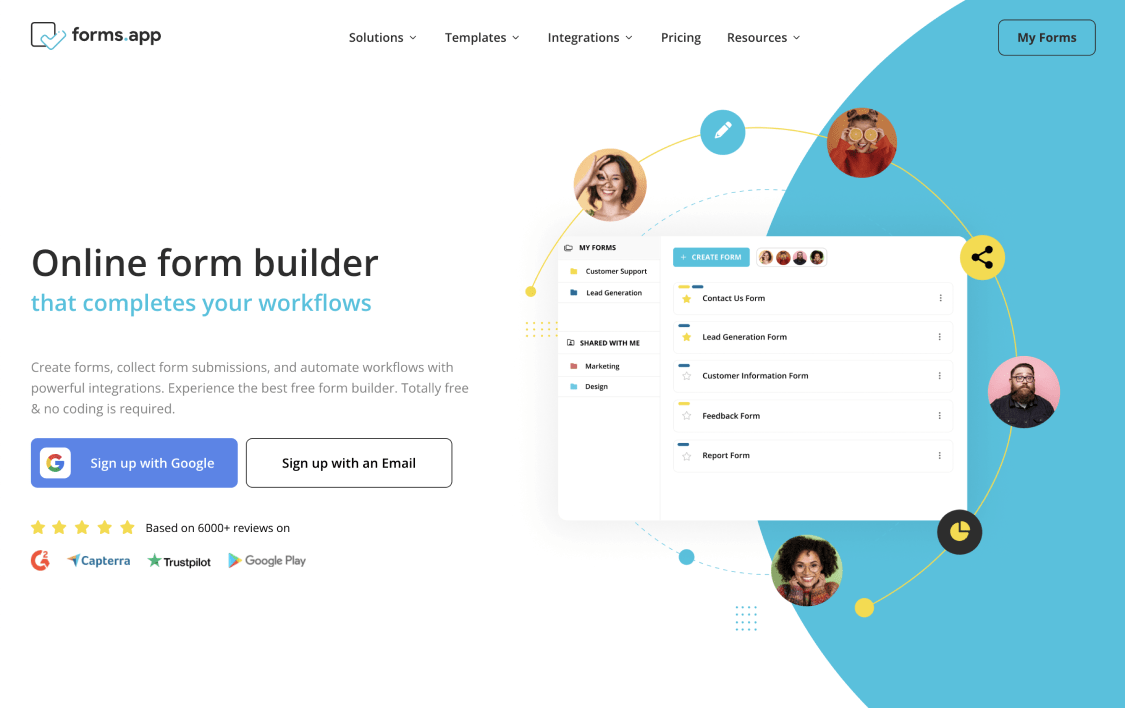 #1 AskNicely alternative - forms.app
2 - sogolytics (SoGoSurvey)
sogolytics, formerly known as SoGoSurvey, offers an advanced data management platform and enterprise online survey software for large organizations and businesses. This platform seamlessly automates data collection and analysis, from designing and deploying a survey to analytics and recommendations. Customers can design surveys from scratch or use a ready-to-use survey template from the preloaded survey templates. Simple to use and simple survey or a multi-level feedback form is cloud-based online survey software that allows you to conduct any kind of survey. It also starts at $25 per month on the paid plan; however, it is billed yearly and makes a total of $299 per year.
Pros:
Data reporting supports multiple survey charts.
Advanced support options
Email Alerts, Reminders, and Reports
Intuitive interface
Cons:
Survey logic can only be based on one question
Limited features in the base version
Minimal email templates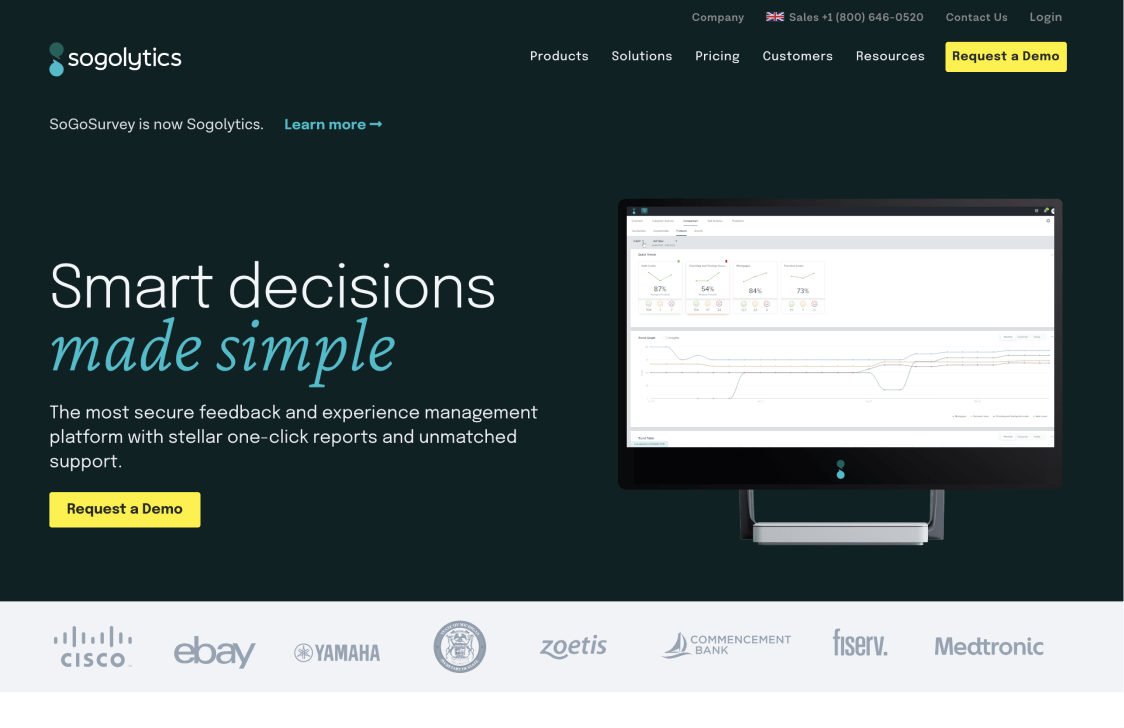 #2 AskNicely alternative - sogolytics (SoGoSurvey)
3 - Zoho Survey
Zoho Survey is an online survey and survey creation software. This platform is a cloud-based 360-degree feedback survey solution for small, medium, and large organizations. It allows users to create surveys with an intuitive drag and drops tool. Zoho Survey provides you with all the necessary features to create and distribute surveys and analyze the data you receive. And on the paid plan it starts at 29 euros per month.
Pros:
Data Export
Support for offline surveys.
Integrations with popular tools
User friendly
Cons:
No support for question blocks.
Limited template options
Legacy interface

#3 AskNicely alternative - Zoho Survey
4 - SurveyPlanet
Survey Planet is an online survey tool that allows users to create and design surveys, share them online, and review results. It gathers qualitative and quantitative data, discovers what customers want, facilitates participant outreach, engages with customers on social media, elicits team input, identifies what is and isn't working, and more. The platform is free to use, but there are also paid Pro features accessible. The paid plans start at $20 per month.
Pros:
Free use
Unlimited responses, endless questions, and unlimited surveys
Survey Result Filtering
Branching Questions
Exporting Data
Cons:
No free trial
Only specializes in surveys
Simple templates

#4 AskNicely alternative - SurveyPlanet
5 - Survicate
Survicate provides organizations to capture data related to customer feedback and act on it accordingly. Surveys are used to collect data on websites, mobile apps, and other digital items.
The basic plan is free. The paid plan starts at 79$ per month.
Pros:
Email and Link Surveys
Surveys of Net Promoter Score
Built-in Analytics
Feedback Button
Mobile-app Surveys
Cons:
No export feature in the free plan
Lack of integration with some apps
Pop up surveys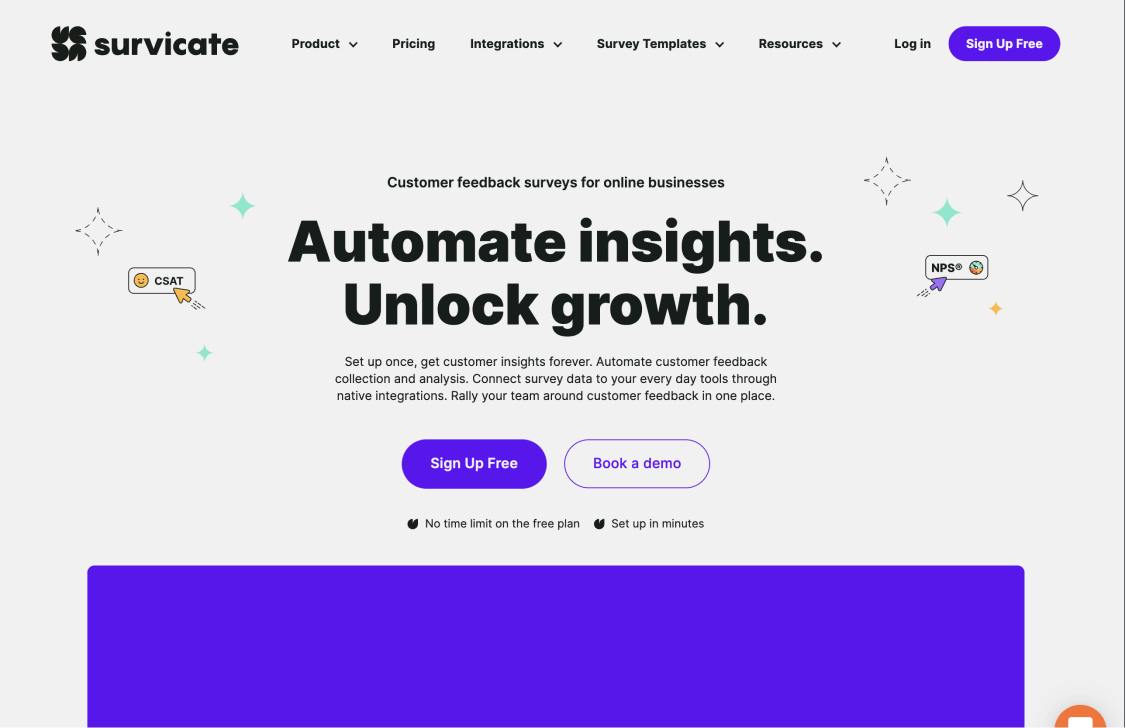 #5 AskNicely alternative - Survicate
6 - Qualtrics
Qualtrics, one of the many alternatives to AskNicely, is a simple-to-use web-based survey tool to conduct survey research, evaluations, and other data collection activities. Qualtrics, no doubt, is one of the leading experience management companies that provide a variety of solutions and features to its customers. But when it comes to the pricing, it is also the most expensive product when compared to its competitors. The plans offered by the company are based on subscriptions. The price varies, and you have to reach out for a demo.
Pros:
Free Trial
Premium Consulting / Integration Services
Built-in dynamic reporting tools.
Capability for respondents to stop in mid-survey and resume later where they left off
Cons:
Lacks the ability to maintain multiple shared reports that can include or exclude various data cuts
Lacks "to-do list"-like project management
Expensive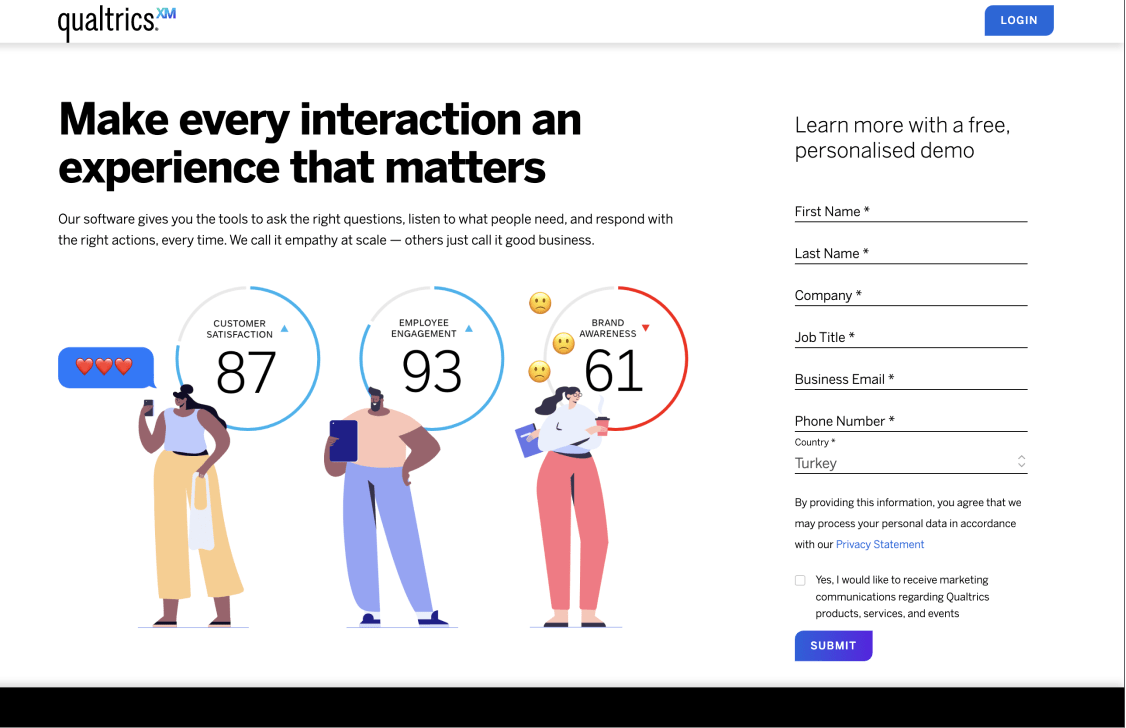 #6 AskNicely alternative - Qualtrics
7 - ProProfs Survey Maker
ProProfs Survey Maker is a SaaS-based survey tool that assists companies in creating engaging and customized feedback surveys using themes that have been expertly created. You can try any plan for free for 15 days. Then there is the monthly pricing of $0.05 per response.
Pros:
Affordable prices
Powerful analytics
Good customer feedback
Diverse and delightful tools
Cons:
Few integrations
Limited free plan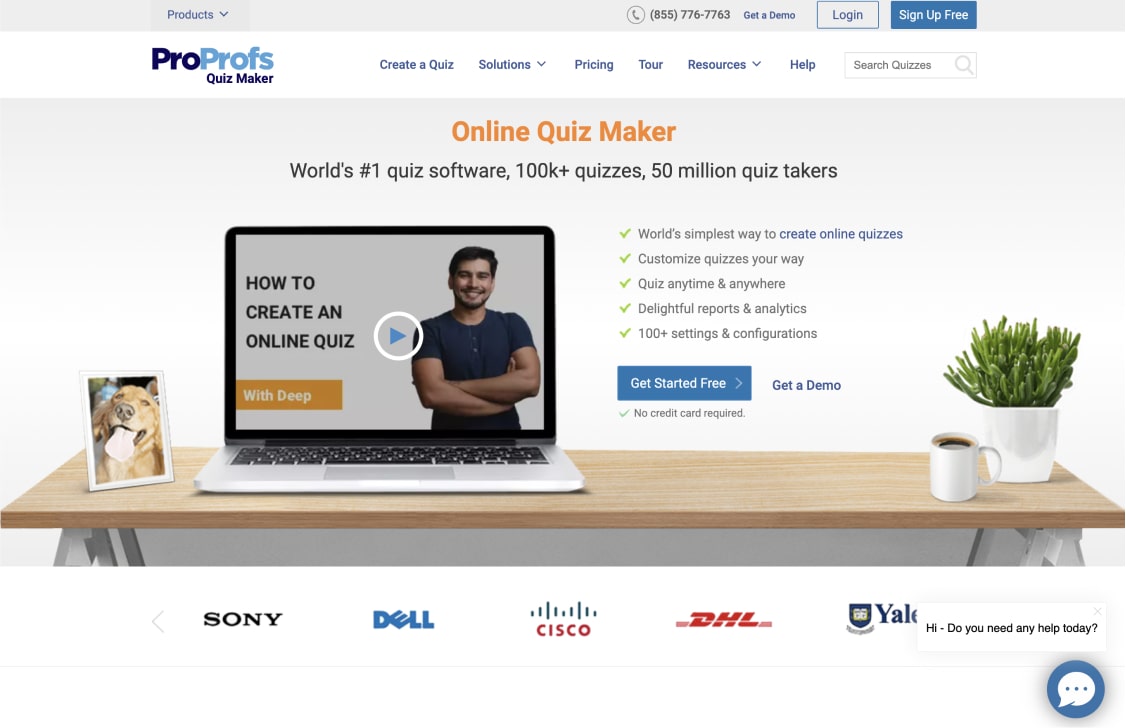 #7 AskNicely alternative - ProProfs Survey Maker
8 - SurveySparrow
SurveySparrow is a platform that lets you turn surveys into chats. This platform is an online survey tool that allows users to create and distribute customer surveys through multiple channels, as well as evaluate responses. It comes with a central dashboard that allows users to import contacts and organize them into custom lists based on job titles, location, and age groups. It is a cloud-based customer experience solution that enables the business to create engaging feedback surveys. There is a price policy of 3 months. And it starts at $39 per month.
Pros:
A chat-like survey experience
Response recording capabilities
Real-time data capture
Easy survey sharing
Cons:
Fewer email marketing options
Fewer customization options compared to other survey tools.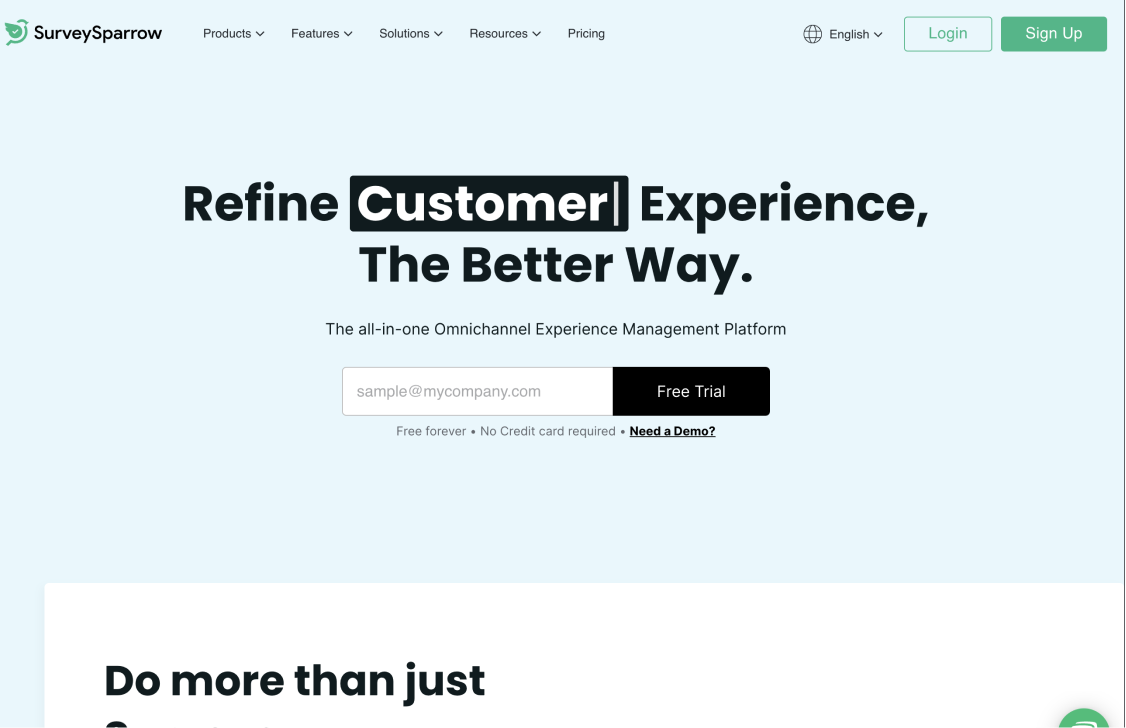 #8 AskNicely alternative - SurveySparrow
9 - Paperform
Paperform is an online platform that enables small businesses and teams to simplify work and make it easy for users to create stylish, customized, and image-rich online forms. This platform comes packed with features to grow your business, allowing you to accept payments and create subscriptions. It combines serious digital smarts with beautiful designs to create endless possibilities. Free for 14 days. No credit card is required. Its price starts at $24 per month.
Pros:
Conditional logic
Easy to use
Analytical features
Fast customer support
Cons:
Limited integrations
No free plans.

#9 AskNicely alternative - Paperform
10 - 123FormBuilder
123FormBuilder is a versatile and innovative form builder used by more than 2 million people and users worldwide to visually build their forms and automate their workflow. Create any form of small business, including contact forms, lead generation forms, surveys, registration forms, online forms, and more, no matter how complex. The paid plan starts at $24.99 per month.
Pros:
Different sending options
Customizability
easy to use
More than 50 integrations with apps and payment processors
Cons:
Customer service support
Automation setup is slow

#10 AskNicely alternative - 123FormBuilder
11 - SurveyMonkey
SurveyMonkey is a cloud-based survey creation platform that helps users create, submit and analyze surveys. This platform has many features that make data collection and analysis extremely simple. Users can conduct customer satisfaction surveys to get feedback on products and services and send employee engagement surveys to understand employee satisfaction within the company. It starts at $99 per month on the paid plan.
Pros:
Good for researching a list of customers you already have
Sometimes it takes a while to complete
Offline survey filling option
Cons:
Sometimes it takes a while to complete.
Fewer customization options compared to other survey tools.
Fewer integration options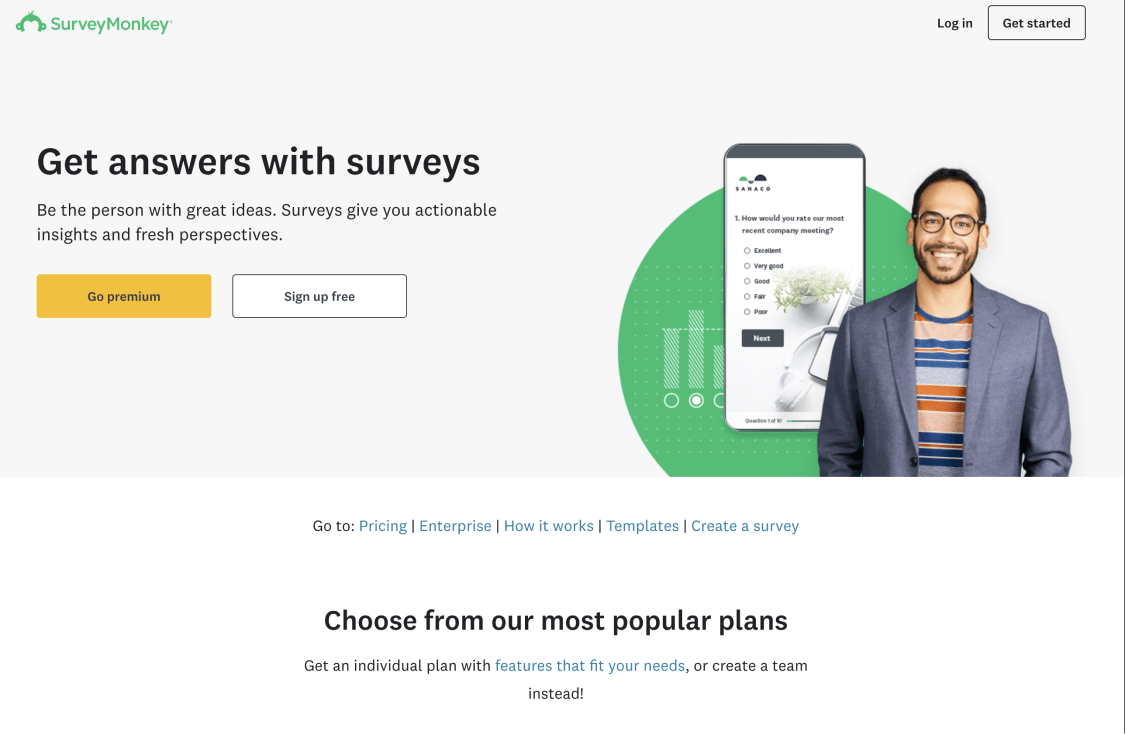 #11 AskNicely alternative - SurveyMonkey
Which survey maker should you choose?
When it comes to free survey makers, you have plenty of options to choose from. But you have to wade through your options to figure out the best survey tool for you. There truly is a survey maker for everybody. So you don't have to worry. Above are many options available for you. Which one works for you may depend on your organization's needs and your personal preferences.
The survey makers we mentioned above are good. But if you're looking for a practical and fast online survey maker, forms.app is the tool for you. Even in the free version, the forms.app online survey creator offers an infinite number of question types and the option to customize your survey layout. Also, forms.app is a useful tool as it has free survey templates and form templates. All in all, form.app is pretty good from others as it specializes in web tools. Check out forms.app now to create surveys and see how you can start automating your processes.