No matter what age people are in, any business owner wants to know about the course of his business and to shape his business accordingly. Customer experience is the answer for all business owners who are seeking to improve themselves.
Understanding your customers is a necessary step to offering them solutions. Tracking your customers before, during, and after they buy your product or service creates data about the customer experience. When you turn this data into action by taking the necessary actions, you will gain an excellent customer experience.
What is customer experience, and why is it so important?
Customer experience is all interactions between a business/brand and a customer in the pre-purchase, usage, and post-purchase stages. The customer experience is a journey that begins with the discovery of a brand or business and ends when the customer leaves that brand and business if it is filled with negative opinions of the customer. But if the customer has positive opinions, you need to keep customer satisfaction high in order to retain the customer.
According to Forbes:
Customer-experience-oriented businesses have %4-8 higher revenue than the rest of their industries.
Then wouldn't you like to be one of the businesses that give importance to customer experience? If your answer is yes, the customer experience, whether negative or positive, has a lot to teach you about your business.
With positive experiences, you can learn what you need to focus on and bring to a better level.
With negative experiences, you can see where you did wrong and then correct it.
Satisfying customers gives your business a competitive advantage and keeps your business afloat. You can also reduce the costs and expenses of your business.
Surveys can be used for SWOT analysis and take action based on the results.

Every business and brand strives to improve customer experience in its own way. As the customer experience improves, the business also benefits, and this becomes a win-win relationship. Businesses that care about their customers are those that can make more profits and know how to maintain their current earnings. On the other hand, customers enjoy the pleasure of getting a trouble-free service. Therefore, you may need to measure the customer experience and shape your business accordingly. If you don't know where to start, you can take your first step by measuring the metrics below.
Tracking customer behaviour: Tracking customer behaviour is one of the most common feedback practices. By tracking customer behaviour, you have important data about your customers. This data is usually your customer's information such as age, gender and country and helps you learn which audience you are addressing. Tools like Hotjar and Google's free Google Analytics can help you see how your customers are interacting with you and acting on your site/app. Apart from this, you can measure the customer experience for a specific time period with real-time reports.
Using online surveys: It is a method where you contact your customers directly instead of beating around the bush and having them fill out your form. It is an excellent method that allows you to receive direct feedback. Sites such as forms.app, where you can create free online forms such as customer success forms, save you time with their templates and please your customers with their design and ease of use.
Reading customer reviews and customer support tickets: Another important way to learn about problems and improve your business is to read customer reviews and support tickets about you on various websites and on your website.
Calculating customer churn rate: The churn rate is the portion of your customers who decide to break off with your brand or business. It is essential that you understand the churn behaviour of customers, as it will happen to you, as with any business.
Mapping the customer journey: A customer journey map is a customer's story with your business. Visualising the answers to questions such as how and where the customer found you, how did they buy your product or service, and whether they came to buy again on a map is another way to understand the customer experience.
How to use surveys effectively to learn about customer experience
Surveys are one of the most important ways we can get information about the customer. You can easily find out what the customer wants, and what you did wrong, thanks to these customer surveys. There are various surveys and customer satisfaction metrics that can help you measure and improve end-to-end customer experience. Here we will share the most noteworthy of them with you.
1 - Customer Effort Score (CES)
The lighter the customer's burden becomes, the more they will be attached to you. Every person, whether they are a customer or not, likes to take the easy way out. That's why asking your customers typical CES questions about their experience while reaching the product, purchasing the product and communicating with the customer representative through a survey will prevent you from making the same mistakes in the future. The CES score, which is the result of these questions, will give you information about the customer experience.
If you want to prepare a CES survey, forms.app offers you this opportunity free of charge. You can use the client feedback form template for a quick start. After presenting the survey to the customers, you may be asking yourself what a good customer effort score is. This will be mentioned in the NPS section.

NPS is being used to measure customer satisfaction for businesses. It is a method that shows the attitude of customers on a 0 to 10 number scale. It is possible with only one question to measure it: how likely are you to recommend us to your friends?
The answers to this question are divided into three parts. These are:
Promoters (score 9-10) are faithful fans who will support your business and refer you to other people.
Passives (score 7-8) are pleased but apathetic customers who can change opinions.
Detractors (score 0-6) are dissatisfied customers who can harm your business.
Deducting the rate of Detractors from the rate of Promoters gives you the Net Promoter Score, which can range from a low of -100 to a high of 100.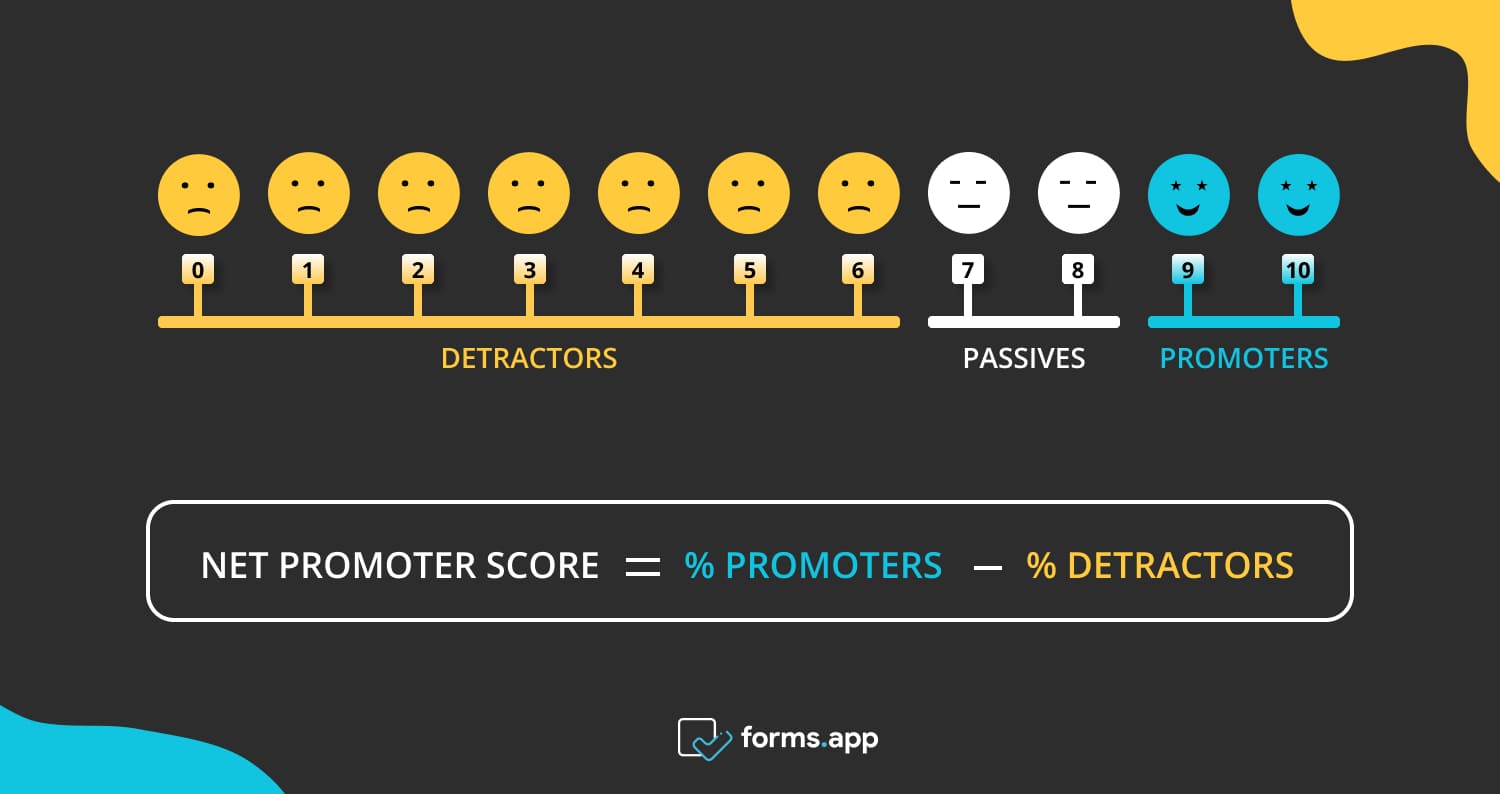 If you want to measure NPS for your brand, simply prepare a customer satisfaction survey now. You can ask an NPS question within the customer satisfaction survey or create a single-question survey. For more detailed information, you can check our article on how to create a customer satisfaction survey.
3 - Customer Satisfaction Score (CSAT)
Using math very similar to NPS, CSAT is asked if customers are generally satisfied with your business. This can be done on a scale of 0% to 100% or a scale of 1 to 5. Respondents fall into five categories: very unsatisfied, unsatisfied, neutral, satisfied, and very satisfied. Then, the average of these scores can be taken to reach the result.

4 - Segmentation Questions
Unlike other surveys, segmentation surveys are surveys that you conduct to a certain group of customers on a small scale, not on a large scale. Questions in these surveys are about the customer's characteristics, such as geographical, demographic, attitude, lifestyle, culture, and occupation. Customers are also asked what they think about a service or product. In this way, you will see the pros and cons of your product or service from a customer perspective and learn your customer profile.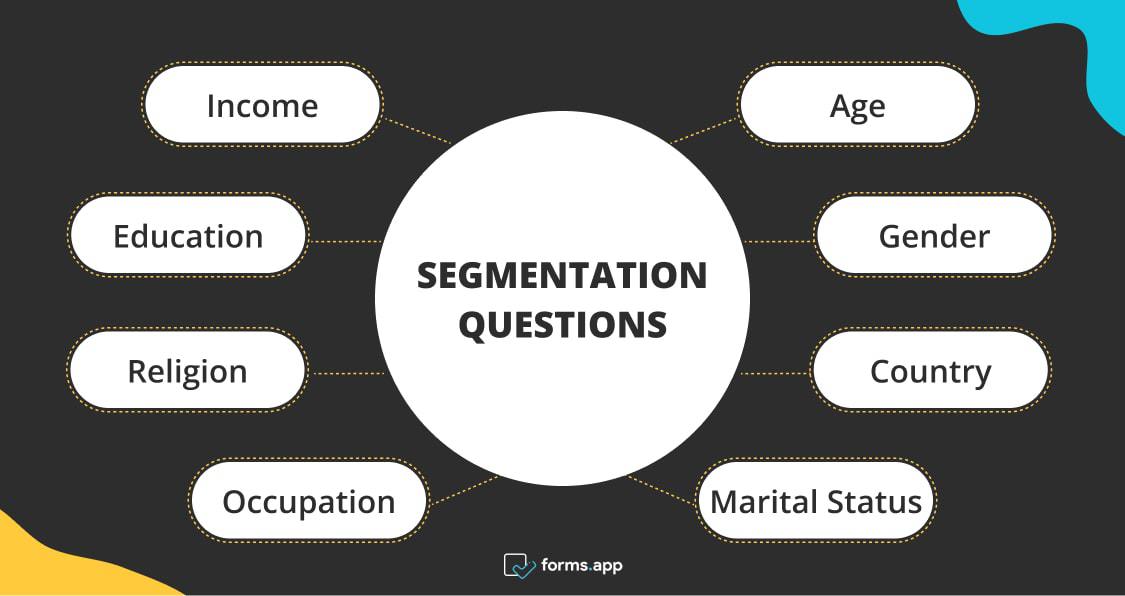 5 - Churn Surveys
One of the most useful types of surveys for a business is churn surveys. If your customer has decided to leave your product or service, it consists of asking your customer why they did not prefer you with this pop-up survey. forms.app offers you a free template to use for your churn survey.

How to use data to take action
Identify your shortcomings according to the tracking of the above metrics. List your shortcomings item by item, not only negative aspects, but also itemize your positive aspects because you may be able to see that you can cover your shortcomings with these positive aspects.
Allocate the workforce to track the customer experience
Invest in understanding customer behavior
Don't forget to track all aspects of the customer experience; sometimes, unexplored data can come in handy for you
Use recommendations so that the customer can look at a product and easily find similar products
Conduct customer churn analysis to understand why they are leaving
Be unique in what you offer to your customers
Find out which channels are suitable for your business and where you should advertise more.
Conclusion
This article teaches you why a business should give importance to customer experience, the metrics it can help you measure and improve customer experience, and what actions you can take with this measured data. It is also mentioned that surveys are a perfect fit for this job. With online surveys, which examine the customer before they even meet your business, you can create your own customer profile and keep your customers as regulars. Do not wait any longer and start preparing a survey!