There may be times when asking for a price estimate is difficult and complicated for your customers and business. When you create a website that offers products or services, as a business, you will want to be able to tell your customers approximately how much the value of the product or service costs.
Your customers will naturally wonder how much the price of that product or service will be approximate. Surely you will also want to attract potential customers. That's where price estimates come in. Creating a price estimate not only saves you from difficult and complex situations but also removes the uncertainties in your customers' minds. With this, you are also submitting an offer that wins the potential customer.
Given the high level of adoption, making price estimations on the internet is a great idea. One way to do this is by giving price estimates in a simple text format to help customers understand their costs and allow them to make a more informed purchasing decision. When someone makes a purchase, they are able to calculate the actual cost of the item. This is great for the customer because they are able to make a more informed purchase decision.
What is a price estimation?
A price estimation, in other words, a service offer, sales offer, or offer of a product, ensures that a service or a product can be received at an estimated price agreed upon between the business and the customer. Knowing that the prices to be released are only estimated prices without a definite price, the customer will have information about the product and service thanks to the price estimation. By producing the right cost estimation, you can enable your customers to make better price analyses.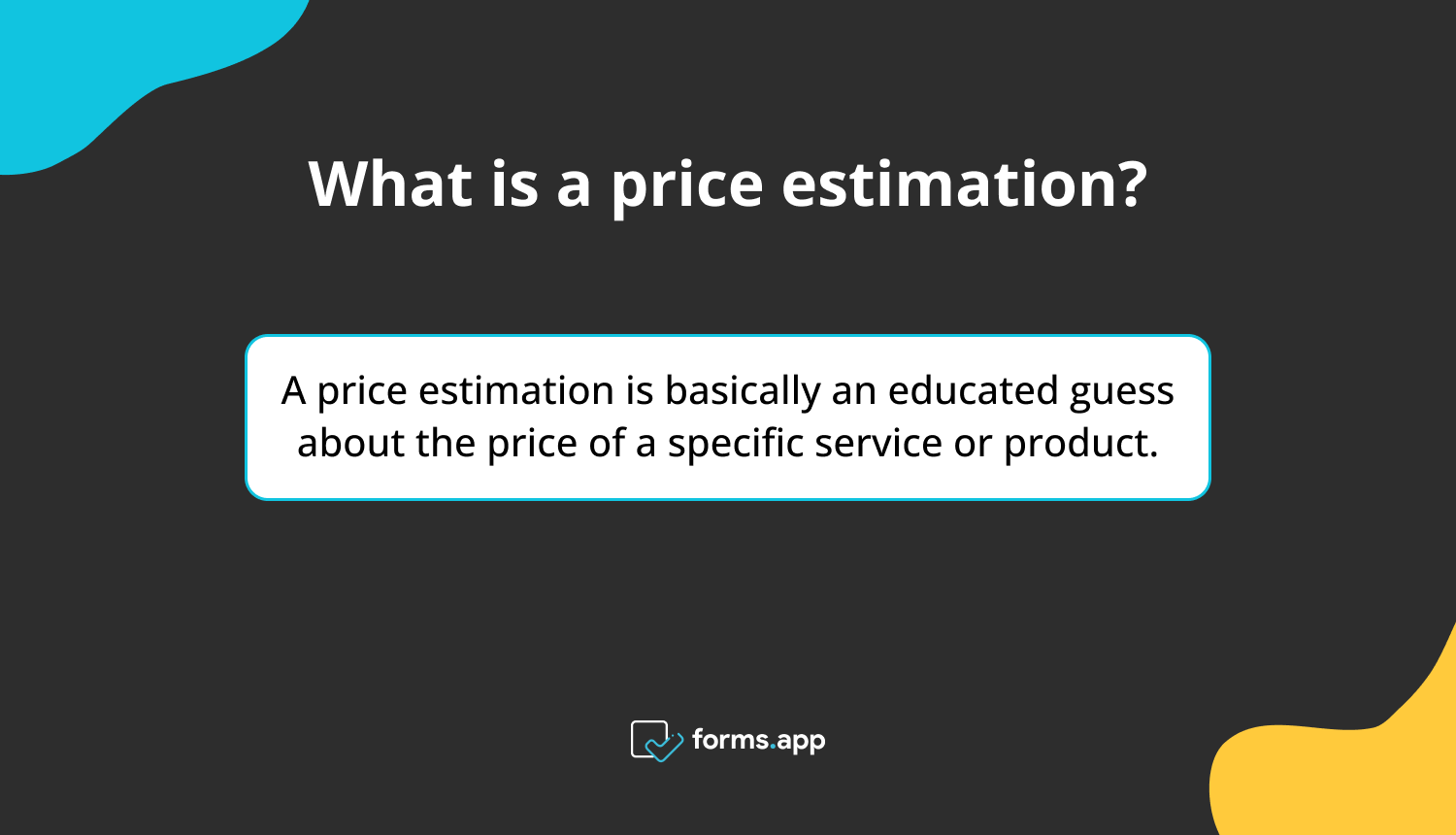 The price estimation that you will make with the right planning and the resources you have determined helps to calculate a more reliable return on investment for your company. Because a good cost-based estimation reflects the estimator's ability to understand how a project is built and correlate the costs of that project, gathering source data to give a national estimate can be daunting at first, but this data can be invaluable when created correctly.
Cost-based estimates are generally more reliable because the attributes of a work item are specifically defined. As a result, estimators understand the project better. Because they will be able better to determine the true cost of a product or service, another important point is always to compare the quote with the estimate, not the other way around. First of all, you should be able to analyze well so that you can avoid inconsistent numbers. When we say analysis, of course, we are talking about market analysis. You can give a successful price prediction by making your observations correctly.
Price estimate vs. quote
Communication is key in every industry, which is why you and your clients must understand the terms and meanings behind the various business processes you use every day. The difference between a price estimate and a quote is that a quote is a precise amount that is known. A price estimate is an amount that is close to a precise amount. When you want to attract potential customers, you can estimate the price of your products or services.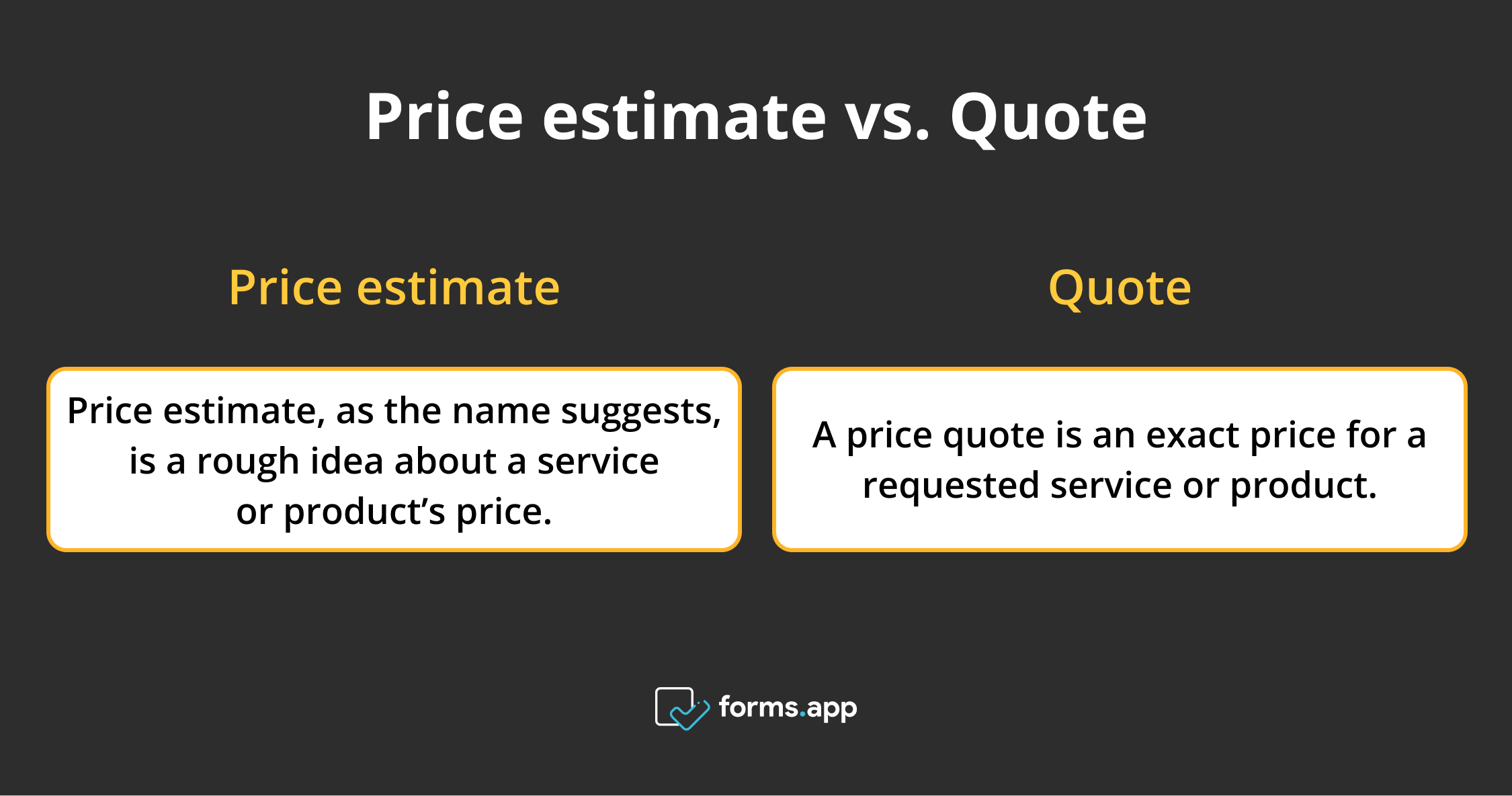 How is a price estimate used in business?
You will be able to attract potential customers much better when you provide information about the price of your products or services. You can estimate the price of your products or services by using the following formula: Price = Quantity x Price per unit. So what are the benefits of giving a price estimate?
Estimate gives the estimated duration of the work.
The estimated cost of the work can be known from the estimate.
More accurate estimates simplify the project. Unexpected costs and blocked working capital can therefore be avoided.
Properly guessed work is flawless, and projects are completed quickly.
Various things related to that work can be made available.
Staff can be counted from estimates such as supervisor, engineer, senior engineer, etc.
Work planning can be made easier with estimates.
The estimate is made keeping in view the previous years so the mistakes made in the previous years can be removed.
Materials can be ordered as required
If there is an advantage, there is also a disadvantage. Let's take a look at these now.
The estimate cannot communicate between labor and supervisor.
Changing the method of estimation does not maintain the quality of the material.
Good efficiency cannot be achieved with every task.
Certain types of overhead costs cannot be controlled
How is a price quote used in business?
A quoted price is the most recent price at which an investment (or any other type of asset) has traded. The quoted price represents the most recent bid and asks prices that buyers and sellers were able to agree on. By giving customers quotes at the outset, you ensure both you and the customer understand the requirements of the job at hand and what's covered. You can also use quote forms using the forms.app.There are also fields in forms.app where you can create a quote form for the website.
Here are the advantages of a price quote:
Establishes a minimum base rate for the work.
Helps you break down what's needed for the job.
Allows you to plan your cash flow.
Assures potential clients you're a reputable business.
Opens a line of communication with potential customers.
Provides valuable feedback about your pricing.
Protects you if a customer fails to pay
How to provide price estimates with online forms
When you have completed the online form, you can provide your customers with a price estimate. The easiest way to provide your customers with a price estimate is to use an online form. Online forms allow you to easily provide your customers with a price estimate without having to share your internal pricing. Instead of providing your customers with a price estimate, you can provide them with a custom thank you page message.
Now we will explain to you how to create a price estimate form:
1 - First, you will need forms.app, an online form creator.
2 - Choose an online quote form template by clicking the create form button in the my forms section, or you can choose one of the existing form templates.
3 - Customize your online form on the edit tab.
4 - If you are going to use a blank template, click the plus button on the page.
5 - Then you must choose the field you need.
6 - Enter the products or services for which you will estimate the price.
7 - Click on the calculator button on the page.
8 - Assign points to answers based on the services or products you have added.
9 - Open the calculator settings on the right.
10 - Click the show calculation summary button and change the title of your thank you page.
11 - Press the "show result details" button and show the result details on thank you page.
12 - Hit the customize thank you page message button to show different messages based on price ranges.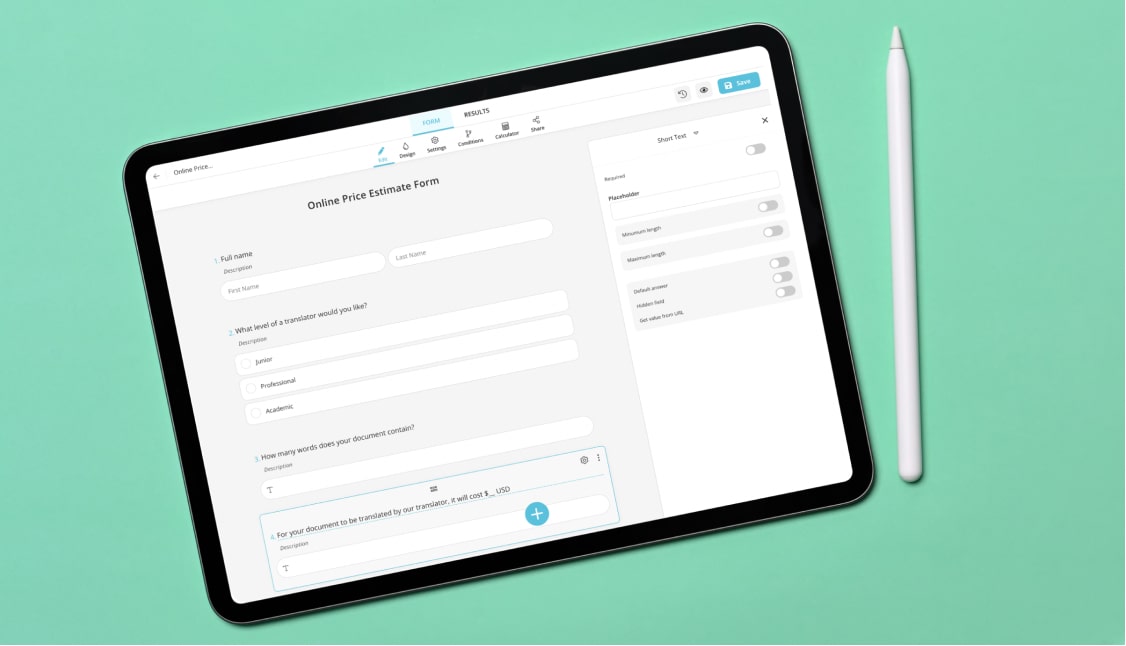 Summary
Understanding the difference between a quote vs. estimate can ensure a smooth relationship with your customers and help you get paid in a timely, reliable manner. With the use of online forms, customers can quickly understand your pricing instead of having to ask for an exact price.
By providing your customers with a price estimate instead of an exact price, you can protect yourself if a customer fails to pay you. Using an online quote forms free, you can also communicate with your customers and provide them with valuable feedback about your pricing. By using forms.app.'s unique features and following our advice above, you can get excellent feedback on your price estimate forms.