Wondering how to start your survey? Before letting your respondents dive into the questions, it is essential to write an effective survey introduction. Knowing how to write the introduction to a survey is just as crucial as phrasing the questions, as it sets the tone and informs your respondents of the context.
An excellent survey introduction can also motivate your respondents to complete the survey and help extract more accurate responses. How you start your survey can also be important to grab your audience's attention and convince them to take the time to answer. So let's get started.
What is a survey introduction?
The introduction is the first part of the survey in which prospective respondents will focus their attention before answering the questions. It can be the email message before opening the attachment to your online survey or the short block of text that sits right above your set of questions.
Generally, the survey introduction creates the first impression and sets the expectations for the people answering the survey. It is an important step when conducting a survey to provide context and set the stage for the survey.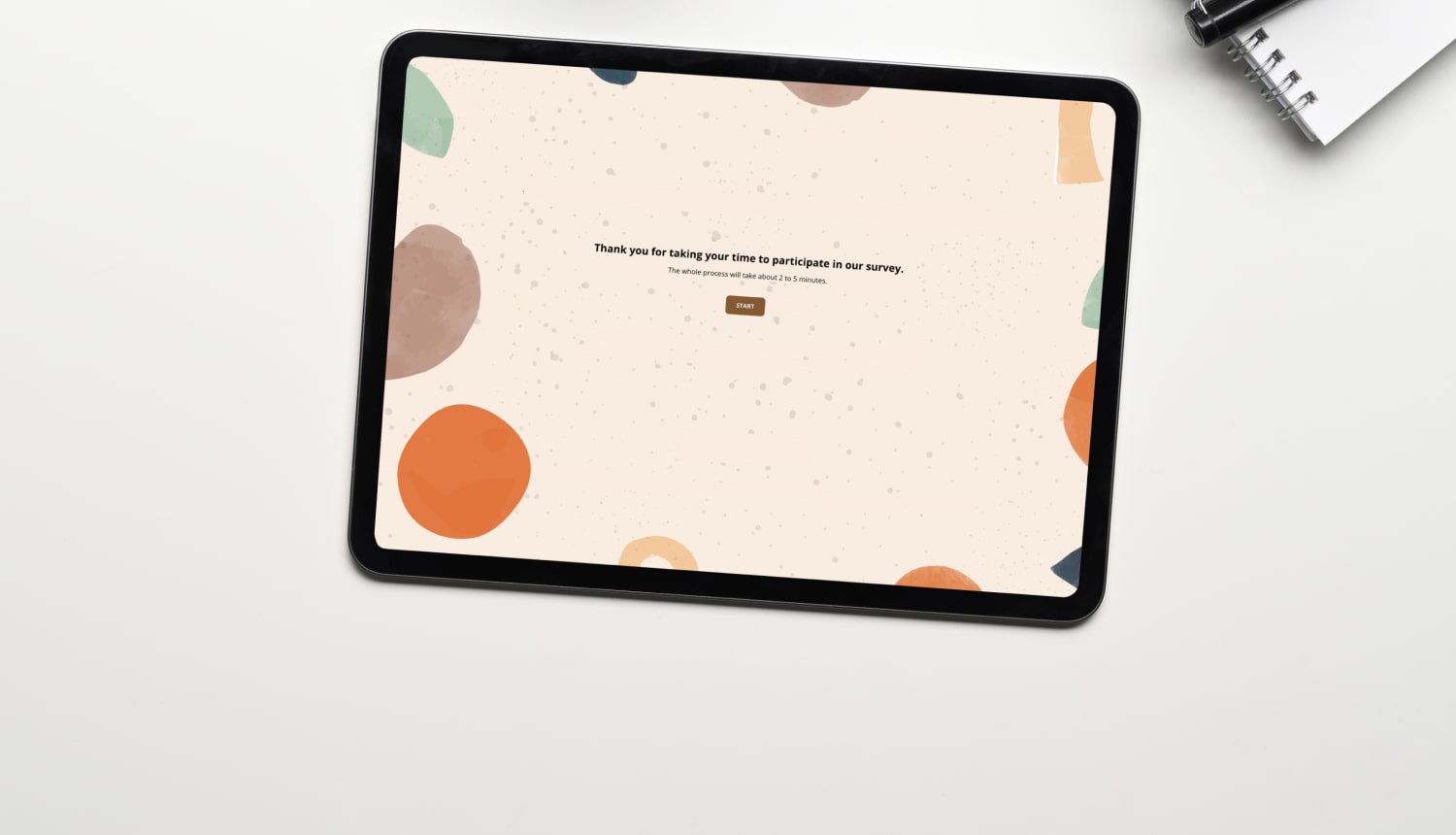 Why are introductions important in a survey?
It's no secret that nobody likes participating in surveys. If you are just to show a survey without an introduction, chances are people will just dismiss it. You need to give them a reason to do it, and a survey introduction is a space that offers you the opportunity to put up a good first convincing statement.
A compelling introduction can captivate the audience, generate interest, and boost the chances of respondents engaging with your survey. More importantly, an introduction can help provide context for better answers and assurance to build trust that will improve the conversion rate.
7 tips for writing a great survey introduction
A good introduction compels, engages, and persuades. The same applies to survey introductions. How you write your introduction to your survey can also influence how people will answer your questions. Here are seven tips for writing a great survey introduction, along with useful examples for inspiration.
1. Introduce yourself
People want to know the person or organisation behind the survey, so a good way to start any survey is to tell your respondents who you are. Unless you are a widely recognised brand like Apple or Pepsi, introduce your company with the assumption that respondents don't know who you are.
Mention the name of the organisation and briefly share your company background. Make sure to include details relevant to your survey topic to establish yourself as an expert.
Here is a quick example:
Hi there, We are [Company Name], and we are conducting research on the [topic]. We'd love to hear your ideas about [product] and what you want to see built. This will help us improve our existing tools and prioritize new features. If you have any questions about the survey, please email us at: [email protected]. We really appreciate your input!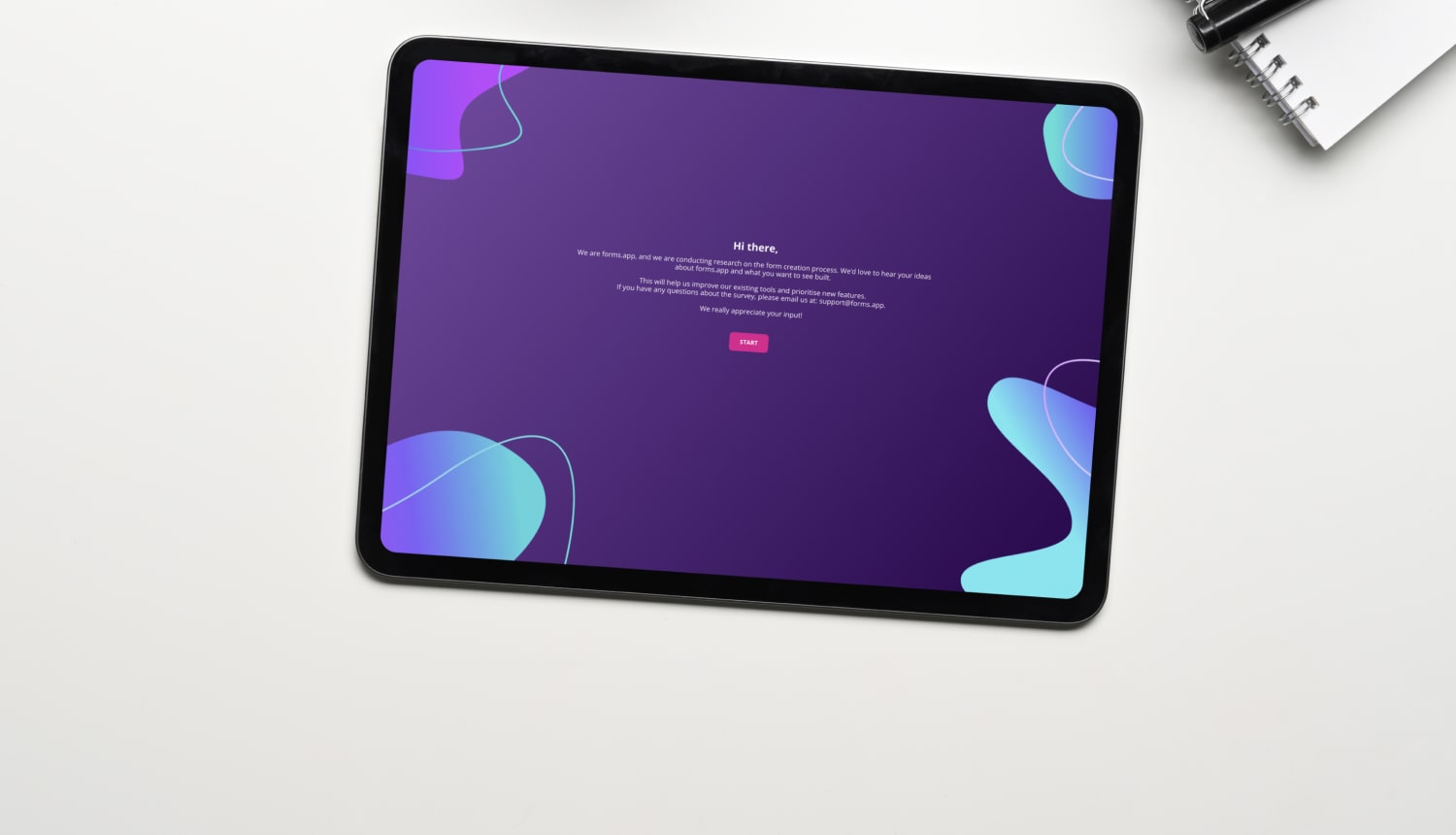 This part can be further elaborated if your survey is directed at new audiences, as it can be helpful to build trust and promote brand recognition.
2. Focus on why
Why should people participate in your survey? Sharing the purpose in your intro can offer a positive survey experience for your target audiences. This can just be a sentence or two, but being transparent about your goal can add meaning for your respondents.
Filling in your survey will no longer feel like a waste of time or effort. But more importantly, you will get better data and value when your respondents clearly understand why it is essential. Writing your purpose in the survey introduction doesn't need to be a grand scheme; the goal is to let your respondents know the reason for asking for their feedback and how it matters.
For example, it can be as simple as this Tweet from Fortnite gathering feedback about their new shooting feature.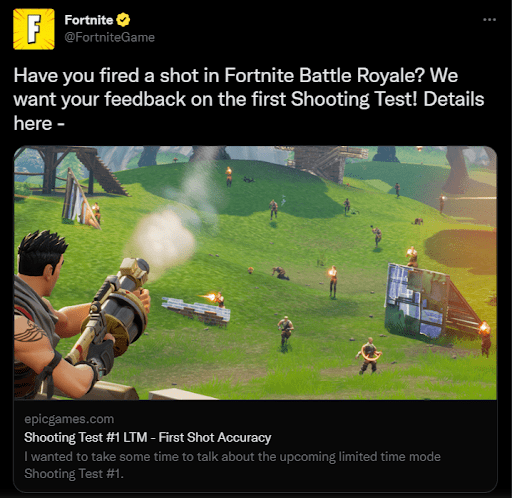 3. Set clear expectations
People are busy, and time is money. Another essential element in your introduction is the estimated time to complete your survey. Instead of saying, "this will only take up a few minutes of your time", set clear expectations and be upfront about how long it will take for them to complete the survey.
One way to say it is "the survey should take no longer than 5 minutes to complete." Seeing this, respondents will be more likely to participate in the survey if they know it will just take 5 minutes at most.
State it clearly, even if your survey is long as your respondents will be more tolerant once they know what to expect. On top of conversion rates, this can also help avoid inaccurate or unfilled answers when people get bored or impatient filling out your survey.
4. Data usage and confidentiality
For every survey, it is also necessary to ensure that the people who reply to your surveys know that their survey responses are anonymous. But don't wait until the end. Highlighting this in your intro can be reassuring to respondents and encourage participation, as well as honest feedback.
This is because respondents tend to share their opinions when they know their feedback is anonymous. You can also clarify what you plan to do with the collected info. For example, if you intend to collate personal details from your customer service surveys and reuse them, inform the respondent that this is happening and offer an option to opt-out.
It is easy to get long-winded when stating your data usage and confidentiality, but a way to keep it short and sweet is to include a link to the privacy statement on your website.
5. Use an inviting tone
Engaging surveys are never dull. Making your survey interesting to your respondents is vital to boost conversion rates. You can write it in a friendly and conversational manner by using creative writing skills, but ensure you write it in a way everyone can understand.
Choosing the right choice of word is also crucial. For example, avoid the word "survey" in your subject line, as it can elicit a negative response when people see it in your mailbox. Instead, aim to create funny and engaging messages that evoke positive responses and excite people to join your survey.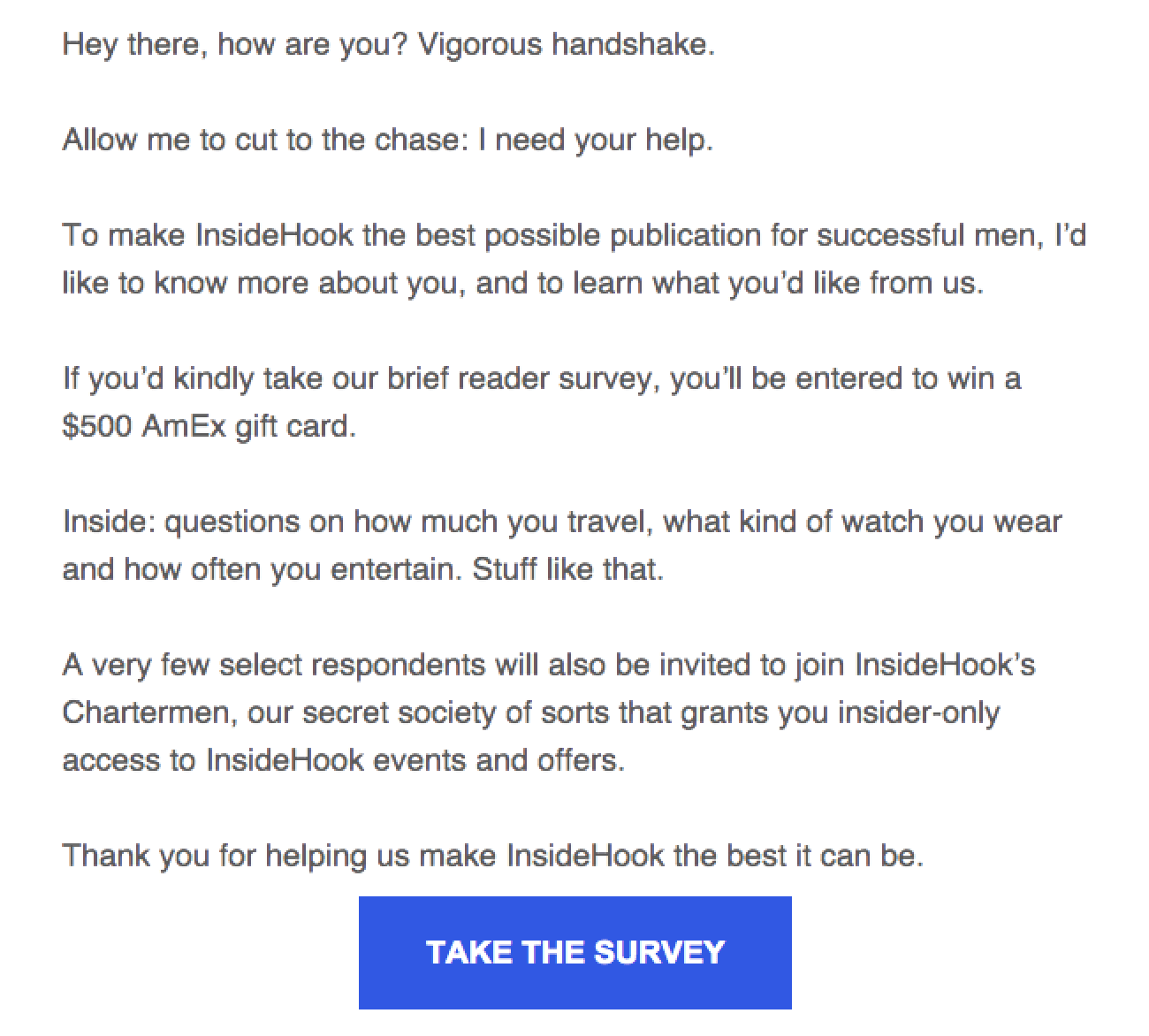 Just take this example from InsideHook with the subject line: "Are you happy with your job?" We love how it starts with a thought-provoking question and get readers thinking.
6. Thank your respondents for their time
Never forget a simple thank you. Showing gratitude to your respondents for taking the time to join your survey can show that their responses are valued. However, you can take this further by stating that you will send a follow-up when their feedback is turned into reality to encourage them to participate in your subsequent surveys.
Additionally, you can make the survey even more irresistible by offering rewards. There's nothing more effective than a survey incentive to say that we value your time.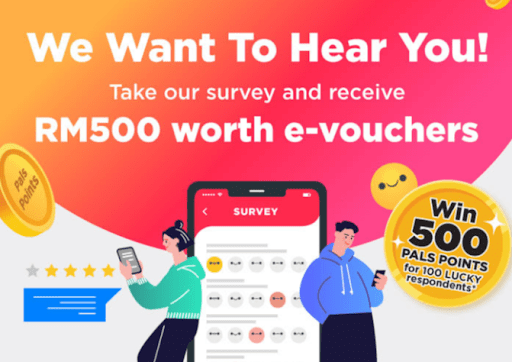 Besides, participants are more likely to respond when offered an incentive. Some ideas for your survey incentives are cash rewards, points redemption, and prizes. Essentially, highlight your bonus in your survey introduction if you have one in place to attract eyeballs and get them to take action.
7. Keep it short and sweet
Now that you know the crucial details you must include in your survey introduction, the last tip is to keep it short and sweet. Having a long introduction can turn people away from the start if it sounds like too much work. Not to mention, it is simply easier to persuade using simple and clear language.
Ideally, your survey introduction should only be around 3 to 4 lines and use shorter words and sentences. As a rule, if you can deliver the same message in two words instead of five, always keep it brief. Go through your survey introduction a few times to ensure deliverability is concise.
Survey introduction examples
To recap, here are some survey introduction examples to inspire and show you how to put all seven tips into practice.
1. Market research survey
Thank you for eating at A&J! We're revamping our spring menu and would like to ask you a few questions about your dining experience. Your responses will be recorded anonymously and used to help us make more enjoyable and delicious breakfast choices for you! This will only take 1 minute, and you can get 50% off your next order when you dine at A&J.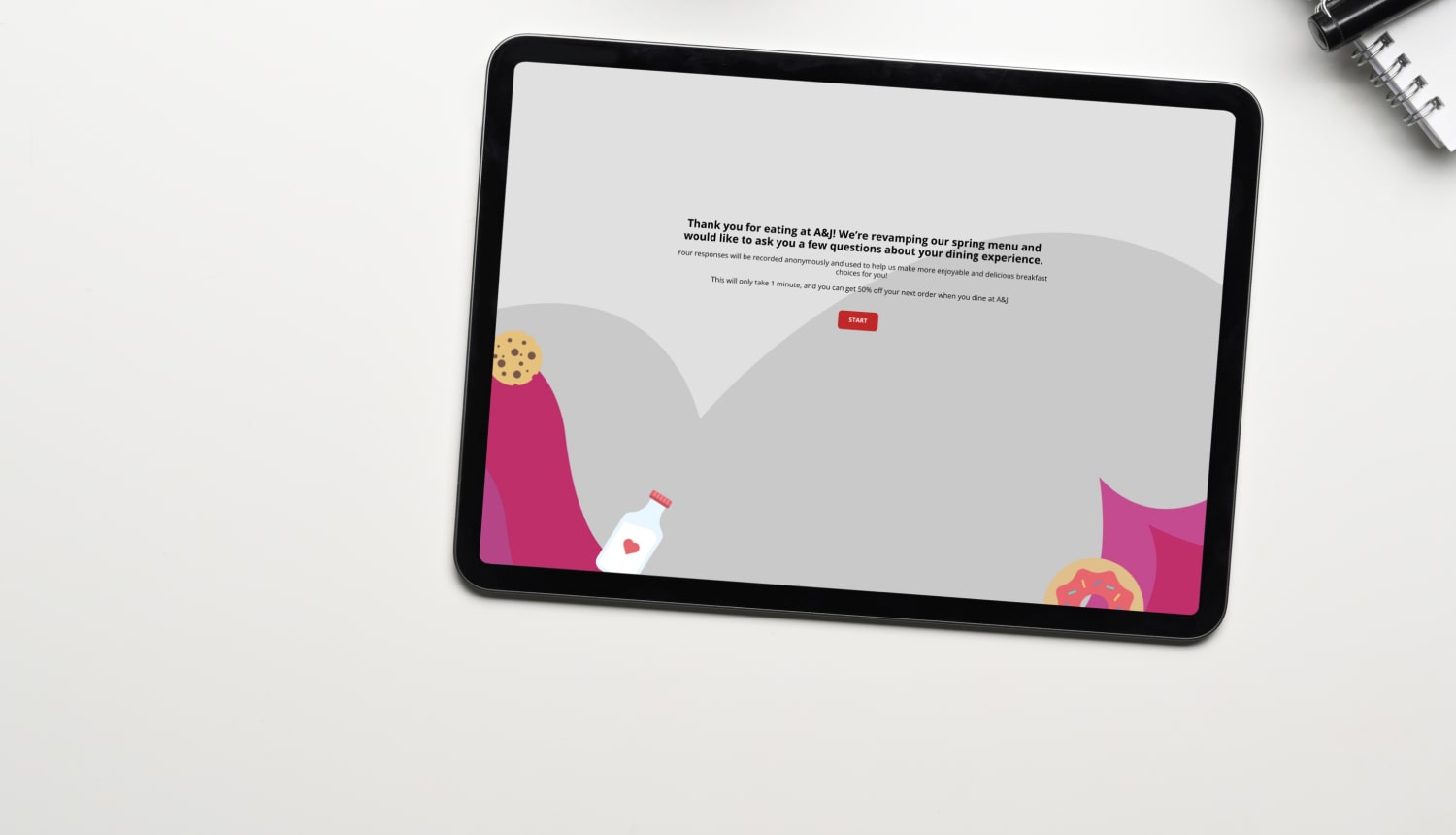 * * *
2. Customer satisfaction survey
Thank you for staying with us at Three Seasons!We're always working to improve our rooms, and we'd like to hear from you! The survey results will teach us insights into how we can provide you with a better stay. Answering the questions will take less than a minute, and don't worry, as your responses will be kept anonymous, and we will not spam you in any way. Plus, we know your time is precious. So take this $20 off all our rooms and boarding for your next staycation. Thank you.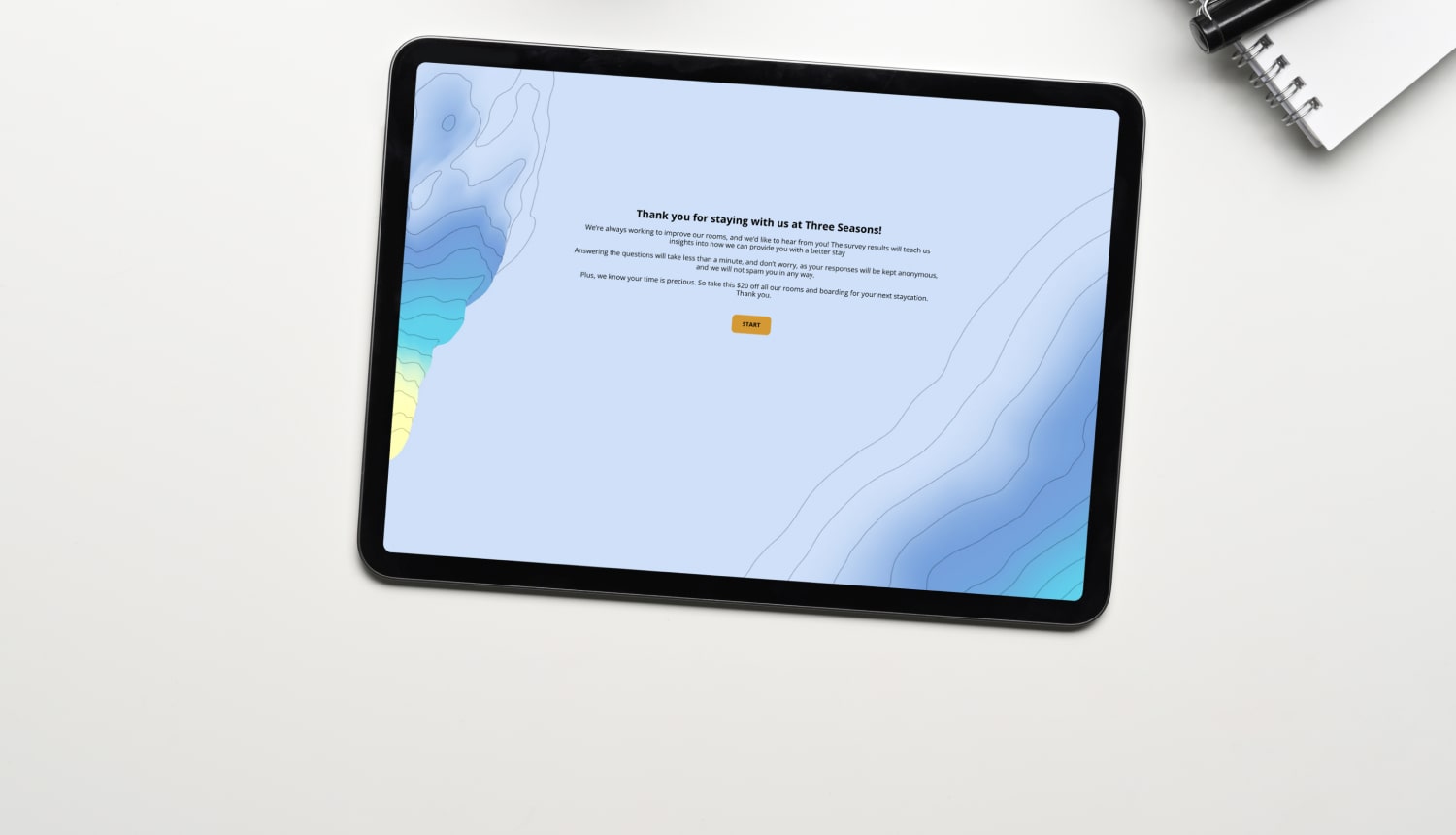 Conclusion
Surveys are essential to fostering your relationship with the customer. It is one of the most effective ways to understand what your customers are looking for. That's why make sure to put the seven tips into practice to write a successful survey introduction.
And remember, your introduction is just the beginning. Follow up with the best survey questions to create a positive survey experience for your respondents.