For any industry, finding your target audiences and getting qualified leads is the main purpose because customers are essential for many businesses and have a crucial role in growing the business. There are many ways to turn more potential customers into loyal customers. Lead generation automation tools are great ways to make your business processes shorter and faster.
There are many lead-generation strategies, such as blog posts, email marketing, survey-maker tools, and automation tools. These strategies help businesses gain popularity and improve products and services. In this article, you will learn the importance of automation of the lead gen process and the most effective way to obtain leads for your business.
Why do you need to automate your lead generation process?
The most crucial reason for lead generation is collecting data, contact information, and email list. The first thing you should do when looking for potential customers is to check their business to gather information and find their email addresses to get in touch. By doing so, you will get many important details such as people's contact numbers, priorities, interests, and preferences.
This means that a lot of information is collected in a pool, and lead generation comes into play in this part. Some tools like Zapier also help you to automate your gaining leads process and reduce your workload as well. You should use this data in the most accurate way and increase the number of your existing customers.
How can you use online forms to generate leads?
You may be thinking about how to collect this information in the fastest and easiest way. It's actually quite simple because you can bring in many new customers to your company with online form-builder tools. Many online form builder apps, such as forms.app, offer advanced features to help you create appealing and professional-looking forms. Benefitting from advanced features allows respondents to fill out the entire form accurately and without getting bored.
For example, conditional logic or customization options are features you can use to attract potential customers to your product or service. The most frequently used form types for lead generation are registration forms, contact forms, and application forms. There are some features that will enable these forms to bring more successful results that you should include in the form:
Adding call-to-action phrases,
Sharing them on social media accounts
Embedding these forms on your website
Get results quickly by enabling real-time notifications when each of your forms is filled.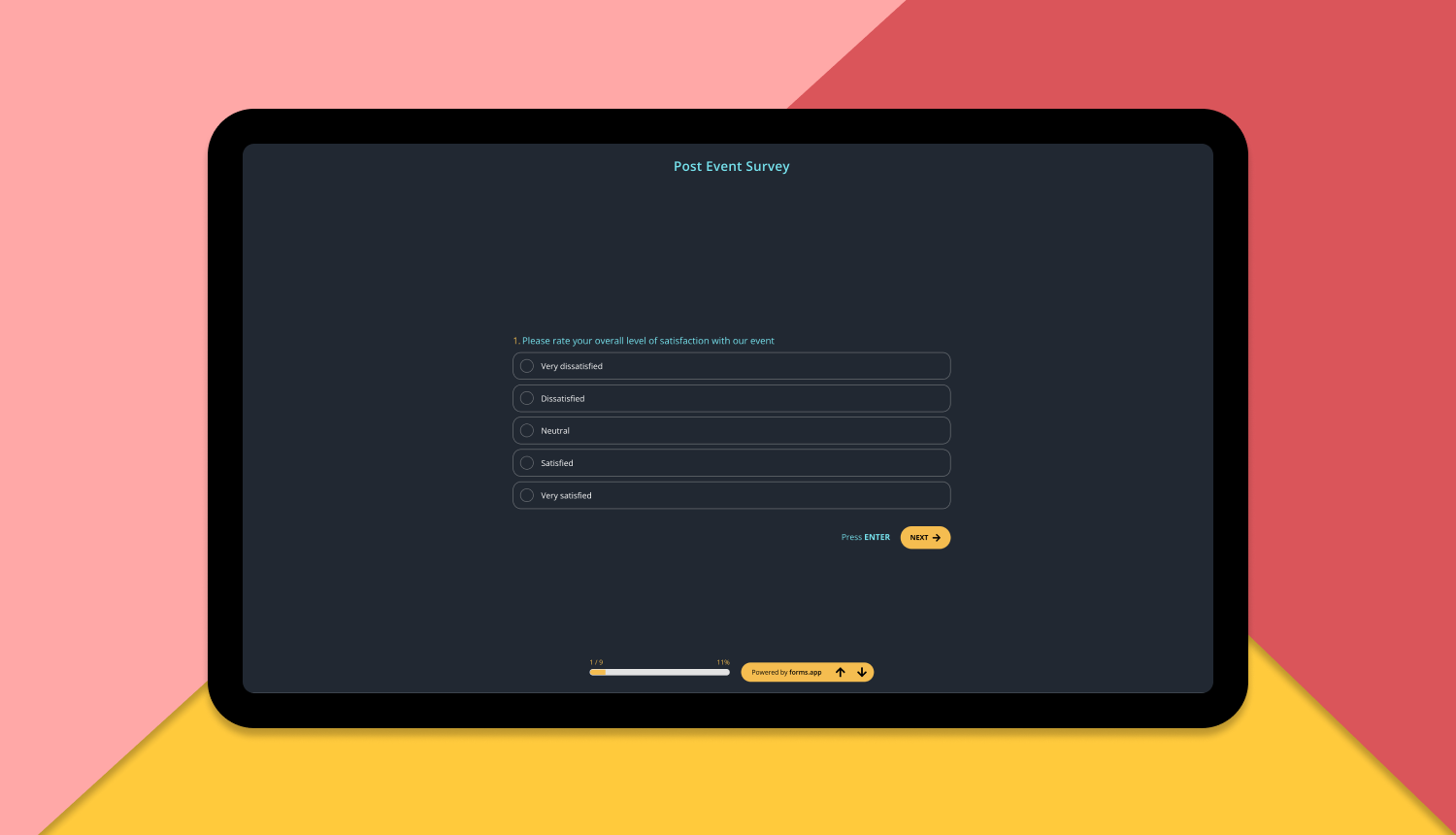 A lead generation survey example
Automated workflows make it better
Automating your work always reduces your workload and allows you to note your work in a more systematic way. In this way, you will both save time and not miss any important information. But if you have questions like what it means to automate and how to do it, the answer is obvious: Integrations. Instead of manually passing the information in your form responses to another application, integrations make it easier to transfer information directly to another one.
With Zapier, you save time by automating your work with more than 5000 applications. For this reason, if the form builder tool you use integrates with Zapier, it will automatically allow you to integrate your forms with many applications. All you have to do to take advantage of the applications in Zapier and choose the integrations for lead management automation and create triggers & actions. Thus, all information is quickly transferred to the necessary applications without giving orders one by one every time.
How to automate your lead generation workflow with forms.app
forms.app has many integrations such as Slack, Trello, Notion, Mailchimp, Paypal, and so on. In addition to having these integrations, it also has an integration with Zapier. For other applications which are not available in forms.app, you can create a direct integration with Zapier.
Thanks to these SaaS integrations, you can avoid many workloads while finding the data you want. After creating your lead generation form, you can connect with any application you like. Or you can create a zap by using Zapier's integrations. Firstly you should have a Zapier account and connect the apps that you need with your account. Then you should choose a trigger event and actions.
Pipedrive
One of the most well-known SaaS applications is Pipedrive which is a customer relationship management app. Pipedrive allows you to communicate better with your customers and track sales transactions in a more organized way. Pipedrive users can create a sales pipeline, which consists of the processes that users will go through on the way to purchase.
You can give a different name for each process according to its purposes. Moreover, you can create deals on Pipedrive with the contact information you get from the forms you create in forms.app. Users need to know important features and terms such as creating deals, creating activities, contacts, and leads to use Pipedrive most effectively. For this reason, here are some essential terms:
Lead: Lead simply means the potential customer. To attract these leads to your company, you need CRM tools like Pipedrive.
Activity: The actions required to close a deal are called activities. For example, this could be sending an email, arranging a meeting, or making a phone call.
Deal: Creating deals is related to the new customer acquisition process. You can follow your communication with customers or companies here, and deals are closed as won or lost.
Zendesk Sell
Another user-friendly CRM tool is Zendesk Sell. With Zendesk, you will make your sales faster, and you will save a lot of time for your sales team by benefiting from it. Thanks to Zendesk, you can easily communicate with your customers and leads by using email automation and tracking features. Zendesk Sell allows you to reach all customer data, sales opportunities, and follow-up activities with a few touches. You can also increase your chances of catching leads with the customer data you get from forms.app in Zendesk Sell.
Freshsales Suite
Small to large businesses need a customer support tool to continue their growth. Freshdesk is one of the tools that will allow you to help your customers faster and increase customer support. Freshdesk offers a variety of communication channels, such as chat, email, social media, and phone calls. Thus, you can find all channels together and reduce the workload of team members.
By creating complaint forms, you can learn about your customers' problems and obtain data. In addition, you can automate the workflow of your customer support team by integrating these forms with Freshsales Suite. All necessary information and contact addresses can be automatically seen on Freshsales thanks to this integration.
HubSpot
The last tool that you can integrate with forms.app to assist you in your sales is HubSpot Sales. You can automatically create deals with the information you get from forms and surveys, and you can easily follow the progress. In order to achieve your sales goals, you can generate qualified leads and grow your business by using Hubspot Sales.
Conclusion
When everything is taken into consideration, a successful business cannot be imagined without generating leads. That's why you should take advantage of various tactics you need to use to attract more customers to your business. In this sense, integrations come first as they provide you with speed and convenience.
With forms.app's integrations you can automate your workflows and make your employers happy. Or alternatively, you can connect with more than 500 apps through Zapier. You can integrate your forms and surveys with third-party integrations and generate more leads without wasting your time!