An online sign up form is a quick and straightforward way for people to let you know what they want to learn or buy. When you create an online sign up form, you can collect contact information from people interested in what you have to offer. This is a great way to build your email list and connect with potential customers.
Email marketing is an essential part of a successful business. One of the best ways to build your email list is through email sign up forms. When you have an email sign up form, you're providing people with a simple way to sign up for your newsletter or email list. This allows you to build a list of contact information for future email marketing campaigns.
What is an online sign up form?
An online sign up form allows you to collect contact information from people interested in learning more about the services or products you offer. When you create an online sign up form, you can host the form on your website so that people can sign up without having to text or call you. You can also send a link to the form via email, text, or social media so that people can sign up whenever is most convenient for them. When people sign up, you'll have their contact information so that you can communicate with them in the way that is most comfortable for them.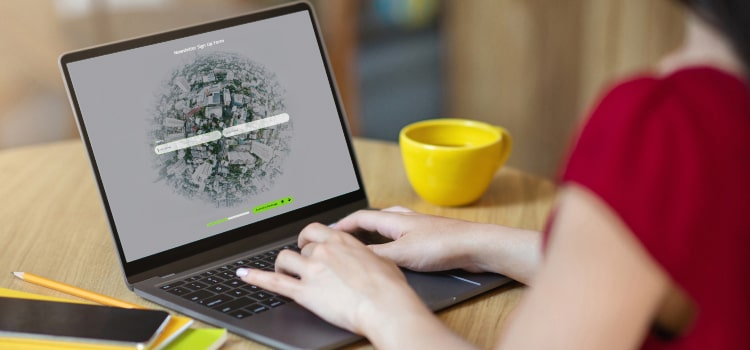 Online sign up forms mainly serve as a lead generation form, too. By capturing names, email addresses, phone numbers, etc., you generate leads for your email marketing, remarketing, and sales activities.
As we had already mentioned the relationship between the email sign up forms and lead generation processes, capturing leads through your email sign up forms is a beautiful way to extend your sales activities.
What are the types of sign up forms?
There are many types of sign up forms that can serve different purposes. From email sign up forms for creating a contact list for your newsletter to event registration forms for signing up for an event, online sign up forms can be used in many different ways.
forms.app also has an extensive sign up form template library where you can pick the one that fits your needs best and get started with creating your sign up form right away!
Free sign up form examples
Email sign up form templates
Email sign up forms are the easiest way to capture subscriber information for your email marketing activities or regular newsletters. With forms.app's email sign up form, you can get started right away and customize it according to your needs.
Newsletter sign up form template
Creating a newsletter sign up form for your business on forms.app is pretty simple. Get started with this sign up form example and customize it to match your business' style! After that, you can integrate with your favourite email marketing service such as MailChimp, ActiveCampaign, Constant Contact, etc. in order to streamline your newsletter sign up process.
Online registration form template
forms.app is ideally suited for custom registration forms. From WordPress website registration forms to online registration forms, it's possible to get started with this online registration form template and create a custom registration form of yours.
What are the advantages of creating a sign up form on forms.app?
Ability to create eye-pleasing forms
Plugin for WordPress site
All the features are included in the free version of forms.app
File upload form field for receiving files during the registration process
Integrations with email marketing applications
How to make a sign up form on forms.app
1-) Choose a template or start from scratch:
Get started quickly with a sign up form template or create your user registration form from scratch on forms.app. In both ways, you will be able to customize your form structure, design, and many other attributes.
2-) Build your form
Add new form fields to your form in accordance with your needs and preferences, change question lines, descriptions, and make minor adjustments to each field through form field settings. With forms.app's drag and drop form builder, creating form forms is much easier!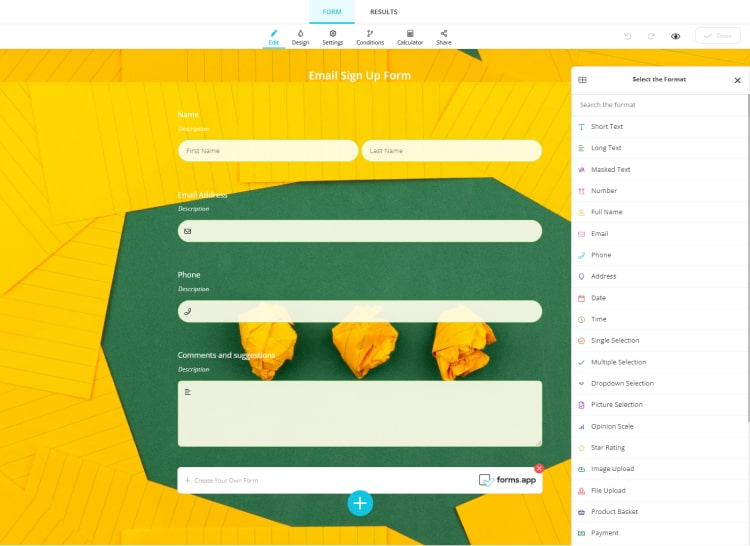 3-) Customize your form design
When you switch to the "Design" tab while building your form, you will find many customization options that will delight your potential subscribers. There are many options to create an eye-pleasing form, from ready-made form themes to changing colors of each form element and custom CSS.
4-) Adjust form settings
By making minor adjustments to your general form settings, you can make your forms more productive and functional. For example, you can enable email notifications and get notified by an email every time someone submits a new response or customize your welcome and thank you pages.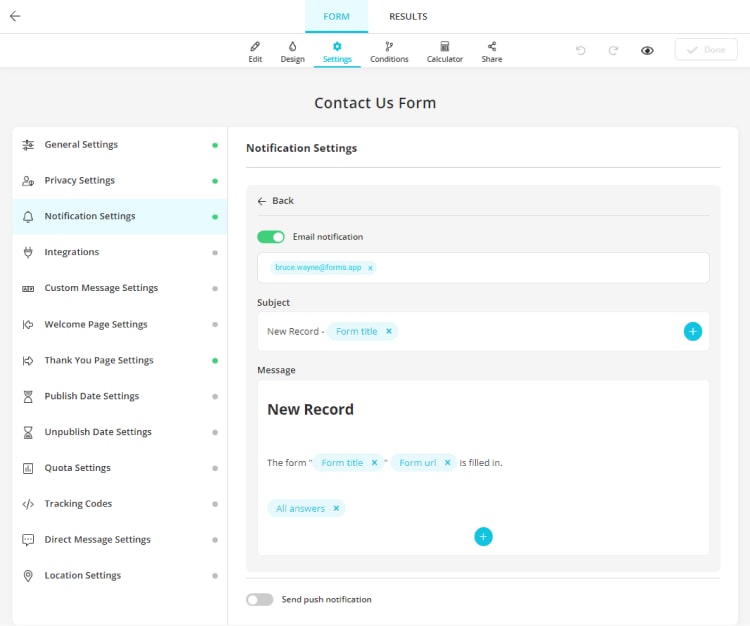 5-) Embed or share through a link
You can turn your form into a free sign up form for WordPress with our WordPress shortcode feature or simply embed it onto your website within an iframe. You can also share your form through a unique web link.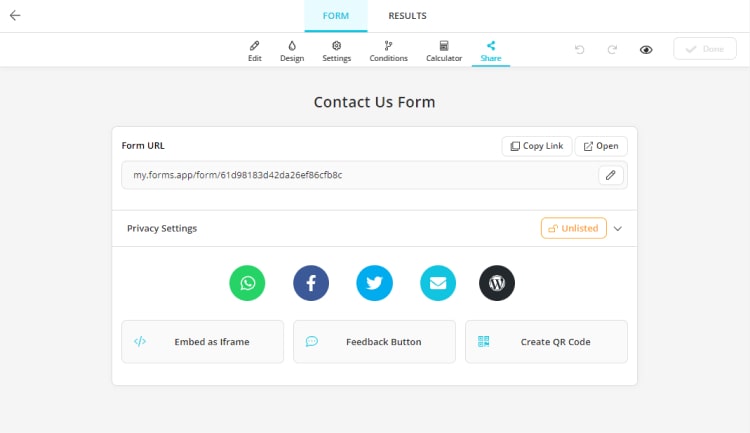 Integrate your form with third-party applications
forms.app has integration with a famous automation tool - Zapier, that allows you to connect your form responses to a wide variety of third-party applications from Active Campaign to MailChimp and Constant Contact.
You can also use our direct integrations with Google Sheets to streamline your responses into a sheet or Slack integration to get notified every time someone submits a new response in your form.
Summary
In a nutshell, forms.app has all the features and capabilities to create a perfect online sign up form of every kind and make the most out of it. If you are not a forms.app user yet, click here to sign up for free and get started without hassle!