Quizzes can be fun, informative, instructional, or anything you would like them to be. They quickly turn any topic into a fun and relatable experience. As a free online quiz maker, forms.app now allows everyone to create exquisite online quizzes and tests. You can start creating top-notch and professional-looking quizzes on any topic.
On forms.app, you will have a great number of options to fine-tune your online tests. But, what's better is that you can complete creating quizzes easily and quickly thanks to free quiz templates and form themes. Without further ado, let's see how to make a quiz online and what are the best practices. 🧐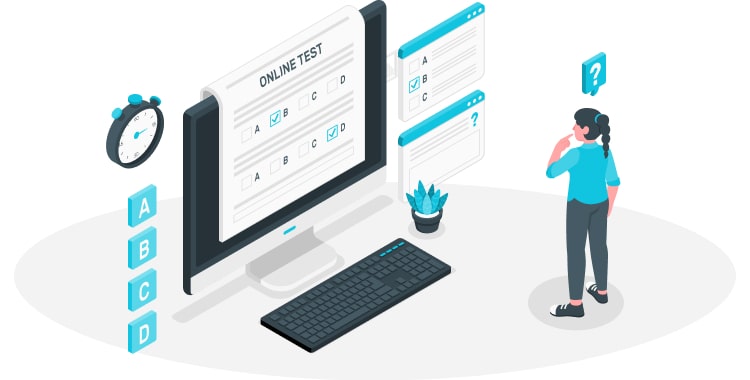 Why should you create your own quiz?
Whether you are creating a free test for your students or a fun quiz for your website visitors, forms.app will help you remove the learning barriers. As an online quiz creator, it allows you to create complementary learning elements for everyone. What's more, it's possible to create and share free quizzes from every single place on the planet earth with an internet connection.
By adding audio-visual elements, you can make this experience as entertaining as possible, just like the quiz games on TV shows. If you plan to use forms.app as a test maker, however, you can make it look professional by simply selecting a suiting form theme. This way, quiz takers will take these exams/home assignments more seriously and learn more about the topic. Here are some main reasons why you should use free online quizzes for schools and e-learning.
Increase memory retention and customer/student engagement
People learn things faster with forms and quizzes. If you want your customers/visitors to learn your mission and what you offer, you can simply show them a pop-up quiz and strengthen what they have learned so far. Plus, you can pick their interests about some topics they may overlook.
Offer a fun learning experience
In addition to all the educational sides, online quizzes can be indeed fun and entertaining. You can, for example, create a fun fan quiz about your favorite movies or turn online home assignments exciting by adding some tricky questions or some visual materials.
"Everyone loves sport. And everyone loves a quiz."
How to start creating your own fun online quizzes
Now that, we are sure why you should create an online quiz, it is time to create one. Before and during this process, you can follow a few steps to make excellent free quizzes and make the most out of forms.app, namely, the free quiz maker that will make your job easier and more enjoyable.
Select your topic and enter an engaging quiz name
Add your questions and answers
Customize the design of your online quiz
Embed your quiz into a website or share it on social media
Wait and view results on forms.app's elegant results and statistics page
Use free quiz templates
Starting from scratch, no matter what you start doing, takes a longer time to finish and requires more effort. Thankfully, being a great and free test maker, forms.app constantly searches and offers quick and effective solutions. By visiting forms.app's library of quiz templates, you can select a related quiz sample and complete your quizzes by doing only the editing.
Perfect fields and features for creating tests and quizzes
Along with great quiz examples, forms.app offers excellent form fields and features. Simply select the right fields to provide a smoother experience for the quiz takers. Your choice questions types will also have an impact on the reviewing process later on. And if you are only looking for providing the quizzes and showing quiz scores, you will be able to do so with forms.app's calculator feature (more on that later). Now, let's see which form fields you may want to use in your online quizzes:
Selection fields: Maybe the most common fields among quiz forms are the selection fields. With these fields, your form guests select answers that are already provided to them. So, it takes less time for them to answer your questions and for you to review them. You may particularly like picture selection and single selection fields for your free quizzes. It is also possible to let your guests select multiple choices with a multiple selection field.
Text fields: If your tests require a more detailed or personal answer, then text fields are a must-to-have. You can also follow up on these tests by collecting email addresses and sending them their answers. Text fields are the best for home assignments.
Welcome and Thank-You pages: Having a Welcome or a Thank-You page is useful for many reasons, such as explaining what this form is about and what are the rules they should follow. However, they play a more important role in quizzes, especially the Thank-You page because you can easily show scores by using the calculator feature.
Using the calculator: After finishing the questions, people have a raging desire to see how well they have performed. They want to see their scores, and what it means. Using the calculator, you can add certain scores to some answers and choose to show them after the quiz. What's more, you can show different contents according to their score range. With these features, you will be able to create a more functional and interactive quiz.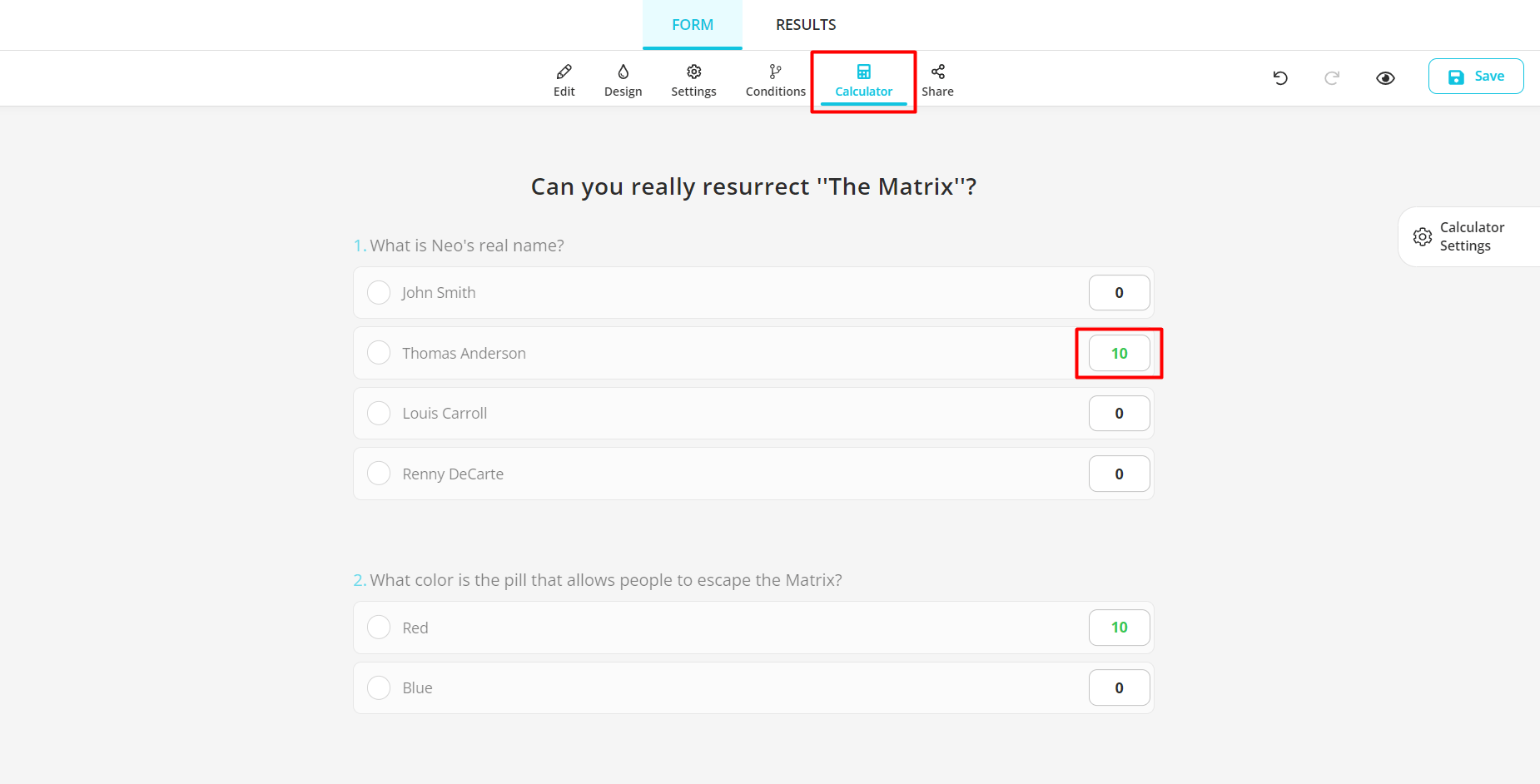 Start creating online quizzes today
It is very easy and simple to create online tests and quizzes as explained above. Today, you can start your online quiz journey with forms.app. We offer great features, templates, and a free forever plan. This means you can use all the features and create your forms for free. If you like to reach more audiences with your quizzes, you can also check out forms.app's reasonable pricing and plans. Get on board now and discover a whole new universe about quizzes!