Welcome to the exciting new world of forms.app integrations! With our new integration with Mailchimp, you can now easily update your email list with any form on forms.app. Simply create your forms and pair up the form fields with the required areas in Mailchimp. It's that easy! So, let's see why this is important and how you can enable the Mailchimp integration step by step.
What does this integration mean for your business?
Email marketing is one of the important points in any marketing strategy for online businesses. And having an ever updated email list will make it more effective and precise in terms of reaching your potential customers/users. With our new Mailchimp integration, you can use stylish and complex forms you have created on forms.app to update your contact list.
Mailchimp is a well-known player and one of the best in the email marketing industry. The company offers many features in terms of sending email and marketing automation. So, if you have an email marketing strategy and are looking for a platform, Mailchimp is the place for you. When it comes to creating complex and effective forms, however, you are better off with an online form builder, like forms.app. And this integration will combine the power of the two and help you get the best out of your marketing efforts!
How to use Mailchimp integration to grow your email list
forms.app is a tool for creating and managing online forms, surveys, and questionnaires, quickly and easily. It's perfect for entrepreneurs, marketers, sales professionals, or anyone else in need of an easy way to collect customer data on the web. And now, you can use this data to direct update your email lists on Mailchimp. Here is how:
1 - Find "integrations" on the settings page and choose Mailchimp: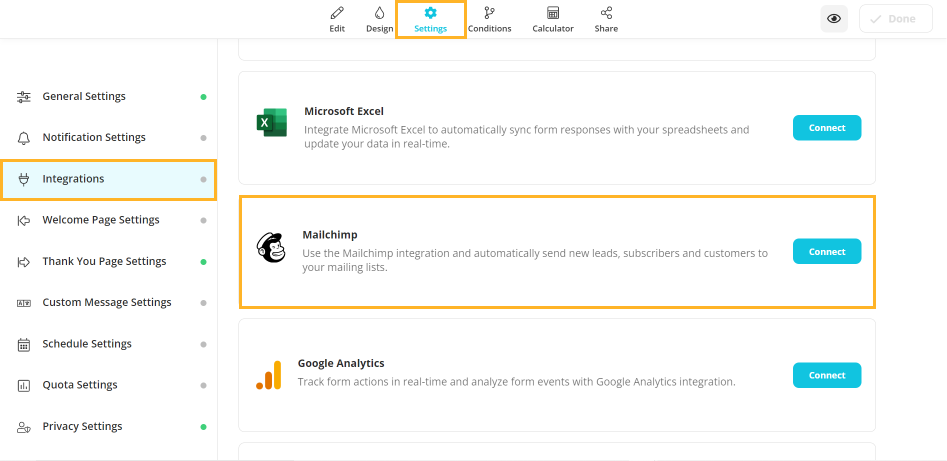 2 - Connect to your Mailchimp account and authorize forms.app:

3 - Select a contact list and pair up your form fields:

In order to pair up the fields for adding contacts to your Mailchimp list, you need to add the required fields to your online forms.
4 - Test out the integration by filling out your form and see how it shows up on Mailchimp:

As an all-around form builder, forms.app makes all things easy - so you can focus on what's important, your business. So why not give it a try today? Grow your email list and keep your customers up to date with the latest news and offers.
New integrations on the horizon
We always listen to our users and do our best to deliver what they desire. Right now, we're working on adding some great new features and new integrations to our product, and we think you're going to love them! If you have any suggestions, never hesitate to contact us and let us know. Stay tuned for our new integrations!