Building forms has become very common with the introduction of the internet into our lives. There are a wide variety of forms that can be used in many areas of life. For example, while people can use the forms for important and more serious matters such as renting or obtaining consent, they also use them for information gathering purposes such as customer satisfaction and request forms. As it should be in every business, online form builder applications have emerged as forms become more common among people.
Jotform is one of these form creator tools. It offers its users forms in many subjects and purposes and suggests various user usage experiences. Afterward, alternatives to Jotform increase, and applications improve, thanks to a competitive environment. Especially after Jotform's increasing prices over time, many alternative competitors emerge. All free-form builders stand out with their various features so that users can turn to other choices. This blog post will discuss the pros, cons, and price comparisons of various form makers' options to Jotform.
What is Jotform?
Jotform is an application that allows anyone to easily create online forms according to their purposes. You can create custom forms on many different topics without writing or knowing any code. With the Jotform application, you can transfer your form responses to your e-mail or easily integrate the forms to your site. Finally, you can easily share the forms you create and make them reach more people.
One of the reasons why so many people use Jotform is that users can quickly prepare their forms online. It has one of the most advanced designs, innovation, and customization features in the field of online form creator applications. Plus, for those who haven't created forms before or don't know where to start, Jotform has many ready-made form templates to make forms look elaborate. The Jotform app helps you create conditions on the form and allows form responders to complete the form without dealing with extra questions they don't need to see.
Jotform allows you to add your company logo, color schemes, and background images to your form for a more professional look. There are free memberships available to Jotform users in addition to the paid memberships. However, unlike others, free accounts are limited in many features such as the number of forms, form responses, form views, and form storage. Furthermore, although Jotform has a lot of templates, it has also a complex interface to use it.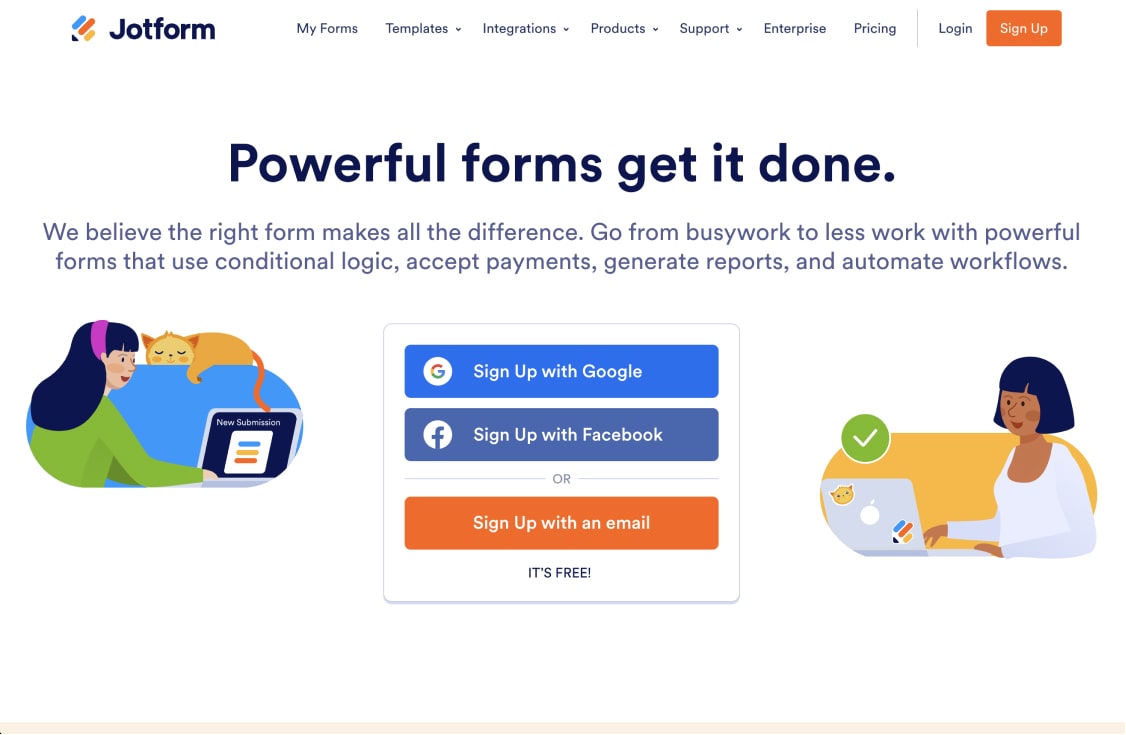 Top 10 Jotform alternatives you can try for free
Jotform offers users a different experience in all tiers. Jotform has 4 different subscription systems: Beginner, bronze, silver, and gold. The beginner level is free, so you can create a very limited number of forms. The pricing system starts at $39 per month and ends at $129. You can choose the subscription that suits your needs.
However, the prices of Jotform have increased considerably and its use may be challenging for some users, so we have listed Jotform alternatives for free and explained them in many ways, like their features and pricing. Here are the top 10 alternative form creation tools that are alternatives to Jotform.
1. forms.app
The first free alternative to Jotform is forms.app. Just like Jotform, forms.app is a form creator where you can prepare online forms and collect answers. With the forms.app application, you can access all the features they offer for free if you want more storage, forms, and views, forms.app's subscription price starts at $19.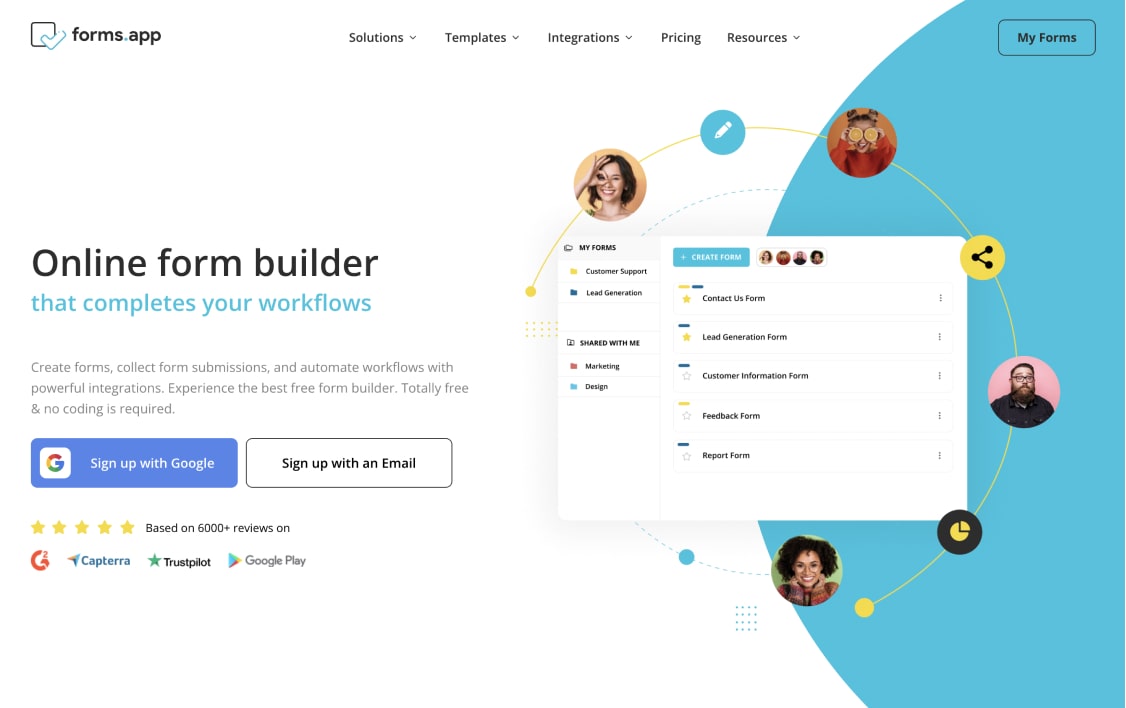 Pros:
Even with a beginner membership, forms.app offers users unlimited response storage.
As a mobile-friendly form creator, you can easily download and use it on operating systems such as IOS, Android, and Huawei.
You can control who can and cannot access your forms with privacy settings.
Thanks to the product basket, it will be easy to reach customers, especially for retailers. In addition, you can also receive payment via forms.
With more than +400 online templates, you can quickly start creating forms.
With geolocation restrictions, you can share your forms with people in a specific area.
You can make your forms more formal and legally binding with the signature field.
Cons:
You can only add 200 products to a product basket
Limited payment options
2. Formstack
Formstack is another popular survey tool that people use. With formstack, you can create efficiently designed forms without the need for coding. As a Form creator, formstack users' cheapest membership plan starts at $59 per month. Here are the advantages and disadvantages of formstack:
Pros:
You don't waste the valuable time of form responders with conditional logic.
You can store private information in your forms.
Thanks to E-signatures, you can create legally binding and more secure forms
With its mobile apps, you can collect data and create forms wherever and whenever you need them.
Cons:
Formstack does not offer a free plan.
It provides a 14-day free trial plan with limited features for new users only.
They have fewer ready-made templates than their competitors, which is 300.
3. Google Forms
Google is very famous all over the world, and one of its products is google forms. Google Forms is completely free, and for many people, it is a reason to use it. Although Google Forms is used quite a lot among people, it has some good and bad sides as follows:

Pros:
It's accessible to everyone, and it's completely free
It's pretty easy to add images to the form.
You can use google form even if you are in a place without an internet connection
You can choose the font and colors according to your wish.
Form responders can answer the forms with the help of various devices such as computers, tablets, or phones.
Cons:
Google Forms only has 17 templates
There are not many theme and background options that will make the design of your form more professional and attentive.
There are no features such as payment collection and e-signature.
4. Microsoft Forms
Microsoft has its own form builder tool, like Google forms, but unlike Google Forms, Microsoft Forms is not entirely free. You can create online forms for free with Microsoft Forms. However, you will only publish and share your forms if you have a Microsoft account with an Office 365 subscription. These are the pros and cons of Microsoft Forms:

Pros:
You can easily integrate your form with applications such as Excel, PowerPoint, and Word, which are Microsoft's own products.
Microsoft forms is free for anyone using Microsoft office, and they can create forms easily.
Creating a form with user-friendly features is effortless, even for users who have not created forms before.
Cons:
Microsoft forms only offers 3 templates.
It does not let you upload documents to your form.
It has no advanced design features.
5. Typeform
Typeform is also one of the most popular forms of creation tools. Typeform allows users to create surveys, forms, and quizzes. This form creator gives its users the right to use it for free with some limited features. If you want to buy a membership, you can have it with prices starting from $ 29 per month. The good and bad sides are as follows: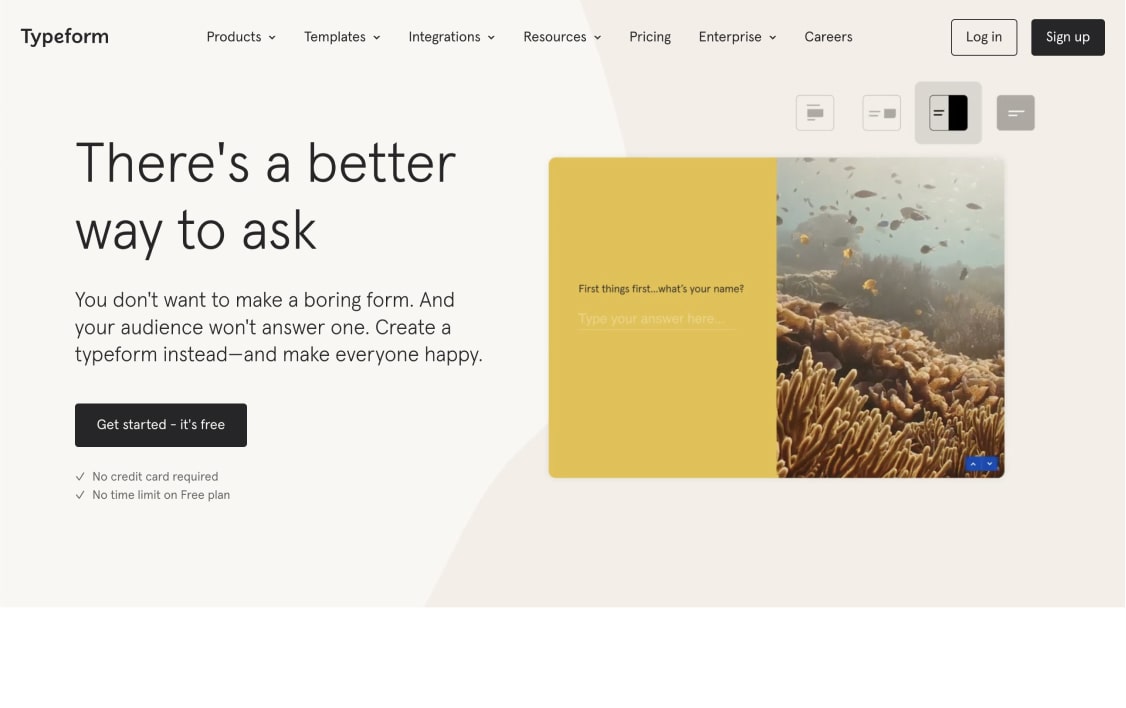 Pros:
In their own words, they ask one question at a time, so responders don't get bored.
With various photos, videos, and themes, the questions in the form become more colorful.
It allows you to ask the right questions to people who fill out the forms with conditional logic.
Cons:
If your goal is to get more complex and longer answers from the form, it may not work because Typeform usually provides short and simple forms.
You cannot change the layout of your forms.
6. MightyForms
Mightyforms is another one of the best survey tools alternative to Jotform. With the MightyForms application, users can create online forms on many different topics without knowing how to code. Users of MightyForms pay $19 per month for the Starter paid membership. Although Mightyforms is famous, it also has some positive and negative aspects, such as:

Pros:
You can get the results of your form by integrating it with Google analytics.
It offers many free-form templates.
You can receive payments on stripe via forms.
With customization features, you can prepare forms that suit your taste.
Cons:
It does not have the ability to convert forms to PDF.
Conditional logic is not practical, and it consumes users' time.
7. Cognito Forms
Another form creation tool that does not require writing code is Cognito Forms. Cognito Forms, which is very popular among form creators, offers form users a free trial plan. Moreover, it allows you to easily prepare online forms without time-wasting steps. You can benefit from paid memberships for $15 per month. The pros and cons of the app are as follows:

Pros:
You can accept payments online with the form.
You can create forms without wasting time with ready-made templates.
With conditional logic, you do not tire responders with unnecessary questions.
Cons:
It has over 150 templates and not much choice compared to others
The interface can be tedious and difficult to understand for many users
8. 123formbuilder
123Formbuilder is one of the significant survey tools. Its drag-and-drop interface helps its users prepare forms very easily. Moreover, you can quickly create forms, surveys, and polls without the need to know any code. Paid memberships starts at $24.99 per month. These are a few positive and negative aspects of the app:

Pros:
As an information-gathering app, they take security seriously and are GDPR compliant.
With more than 1900 templates, it offers users a lot of options.
You can receive notifications via email.
Cons:
Although 123Formbuilder has a free plan, this plan has very limited usage.
There is no proper guide in the app where you can understand all the features.
9. Woorise
The simplest method to make engaging forms like surveys and, quizzes, landing pages is using Woorise. Small businesses may engage with an audience, get leads, and close transactions with the aid of Woorise. Woorise's paid membership, which also has a free membership, starts at $29 per month. The good and bad sides are as follows: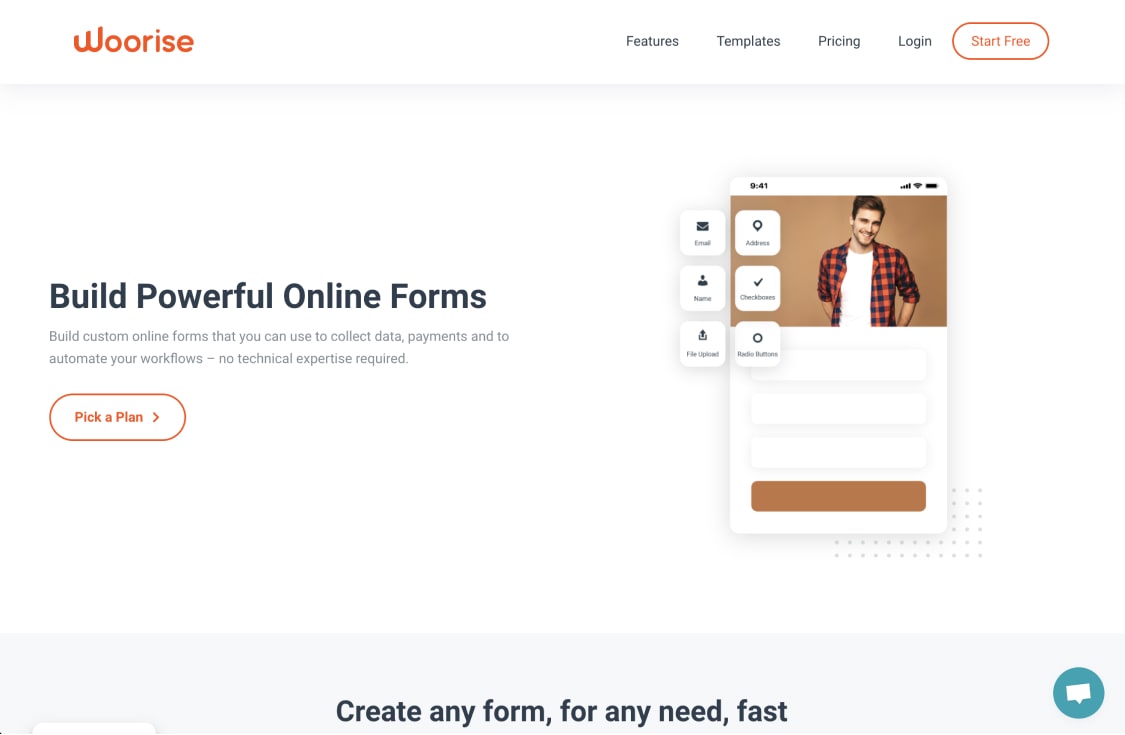 Pros:
You can easily find answers to your questions with customer service.
It has integrations for payment options.
It offers a nice experience with its user-friendly interface.
Cons:
You can only perform a few simple features because there isn't much customizability available.
You cannot obtain a custom domain feature without having a pro plan.
10. Paperform
A flexible online form maker that combines intelligent design and considerable technologically proficient is called Paperform. You do not need to know to code as well. Furthermore, the initial membership fee starts at $24 per month. The upsides and downsides of the application are as follows:

Pros:
You can collect payments easily
You can share forms with the help of links, Twitter, or Facebook.
With the e-signature field, you can obtain signatures.
Cons:
There is a free trial for those who want to try it out, but there is no free plan.
It is web-based but lacks a desktop version and phone support.
Which form builder is right for you?
After reviewing the 10 best form creation features, you might be confused as to which one is right for you. When selecting the platform that is best for you, there are various things you should take into account. You will benefit in many ways if you weigh these qualities and select the platform that fits perfectly for you. These are some features you should pay attention to:
Decide what your purpose is while preparing the form.
If you want a basic and simple design, choose completely free applications.
Choose applications that offer more themes and background options for a more professional form.
Choose form creator tools with signature fields and payment features according to your needs.
If you need form notifications all the time, use mobile-friendly apps.
Most importantly, choose the application that best fits your budget and offers the most features.

Conclusion
In short, these days, when people need to create online forms more and more, choosing the right tool for you can be pretty challenging. However, with the forms.app list of best survey tools and form builders, deciding will not be too hard.
While Jotform is one of the best form creators in many ways, its soaring prices may have caused many people to give up. At this part, it would be much more logical to turn to alternatives that offer more features at cheaper prices. You should try forms.app not only because of its pricing but also because of its user-friendly interface, mobile application, and powerful features. Sign up forms.app today and try out yourself!