FlexiQuiz is a secure, professional online test maker platform that enables anyone to create quizzes, exams, or assessments. FlexiQuiz provides robust reporting options for viewing data at the quiz or individual level. With a variety of tools to design custom tests and the option to brand background themes, navigation buttons, and other elements, FlexiQuiz is highly flexible. FlexiQuiz offers possibilities for modifying background colors and images, logos, text, page layouts, navigation buttons, and other elements to manage branding and design.
Flexiquiz is quite good at creating tests and quizzes, but it also has drawbacks. That's why we've gathered the 7 best Flexiquiz alternatives for you in one blog post. We recommend you read our article carefully to find the quiz and test builder that will work for you.
What is FlexiQuiz?
FlexiQuiz is an online tool for creating quizzes and assessments that may be given to clients, employees, or students. The tests can be made available either publicly or privately for access by specific parties, and the software will grade them automatically. With its simple interface and several configurable options, FlexiQuiz makes it easy for anybody to build engaging exams, quizzes, or courses quickly. The platform offers eight question-type templates, time limits, progress bars, question banks, certificates, notifications, and the ability to add logos, images, videos, or audio to quizzes. Content can be shared publicly or privately using password protection.
You can create unique tests using a simple interface without any coding experience. FlexiQuiz provides question-type templates and formatting options to assist users in creating quizzes. Using FlexiQuiz, you can manage how created quizzes or assessments are scored by setting the number of points awarded for each question or specific answer. Additionally, users can choose the minimum scores required to pass each test. As you can see, almost any type of quiz can be created on this platform by individuals or teams for work, education, or just fun!

FlexiQuiz Pricing
Top 7 alternatives to FlexiQuiz to start using today
Flexiquiz is a platform that can be used for secondary education, higher education, and adult education as it is a quiz and test builder. This platform will help you with problem-solving skills. Since there are no ads on this platform, you can focus on running great quizzes. It is also a secure web-based platform. Both synchronous and asynchronous learning is supported. But there are different alternatives for a wider variety of uses. Let's take a look at the FlexiQuiz alternatives below!
1 - forms.app
forms.app will help you with many things as it is a fast, easy-to-use, and free online form builder for creating online web forms and online surveys. forms.app's easy and user-friendly form builder interface enables you to construct forms and begin receiving submissions quickly. Have peace of mind on this platform. Because you have the opportunity to manage the privacy settings.
Prominent features:
Easy-to-use
Conditional logic
Calculator feature
Geolocation restriction
Integrations with over 500 third-party apps via Zapier and Google Sheets
Prices:
Basic Plan: $19 / monthly
Pro Plan: $29 / monthly
Premium Plan: $99 / monthly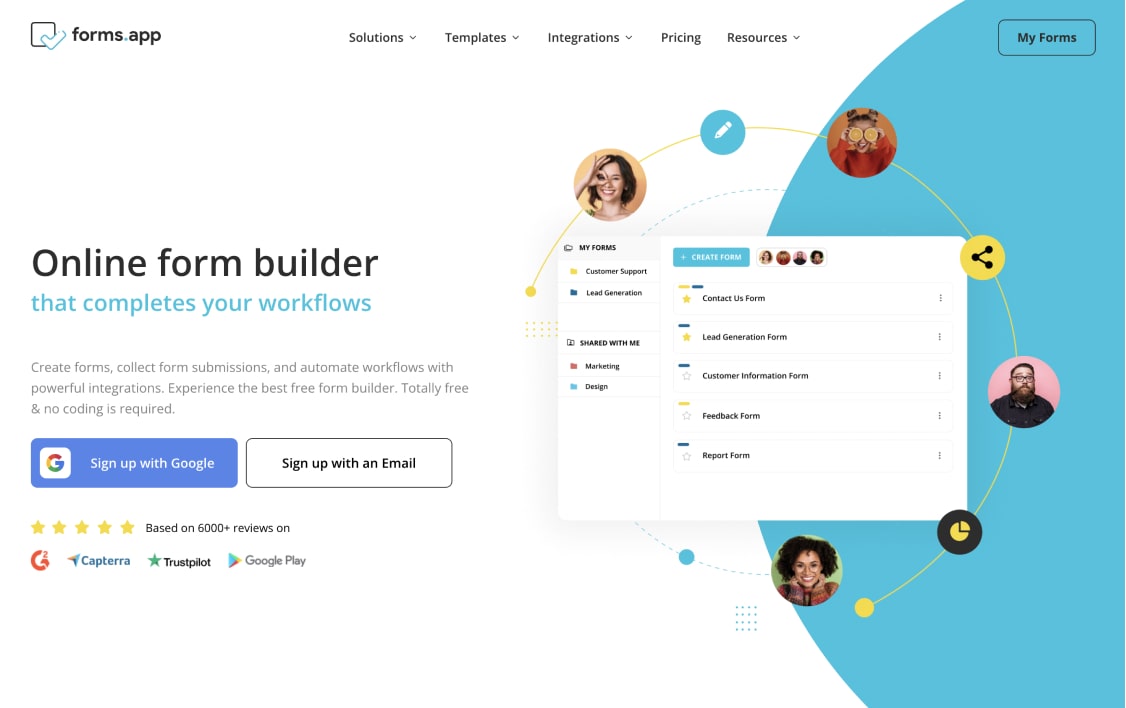 #1 FlexiQuiz alternative - forms.app
2 - Kahoot!
Kahoot is a game-based learning experience platform used as an educational technology in schools and other educational institutions that allows users to quickly create games and tests on any topic and in any language on the platform. Kahoot is a platform that can be used in many ways. Questions are generated on the screen from the creator, and students answer these questions with the help of a smartphone, tablet, or computer. Kahoot also places emphasis on analyzing student performance through assessments and evaluations. Check out our blog post on Kahoot alternatives for more information.
Prominent features:
Gamification of exams
Interactive activities and different question types
Engaging animations and effects
Feature of inserting drawings in the iOS app.
Ability to import questions.
Prices:
Kahoot! 360 Standard: $29 / monthly
Kahoot! 360 Presenter: $39 / monthly
Kahoot! 360 Presenter: $59 / monthly
Kahoot! 360 Pro Max: $79 / monthly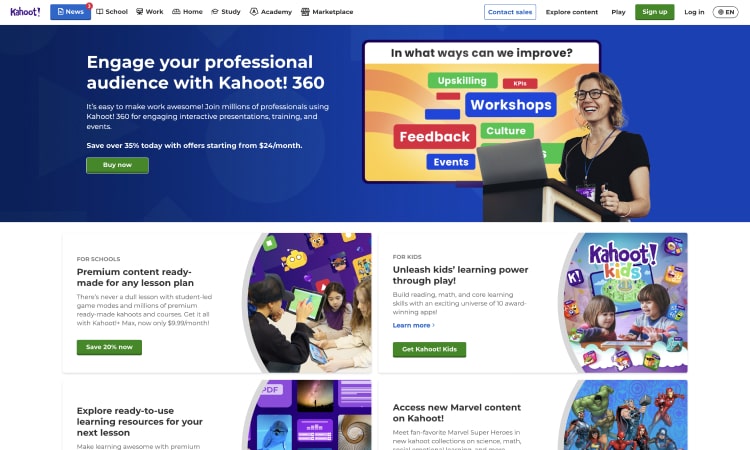 #2 FlexiQuiz alternative - Kahoot!
3 - AhaSlides
AhaSlides is interactive presentation software that allows public speakers and teachers to turn one-sided sessions and lectures into exciting, effective, and engaging presentations. It is built with features that enable users to influence their audience and encourage them to participate actively. The platform simplifies the creation of presentations with elements including surveys, quizzes, Q&A sessions, live charts, and more.
Prominent features:
Interactive Content
Useful and good chart types
Live feedback
Presentation Streaming
Get fully exported data for further insight and analysis.
Prices:
Essential Plan: $14.95 / monthly
Plus Plan: $32.95 / monthly
Pro Plan: $49.95 / monthly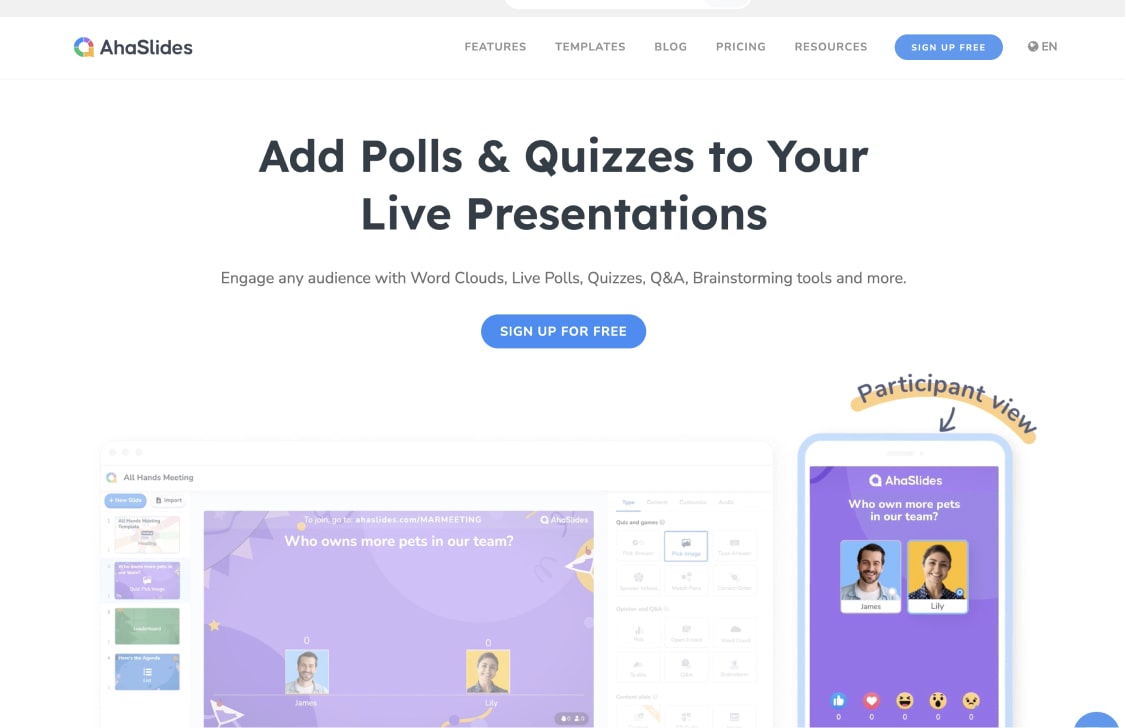 #3 FlexiQuiz alternative - AhaSlides
4 - ProProfs Quiz Maker
ProProfs Quiz Maker is an all-around platform for designing engaging and interactive quizzes. Because ProProfs is digital and online-based, it is easy to access and use for teachers and students alike. It can be an in-class tool, but it's also ideal for distance learning and blended classrooms. The simple user interface makes it easy to use, and anyone with any level of skill or experience can create a quiz, online quiz, or any type of online assessment using ProProfs Quiz Maker.
Prominent features:
Multilingual Exams
Surveys and Feedback
Quiz Stats & Analytics
Integrates with major marketing automation tools
Prices:
Essential Plan: $25 / monthly
Business Plan: $50 / monthly
Business+ Plan: $250 / monthly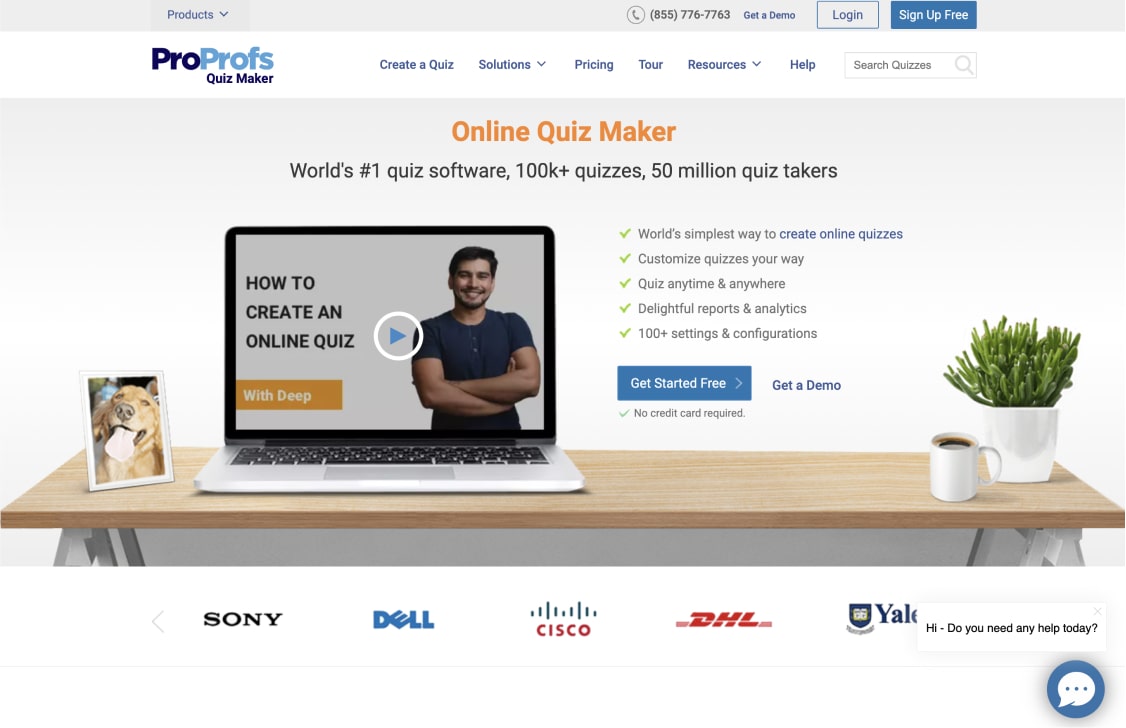 #4 FlexiQuiz alternative - ProProfs Quiz Maker
5 - Quizizz
Quizizz is another learning platform that uses gamification to make content immersive and engaging. Teachers and instructors receive instant data and feedback, while students engage with gamification features in fun, competitive quizzes, and interactive presentations. Different game modes allow students to adapt to their schedules together and at home. It allows you to create tests and lessons at both teacher speed and student speed.
Prominent features:
Interactive Content
Reporting/Analysis
Feedback Management
Accessible: the ability to have questions read out loud
Prices:
Standard Plan: $99 / monthly
Premier Plan: $149 / monthly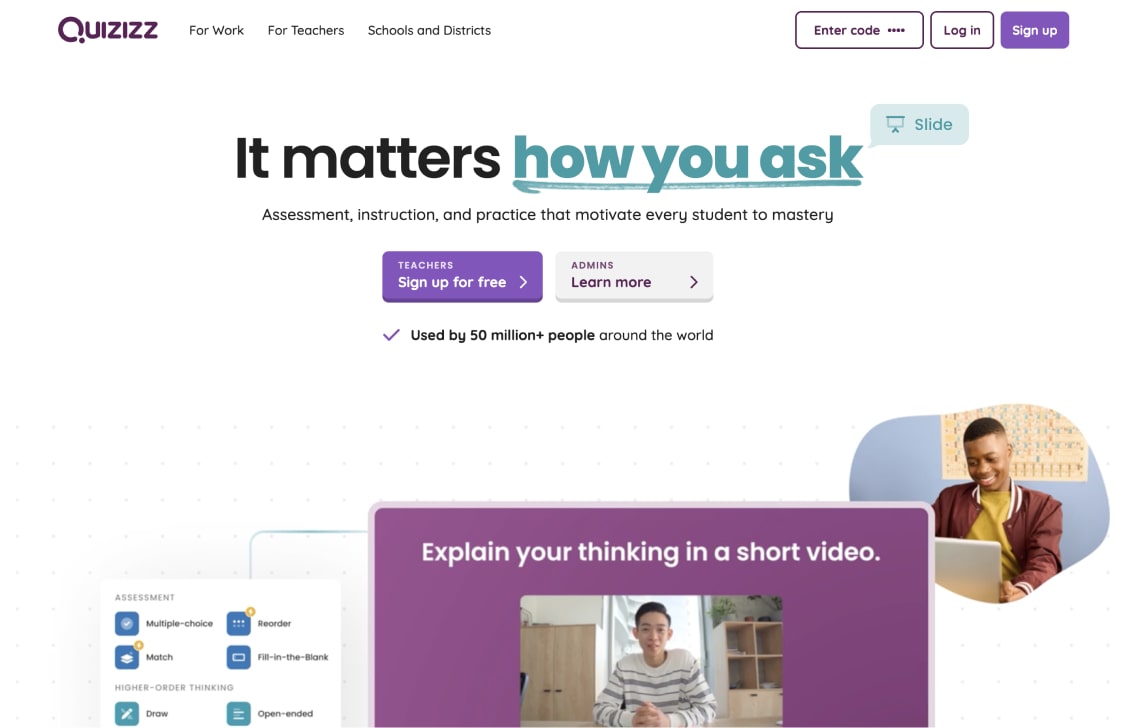 #5 FlexiQuiz alternative - Quizizz
6 - EasyTestMaker
EasyTestMaker is an online test creation software used to create multiple question types, multiple choice, format exams, and publish online tests to evaluate student grades. It is a must-have tool for any teacher or educator, as it is a completely advanced and unique tool that will help simplify any teacher's job.EasyTestMaker provides end-to-end solutions designed for Web Applications. This online Quiz Maker System offers in one place.
Prominent features:
Assorted question types
Individualized Assessments
Smart scoring
Quick analysis
Export to PDF/Word
Prices:
Plus Plan: $59.95 / year
Premium Plan: $79.95 / year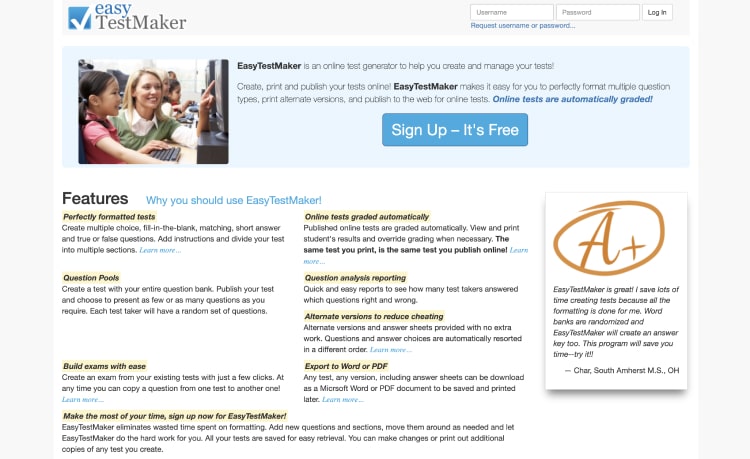 #6 FlexiOuiz alternative - EasyTestMaker
7 - Quizlet
Quizlet is a gamified online learning tool and flashcard solution that provides teachers with a variety of learning materials, classroom games, and study kits. It is a flashcard application with intelligent features and can handle images, diagrams, various languages ​​, and even audio downloads. Quizlet saves students and teachers time by providing several different ways to review material, from flashcards and timed games to adaptive questions and practice tests that can be used for individual practice or collaborative learning in or outside the classroom.
Prominent features:
Easy to use
Collaborative learning
Gamification
Wide variety of operating modes
Flexible mobile and website use
Prices: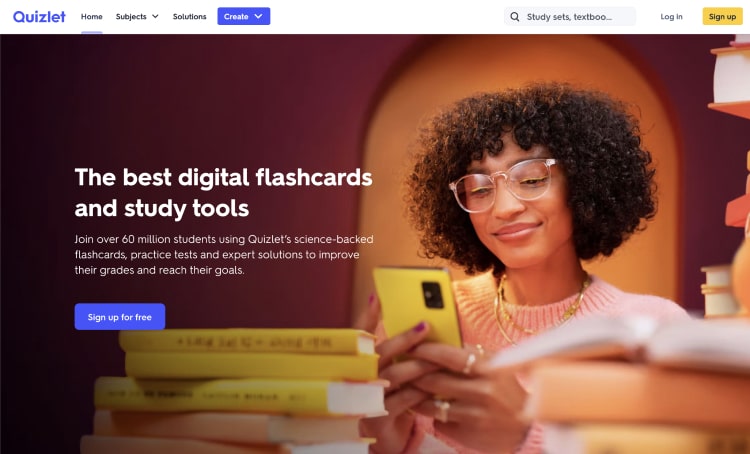 #7 FlexiQuiz alternative - Quizlet
As seen, people have a lot of alternatives depending on what they need. You may need to modernize your business on a digital platform that simplifies the way you collect, integrate and share data. In the process, you can save time and money by improving your platform's data flexibility and automating processes. forms.app already includes most of them. forms.app gives you options like form builder, quiz builder, survey builder, and store builder. It is practical that it offers the opportunity to do all of this on a single platform. Thanks to its simple use, you will not waste time. This may work for you.
You can also quickly create quizzes using the free quiz builder on forms.app! The online quiz maker free has a wide variety of question formats, some special features, and a simple calculator. As we're all in the constant flow of content and data, it can be difficult to find the data you need quickly, effectively, and without the hassle of research. But you don't have to worry about that. You are in the right place to create your own quiz and more. In short, we think forms.app is the right tool for quiz builder selection.
Free quiz templates to get you started
We all love to take online quizzes. Quizzes are fun and informative ways to test people's knowledge. On the other hand, preparing a good quiz is not always that fun and simple. Creating a quiz from scratch is easy with Forms.app's quiz builder features. Create eye-catching, fun, and engaging online quizzes in minutes.
As a full-fledged quiz creator, forms.app goes beyond offering quiz form designs. Additionally, it gives you access to a wide variety of features and practical options that will allow you to design unique tests. Now is the time to try! You can create fun quizzes using the quiz templates below: