Today, companies use surveys to get feedback from the target audience and collect information in various areas. Because they are aware of the ease of collecting data with surveys. However, those who do this using a professional survey tool can get successful results. With so many survey and form tools available, you may not know which one to use. And Survio, one of the existing survey tools, is one of the platforms you can come across.
With Survio, you can create surveys, collect responses and analyze the results. However, it may have features that do not please you, and therefore you may need to look for an alternative. In this article, we have prepared a list where you can find the alternatives you are looking for. For more information, check out the pros, cons, and price information of the 11 alternatives on the list.
About Survio
Survio is an online survey maker tool that offers more than 100 survey templates. It has an interface that allows you to integrate your system with various third-party platforms, such as Google Analytics. You can also share your surveys and create links to engage with the target audience through emails or social media platforms. You can use the platform for free, and they also give you a trial process on paid plans.
The Mini plan is $18 per month. (1000 responses per month)
The Standard plan is $37 per month. (10.000 responses per month)
The Plus plan is $73 per month. (50.000 responses per month)
But the paid plans only offer 19 question types. And there is no live customer chat option if you have a problem. Only email support is provided. For reasons like these, you may look for alternatives. Check out the 11 Survio alternatives now and choose the one that suits you best.
11 Best alternatives to survio for creating awesome surveys (pros & cons)
1 - forms.app
forms.app is a platform where you can create online forms and surveys for free. You can experience all the features even without logging in. It is the first free survey generator that we can give as an alternative to Survio, with many features such as single or multiple selections, a calculator, and conditional logic. Their paid plans range from $19 to $99 per month. On the yearly plans, you can see a reasonable price range between $12 and $59 per month.
Pros of forms.app
It offers many features in the free plan.
There are many integration options available.
It offers professional templates and many theme options.
Special field types are available for your different needs. And you can change them whenever you want.
Cons of forms.app
You get a limited number of form responses on the free plan. However, this form response count is 150 and may still work for you.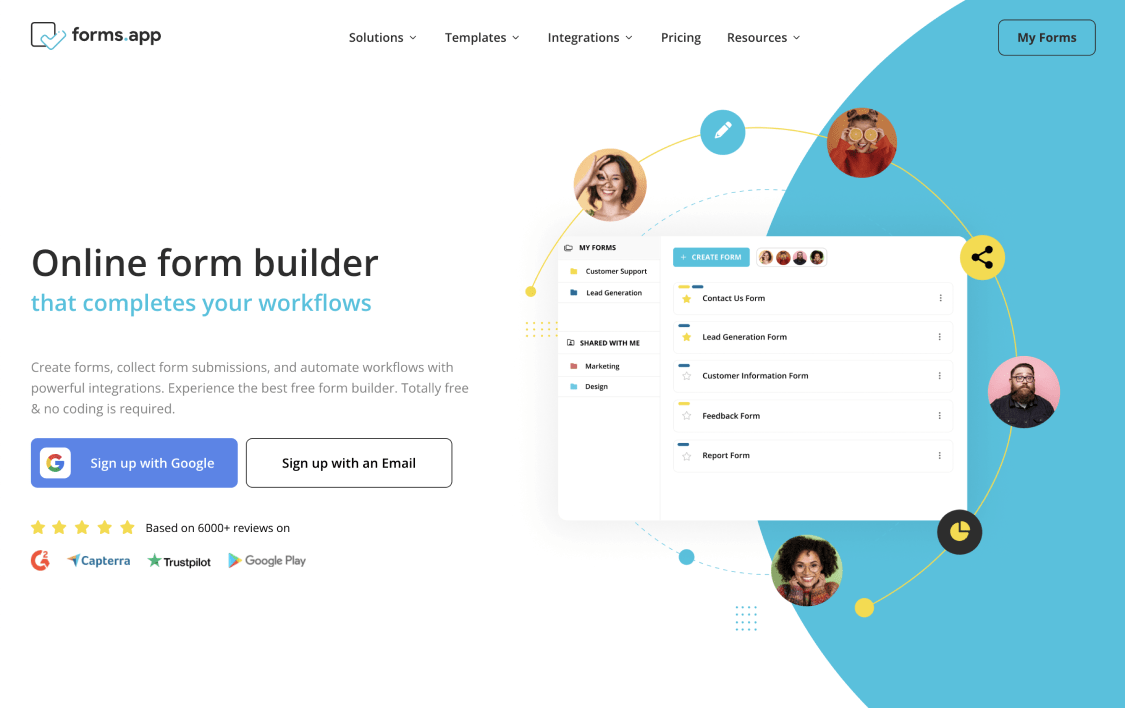 #1 Survio alternative - forms.app
* * *
2 - SurveyMonkey
Another alternative for Survio is SurveyMonkey, and it helps you create free online surveys. It is a suitable platform to be aware of your customer's experiences, establish close relationships with your employees, or conduct market research. In addition, you do not have to know or write any code to create a survey. The paid plans range from $39 to $119 per month on the individual plan.
Pros of SurveyMonkey
It offers various customization options.
You can get real-time reports.
It provides a wide variety of integrations.
Cons of SurveyMonkey
It is more expensive than other survey tools.
Sometimes it can be complicated if you are not familiar with the platform.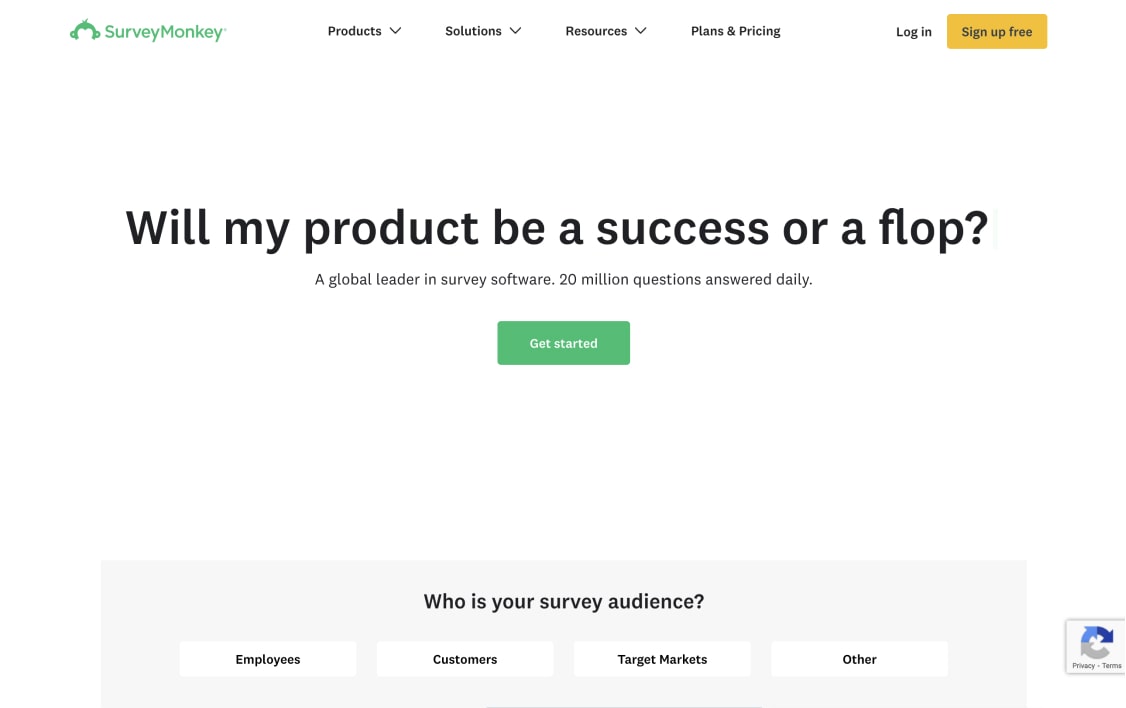 #2 Survio alternative - SurveyMonkey
* * *
3 - ProProfs Survey Maker
ProProfs Survey Maker is a platform that allows you to create attractive and personalized feedback surveys through a variety of themes. There are pre-made surveys and you can customize them. It also helps you collect unbiased survey data on a wide variety of topics. Their paid plans range from $0.10 to $0.20 per month.
Pros of ProProfs Survey Maker
It has an easy interface for users.
It is cheaper than other poll makers.
You can access detailed reports and statistics.
Cons of ProProfs Survey Maker
Customer support is not enough.
It offers a limited set of features even on paid plans.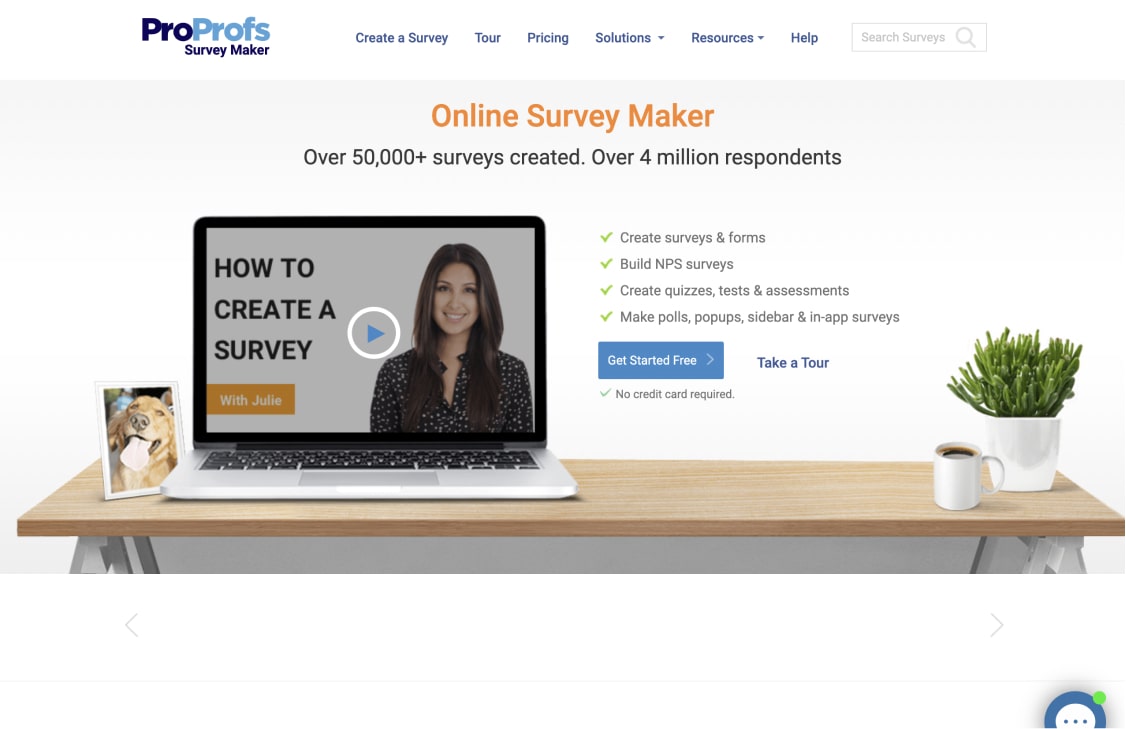 #3 Survio alternative - ProProfs Survey Maker
* * *
4 - SurveySparrow
SurveySparrow is an online survey tool you can use to collect real-time user data. The survey templates it provides make it quick and easy to create surveys. Managing your business and improving your user experience is easy with multi-device compatibility. It is free to use and offers a 14-day free trial. It also has a number of paid plans. Personal plans cost between $39 and $59 per month. Users choose to bill quarterly or annually.
Pros of SurveySparrow
It offers effective analytics and reporting options.
You can collect data in real-time.
It provides easy integration with Microsoft Power BI.
Cons of SurveySparrow
There are 10 questions available in the free version. This limitation leads you to paid plans.
The number of options for email marketing is limited.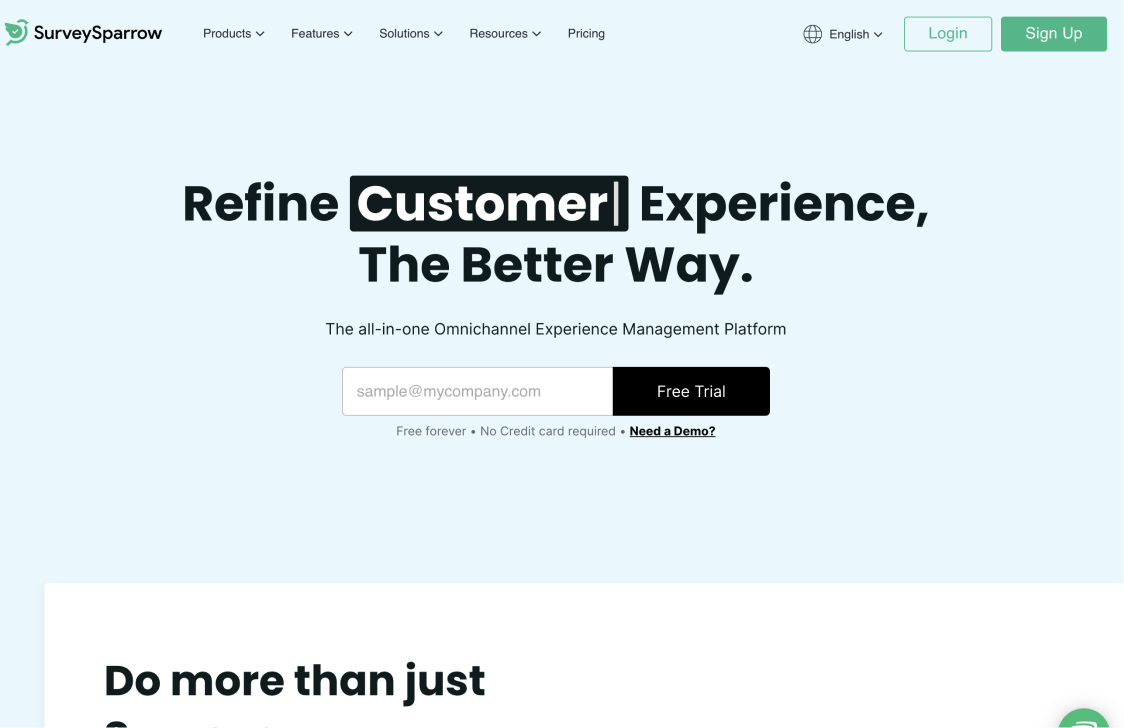 #4 Survio alternative - SurveySparrow
* * *
5 - SoGoSurvey
The SoGoSurvey enables you to create surveys with a variety of question types. You can get better results from your surveys by using different types of questions. Utilizing third-party integrations makes automating your surveys even simpler. Paid subscriptions have a 10-day trial period. And the cost ranges from $25 to $99 per month.
Pros of SoGoSurvey
You can get real-time reports.
It offers ease of use on the free plan.
There is a question bank with a wide variety of questions.
Cons of SoGoSurvey
The free plan does not have many required features.
Some template types are not available.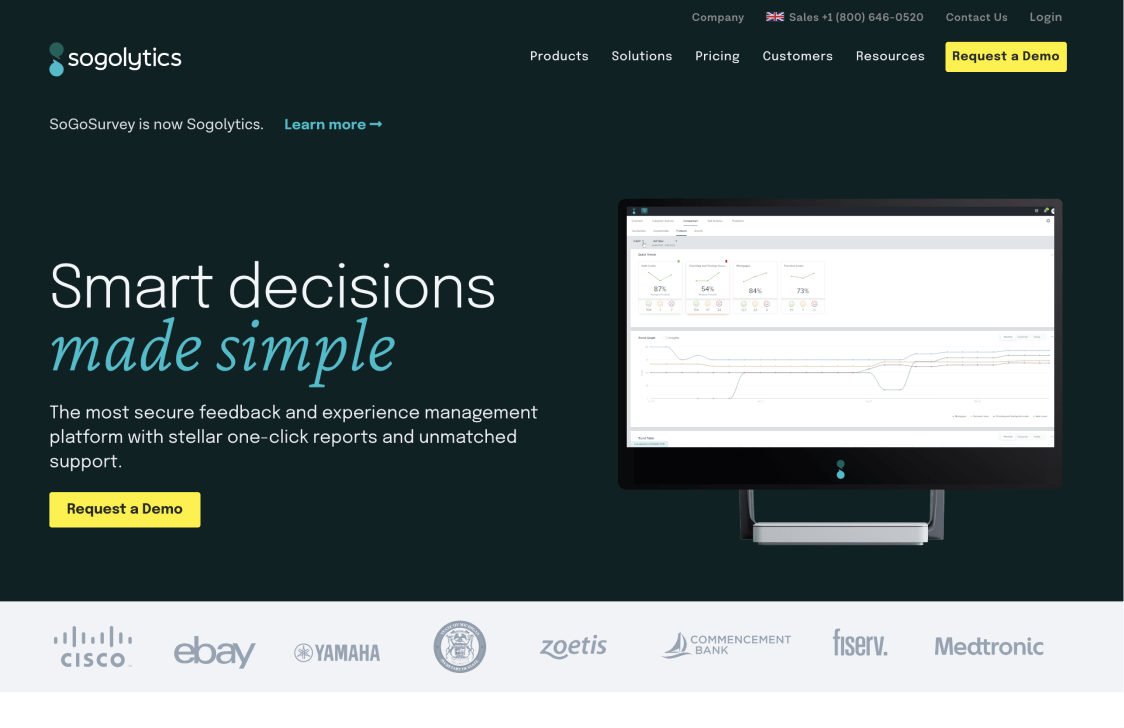 #5 Survio alternative - SoGo Survey
* * *
6 - Qualaroo
Qualaroo is a platform where you can easily collect feedback from users and design good surveys. Embedding your survey on your website is easy and allows you to get accurate data from users instantly. It offers a 15-day trial and paid plans are $100 and $200 per month. On an annual basis, it varies between $80 and $160 per month.
Pros of Qualaroo
There is a guaranteed money-back guarantee within 15 days.
With the help of artificial intelligence, you can analyze human emotions.
It offers more than 10 integration options.
Cons of Qualaroo
If you are going to customize your survey, there are limited color options.
There is a limited number of themes.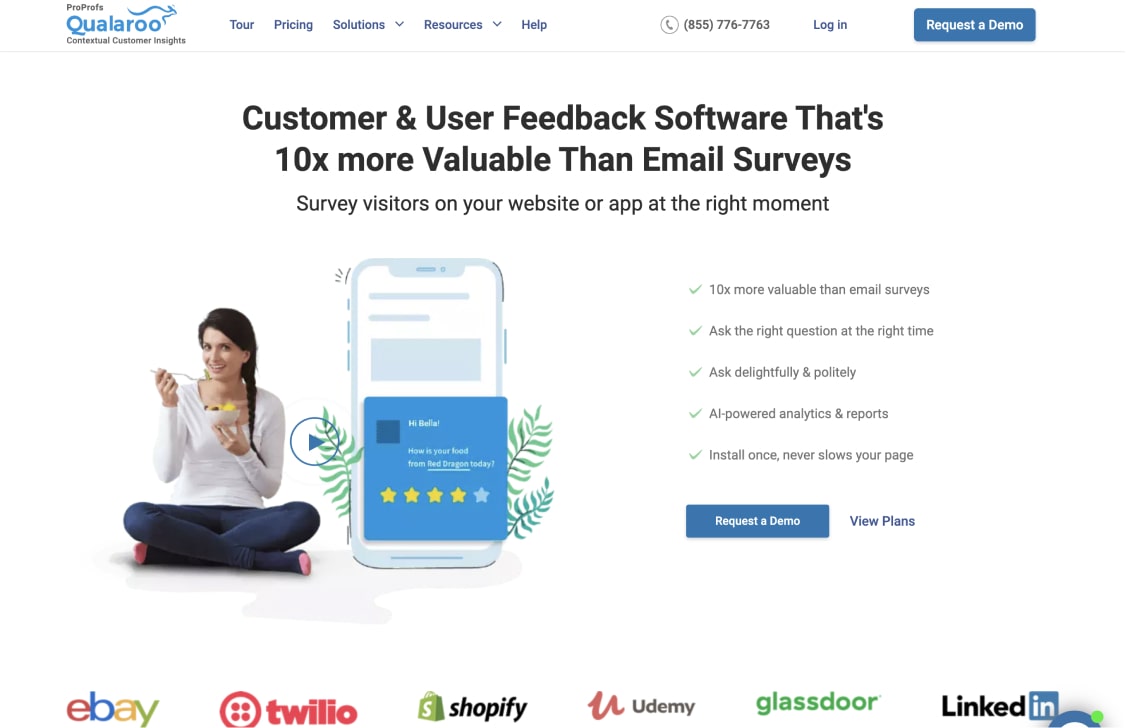 #6 Survio alternative - Qualaroo
* * *
7 - SurveyPlanet
You may build online surveys with SurveyPlanet, an easy and cost-free survey maker. You can rapidly construct surveys using this application and collect data from respondents. Data transfer is also possible in the free version, and you can share your survey with just a link or code. The Professional plan is $20 per month or $180 per year. The Enterprise plan, on the other hand, does not have monthly payments and is $360 per year.
Pros of SurveyPlanet
There are flexible question types and analysis tools that you can do in-depth analysis.
It provides a result-filtering feature for polls.
You can add optional descriptions to your surveys.
There are multiple language options available.
Cons of SurveyPlanet
Restricts some features in the free trial.
You may have difficulty tagging survey responses.
The number of survey templates is not enough.

#7 Survio alternative - SurveyPlanet
* * *
8 - Typeform
Typeform is an online tool that lets you create forms and surveys. The paid plan includes a wide variety of question types and third-party integrations. However, it is also possible to use it for free with some limitations. On the other hand, paid plans range from $29 to $99 per month.
Pros of Typeform
It has a drag-and-drop interface.
There are a wide variety of question types for all types of groups.
The free plan has unlimited survey creation options
Cons of Typeform
Paid plans can be expensive for some.
In the free plan, there are a limited number of features available.
The platform is suitable for creating short and simple forms. If you are going to create complex forms, you may experience page lag.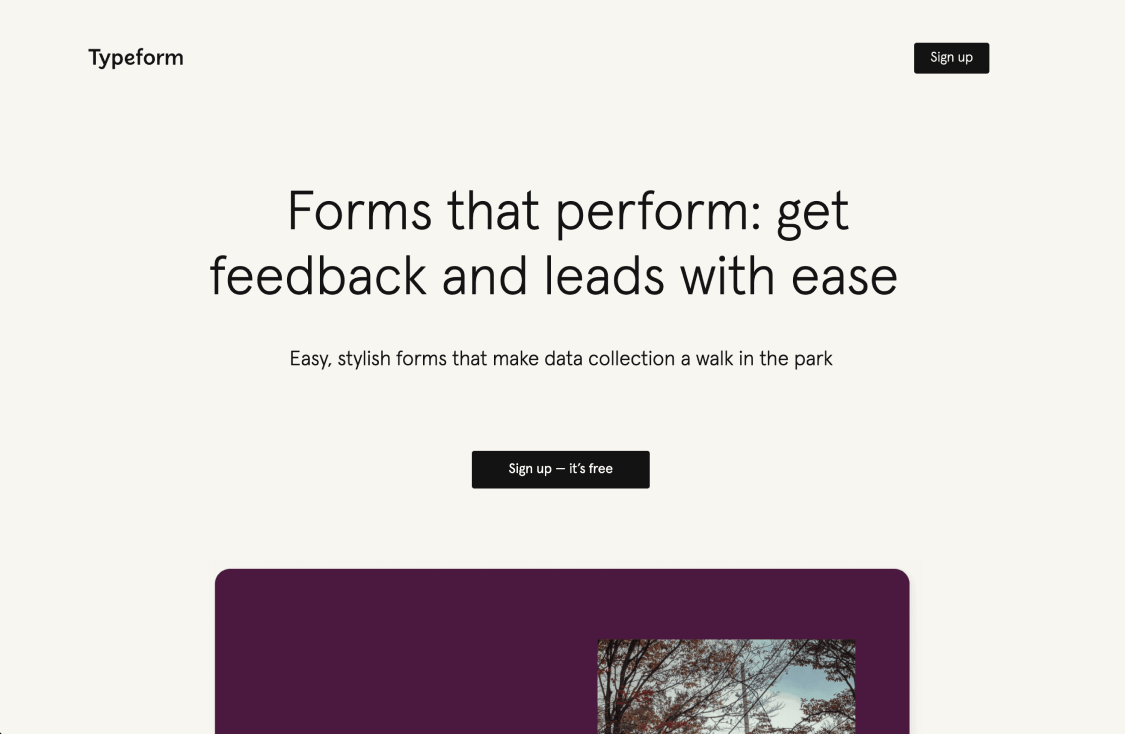 #8 Survio alternative - Typeform
* * *
9 - Snap Surveys
Snap Surveys, which provides an all-in-one survey design, feedback gathering, and response analysis tools, is another option for Survio. Conducting surveys online and offline is simple with Snap Surveys. On this platform, you can use graphics and interactive questions to offer survey participants a customized experience. You do not have a free trial option, and paid plans range from $39 to $126 per month.
Pros of Snap Surveys
There are multiple language options.
It provides the option to conduct online and offline surveys to collect data.
It is possible to customize a database easily when managing research projects.
Cons of Snap Surveys
It does not offer a free trial.
Paid plans are expensive.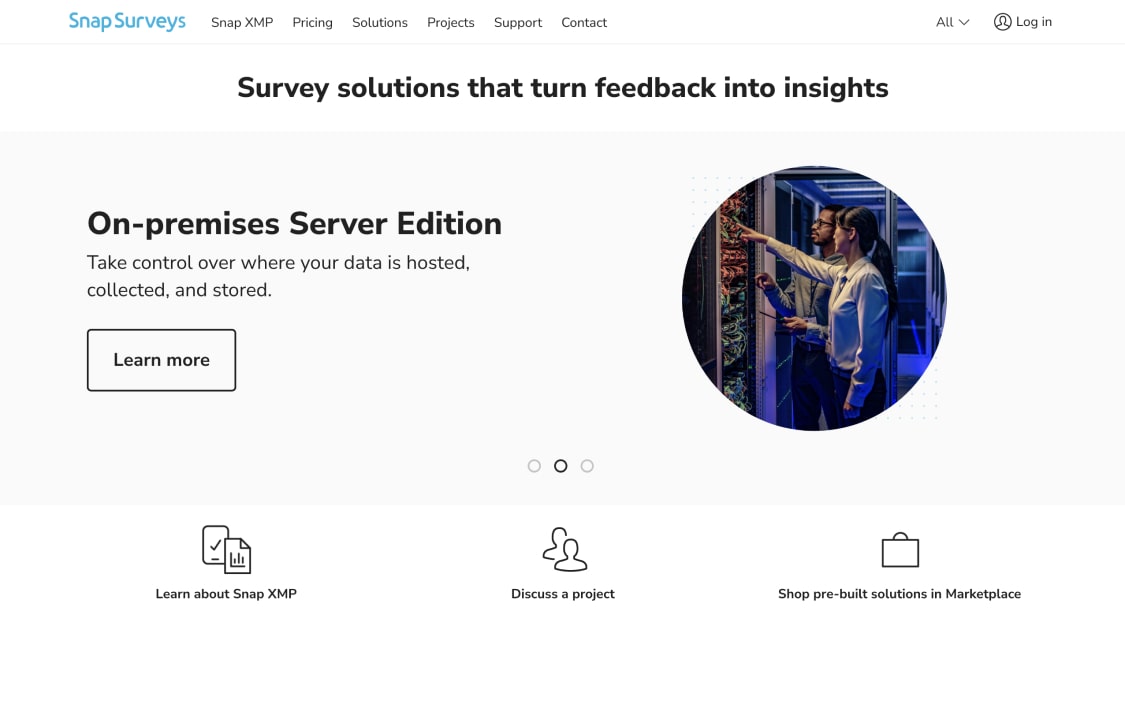 #9 Survio alternative - Snap Surveys
* * *
10 - Jotform
Jotform has a large user base and is a popular survey creator. You can easily create surveys as it offers many pre-made templates. You can use it for free, but paid plans cost between $39 and $129 per month.
Pros of Jotform
You can limit the questions with the conditional logic feature.
There are various customization options.
There are many integration options available.
Cons of Jotform
There are some bugs in its use in mobile browsers.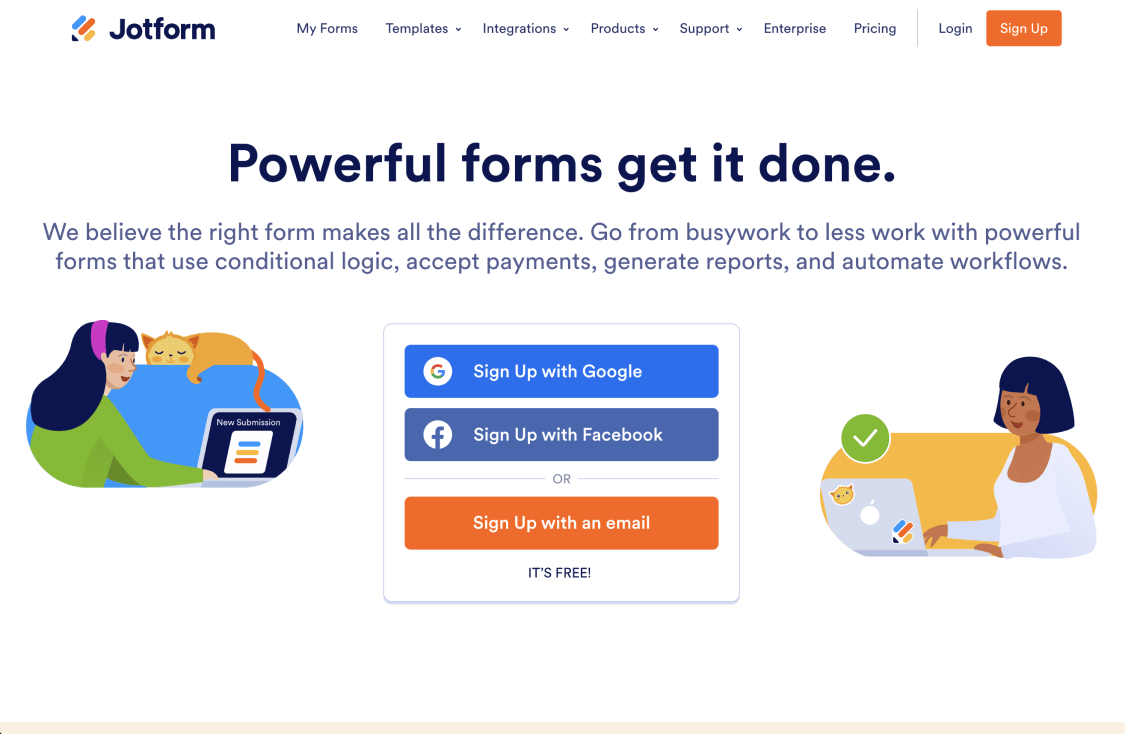 #10 Survio alternative - Jotform
* * *
11 - Zoho Survey
Zoho Survey is a survey tool with a user-friendly interface and various features. It helps you get more precise results with multiple question types. You can also build your survey in multiple languages. It has a free plan and paid plans cost between 29 euros and 89 euros per month.
Pros of Zoho Survey
You can easily prepare questions with the drag-and-drop feature.
It allows you to collect real-time data.
It offers many ready-made templates.
Cons of Zoho Survey
Integration options are limited.
Sometimes you may not receive a notification when you receive a message from live chat.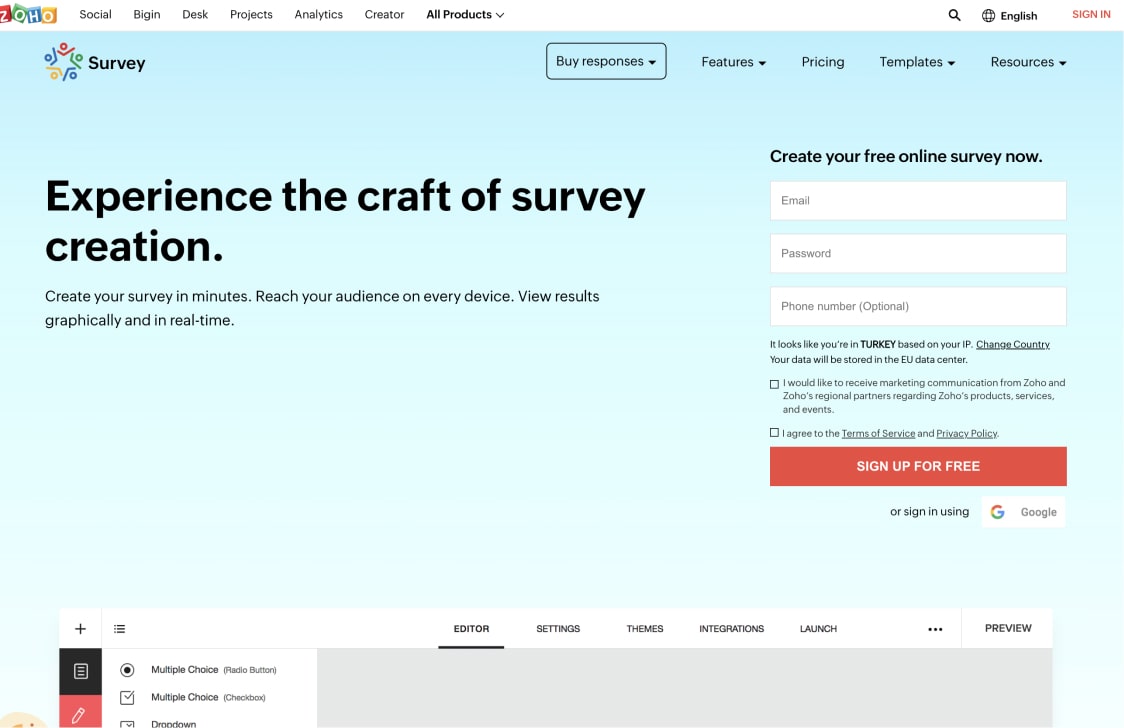 #11 Survio alternative - Zoho Survey
Which survey maker should I choose?
Surveys are a crucial tool for organizations to gather customer feedback. They can be used to measure customer satisfaction and raise the customer's standard of experience. There are many different survey platforms available, and each has its advantages and disadvantages.
Choosing the best for your company is very important. You can do all this professionally with forms.app. form.app is one of the best in terms of price and performance. With the help of its numerous templates, you can easily create a large number of surveys for free. Now choose one of the free templates and experience the forms.app.