Within the last few years, the idea of traditional education has undergone a significant alteration. Nowadays, as long as you have access to the internet, you may receive a high-quality education anytime and wherever you want. It's no longer necessary to be in a classroom to learn something. Whether you're an adult or a teenager, online education is a wise choice. This can be a helpful teaching strategy for students looking to improve their knowledge of a challenging subject or pick up new abilities.
There are also many platforms for online education. One of them, Canvas, provides tools to support online learning in a variety of ways. This can include everything from dynamic, interactive virtual classrooms to structured learning pathways. It is functional but may not completely meet your needs. If you are looking for alternatives, you are in the right place for them. In this article, you will be able to learn about what Canvas LMS is, what are the alternatives to canvas LMS and many more things about Canvas.
About Canvas LMS
An online Canvas's learning management system, or Canvas LMS, is a learning management application. It is used by educational institutions, teachers, and students to access and manage online course materials and share information about skill development and academic achievement. The customizable course development and management tools, user and course analytics, and corporate communication capabilities all come with Canvas.
The basic features and environment are in the free version for teachers. Although there is no precise pricing information available, it is typically more expensive than competing products in this field. Prices vary depending on the level, institution, and country of study.
All in all, Canvas LMS is a platform for use in education as it easily connects instructors and students and tracks grades, manages active enrollments and assignment submissions, shares course documents, facilitates messaging between students and instructors, and includes course and corporate curriculum information.
8 Canvas LMS alternatives to watch out for in 2023
One of the various LMSs that gives great success and ease is Canvas. It is a well-liked open-source learning management system made for teachers who wish to transform education. In addition to being secure, scalable, quick, and easy to customize, Canvas is also low-risk. However, Canvas has its drawbacks too. Starting out, both the e-portfolio component and the LMS have some minor bugs. Therefore, if Canvas doesn't meet your demands and you're a teacher, instructor, trainer, or learner seeking an LMS that works for you and your business or institution, here are the 8 best alternatives to consider.
1 - forms.app
forms.app is an online platform that allows people to create online forms, online surveys, and online quizzes in a simple and convenient way. Users may create forms and surveys using forms.app. Using the forms.app tool, you can create forms for free, use the online quiz maker free and then collect the responses without having to enter any payment details.
You can take advantage of all the features and discounts in the free plan and get paid using simple interfaces such as PayPal and Stripe. If you want to use the paid plans, it starts at $19 per month and goes up to $99.
Highlights:
Easy-to-use
Gateways for secure payments
Conditions, calculators, and shopping carts are innovative features
Ability to integrate with 500+ third-party apps via Zapier and Google Sheets
Limit of 200 items
Limited free version capacity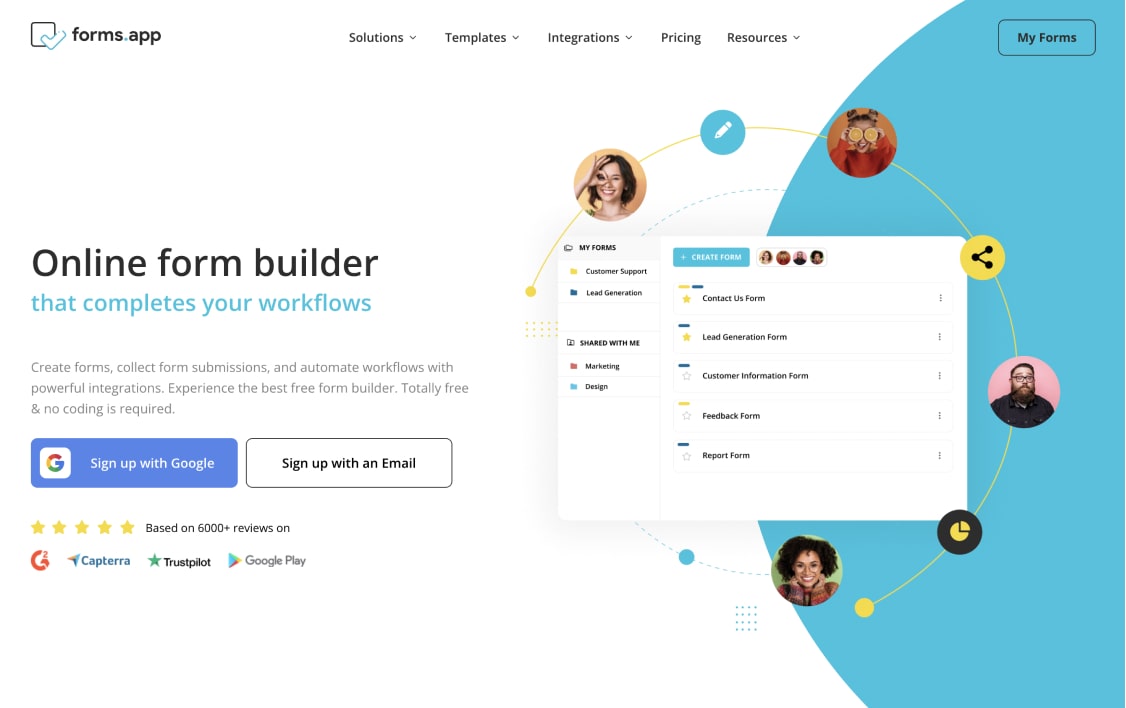 #1 Canvas LMS alternative - forms.app
* * *
2 - Kahoot
Kahoot is a platform where you can create, share and play educational games or trivia quizzes in just a few clicks with game-based learning. One of the prominent names in quiz-based learning, Kahoot offers a free-to-use platform, making it highly accessible to teachers and students alike. And if you want to know if there is a good alternative to Kahoot, don't forget to check out our blog post called Kahoot Alternatives. It gives you more options in the premium or pro versions.
The individual plan is 29 euros per month. The team plan does not have a monthly payment option. It doesn't offer a monthly payment option on the plan for one-time events, either.
Highlights:
Create visualized and fun quizzes
The ability to import questions
Adding drawings to the iOS app.
Many options such as quizzes, surveys, puzzles, and slides
Keeping track of student progress is complicated
It needs a strong wifi connection
Background music can be distracting and stressful.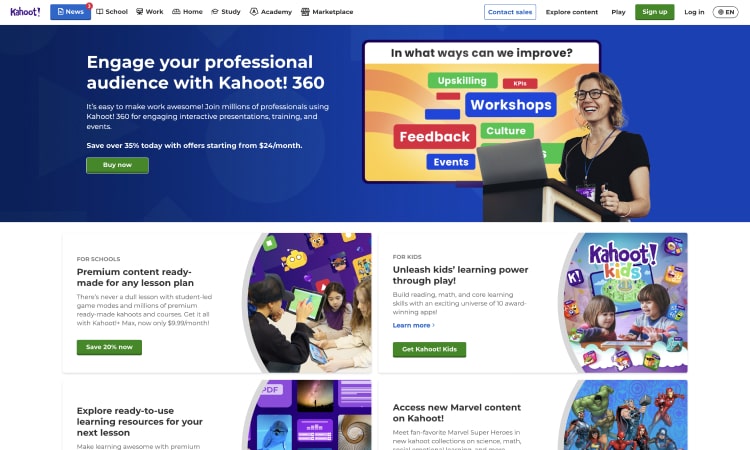 #2 Canvas LMS alternative - Kahoot
* * *
3 - ProProfs Training Maker
ProProfs Training Maker is a learning management system and online course development tool that is totally cloud-based. The platform is flexible and made especially for corporations and educational organizations. With ProProfs' course creation tool, users can create their training materials using pre-made templates. Additionally, users can add documents, audio files, and videos to the courses. It offers the option to try any plan free for 15 days. Paid plans range from $25 to $250.
Highlights:
Useful for students
There are several templates available
Free trial version feature
Offers immediate access
Annoying ads
Login problems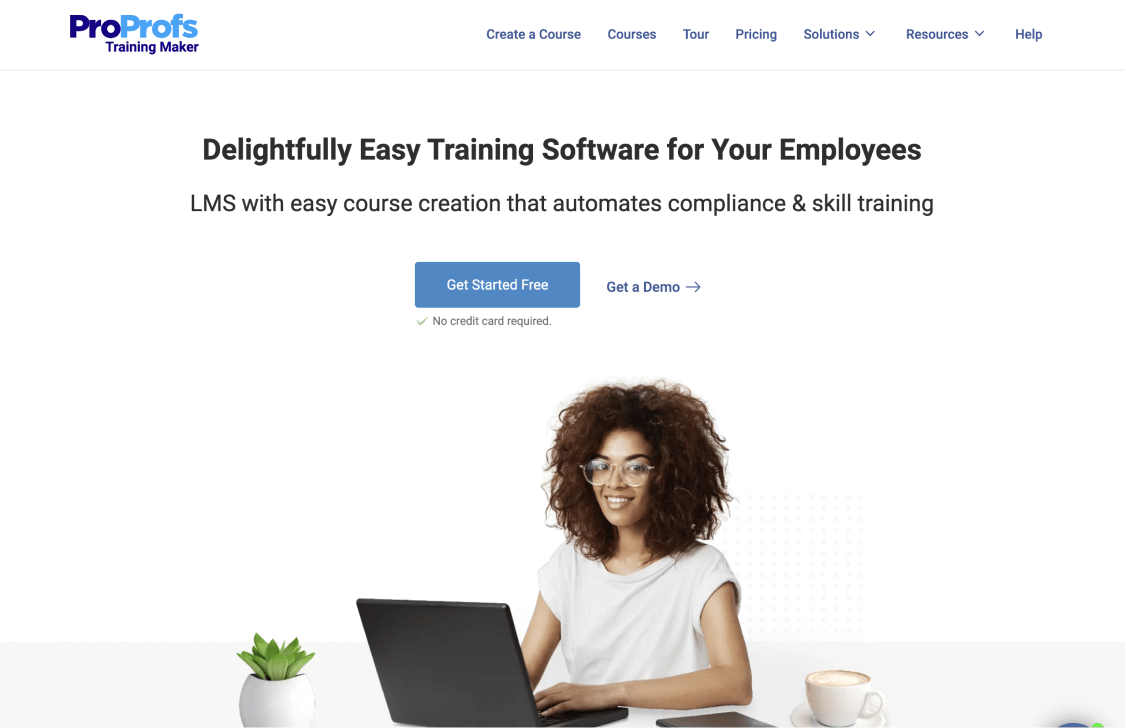 #3 Canvas LMS alternative - ProProfs Training Maker
* * *
4 - Jotform
Jotform is a form creation tool that uses conditional logic, accepts payments, generates reports, automates workflows, and more, helping organizations move from busy to less work. There are several subscription choices for Jotform, including a free plan. All of the features available to paying users are also available to free users. If you want to learn more about Jotform, you can check our blog post called Jotform Alternatives. Paying subscriptions ranges from $39 to $129 per month.
Highlights:
Mobile Synced Changes
Almost a thousand integrations
Editable, pre-made templates and themes
Integrates with PayPal and Square
Drag-and-drop form designer
There is no response-based personalization
Confusing support center
Finding the ideal template is challenging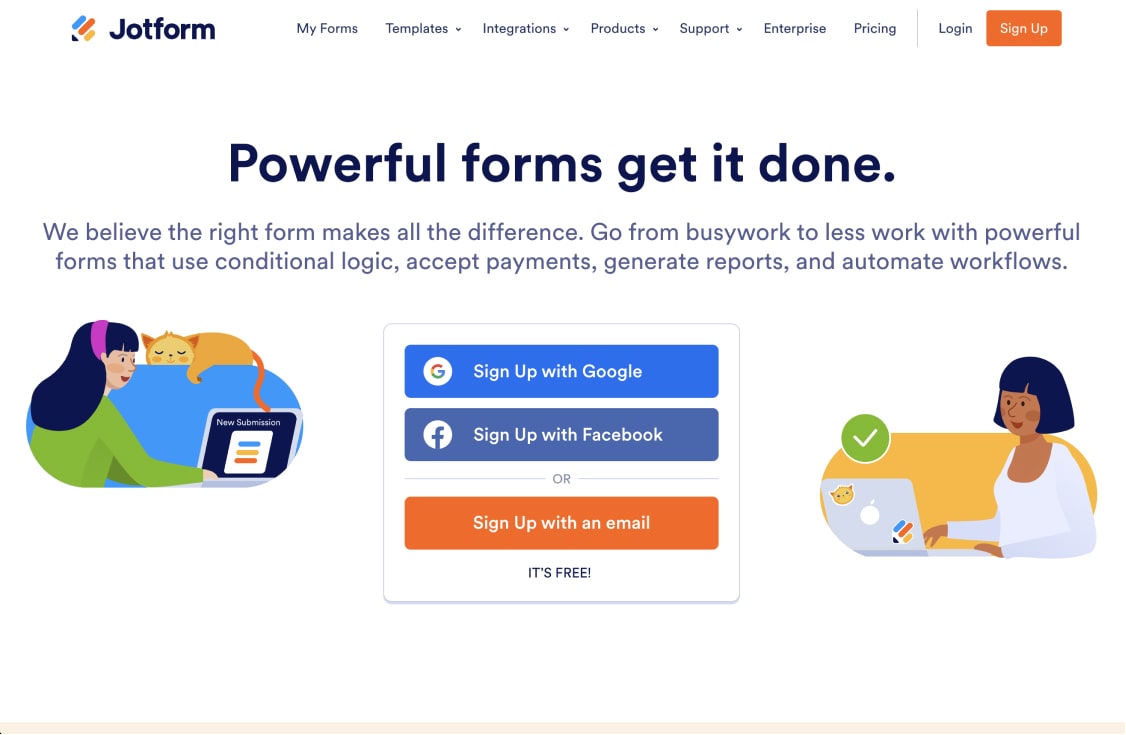 #4 Canvas LMS alternative - Jotform
* * *
5 - AhaSlides
AhaSlides is; a cloud-based interactive presentation tool that enables companies to design unique presentations for meetings, lectures, conferences, events, and more. It is a straightforward and largely free alternative for Canvas LMS. The website is slide-based and very simple to navigate. The 17 slide kinds that are offered can be used to create a presentation. AhaSlides offers a variety of question formats and is adaptable to your needs. You have the opportunity to use it for free. Paying subscriptions ranges from $14.95 to $49.95 per month.
Highlights:
Affordable prices
One-time and monthly plans
Limited options for placing text and images on slide
No preview mode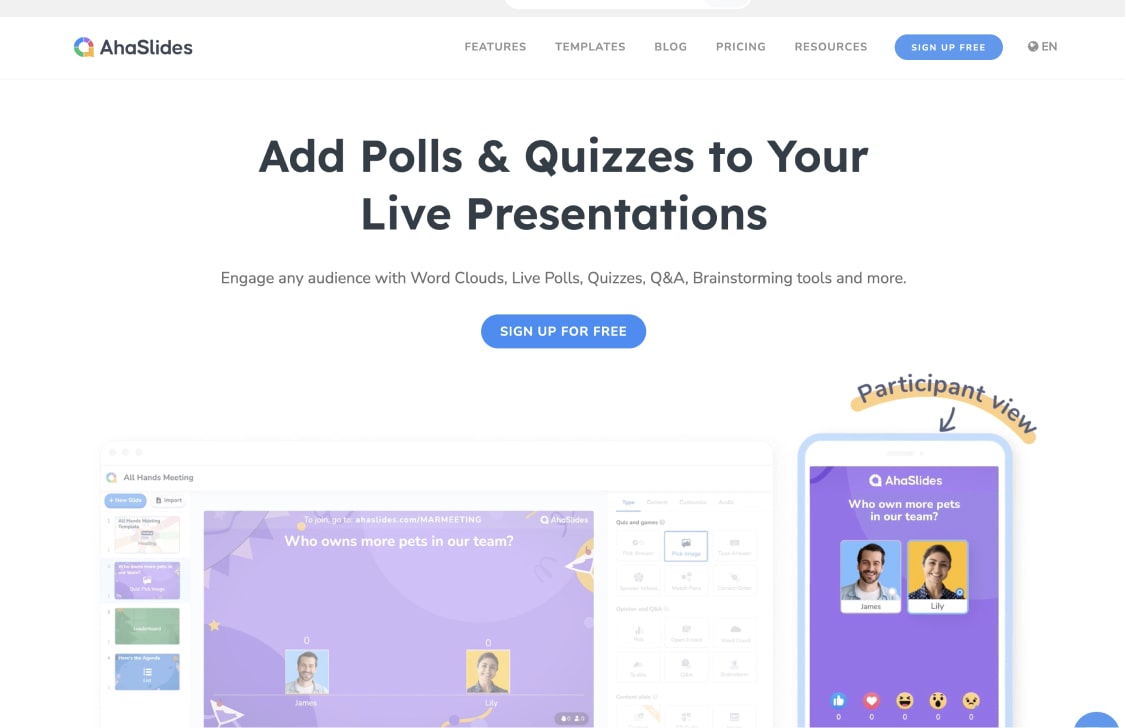 #5 Canvas LMS alternative - AhaSlides
* * *
6 - Mentimeter
Mentimeter is a presenting tool that improves student engagement in learning by using quizzes, polls, and word clouds. Mentimeter provides a hub for in-person and online learning interactions by fusing the digital tools of quizzes, polls, and word clouds. In a nutshell, this is a very powerful presentation tool for teachers and students. It's free if you want to try it. Subscriptions that require payment range from $11.99 to $24.99 per month.
Highlights:
Easy to use
Feedback option
Adaptive other apps.
Video chat
Make predictions with the predictive analytics engine
A 100-point prioritization system for participants who answer the questions
Customer support hours are limited
Free version limited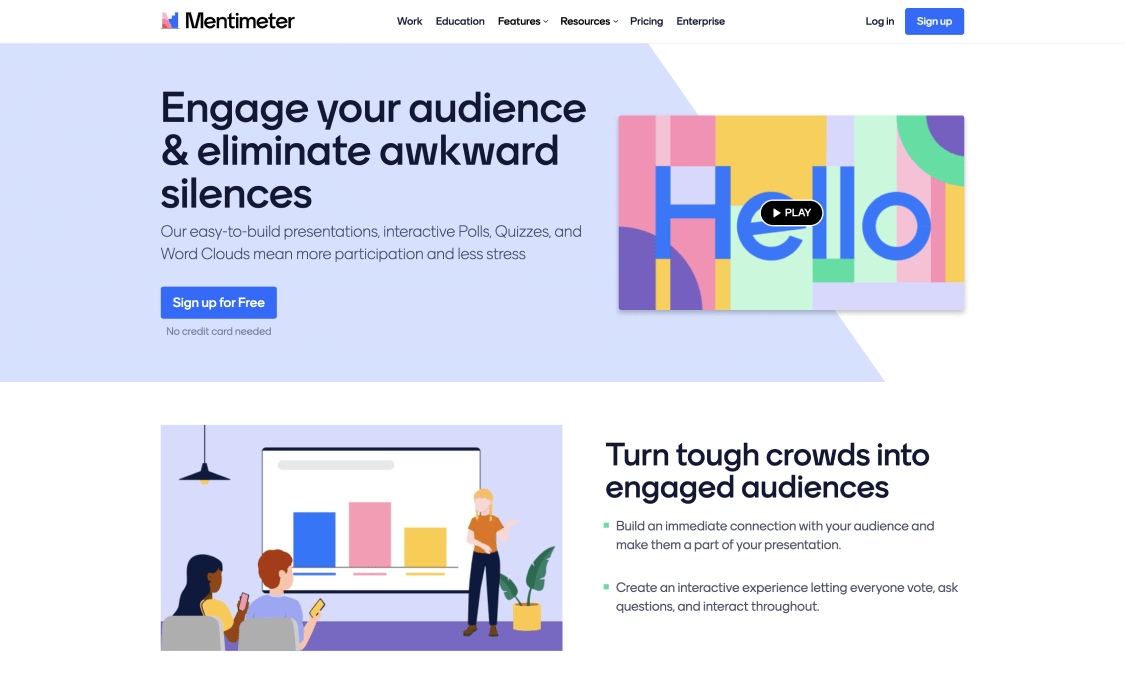 #6 Canvas LMS alternative - Mentimeter
* * *
7 - EasyTestMaker
EasyTestMaker; is an automated testing tool that makes it easy to create, produce, and manage automated tests online. The tool includes a variety of question kinds, including true or false, matching, short response, and multiple-choice questions. The program lets you add instructions, give each question a score, and divide the test into several sections as you build an online test. The format, design, and publication of an online test are all made simpler by the easy test builder. Prices for a business or organization can range from $29 to $99 per month. If you're using it for education, you have the option to use it for free, and paid plans start at $39 per year.
Highlights:
Easy to use test interface
All question types are available
As questions are moved, questions are automatically renumbered
Export PDF & word, spell check, bold (highlight, italicize), unlimited test
Limit of 25 tests in free version
Available for students to cheat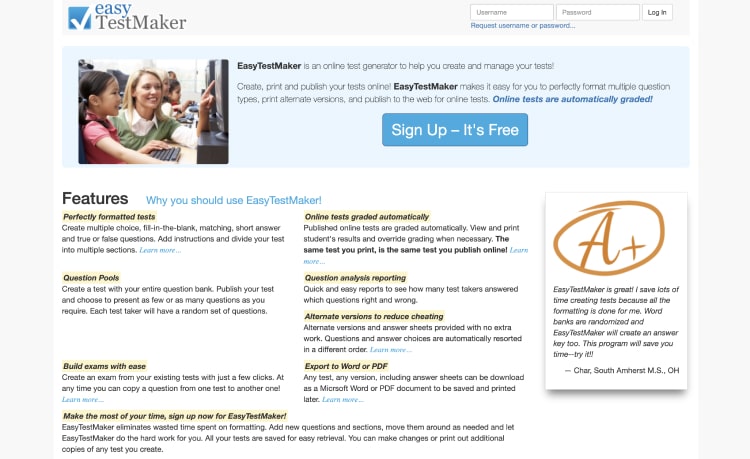 #7 Canvas LMS alternative - EasyTestMaker
8 - iSpring Learn
iSpring Learn is a comprehensive and user-friendly learning management system (LMS) that streamlines online training. It allows users to create, organize, and deliver engaging courses, quizzes, assessments, and surveys. The platform supports various content formats and provides tracking and reporting capabilities. iSpring Learn mostly caters to the needs of businesses, and educational institutions, with flexible deployment options, including cloud-based hosting or self-hosting. The start plan is 27.48 USD per year and per user. If you want more, you can only pay 10 USD more (37.68 in total) to get the Business plan.
Highlights:
User-friendly LMS
Diverse content support

Flexible deployment options

Suitable for businesses and education

Limited customization

Advanced features may require training

#8 Canvas LMS alternative - iSpring Learn
Which Canvas LMS alternative is right for you?
Canvas LMS is a digital learning center that brings together the online classroom, as mentioned above. To understand how Canvas LMS compares to its competitors, you can find its competitors in detail above. We have prepared alternatives, services, and prices to guide you to make the right choice for your company. Since they are not transparent about their prices, there is no fixed figure that we can evaluate the features it offers.
If you're looking for a platform with all the necessary tools to make learning productive, forms.app will come in handy. With attractive forms that make learning fun and customized learning paths, you will be able to create the free forms you want easily. Also, it stands out with the free form templates you need. Browse on forms.app now to create quizzes and tests, automate your procedures, and more.