Forms are an essential part of any website. They allow you to capture information from your visitors, which can be used to follow up with them and convert them into paying customers. Here are five reasons why you should use web forms online on your website.
What are web forms?
A website form is a tool that allows you to obtain data from people who come to your site. This information may be used to contact and convert new consumers into paying customers. There are numerous varieties of web forms available for free online creation.
There are many reasons why you should add web forms to your website. This can include:
Collecting data from potential customers in order to follow up and convert them into paying customers
Collect contact information so that you can market to them with promotional offers
Get feedback or suggestions from visitors to optimize your site
Collect email addresses for newsletters
Conduct research about your industry

Creating web forms on a tablet
Why do we need web forms?
There are many reasons why you might need to use a web form on your website. Perhaps you want to collect information about potential customers who are interested in what you have to offer. Or maybe you need to gather data from your visitors for a research study. In any case, web forms can be a valuable tool for collecting information from your website's visitors.
Everyone should be using a web form of some kind for their website. They are an essential tool in the arsenal of any business owner, so use them to capture important information about your website's visitors.
How to create a web form free with online form builders
Web form creation with an online form builder is a quick and easy way to add a form to your website for lead capture or information requests. It is possible to create awesome web forms by paying attention to some critical points. Besides, all you need is a website and a few minutes to set up your form. Here are the steps:
1. Go to the forms.app's web forms builder and log into your account.
2. Select the type of web form you would like to create.
3. Fill in the required information about your web form.
4. Customize your web form's design and layout with our drag and drop form builder.
5. Embed your web form on your website or your landing pages.
6. Copy the code generated by the online form builder and paste it into your website's HTML editor.
7. Check out your web form and make sure it's working in accordance with your needs.
How forms.app will help you capture leads
A lead capture form is a web page that companies use to gather information about possible customers. This data may be utilized to contact and convert these potential clients into paying consumers by following up with them.
You can embed the lead capture form that you have created on forms.app on your lead capture page and add a powerful tool to your lead generation process. A simple web form can do wonders in helping you generate quality leads in sales. As for creating a form for a website, it is really simple with forms.app thanks to iframe embed and WordPress shortcode options!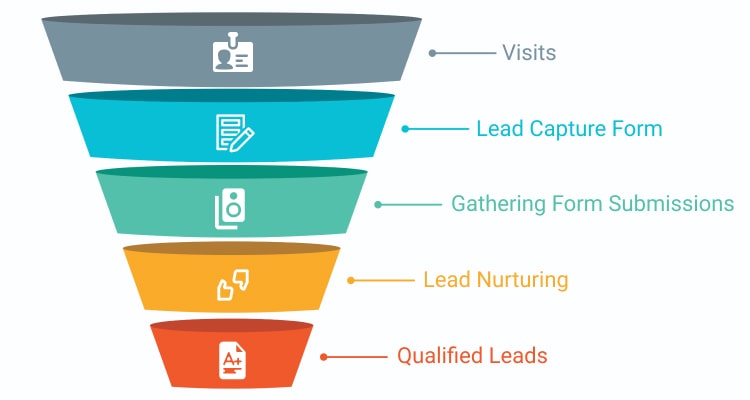 A lead generation funnel
1 - More attractive and website-matching design
By having a web form created on forms.app on your website will let you have a more attractive and eye catching look on your website. Whether it will be a landing page or your company's contact us page, you can design your forms in a way that will match your website and even improve the way your website looks with powerful forms.
2 - Offer incentives for people to fill in your forms
It can be either a small discount or simply a gift card that you can use in order to encourage people to fill in your forms and leave their contact information. This way, you can strengthen your data collection and generate more leads.
3 - Be informative at the end
forms.app lets you customize your Thank you pages however you like allowing you to both inform your respondents at the end and insert useful materials for the next step. This way, you can improve the communication between you and your potential customers. Moreover, this will help you to forward them to the next step which will fasten your lead generation process.
4 - Streamline your lead information and ease your work
Thanks to forms.app's integrations with many CRM and email marketing apps through Zapier, and direct integrations with Slack and Google Sheets, it's easier than ever to transfer lead data into your workplace tools. Check out our integrations for more information.
5 - Do you charge for inquiries? No problem
If inquiring for your services is premium, you can collect online payments through your lead capture forms thanks to forms.app's integrations with Stripe and PayPal. You only need to add a "Payment" form field and connect your Stripe or PayPal accounts to your form.
Summary
As a result, web forms are an essential part of generating leads online today, and forms.app has all the good merits to create registration forms or online lead capture forms. If you are not already signed up to forms.app, give it a try here!