How are my products reviewed by the consumers? Are my clients satisfied with the service they receive? In which ways can my business improve? You may think of these sentences and feel out of touch with your customers. However, that is perfectly okay because the solution to this problem is rather simple. Measuring customer satisfaction with online surveys is trouble-free with forms.app.
Customer satisfaction is critical in a competitive marketplace. If your customers are not pleased with your service or product, they are more likely to walk away than to give a complaint. Besides, an unhappy consumer costs a business more than one buyer as that consumer spreads the word. On average, one dissatisfied customer talks about their negative experience to 9-15 people.
Because of this, having a customer satisfaction survey to learn more about your consumers is crucial. They give you the feedback you need to upgrade your services and keep your customers happy and loyal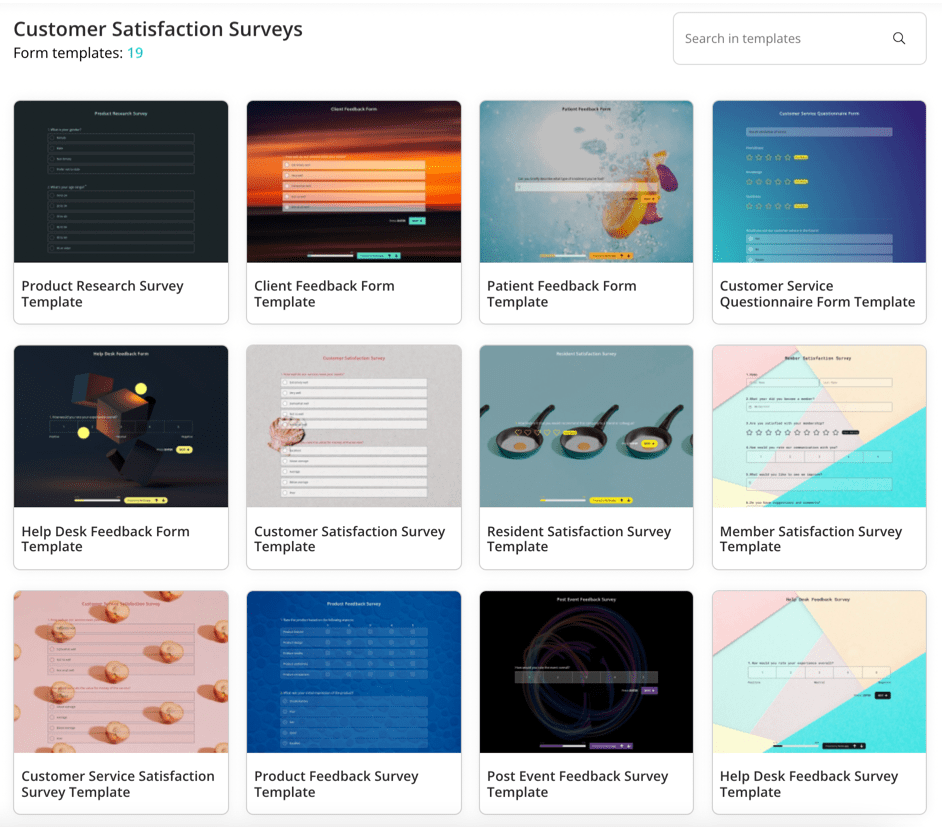 Why use customer surveys in the first place?
Customer fulfillment is quite important in a world where every business is trying to maintain their clients and expand. In this competitive environment, the number one thing that puts a business one step ahead of others is customer feedback. With client feedback form template of forms.app you can ensure your success and improve your business.
Equally, loyal customers play a huge role in expanding your business. That is why staying in touch with your existing customers' journey to see how much they enjoy their experience is critical. By collecting feedback from clients, you can easily detect any issues you may need to resolve. From then on, fixing any problems and starting a brand new business strategy is simple. You can use a customer feedback survey to help you collect data and go on your first step!
With easy-to-use templates of forms.app your customer feedback forms will be ready in no time. Afterward, customers will have no problem filling those forms as long as they have an internet connection and a proper device. Additionally, you will have no problem reviewing the results alongside the general statistics.
3 Types of customer surveys
Whether you are launching a new product or providing services, you need to know about your customers. Knowing if they are pleased with what your business offers gives you a great understanding. Customer surveys of forms.app allows you to understand if your consumers are happy with your services. Use the customer satisfaction survey templates of forms.app to expand your market research today!
Churn Survey
When a client stops using your services, knowing the reason why helps you a great deal of time; if you know why they quit your product or service, you can fix the problem within. The cause could be product, price, service, quality, or any other reason. With an online churn survey, you can collect the data about why they left, how you can fix it, and persuade them to stay.
Product Research Survey
If you are launching a new product, knowing the market is the way to achieving great success. By using product research survey template of forms.app, you are able to collect data about the market and the product with ease. Therefore, you can eliminate the stress of failure and focus on the customers and their opinions.
Customer Satisfaction Survey
To know about your customers' experience with your service is the start of knowing how well your business is. The helpful feedback you get from these forms is crucial to getting your business one step ahead. With the customer satisfaction survey template of forms.app, you can work smarter and more efficiently.

Customer satisfaction
Best practices in customer surveys
Choosing the most suitable survey template is quite crucial. Furthermore, having a sample and using it may be enough, but if you desire to have more impact on your customers, a few adjustments could be needed. Making simple arrangements will help you to have the best possible result and the most amount of responses.
Short and simple: In a busy world, people may not have the time or patience to take a survey. It may be especially difficult if said survey is too long and detailed. To get the maximum response to your customer survey, it is advisable to keep it short and to the point. When it can be done in a couple of minutes, the number of responses will surely double or even triple!
Construct your questions the most effective way: In idea, multiple-choice queries may look the easiest way to do. However, sticking to one method may not be the most efficient way. Asking survey takers to give their honest opinions on a product in an open-ended question could be more functional. On the other hand, big boxes to fill in may cause frustration for your survey takers. The best way to construct your survey questions could be by asking a yes/no question, then giving them a chance to explain their previous answer if they want to.
Have a professional design: Your survey to have a professional design that suits your company is truly important. The design of your survey is vastly influential on your customers' decision to take that survey. Having a professional design proves that you care about your customers and your business.
Use some metrics to achieve clear results: Customer surveys are highly helpful to see the market performance of your product or how well your service is working. Further, having an exact score is quite helpful. To measure customer satisfaction, two main metrics can provide comparable results. The first one is the Net Promoter Score (NPS). And, it is for measuring the chances of your customers to recommend your brand to their friends or colleagues. The other method is Customer Effort Score (CES). It is for measuring how easy it is to use your products or customer services. To have more information on the subject you can visit
Do not forget to thank your respondents: When you have completed building your survey, you can add some treats for your survey respondents. For example, you can enable a Thank-You page for your customers. Or, you can choose to send them automated emails thanking them for their submissions. This will help them feel validated and heard, and they will be encouraged to take the next survey you may send them.

happy customers equal to successful businesses.
How to create a customer satisfaction survey
When you decide which survey from forms.app you will use, the next step is to start your own survey. You can use the customer satisfaction survey sample, or you can make proper adjustments to it. Adjusting the design is really uncomplicated.
After doing the essential edits, you can edit the questions and the answers the most effective way as well. For example, you can put conditions on some questions. Those conditions could be as; if the survey taker chooses the option not satisfied, show them this question afterward, or if they do not choose option A, do not show them this next question. This will help go into necessary details on customer satisfaction survey questions.
Best Survey Examples
To acquire feedback from your clients, the forms.app is super effective. forms.app offers a variety of templates for you to choose from. After you decide on what kind of answers you want to get, simply choose your form and collect the needed data!
Client Feedback Form Template
Client feedback forms are a great way to ensure the success of your business. They let you know what your clients think about your service. When you want to collect results, you can create a QR code for your clients to reach your questions easier.
Customer service questionnaire form template
The easiest way to achieve success in understanding customer needs and adjusting your program according to this is feedback. Having a questionnaire is also very simple and effective. You can edit, finalize and share on many platforms in no time.
User satisfaction survey template
When you have products you are selling, it is essential to know what your buyers think about those products. With a user satisfaction survey, you can ask about your product features and what users think about them.
Feedback form template
A feedback form can be used for a variety of stuff. Whether it is for students, colleagues, or neighbors collecting feedback with a free feedback form template is super helpful. Get to know your audience and be your best version in business!