The importance of routine evaluations can't be overstated. It's a great way to see strengths and weaknesses within your organization or process. Evaluations allow you to improve. They might help you find shortcomings that are easily overlooked. One of the best ways to evaluate is through forms.
What is an evaluation form?
There are many areas where assessments, opinions, and appraisals are useful. You might want to learn if your product was satisfactory. You might want to see if an employee is happy with their working conditions. There are always lessons to learn from people. An evaluation form will help you with that. With the information you get from these forms, you will be able to make decisions and take action. Depending on your situation, you can ask specific questions in your form, and you can ask for further opinions and criticisms. Feedback forms, employee evaluation forms, market research surveys can all be evaluation form examples.

Why should you create an online evaluation form with forms.app?
It's easier
We have useful guides and evaluation form templates for you to use
Paperwork is bothersome
An online form is faster, and you can reach more individuals
With forms.app's features, you can track and sort answers
It's possible to use forms.app's features to evaluate results, and you can move your performance review results to 3rd-party programs with forms.app
Best practices for creating online evaluation forms
Evaluation forms come in different shapes and goals. Tips would be specific for the kind you'd like to create. Luckily, we have lots of guides and online evaluation form templates that focus on each one. However, there's general stuff that will be of use for creating an evaluation form.
1 - Allow people to rate on a scale
A rating scale is very useful. Not only is it easier to assess answers, but also having some point of reference will allow people to give answers that are somehow precise. For example, you can ask how effective your instructions were in a training evaluation form.
2 - Have a clear goal before you create your form
A form is as useful as how one "forms" it. Try to be more specific, and ask questions to yield answers that you actually need. An employee performance review should mostly be about, well, performance. Especially if you have a long answer field and your questions are somewhat unrelated, people who fill the form might deviate from the topic of performance.
3 - Make your form clear and easy to fill
People are more likely to submit a form if it's simpler. Avoid clumping the screen with questions. You can make it so that only one question is in view with forms.app. Also, try to keep your questions short. Make sure your questions are clear.
4 - Have a plan to analyze submissions
You should have a plan in place for the evaluation process. Especially if you're planning to reach large amounts of people, you can get overwhelmed. Say you want to create a performance evaluation form. You should know how to evaluate the answers beforehand. If you want to see the professional development of an employee, it's a good idea to have a checklist to refer to.
5 - Make your intentions known as you share the form
Try not to alienate people as to what they are doing with filling your form. For example, if you send a customer survey via email without explanations with or within the form, people might think of it as spam. forms.app allows you to create a welcome and a thank you page where you can give information and instructions. It's a good idea to make use of these pages and tell what the form does.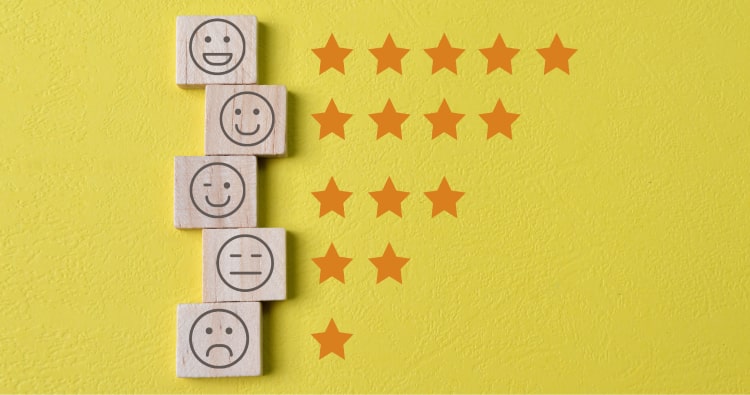 How to create an online evaluation form with forms.app?
forms.app is a stylish form maker that helps you create forms without any need for coding. It comes with advanced features like the calculator, conditional logic, and third-party integrations. And as a cherry on the top, forms.app offers hundreds of form templates. So, it is safe to say that you will feel very comfortable creating elegant forms for many purposes. Here are the simple steps for creating online forms on forms.app.
Editing
Under this tab, you can find all the tools you need to build your form. Add fields with appropriate formats according to your questions. Here, you can choose to add grids, multiple selections, and whatever else you'd like people to see. Certain fields and formats have further tweaks. It's a good idea to check them out to see if they are useful for you.
Design
In the design tab, we let our users customize how their form looks. Almost everything that will appear for the people who fill your form can be customized. Fonts, colors, shapes, you name it. We have several themes for people who like a good-looking form but can't be bothered to do it all manually. We also have CSS support for people who find the customization options lacking. If your organization has some certain style going for it, chances are you can make your form consistent with that.
Settings
In this tab, you'll find some tweaks and settings. These include publishing date, limiting access, notifications, and more. Aforementioned welcome and thank you pages are included in this tab. Also, integrations can be found here. For the third-party programs that you want to integrate your form with, there's Zapier.
Conditional Logic
Also possible in the editing tab, conditional logic helps you add conditions to your questions and fields. For example, you can make people with different qualifications answer different questions as they go through the form.
This can act as a brief introduction to the form creating process with forms.app. If you want to learn more, check our website. For further questions and to get help, you can contact us. We're happy to help our users throughout the process.
Some evaluation form examples and templates
We mentioned that there were different types of evaluation forms. We've got you covered. With our free-to-use evaluation form samples, you can start promptly. Whether you look for a job evaluation form template, a performance appraisal form template, or something else, you can head over to our free online evaluation form templates page.
Evaluation form template
A quick form that resembles customer satisfaction questionnaires. Its simplicity should make it easier to edit and change things about it. If you want a free employee evaluation form template specifically, you can use this one too.
Course evaluation survey template
As the name suggests, a survey form about your course. It aims to get opinions from the participants, perhaps to see how effective it was, or to see if the new teacher is good at their job.
Product feedback survey template
A scale of one to five, quite useful! This template is for people who want to see if their customers were satisfied with their product. If you are satisfied with our template, you can just use it as it is. If not, edit it to fit your needs.
Volunteer evaluation form template
Of course, not everything is about companies. If you manage some other kind of organization that benefits from volunteer work, you might want to hear opinions from the volunteers. Use this template to start now.
Building free online forms with forms.app
Online forms are undoubtedly superior to paperwork in many situations. Creating them with a form builder should make it easier for anybody. forms.app is a great tool for its comprehensive content, active communication, and professional interface . Start creating your own form right now today!