There's an increasing necessity to carry out many errands online. It saves time and resources for individuals and organizations alike. For this reason, it's a good idea to be equipped with the necessary tools. forms.app will be helping you with that. Online application forms are one of the many kinds of forms that you can create using the online form builder - forms.app, and we are happy to give some tips and information to get you started.
Application forms are helpful for collecting information from individuals and organizations. In general, they will include contact information and information about whatever the application is for, such as a position in your company. To create an online application form effortlessly and fast, we in forms.app provided you with information and tools.
Best practices for creating an online application form
Your situation may be specific, and giving tips on the content might be misleading. So, we're going to give you some general tips on crafting a great online application form.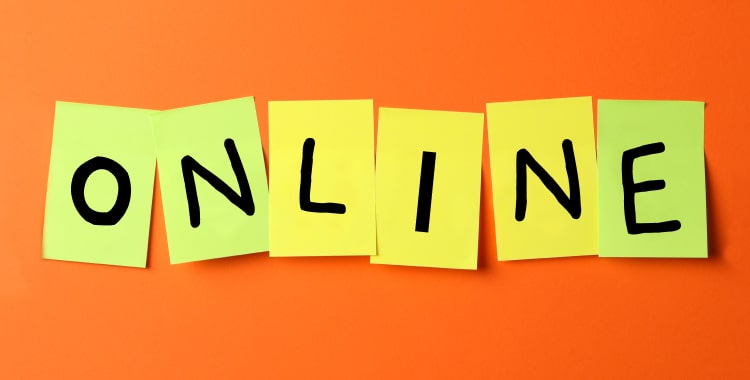 Less is more, sometimes
Craft your questions briefly. It would be sufficient to write "Your Name". Long questions with conversational tones might appear unprofessional. Also, some people can be put off by the manner of expression.
Don't ask unnecessary questions
It's ok to ask questions that will help you assess the person. Asking for their hobbies and such should do you no harm if you want to. However, going overboard with both the content and quantity of such questions might prevent people from completing the form.
Placeholder texts
Having a placeholder text in place is great for prompting applicants to use a manner of answer that you prefer. Also, there might be problems with formats and measurements for different countries. Useful in date fields that you can create by just choosing "Date Field" in our edit tab.
Add a welcome page for the introduction
A welcome page that can be created with forms.app might help with several things. General information about the nature of the application, your organization, and possibly policy information can eliminate question marks.
Add a field for file uploads and URLs
Depending on your situation, of course, this might be useful for CV's and other documents. This also makes it easier to ask for their professional social media accounts.
Creating online application forms with forms.app
Application forms are used in a variety of situations. It can be used for professional reasons and other situations. A job application form, employment application form, application for a volunteering gig, rental application form, and so on. These forms can be prepared by an individual for one-time use, of course, and forms.app will be quick and easy for that.
However, if you are an organization, and notably a sizable one, having an online form ready for a variety of situations under your fingertips will be a breather. For instance, a human relations department that has these forms ready for employees will benefit from the conveniences that forms.app provides. They will be able to easily track forms, get notified when a form is filled, and assess them. Having an employment application form or a job application form embedded in a related website will help organizations to get more applications.

Using forms.app's features
We embrace our users to use forms.app's features to their fullest and we're happy to help during the process. You can contact us about anything as you get to know our app. Moreover, we have guides and other things in place to make the process even easier. You can always use one of our templates to create an online application form. We have many templates for different kinds of purposes.
You can always use a template as it is if you see it fit for your situation. Otherwise, it's possible and easy to build upon a template or change stuff about it! forms.app realizes that there isn't a one for all situations kind of template, and therefore, we have a page for all of our free online application form templates. Here you can choose the template you'd like to use.
Whether you decide to create a form on your own from scratch or modify a template, you are going to experience forms.app's features. So let's get you familiar with them!
Editing
This is the first step. In this tab, you have the main tools that help you build your form. Click the button that appears at the bottom of the screen, and a menu will show up. Here you can select a format for a field. Since we're making an application form, it's a good idea to start with a name. Select the "Full Name" field and there it is! Now, you can tweak your field. Different types of fields have different tweaks, of course. See what field is useful for you, and tweak it in accordance with your vision of how you shape up the form!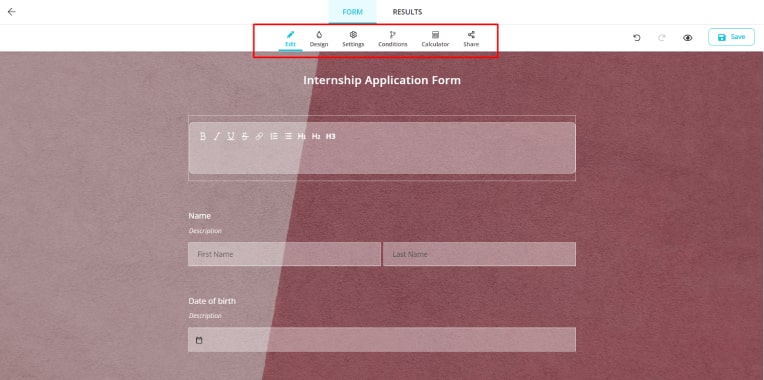 Design
This is where you make your form look nice. You can choose one of our themes under the "Themes" tab. We even have animated themes, it's awesome. Then in the customize section, you can do what it says. Change the font, colors(of everything), and shapes. You can add a custom background image here, too. So it's possible to add a logo in the background. We also support CSS, so if you know how to use it, you can get creative with your form and customize it further.
Settings
If you're satisfied with how things turned out, move on here. You will be met by a good amount of settings and tweaks. You can add a welcome and a thank you page(you don't need to use them only for that reason). There are integrations too. You can integrate the forms with Google Sheets, for example. Also, there's Zapier for third-party applications.
Conditional Logic
It's possible to add conditions with fields. Say, if you want a field to appear depending on previous answers or checks, it's possible. You can add conditions during the editing process too.
Now, you should be alright to create an online application form. Jump right in by using one of our application form templates. If you like, you can take a look at our contact form templates and turn one of them into an application form, too!
Useful online application form template examples
We craft our templates in many quantities to reach our user's needs. Here, we will show you examples of several application form templates while giving tips on best practices for a good form.
Employment application form template
This template is made for employment application forms. We have a great section under the template preview that elaborate further. In fact, we include great explanations with our templates! Employment application forms work great for getting numerous applications in a short time. Share the link, embed it on your website. You can choose to be notified when an application is submitted!
Job application form template
Similar to the employment application form, in a different style and aesthetic. To add to the previous example, you can easily assess applications by going to the "Results" tab. Sorting through applications should be a piece of cake. Don't forget that you can sort certain answers.
Rental application form template
Landlords and real estate agents are most likely looking for new tenants. Having an online form will help you find them and also sort through the applicants. For example, you can easily sort them out if they fill in some qualities that displease you.
Membership application form template
What a great way to get new eligible members for whatever organization you manage! In this context, I'd like to talk about one great feature. If your organization requires a fee from applicants or members, you can set a payment field in your form. This can be complemented by adding conditions so that only the eligible applicants actually get to pay in the first place.
Getting started now with forms.app
Online application forms are not only easy and quick to create with forms.app, but also professional and appealing! If you're in need of them, start now by using our app. You can access our free online application form templates by clicking on the titles above, choose one from the template menu that you can reach from "Templates", or by clicking on the "Create Form" button that will take you to a template selection menu. Save yourself time, effort, and create a great form!