As a rapid and efficient way for researchers to gather pertinent data, questionnaires are of utmost relevance in scientific study. You must first comprehend the purpose of employing questionnaires before you can create one for your study. A questionnaire is a type of research tool that asks a set of pertinent questions of respondents in order to gather information. These tests have an interview-style approach and either written or oral questions. Its major objective is to collect answers from a target audience so the survey designer can review and analyze the findings.
You may obtain crucial information for your business by using an online questionnaire maker-like forms.app. You can add different question types, alter themes, and change the reasoning for question skips with ease while creating a personalized questionnaire. So, without even attempting, you can concentrate on important components. Also, by using online survey forms, you reach people effortlessly and have a large audience. In this article, you will learn what a questionnaire is, the benefits of survey and questionnaire templates, and how to create your own questionnaire.
What is a questionnaire?
First of all, you should know that questionnaires and surveys do not mean the same thing. Although the two names appear to be interchangeable, they are not nearly the same. A questionnaire is a set of questions designed to collect data; the data collected cannot be used to conduct a survey.
The purpose of a questionnaire is to collect information from respondents about their attitudes, experiences, and opinions. A questionnaire, often known as a survey instrument, is a set of inquiries intended to elicit responses related to the research issue posed by the marketer. A questionnaire must accomplish four fundamental tasks:
Gather the correct information to support your research's goals.
Provide data for analysis.
Reduce the distortions or bias brought on by poorly written questions and bad survey administration.
To prevent response fatigue, make the questions interesting and diverse.
Questionnaires help to standardize data collection. The same query is posed to each respondent. Researchers create survey objectives based on their understanding of the research problem and the chosen group of respondents or sample for the study. As such, questionnaires play a critical role in the market research process.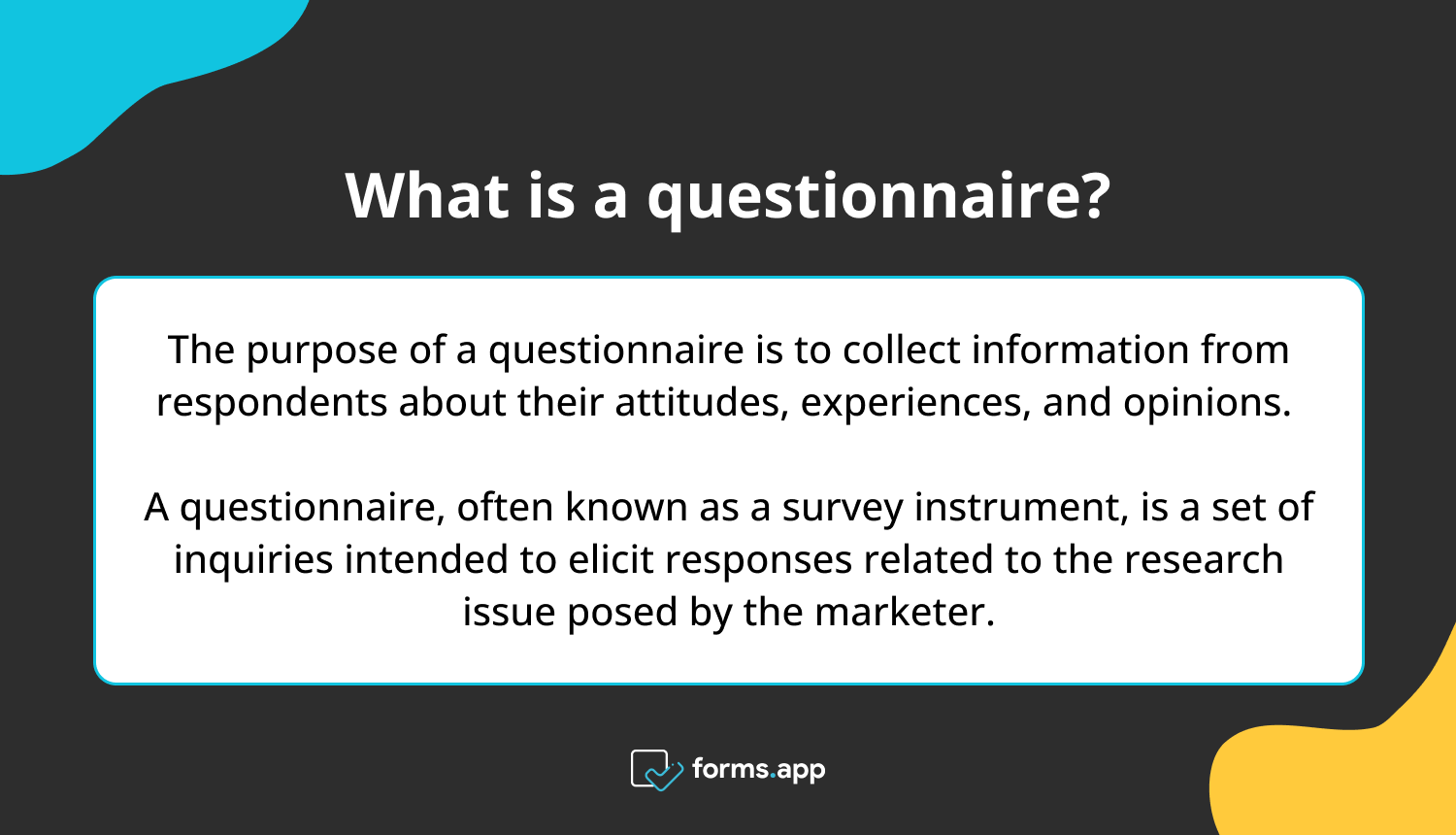 What is a questionnaire?
6 Great benefits of using questionnaire templates
Questionnaires are commonly used for research, surveys, and job interviews.
By using this technique, you can connect with plenty of individuals and gather the data you need to make wiser judgments.
If you're an HR or business manager, for instance, you can utilize questionnaires to find out more about possible hires and assess whether or not they'd be a good fit for your company. Questionnaires like these have many benefits. Now let's look at the 6 benefits of using survey templates.
1 - You can obtain a lot of data quickly with a survey questionnaire.
2 - If you select a uniform set of questions for your target audience, there is less likelihood of bias slipping in. The questionnaire will remain standard for a group of respondents who fall into the same segment, but you can modify the questions logically based on the respondents' responses.
3 - Online survey software makes conducting research quick and affordable. You may build, distribute, and evaluate the response data using a wide range of functions it provides.
4 - It can be customized to reflect your brand voice. It can therefore be used to strengthen your brand's reputation.
5 - The replies can be compared to historical data to determine how the respondents' preferences and experiences have changed.
6 - The questionnaire allows respondents to respond anonymously. Additionally, a lot of survey software complies with strict privacy and data security laws.
How do I use a questionnaire template to create my own questionnaire?
Using a good, free questionnaire creator will undoubtedly be helpful for you when you want to construct an online survey. It will benefit your firm at that particular time to use, for instance, a customer satisfaction survey, but it will also assist you in planning your future endeavors. forms.app is a good survey generator and will serve you well in this regard. forms.app's questionnaire and survey templates are free. If you want, you can look at the free sample surveys.
Here's how to create your own questionnaire and how to use the questionnaire template.
1 - Identify the topic and purpose of your survey.
2 - From the library of templates, choose "Use Template." Here, you have the option of selecting a pre-made template or making your own.
3 - Customize your online form for your purpose from the edit tab.
4 - Include as many clear and short questions as possible.
5 - Edit the sections you want to add or update.
6 - Design your form, use themes, and make it personally appealing to draw in your audience. You'll get a positive feedback if your form is well-designed.
7 - You can create a Welcome Page, Thank-You Page, or even a customized message to make your visitors feel special and appreciated.
8 - You can instantly collect data about your surveys and review statistics by turning on your notifications.
9 - Finally, share your form on any web page or include it on your website.

Creating your own online questionnaire on forms.app
Free questionnaire samples on forms.app
The importance of questionnaire templates for collecting data and the benefits of using templates are discussed in this blog post. Also mentioned above is how to use these templates and improve your own design. The creator of a questionnaire can collect important questions for a specific audience and evaluate the results. And it is one of the most powerful and useful tools to reveal what your customers think about your business.
Questionnaires are great for gathering key information from your customers. The tools on forms.app are designed to make it easy for anyone to create and customize their own questionnaires. It allows you to easily create questions, customize the design, and share it with others. The platform provides plenty of free sample to inspire you and help you design your own questionnaire. You can start using the following premium questionnaire templates for free.