As a business, institution, or freelancer, using online forms that help in numerous ways is a big asset. Online forms help save time, resources, and manpower. It also helps find new customers or please the existing loyal ones. And if you are interested in online forms and surveys, you may have heard about Typeform. It is a form-building tool that helps create beautiful forms. But, it could be a pricy for most, and you may want to check out other alternatives. That's why we have gathered 15 free alternatives to Typeform to help you out!
About Typeform
Typeform is an online form builder that allows you to create forms and surveys. It presents a lot of helpful features to design pretty forms. If you have a big budget for a form builder, it's a good solution to create forms. Because in the paid plan, there are many question types and third-party integrations available. There is also a possibility to use it for free with some limited features. If you want to upgrade to a paid plan, you can have it with prices starting from $ 29 per month. And, here is the pricing plan of Typeform:
Basic plan: 29 USD monthly
Plus plan: 59 USD monthly
Business plan: 99 USD monthly

Typeform pricing
Why should you look for an alternative to Typeform?
Typeform is a known platform for creating surveys and forms of different kinds. It has different features and existing templates to go with. But, it is not the only one available on the market. There are equally good alternatives that offer the same features (and more) for a more reasonable price. The main reasons to look for a Typeform alternative are:
The paid plans of Typeform can be expensive for some people.
The basic plan starts from $29 per month.
In the free plan, available features are limited.
In the free plan, there is also a minimal number of forms.
If you want to get rid of Typeform branding, you have to upgrade to the "Premium" plan.
The interface starts to lag when creating long and complex forms, so it is best suited for short and simple forms.
As it is mentioned above, Typeform could be a helpful form creator for some. However, there are some downsides to it as it could be a little expensive for some, and it is limited to the free version. You should mind all the details when you choose your form builder, as its features and availability will determine the end result. Now, let us look at some alternatives:
15 Typeform alternatives to watch out for in 2023
A good platform for creating forms and surveys is crucial because of what they offer and how they help you. If you use something too expensive, too complex, or too limited, it will affect your business and online forms. There are different form builders in the market, and it is up to you to choose the one you want. And, you can only decide on the best one for you by looking at the features and details. That is why we have gathered 15 Typeform free alternatives. Let's start with the first one:
1 - forms.app
forms.app is a Typeform alternative that is free and lets you create both eye-catching and functional online forms, surveys, and quizzes. On forms.app, you can use one of the ready-to-to form templates, customize your form according to your wishes, and start collecting responses!
Its free plan is very usable and allows its users all of the available futures. Its basic plan starts at $19.
Pros:
It is simple and fast
It offers many advanced customization features such as calculator, conditions, and product basket
Up to 1 TB storage unit
No commissions when accepting payments
Mobile-friendly
You can manage who can access your forms with privacy settings
You can also receive payment and collect lawful signatures via forms
There are more than +400 online templates
With geolocation restrictions, you can share your forms with people in a specific region
Cons:
Limited payment options
200 product limit
Lİmited responses in the free plan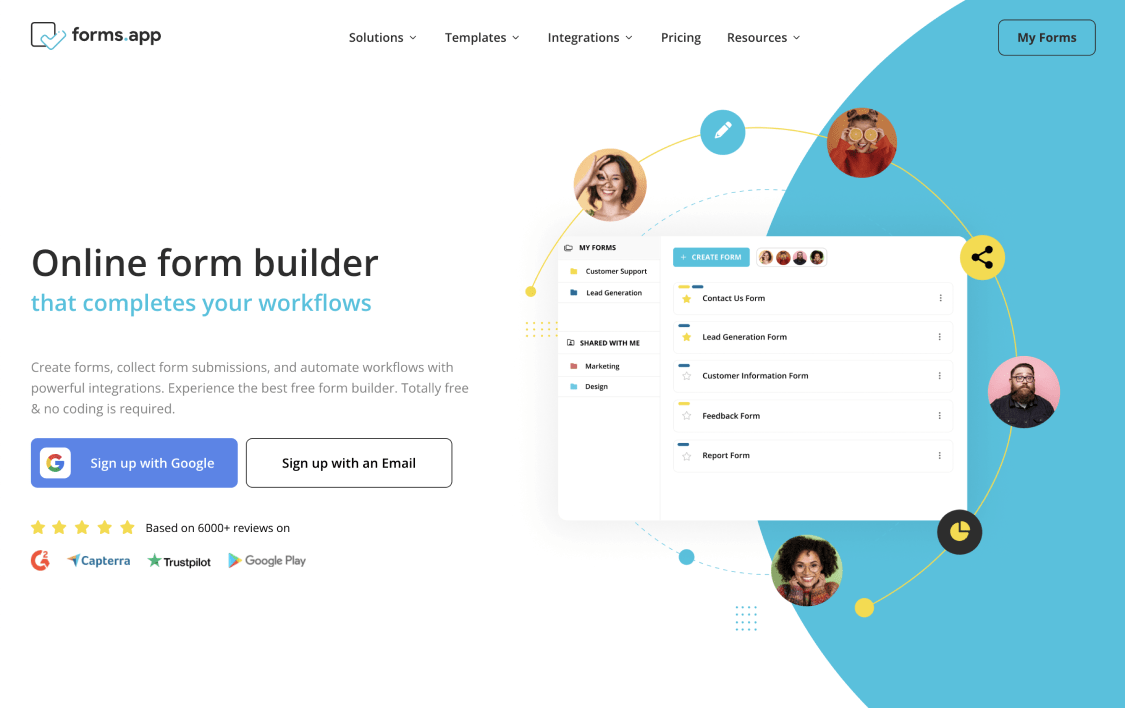 2 - Paperform
Paperform is quite helpful in terms of making forms. You do not need to know to code to navigate your way through it. It is a rather small one, so there aren't a lot of features. The initial membership fee starts at $24 per month.
Pros:
You can collect payments
Ability to create an unlimited number of forms without any restrictions
With the e-signature field, you can collect signatures without trouble
With analytics, you can analyze your forms and their results
Cons:
There is a free trial period. However, there is no free plan option
It is web-based, but there is no desktop version or phone support
Lacks some features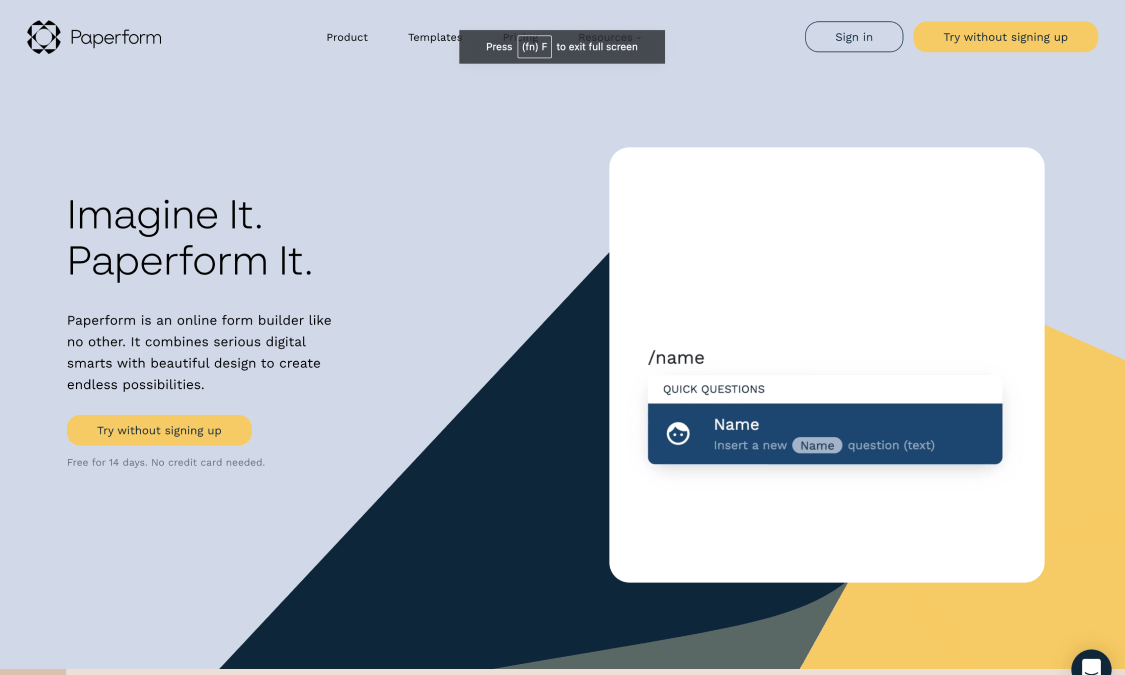 3 - Woorise
Woorise is both a form builder tool and also an all-in-one lead generation and marketing platform. It allows you to create a wide range of interactive campaigns. The basic plan of Woorise starts at $29 monthly.
Pros:
40+ field types and thousands of social actions
100+ interactive templates
Ability to use conditional logic
Integrations with popular marketing platforms such as Hubspot, Google Analytics, Zapier, PayPal, Stripe, etc
Cons:
In the free plan, many features are off-limits
Users may find integrations with Facebook a bit slow
It could be too simple for experienced marketers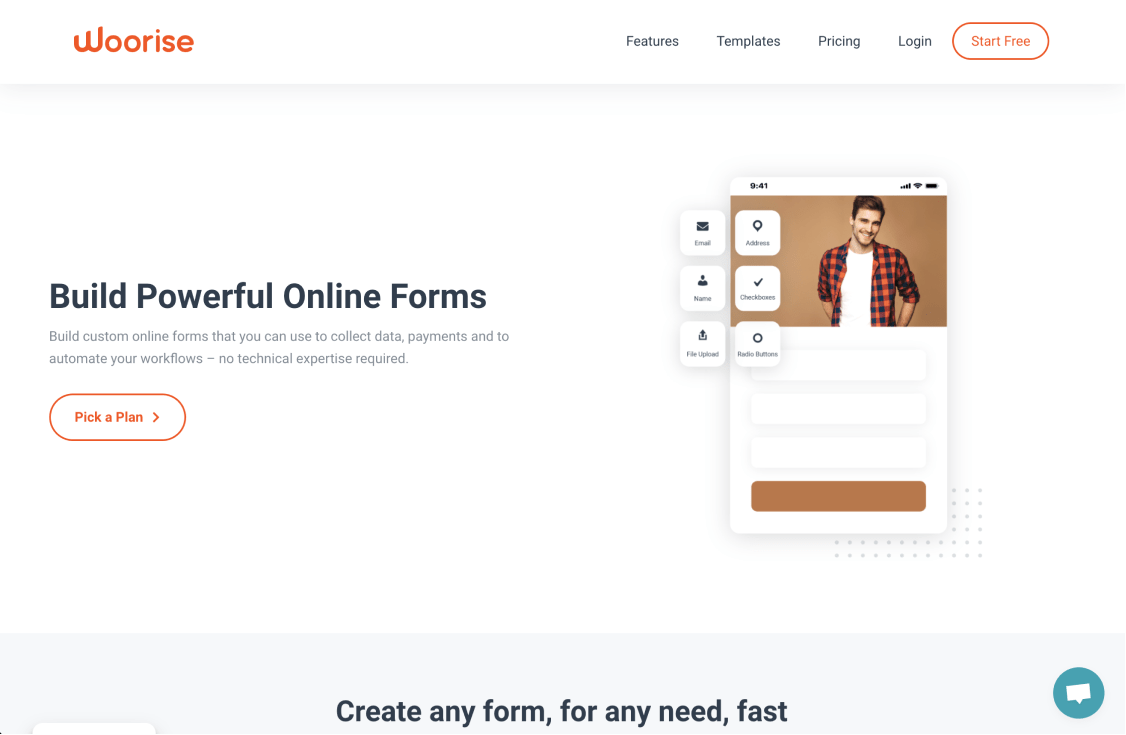 4 - 123FormBuilder
123 Form Builder is a good option for creating both simple and complex online forms. Its drag-and-drop interface is very helpful in building forms quickly. Moreover, you can quickly create forms, surveys, and polls without knowing any code. Paid plans start at $24.99 per month.
Pros:
There are more than 1900 templates, so it offers users a lot of options
You can set to receive notifications via email
There are many integration options available with various third-party applications
Conditional logic on forms helps with going into necessary details
The ability to create multi-language forms
Cons:
The free plan is very limited
There is no proper guide to better understand and use all the features
There are not many design options
It is more suitable for advanced users

5 - Cognito Forms
Cognito Forms is a great website for creating simple but effective forms. You can customize your forms with various design options. There are multiple smart features, such as conditions and payment integrations. Cognito Forms' paid plans start with $15 monthly and go up to $99.
Pros:
The drag-and-drop option
Conditional logic is available for usage
You can accept online payments
You can easily embed and share your form
HIPAA, GDPR, and CCPA compliance
Cons:
Analytics and reports are insufficient
In the free plan, storage capacity is quite limited
It has over 150 templates, and the choices are a bit narrow compared to others
The interface can be difficult to understand

6 - Google Forms
Google Forms can be the first form builder option that comes to mind. Although the customizing options are very limited, it is free and accessible to all with a google account. Even though there are not many templates, some basic templates can be found.
Pros:
It is completely free
Basic conditional logic can be used
Integrations with various applications are available
It's accessible to everyone with a device
It's pretty easy to add images to the form
You can customize the font and colors
Cons:
There is only a limited number of templates
Limited design capabilities leave no room for creativity
It only has 17 templates
There are not many theme and background options
There are no features for payment collection and collecting e-signature

7 - Microsoft Forms
Creating online forms with Microsoft Forms is very easy. Furthermore, Microsoft forms is a completely free form builder.
Pros:
Ability to integrate with applications such as Excel, PowerPoint, and Word
Creating a form is quite effortless
Multilingual support
Ability to gather form entries and view data in Excel
Compatible on any device
Cons:
Only 3 templates are available
You can't upload documents to your form
No advanced design features
No calculation function
There are no options for text customization

8 - Formstack
Formstack allows its users to create effective forms without the need for coding. It is very easy to navigate. And the cheapest Formstack membership plan starts at $59 per month.
Pros:
You can store private information in your forms
You can use conditional logic to go into detail
With E-signatures, it is possible to create legally binding and secure forms
With its mobile apps, you can collect data and create forms any time you want
Cons:
There is no free plan option
There is only a 14-day free trial plan with limited features for new users only
Fewer ready-made templates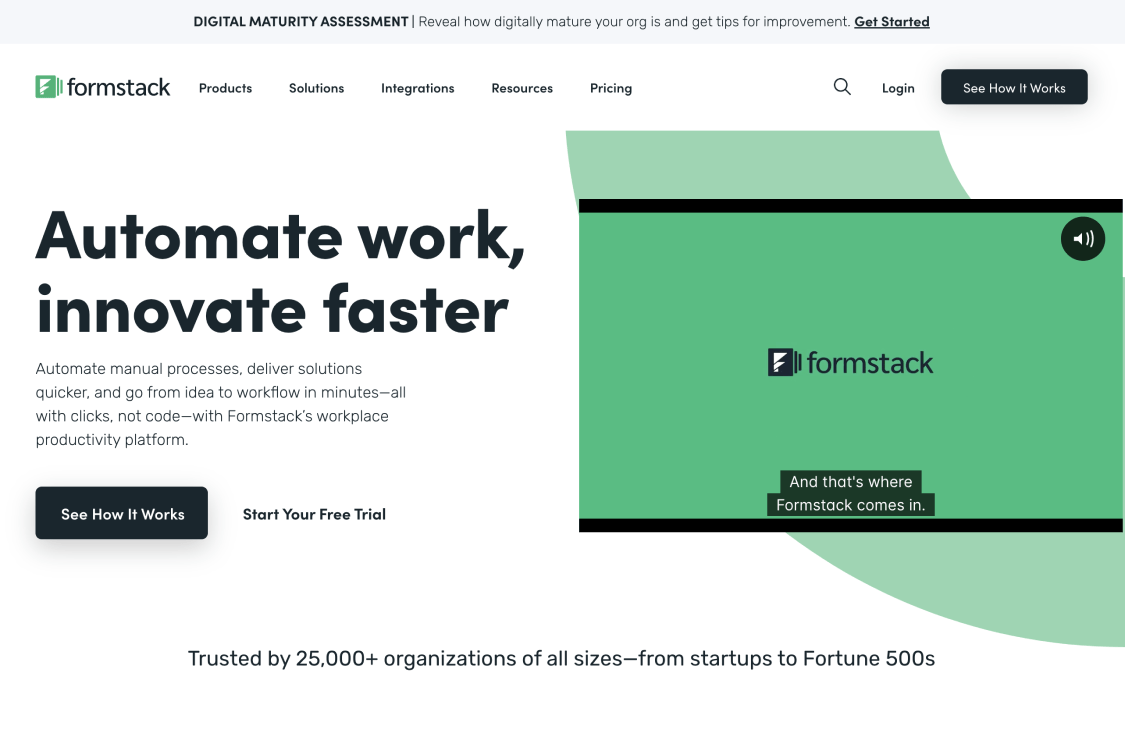 9 - Jotform
Jotform is an online form builder that is best for responsive forms. The free plan of Jotform allows its users to create up to 5 forms, collect 100 submissions, and have storage space of 100 MB. If you wish for more storage space, form submissions, and no Jotform branding, you should think about upgrading. And paid plans start at $34 a month.
Pros:
More than 10.000 templates
Each field is customizable
Report Builder for analyzing form response data
Safe payment gateways to accept credit payments
Smart features such as calculation, conditional logic, skipping or hiding a page
Ability to work offline
Cons:
The free version is quite limited
The user interface can be complicated for some
Form scripts can slow your website sometimes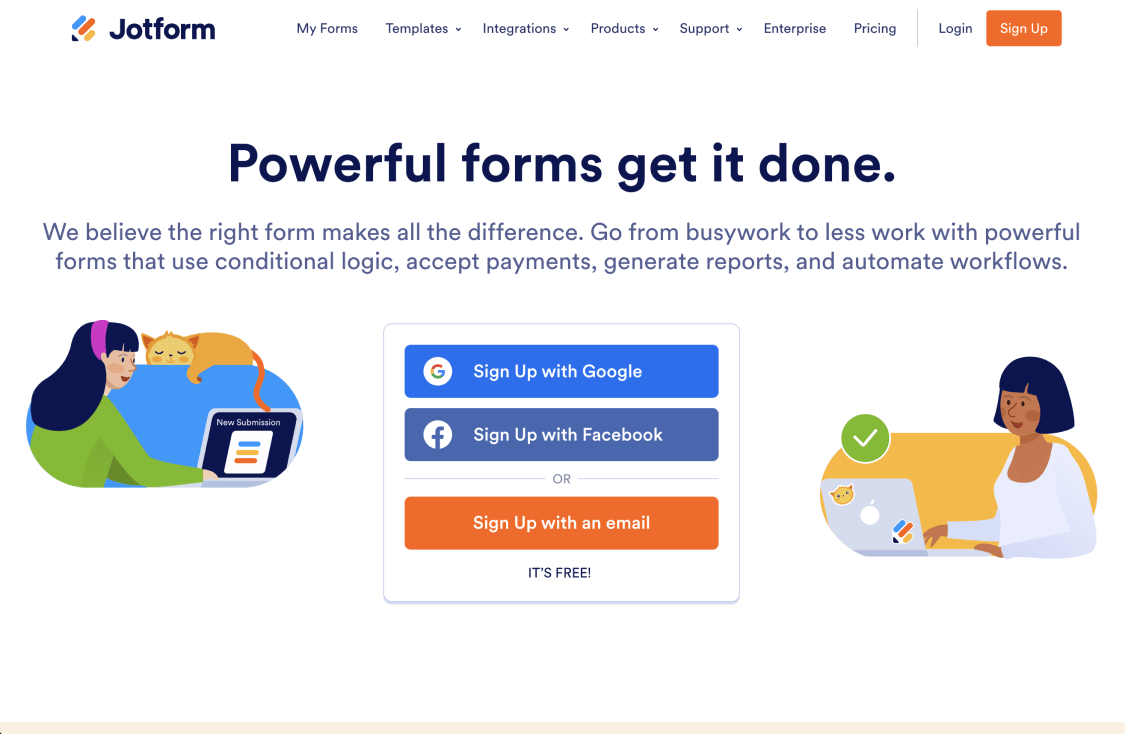 10 - Wufoo
Wufoo is a cloud-based form builder that has a multitude of uses and is easy to use for anyone without any technical knowledge. Its pricing starts at $15 per month.
Pros:
Wufoo has the drag-and-drop feature for questions
You can customize the branding on the form
Tons of integrated payment providers to accept payments
Form respondents can upload files in any format
Real-time notifications to get notified as soon as a new person fills up a form
Cons:
Technical support can only be reached via email communication
The design customization is limited
Limited functionality at the free level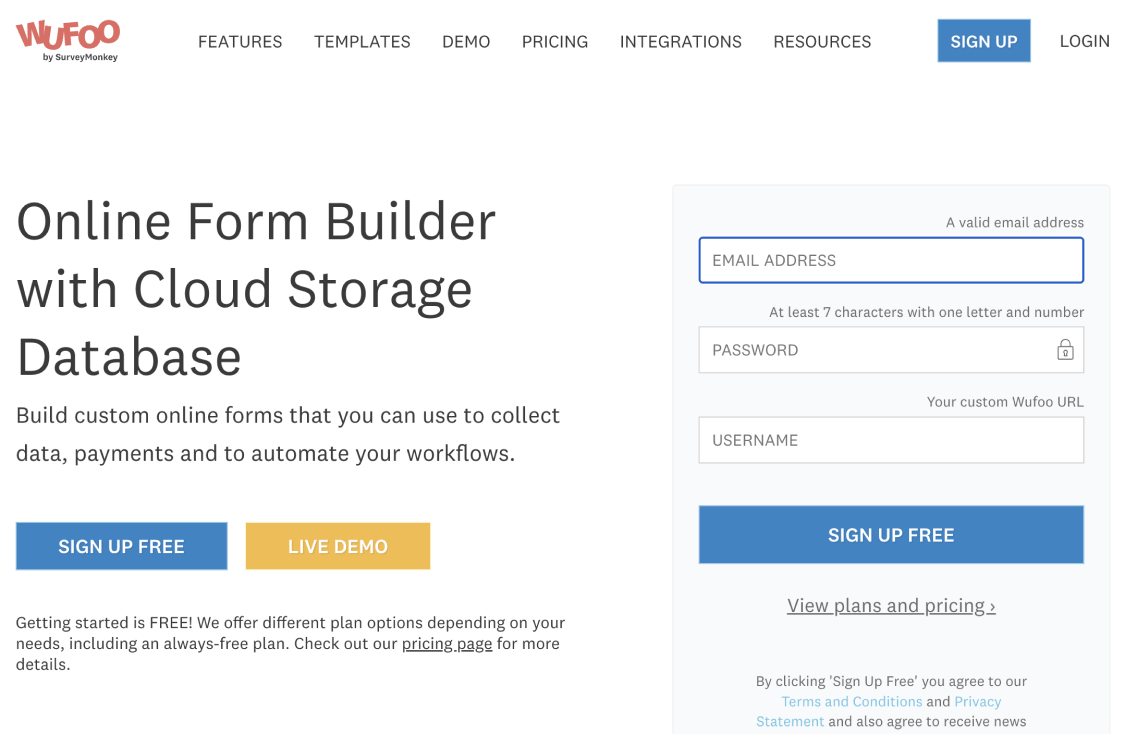 11 - Gravity Forms
Gravity Forms is an online form creator for WordPress that you can build online forms specifically for your WordPress website. It is also possible to collect payments, integrate with third-party applications, etc. Its paid plans start from $59 monthly and go as high as $249. It's one of the most expensive form builders that you can use.
Pros:
Easy-to-use
Drag and drop form builder
Basic or advanced form fields
Integration with Zapier and HubSpot
Cons:
One of the most expensive form builders
There are not many design options
There is no free plan

12 - Moosend
It is a great tool to increase your lead generation and grow your email list. Moosend's forms are easy to create thanks to the drag-and-drop builder. It also has a good form template library. It starts at $9 a month.
Pros:
More than 100 integrations
Real-time notifications
Anti-bot protection
Custom fonts
Drag-and-drop builder
Cons:
There is no free plan option, only a trial period
No font customization
The landing page builder interface is not very user-friendly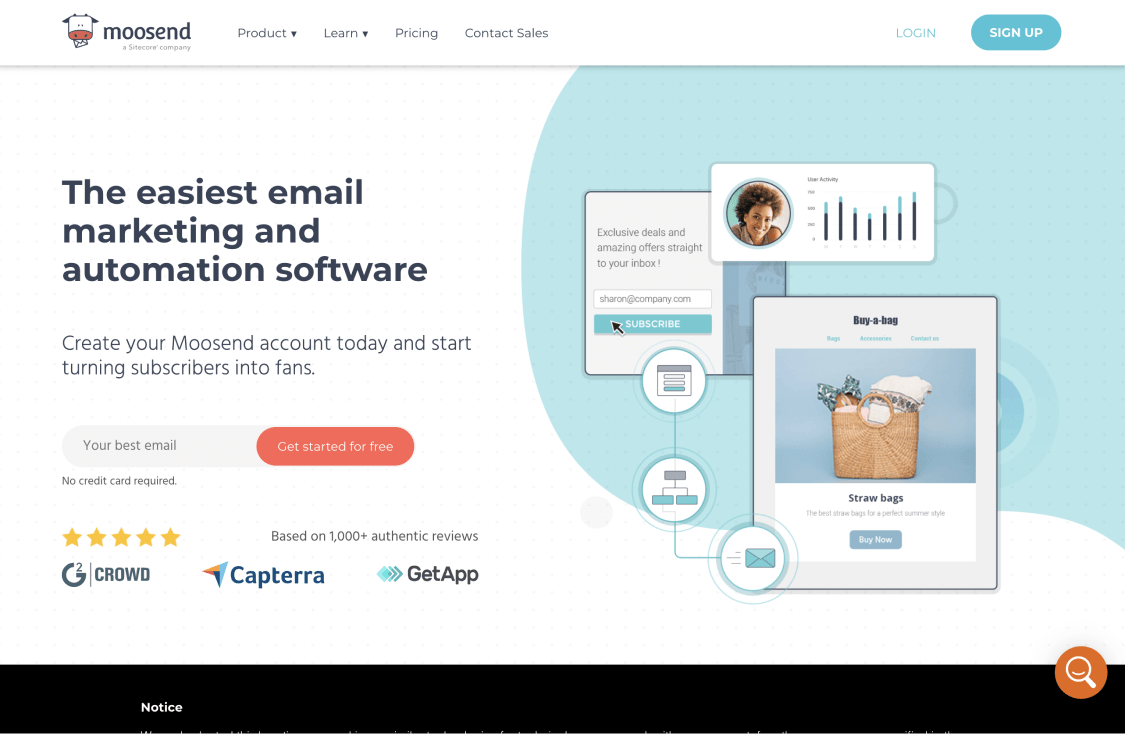 13 - Pabbly Form Builder
This form builder enables you to create, customize, and personalize each form you build. It also offers unlimited form submissions, payment collection tools, file uploads, storage space, multi-page forms, and conditional logic features. The pricing plan at $15 per month per form.
Pros:
Easy interface
Multiple integration possibilities
It can be embedded on any site
Cons:
Some customers may find customer support unhelpful

14 - MightyForms
With MightyForms, users can build online forms without knowing how to code. The starter paid membership plan starts at $19 per month.
Pros:
You can integrate your form with Google Analytics and get the results
There are many free form templates
You can receive payments via stripe
You can customize your forms according to your taste
Cons:
It does not let you convert forms to PDF
Conditional logic is not practical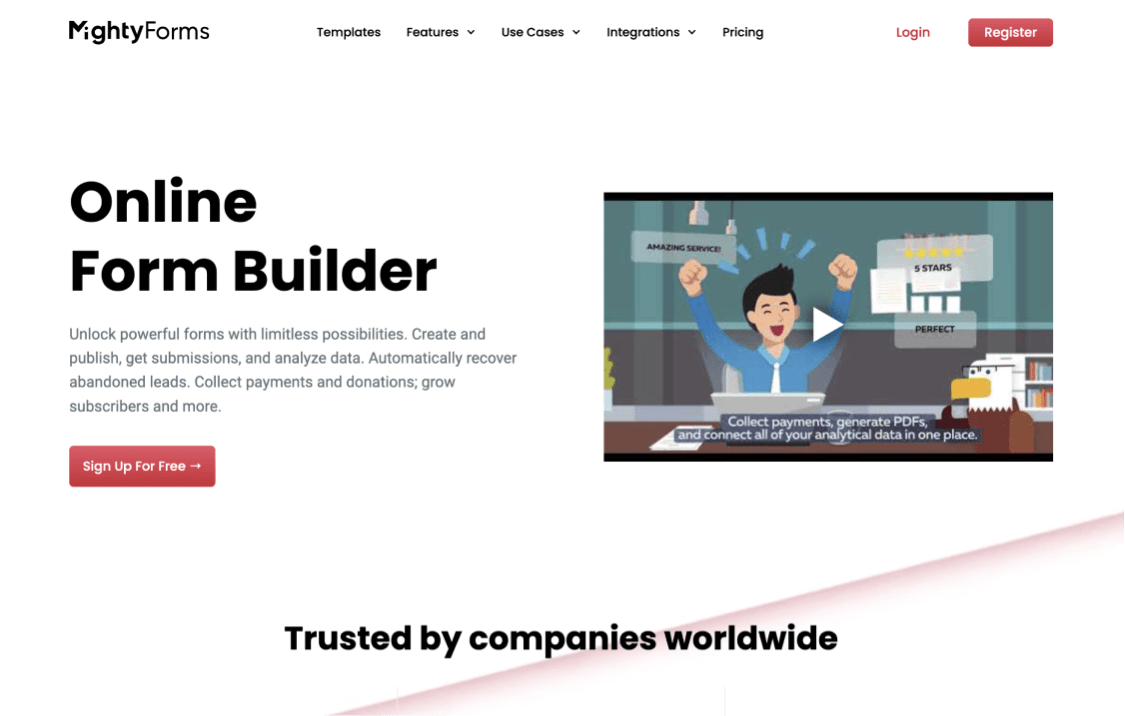 15 - Formsite
It is one of the most secure form builders for collecting data because of its ability to encrypt form submissions. There is also a wide range of data visualization options, such as graphs, tables, and custom reports. The cheapest plan starts at $21 monthly.
Pros:
Drag-and-drop form building feature
More than 100 customizable templates
Real-time email notifications
40 question types
Safe form sharing ability
Cons:
A big learning curve for those who are new to form building
The price could be high for start-up companies
The cost jumps between pricing plans are too much for some people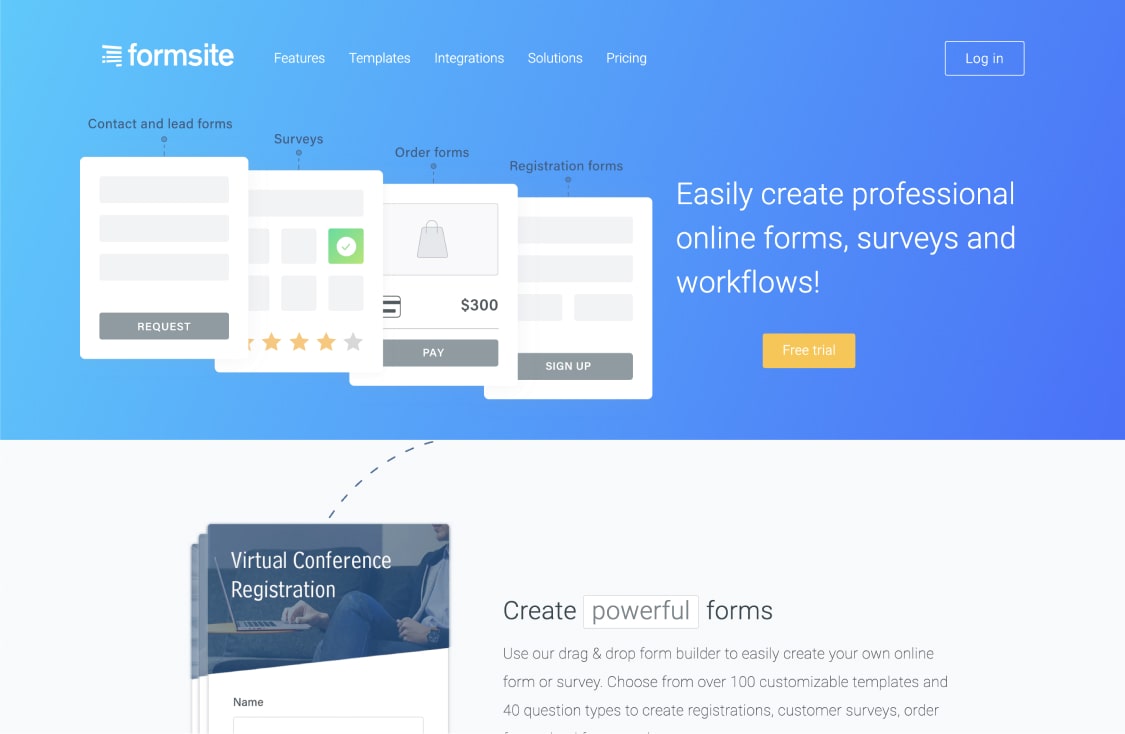 There are many helpful form builders that offer different features and possibilities. Some of them target bigger companies and some target new start-ups. And as a potential user, you should know the details before trying them out. That's why we have gathered the 15 best Typeform alternatives to use in 2023 just for you. (If you want to look for more alternatives, you can also read list of form builder tools, and Jotform alternatives.)
And after looking at the alternatives gathered above, it can be seen that the best alternative is forms.app. It has the most reasonable price range for the most effective features and opportunities. It allows its users with multiple options for customization, integrations, and much more. Therefore, it is definitely worth checking out today!