Kahoot! is a popular interactive quiz online that many people have heard of. If asked in a group of people it is likely that at least some of them know about Kahoot! as it took the internet by storm. The platform allows its users to make quizzes and create a fun environment for everyone taking part in it.
Whether it is used for a classroom activity or when friends like to have fun it is a great pass time. Everybody likes the colors and the fun they provide. However, there are good alternative apps for making a quiz like Kahoot! in the market. A decent amount of these alternatives are free and they provide different features for people to use to have fun.
And, if you want to know if there are any good alternatives to Kahoot!, then you are in the right place. Here are 5 different best-quizzing sites that are alternatives to Kahoot!, their features, and prices!
What is Kahoot!
Kahoot! is a game-based interactive quiz maker that is fun for everyone involved. For example, in a classroom, students and teachers can have an entertaining activity that enhances learning.
Kahoot! allows you to create fun quizzes and players do not even have to register for an account. Anyone with any device can participate in this fun quiz in real-time. In hundreds of different settings, from classrooms to business meetings to sporting events people can create a quiz to share with friends. Now, here are 7 different alternatives for Kahoot!.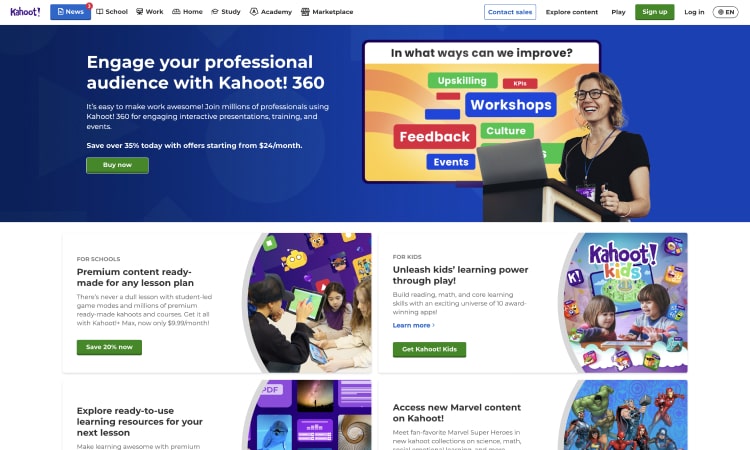 Kahoot!
Kahoot! alternatives:
Using Kahoot! to have fun quizzes is very entertaining in friend groups, family gatherings, or students. And, there are equally good (maybe even better) interactive quizzes makers to choose from. They provide you with different features and price plans. Here are the best sites for quizzes we gathered for you. Enjoy!
1 - forms.app
forms.app is a successful quiz maker tool that helps in many aspects and offering quiz types to choose from is one of them. forms.app is one of the best quiz websites out there. It has an easy-to-navigate interface and helpful templates to choose from. You can check out the article about how to create an online quiz on forms.app's blog to know more about how to create your quizzes easily and effortlessly. Moreover, it follows a freemium plan.
Pros of forms.app :
forms.app offers a variety of features to make use of. For example, thanks to the calculator you can assign points to questions and you can see or show the end result without effort.
You can easily display welcome and thank you pages for your quiz takers.
Unlike Kahoot's free version that allows two question types, with forms.app, you can have different types of questions on your quiz. You can have multiple-choice, true or false, multiple answers, typed answers, etc.
Cons of forms.app:
In the free plan, there is a limited number of responses you can get.
However, this issue can be easily solved by using a paid plan of choice.
Price:
As there is a free forever plan, there are also different options for premium plans. The prices of these plans start from 12 USD / month on a yearly plan and offer great features for their prices. For more information, see the pricing page.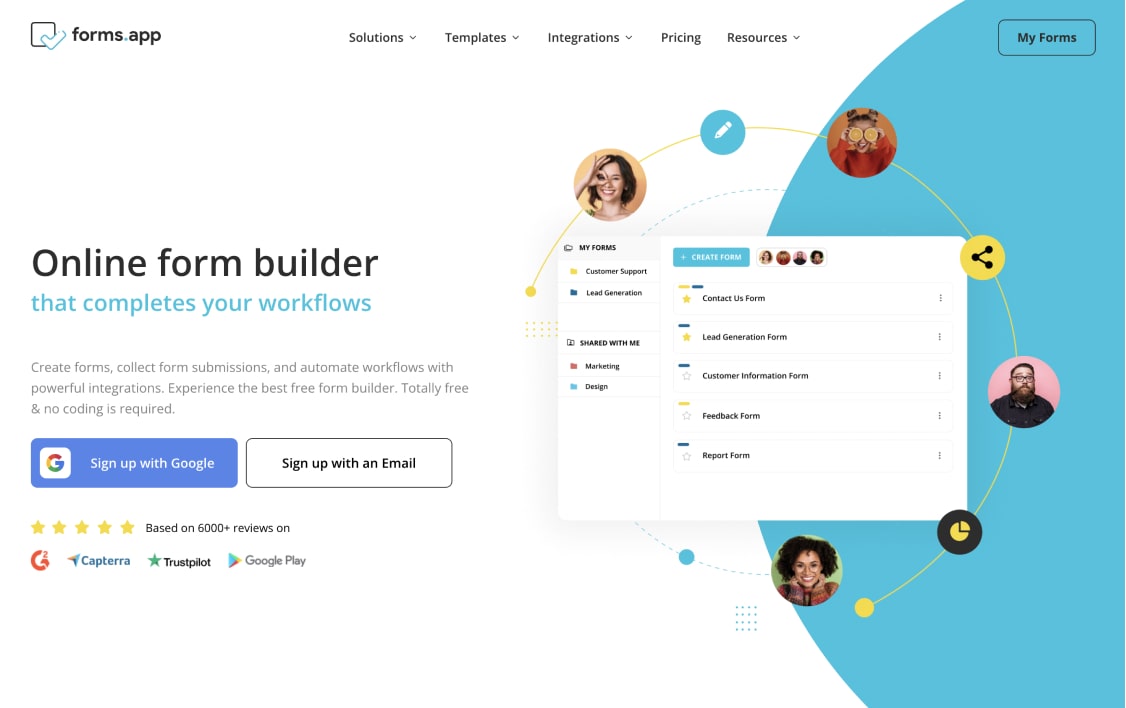 forms.app
2 - AhaSlides
AhaSlides is a presentation, education, and training tool. It's a simple and very much free alternative to Kahoot!. It's a slide-based website and is super easy to go through. You can build a presentation from the 17 available slide types. AhaSlides provides different question types to choose from and it is flexible for your preferences.
Pros of AhaSlides:
AhaSlides allows you to use pretty much all of its features in free plan mode. The main limitation is a problem when you have more than 7 participants. Because then you will have to upgrade. Still, that's not too much problem as it is cheap.
Moreover, AhaSlides has options for one-time plans and monthly plans and can be canceled at any time.
Cons of AhaSlides:
You can change the background, font, and text color but the options for placing your text and images exactly where you want on a slide are limited.
In addition to that, there's no mode to test a presentation beforehand. You'll want to test them before you share quizzes. On AhaSlides you will have to join your own presentation on another device.
Price:
The plans AhaSlides provide range from monthly 15 USD to 50 USD with different features.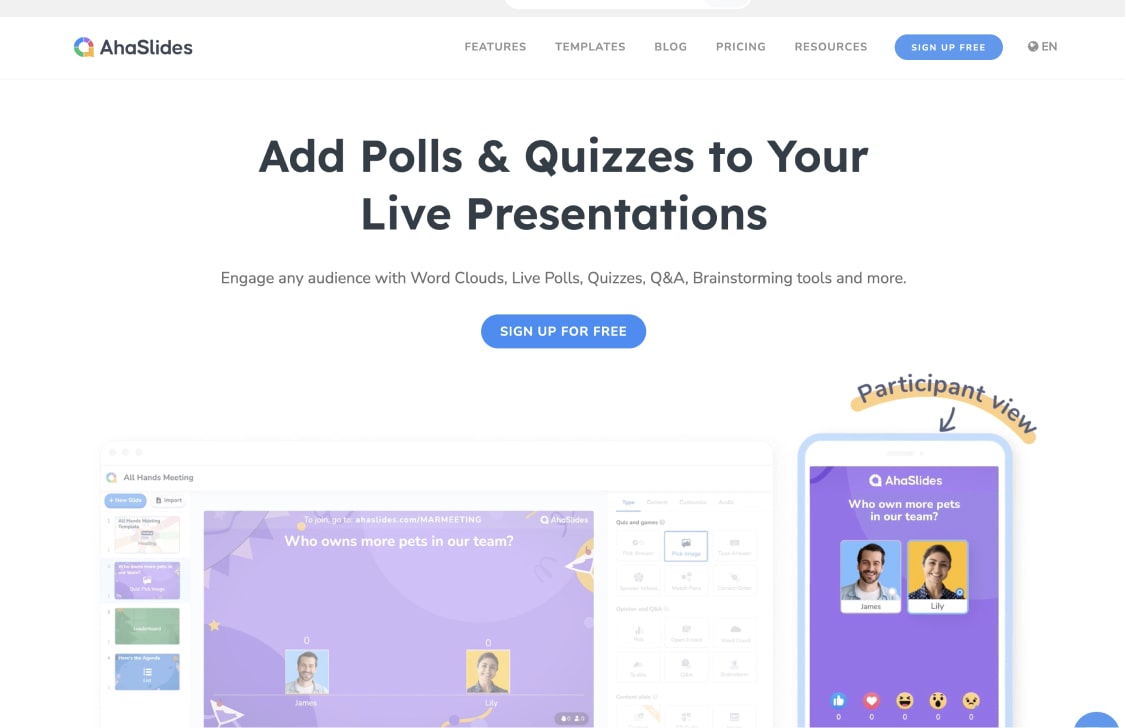 AhaSlides
3 - Quizizz
Quizizz is a great application for quizzes that helps learning and education. And it allows you to create lessons along with quizzes. It's an excellent free Kahoot! alternative for anyone looking to make learning more fun for students of any age. You can easily start generating multiple-choice, fill-in-the-blank questions, polls, checkboxes, and other varying types of questions.
Quizizz allows you to show live leaderboard results from your screen. Aside from this, if you want to have more quizzes on various subjects, the platform has a community of quizzes created by other people. The website boasts over 1 million pre-made quizzes in every field imaginable. By clicking a few buttons, you can download one, edit it, host it live for friends or assign it for a class at school.
Pros of Quizizz:
Quizizz allows you to use another users' quiz as your own, and you can even 'teleport' specific questions from others' quizzes into yours. These shortcuts can help you create a quiz in no time.
Navigation is effortless and the illustrations and color of the whole dashboard are very professional.
Cons of Quizizz:
There are fewer question types than expected. It would be nice to have a few more question types beyond the multiple-choice, multiple answers, and type answer questions.
Additionally, support is limited to email, Twitter, and support tickets. So, it could be a little frustrating to reach out to their support team during a problem.
Price:
The price to upgrade to a 'super' plan is 3 USD a month.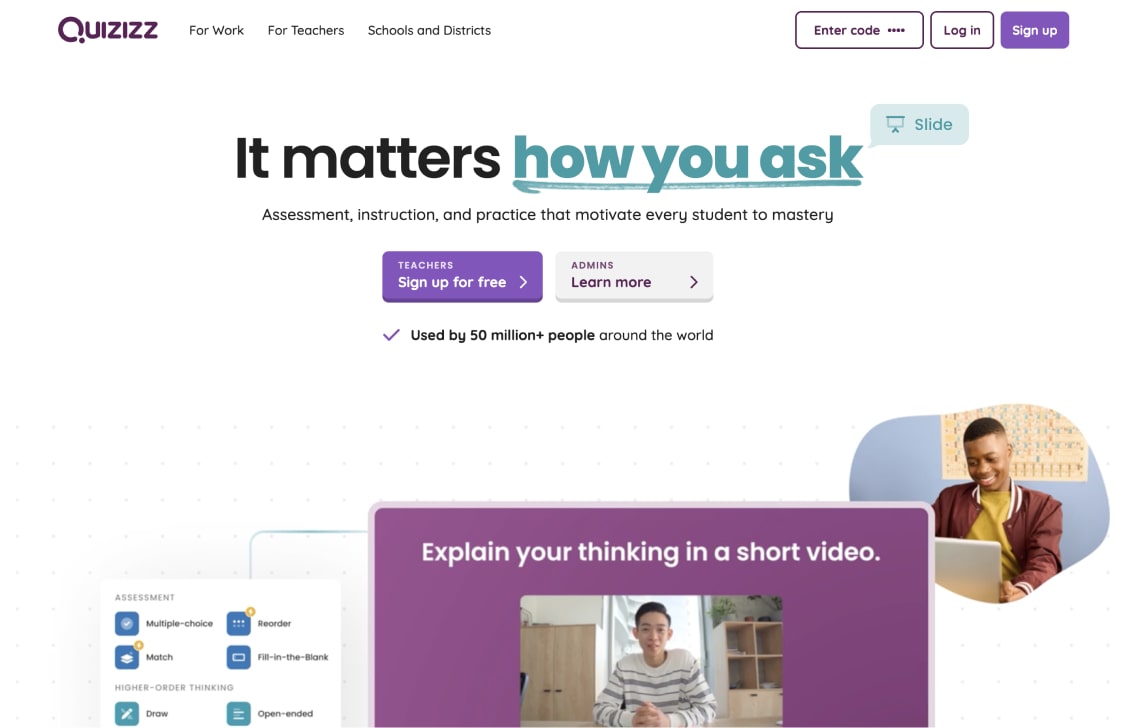 Quizizz
4 - Mentimeter
Mentimeter is an application for quiz. It is an asset as pre-meeting surveys or icebreakers to kickstart a meeting. Mentimeter helps in a wide variety of situations and is not limited to just being an education tool.
By using Mentimeter, you can just as easily create fun classroom quizzes (just like Kahoot!). They are perfect for both the classroom and the meeting room. In addition, alongside quizzes, users can also create Word Clouds, live polls, surveys, and are not limited to just one interactive feature.
Pros of Mentimeter:
Mentimeter offers various question types such as word clouds, scales, and grids.
The free plan allows unlimited quizzes and audiences.
Cons of Mentimeter:
Customizing is limited compared to other alternatives.
And, metrimeter is mostly slide oriented so if you do not want to make it a presentation this is not the most suitable.
Price:
In addition to the free plan, the basic plan starts at 12 USD monthly, and goes up to custom prices for enterprises.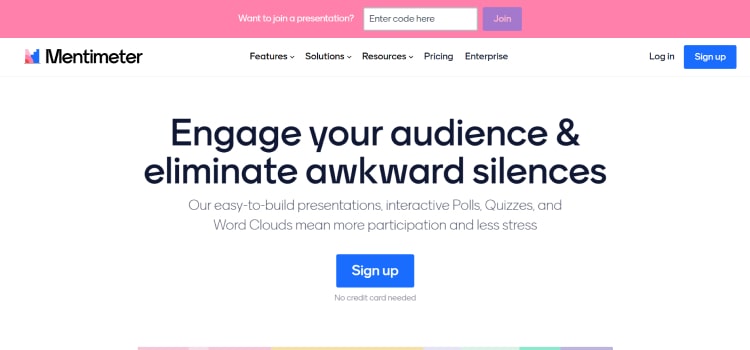 Mentimeter
5 - Canvas LMS
Canvas is one of the best all-in-one education systems out there and is used by teachers everywhere to plan and deliver interactive lessons. Canvas allows teachers to structure entire subject modules by breaking them down into units, then into individual lessons. For both the structuring and analyzing phase, a good number of tools, including scheduling, quizzing, speed grading, and live chat give teachers what they require.
Pros of Canvas:
The amount of features that Canvas offers its users is quite varied. Even the free plan lets you create entire courses. However, the options for in-class teaching are limited.
Cons of Canvas:
The design of the website and everything Canvas has to offer can be a little overwhelming. Tech-savvy educators may love it, but teachers looking for something simple to incorporate into their classes may want to look at other alternatives.
There's no way to know for sure how much Canvas is going to cost you. You have to contact their service for a quote. And you can only get a price through the sales department.
Price:
The price changes depending on the level, institute, country one works at.

Canvas LMS
Conclusion: The Best Alternative To Kahoot!
When we take all of the above into consideration, it is concluded that the best alternative to Kahoot! is forms.app! forms.app is cheaper, easier, more customizable, and overall more convenient to use.
forms.app offers a good variety of templates for surveys, quizzes, and forms. One of the best quiz templates you can use are:
As a teacher who wants to help their students, or an individual who wants to create quizzes, adding quiz questions and reviewing answers is easier than ever with forms.app. You can create online tests in general knowledge or any specific subject. If you want to know more about creating quizzes, do not forget to check out our article on how to create engaging quizzes, and create beautiful quiz forms for your audience!