Generating leads and turning them into paying customers is vital for making the wheels turn. The more leads you generate for your business, the more likely you will have lots of paying customers, which will eventually lead to improving your business through selling more products or services.
There are many types of leads and many other ways to generate them. The most common way to generate leads is -without a doubt- doing it through landing pages with forms. Driving people to your landing page, on the other hand, is a different topic. Social media, search engine marketing, Google Ads, blog articles, and so on. In this article, we will learn what is a lead exactly, their types, and how to generate sales leads for your business.
What is a lead?
Lead is any person or company that shows interest in your product or service in any way, such as filling out an information form, opening a free trial in your product, or signing up for using a free account. Simply, lead is equal to a potential customer.
Let's assume you have a SaaS product that lets people open a free account. As soon as someone creates an account, that person becomes a lead as well as being a user. At this point, you can contact that person to learn more about their needs and offer the right solution to them.
What are the main lead types?
There are various types of leads and certain stages that you need to pass while turning them into being a customer. We will take a detailed look at sales lead generation process later on. Now, let's get to know what kind of leads we can have.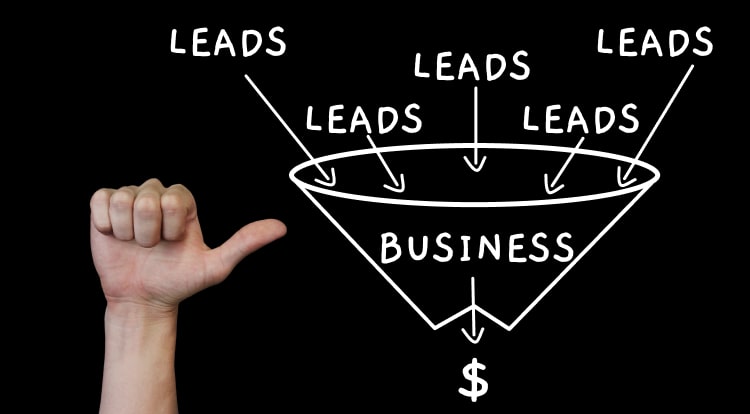 1-) Information qualified lead (IQL)
When you capture a lead, this often happens by them giving contact information and demanding particular materials such as help articles, whitepapers, or simply asking for a product demo. At this stage, the buyer is usually defined as an Information qualified lead (IQL).
An information qualified lead is open to communicating and is asking for more information about your products or services. It's a low possibility to turn information qualified leads into customers but, why not? You should contact, educate, and try your best to make them your customers.
2-) Marketing qualified leads (MQL)
Marketing qualified lead is almost the same as an information qualified lead, but there's a slight difference. They are marketing qualified leads because marketing triggered them to become a lead. They came across a Google Ad, attended a webinar, or any type of marketing activity of yours, and then they became marketing qualified leads.
For the next step with marketing qualified leads, you can offer them free consultations, demos, promotional codes and try to turn them into a customer.
3-) Sales ready lead (SRL)
A sales ready lead can be someone asking for your pricing or wanting to speak with a salesperson. At this stage, the lead is ready to make the purchase and wants to proceed with the next step.
Sales ready lead may be confused with sales qualified lead. However, sales ready leads are not necessarily going to buy your product or service; they are somewhat ready for making the sales decision.
4-) Sales qualified leads (SQL)
When a marketing qualified lead gives heads up and says the buying decision has been made, now you have a sales qualified lead in your hand! At this point, you need to tighten your follow-ups, learn about the fundamental pain points and offer your product or services accordingly to close the sale.
What is lead generation?
By its dictionary definition, lead generation is "the action or process of identifying and cultivating potential customers for a business's products or services" or, it's simply the process of finding potential customers.
There are also different types of lead generation, such as B2B sales lead generation or B2C lead generation. While B2B lead generation is all about finding a company or organization that might be interested in your products and services, B2C lead generation is slightly different as it involves interacting directly with the person who will purchase your products or services.
Why do you need lead generation?
Naturally, lead generation lets you find potential customers who would be interested in purchasing your products or services. And in order to find potential customers, you either have to search for leads, find email addresses, and reach them, or you have to attract a specific audience and get their details with an online form.
When you attract potential customers for your sales team to do their job of selling, that's only when you can improve your sales. This is why lead generation is vital when it comes to finding potential customers and selling more.
Sales lead generation process
The sales lead generation process can be summarized with three simple steps. It's basically the lead generation sales funnel that involves both lead generation and lead nurturing.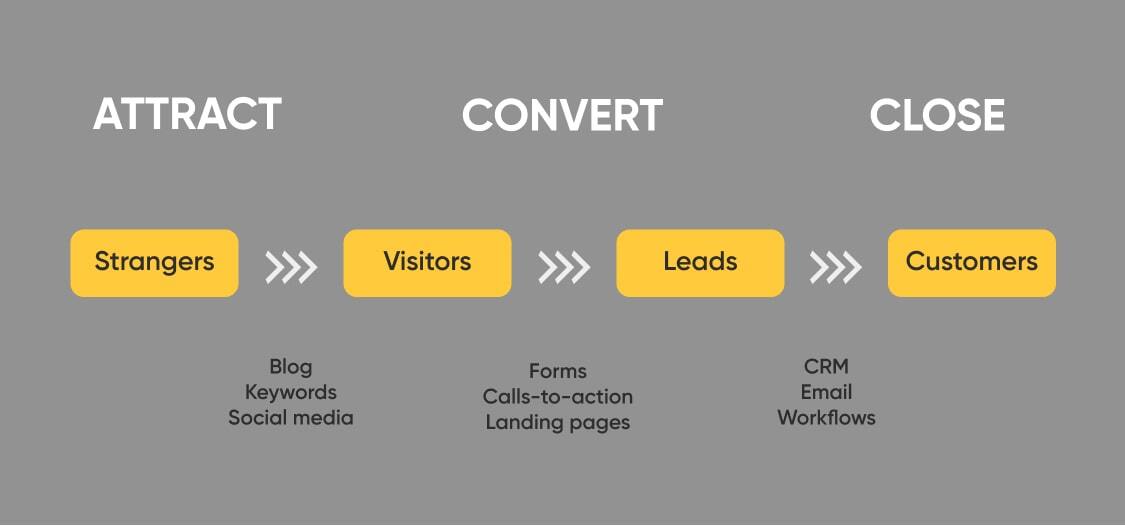 Step #1 - Attract People
First, you should attract the attention of your target audience with your marketing activities such as blogs, social media posts, landing pages, etc.
Step #2 - Covert People
Secondly, you should call these people to action with lead generation web forms, landing pages, and other sorts of means resulting in lead generation/conversion.
Step #3 - Close Deals
Once you have converted people to leads, you should close sales through CRM, emails, or your workflows. At this point, lead nurturing involves big time. How to do it is a totally different question.
How to generate leads
Once you are ready to start generating leads, there are various channels where you can attract people and convert them with the best lead generation forms on a landing page. For example, you can attract people with blogs, eBooks, email marketing activities and drive them to a landing page where you have your lead generation form. This is the most common and effective way to generate leads.
What are lead generation forms?
Lead generation forms are the type of forms that are placed on a landing page in order to capture lead information with some specific form fields. Generation leads through a landing page with a lead generation form is one of the most common lead generation strategies when it comes to auto sales lead generation. So while you need to make the first contact in cold calling, people will tell you about their needs, express their interest in your services or products, or even schedule a call with a sales representative with a lead generation form.
At this stage of lead generation, people tend to need a proper lead generation tool like a form builder and forms.app has all the abilities that you need from a lead generation tool. With a free lead generation form template that forms.app has, you can quickly get started and customize it to the best of your needs.
How to create lead generation forms
It's possible to create a lead generation form using a form builder. With forms.app, you can get started with our lead generation form template and customize your lead generation form design in any way you like.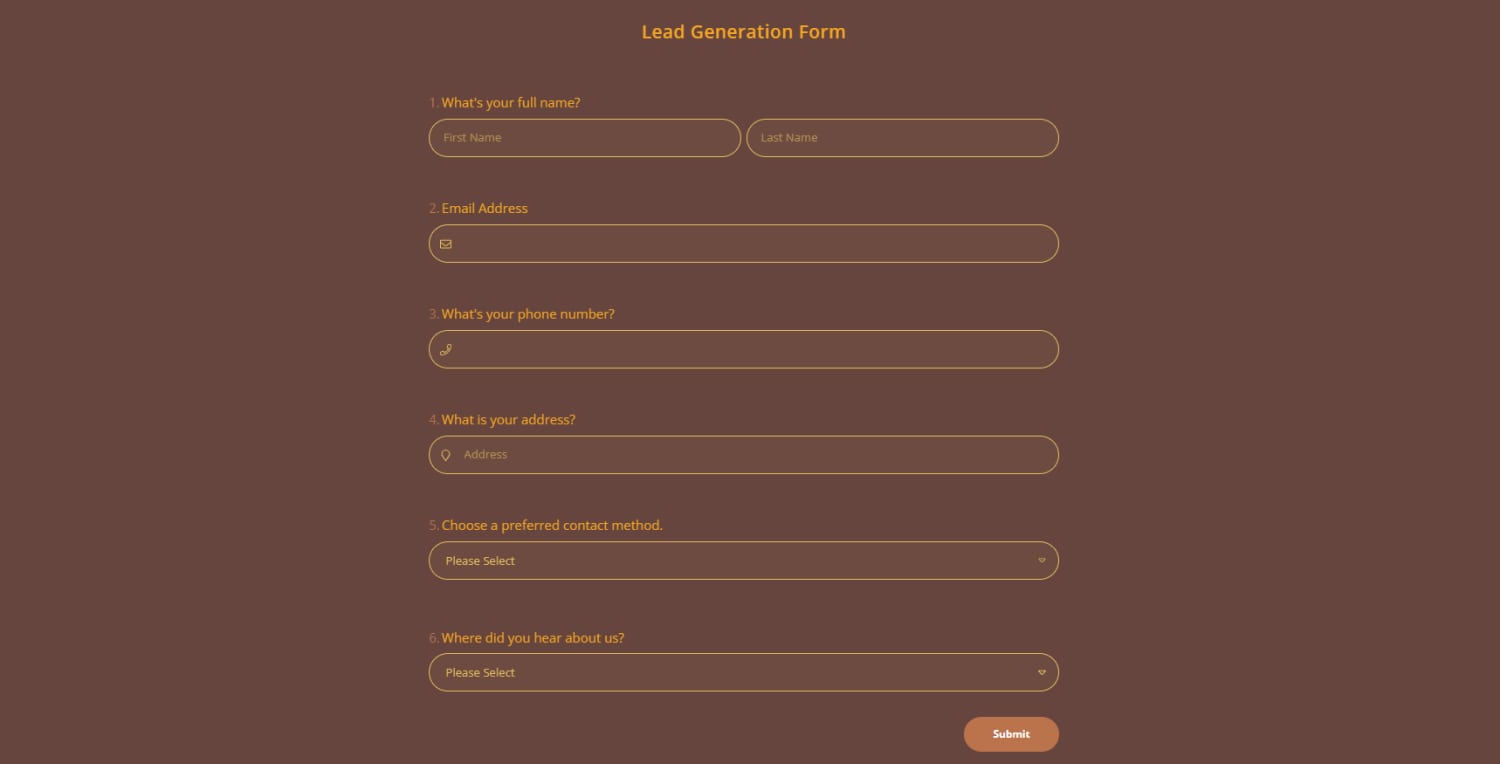 How to embed your lead generation form onto your landing page
You can embed the lead generation forms that you created on forms.app onto your landing page with the iframe code you will get on the "Share" section. As well as the iFrame embed option, there is a WordPress shortcode option for WordPress lead generation forms!
Similar to the other WordPress lead generation plugins, forms.app also has a WordPress form builder plugin that you can use to create forms for your WordPress website.
Complete your lead generation funnel
At the end of the day, lead generation is a complex but vital process for a business to stay alive and lead generation through forms is a perfect method to generate leads for your business. With forms.app, you can create converting lead generation forms and place them anywhere on your landing pages. Click here to sign up and get started right away!