When you have lots of people signing up for your newsletter, you get to enjoy the benefits of having many leads. Keeping in touch with people who initially liked what they saw might turn newcomers into long-term customers. But how do you expand your email list? By using email sign-up forms!
What is an email sign-up form?
If you know how to generate leads, you know how effective they are. Better marketing will drastically enhance your business or organization. Emails are one of the most common ways that businesses and organizations use for marketing. When you have a large pool of email addresses along with information on their owners, you can be effective with your marketing. Informing potential customers about products or services as well as deals that they might be interested in will yield greater results.
Perhaps, you aren't satisfied with your email list and you want to expand it. An email sign-up form is a great way to reach your goals. With online sign-up forms and registration forms that people can easily engage with, you can get emails from those who are interested in what they have seen. Over time, you can develop trust and leads that will turn into profit. In short, you might turn your website traffic into money.

How to create an email sign-up form with forms.app?
The best way to create forms is through an online form builder. These free form creators can make the process much easier, and since they are designed professionally, make your forms look professional as well.
It's quite easy to create a modern sign-up form with forms.app. With easy-to-use features that require no programming knowledge and many different opportunities it provides you regarding the management of submissions, it's hard to pass on. Since forms.app is built with user convenience in mind, you can easily learn how to create an online email sign-up form.
1 - Start with adding form fields
The first step is to add input fields for people to fill. Ask for email addresses, names, and other useful information.
2 - Design your form to look good
Looks do matter. A good-looking form will likely get more people to engage with it. So, with the help of forms.app's features under the "Design" tab, customize how your form looks!
3 - Make adjustments
When you're pleased with the form, make adjustments to it. See if you can find something useful under "Settings", and check out field tweaks.
4 - Share the form, or embed it
After everything is done, it's time to make the form meet people. Either share it with people by giving a link or better yet, embed it onto your website for easier access!
Do not forget to check out many of our sign-up form templates to see if anything works for you. Templates can be edited, so using one can make the process quicker. All the templates we provide are completely free! You can use an HTML sign-up form template whenever you'd like!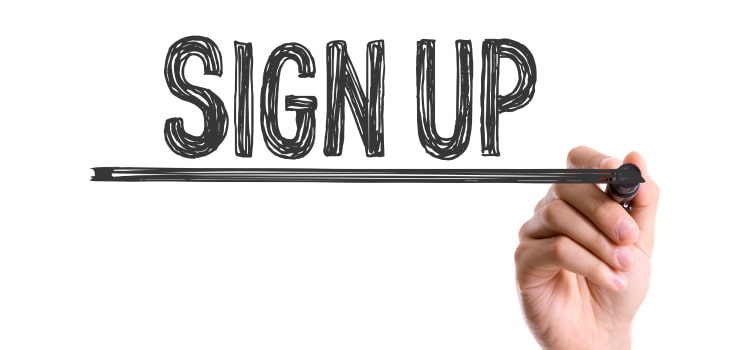 Tips to create a successful email sign-up form
When making a sign-up form, there are several things you need to keep in mind. Both general form-making best practices and features specific to forms.app will help your form be more successful.
Don't ask for too much information: When it comes to forms that you want people to submit, often, less is more. Too much might make people not finish the form.
Offer something: Perhaps a discount or a giveaway for people signing up for the first time through the form.
Check notification settings: On the "Settings" tab, you can decide to send an email to those who submitted a form. You can use it to send a confirmation or a welcome email.
Make use of conditional logic: forms.app's conditional logic feature might help you manage your form elements better. There's a separate tab for it, although you can mess with it during the editing.
Welcome and thank you pages: Another feature of forms.app, you can add these pages before and after the form to use as you like.
Ask for consent: If you intend on using the information given by people, be sure to ask for consent or let them know of your intentions.
Embed the form onto your website: Having the form ready to be filled on your web page is much easier than linking it. People also are more willing to submit the form if it's readily available.
Great online free sign-up forms and templates
It's quite easy to create a form with forms.app as established before. However, we have many templates suitable for many situations, and they are completely free. Even if you find all of them inconvenient for you, you still might get some ideas that you can use as you create your own form.
If you want to improve your business with a web form, you understand the value of leads. Email marketing has a high ROI, and you should be quick to get to it ASAP! Make use of our free online form maker to start building your email list!