Have you ever thought about why companies and influencers make giveaways? There is a benefit behind every gift. You will engage your social media audience more effectively using quizzes for giveaways and contests. Quizzes encourage better user participation. How to create quizzes for contests and giveaways will be explained in detail.
First, let's briefly look at what a giveaway is. The giveaway is a random prize given to any participant. No fee is charged to the participants while organizing the contest or giveaway. Giveaways and contests are more like promotions for the company, as people love to participate in sweepstakes contests and win something. Let's look at how to create quizzes for contests and giveaways, which has many benefits for users.
It is possible to prepare the giveaways contest through some quiz maker applications. It is free, fast, and easy to prepare giveaway templates on forms.app, which will benefit you the most from these applications. It is effortless to choose one of the many sample quiz templates that forms.app has prepared for its users. You can also edit ready-made quiz format templates according to yourself.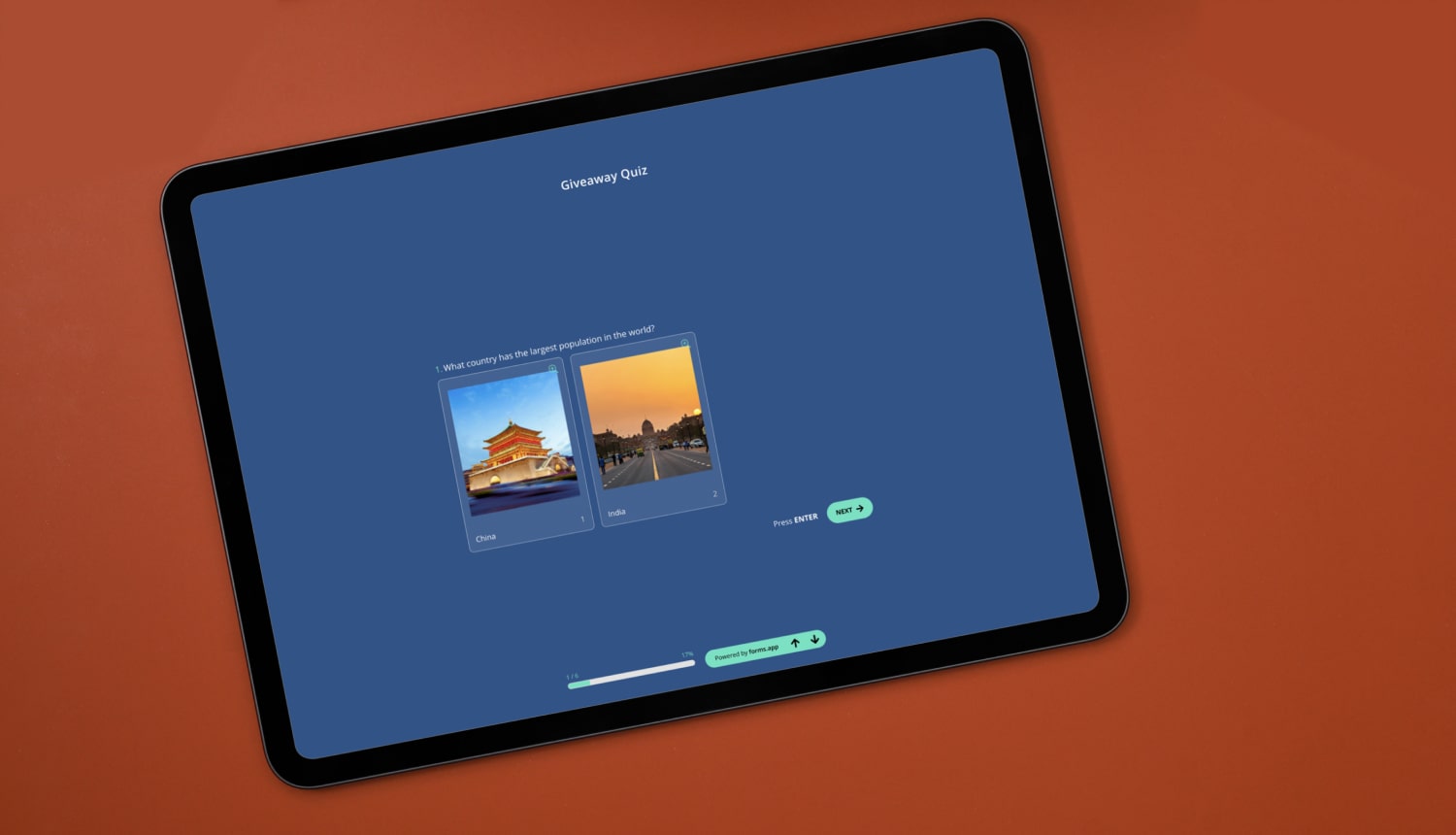 Benefits of using quizzes for online contests and giveaways
A fun technique to enter a competition is to create quizzes with a clear visual style that will attract your social media followers' attention. Using friendly tone questions and answer in online contests may be answered quickly. The system for signing up and participating is meant to be quick and interactive. There is no need to enter anything because the user selects their responses with only a click. It enables a fast, comfortable, and pleasurable user experience.
Giveaways also increase social media engagement for the company; It helps to build brand awareness and conduct market research. Moreover, create giveaways free on forms.app.
Advantages of using quizzes for online contests and giveaways:
Giveaways increase social interaction and advertise social media profiles.
It increases brand awareness for the company and its products.
Using giveaways builds brand loyalty and gets the customers to choose you again.
Giveaways; It helps you get more customers, make more sales, and ultimately grow the business.
It also expands the email list, bringing in more customers and increasing email marketing.
How to create a giveaway or contest quiz for free
It's easy to take advantage of the free template for quiz questions on forms.app. If you find it challenging to create giveaway contest quizzes, you don't have to worry anymore. It will be explained step by step how to use forms.app to create a quiz for giveaway contests.
1 - Determine the purpose of the giveaways contest: In embedding your quiz on the contest giveaways, you first need to determine your goals. Each contest and sweepstakes can have a different purpose, and you must set that goal upfront. With the sweepstakes, you may want to achieve one of the following purposes:
Gain followers on social media
Gain awareness on contest platforms
Get likes and comments
Get email subscribers
Increase engagement
2 - Choose a prize to be awarded to the participants: One of the things you need to enter sweepstakes on social media is an attractive prize. In order to increase participation in the sweepstakes, you need to determine your award and show the participants what you will offer before the sweepstakes. The size of the prize will also increase participation.
3 - Create the giveaway contest quiz: You can use ready-made quiz layout templates that forms.app offers to its users.
How to create an online quiz on forms.app
1 - Open the forms.app and create an account or log in: You can build a free quiz on forms.app. First, you should create an account or login forms.app.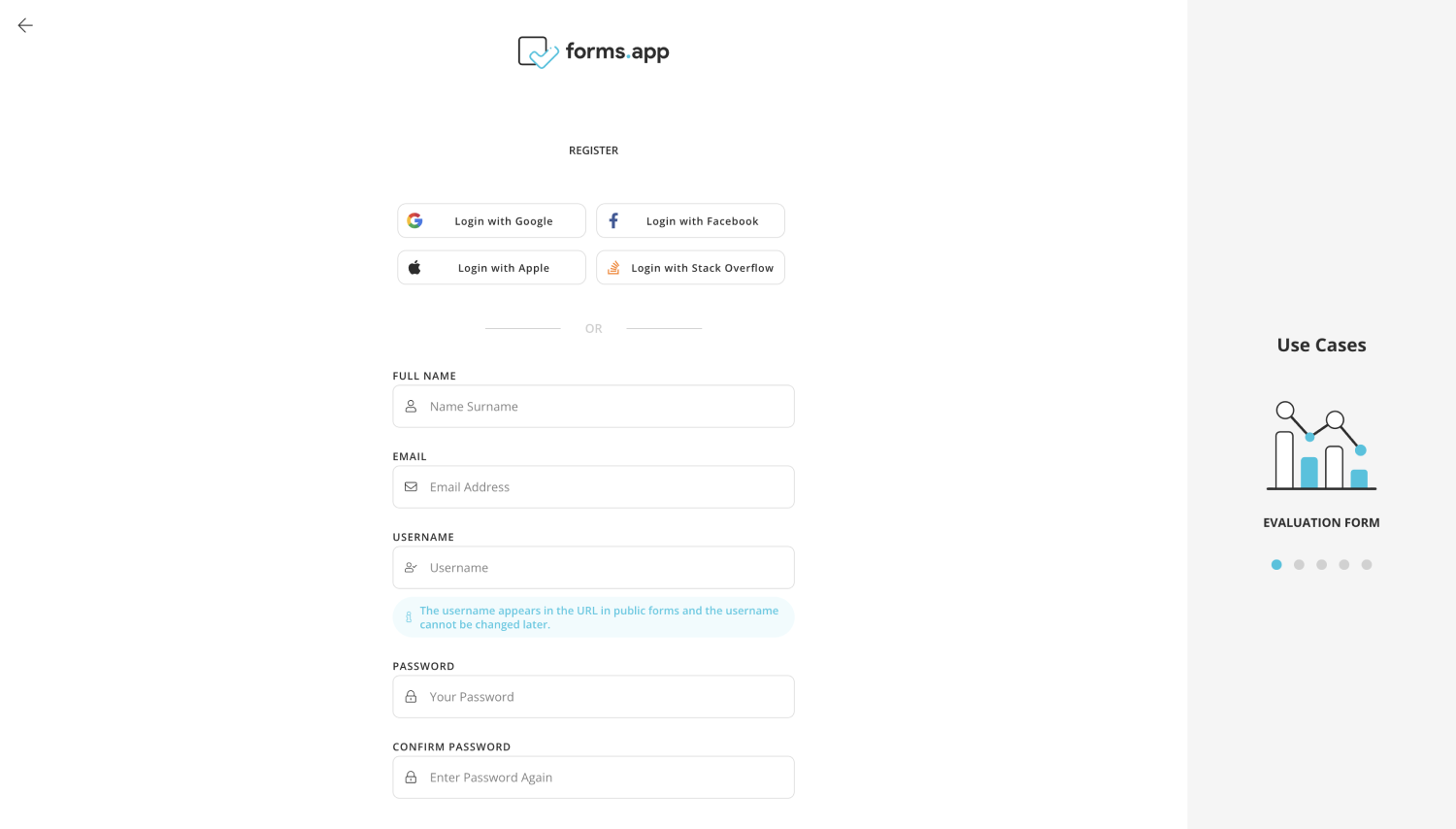 * * *
2 - Select a sample page or start from scratch: You may create a quiz on blank paper or use one of the ready-to-use, totally free quiz templates from forms.app. You may change, add, or delete questions as you choose.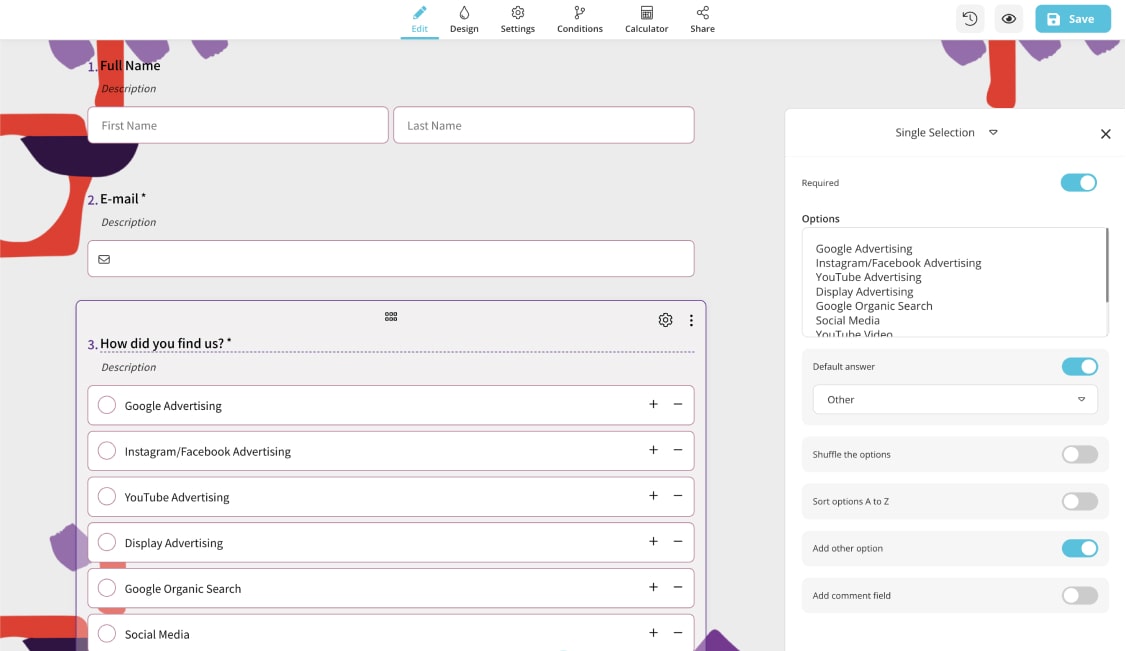 * * *
3 - Select a theme or manually edit your form's settings: You can also choose a different theme from the many options that form.app provides.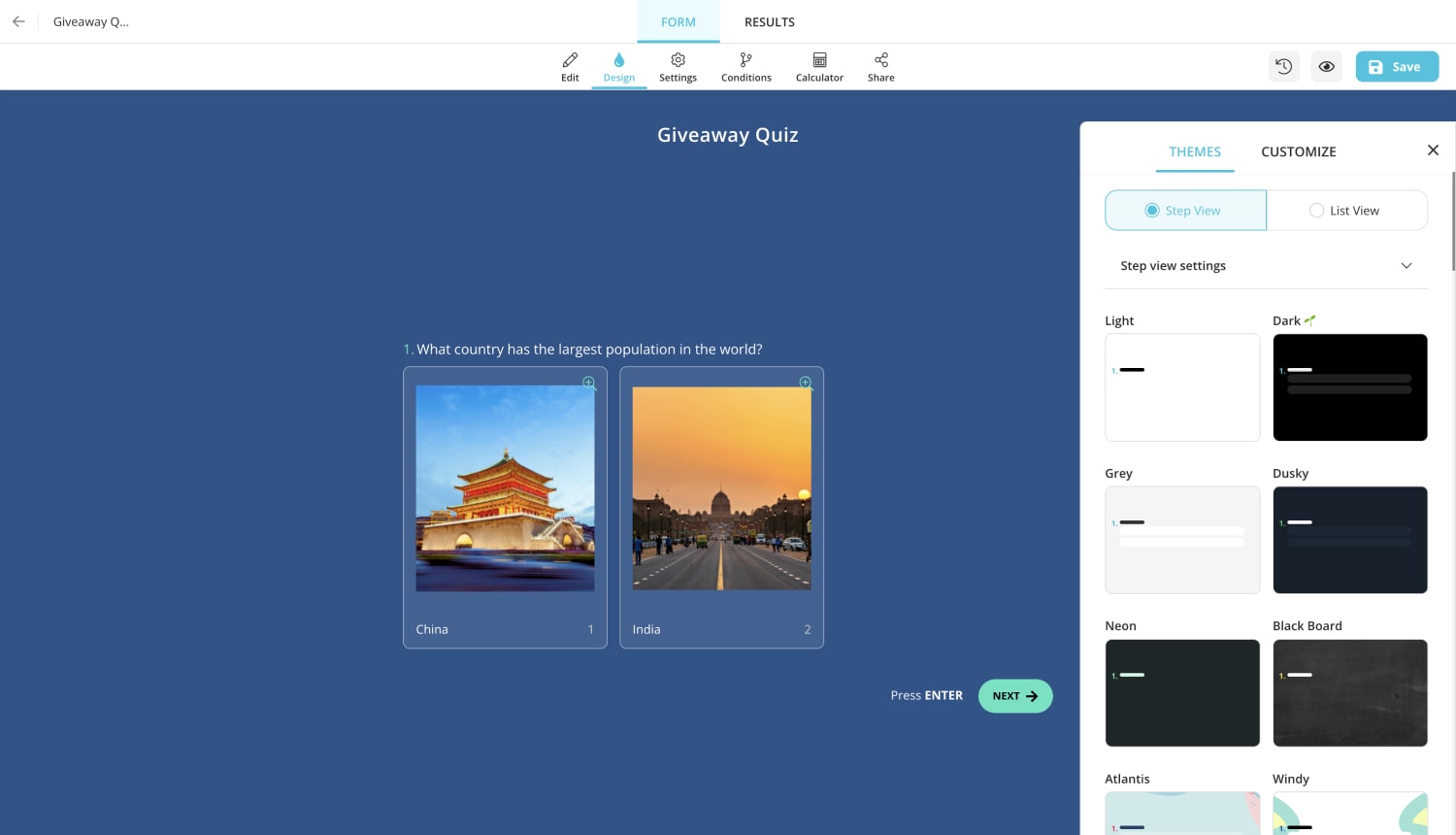 * * *
4 - Finish the settings, save them, then preview your quiz: After completing all sets, the quiz is ready to use! It is available for saving and sharing with the participants.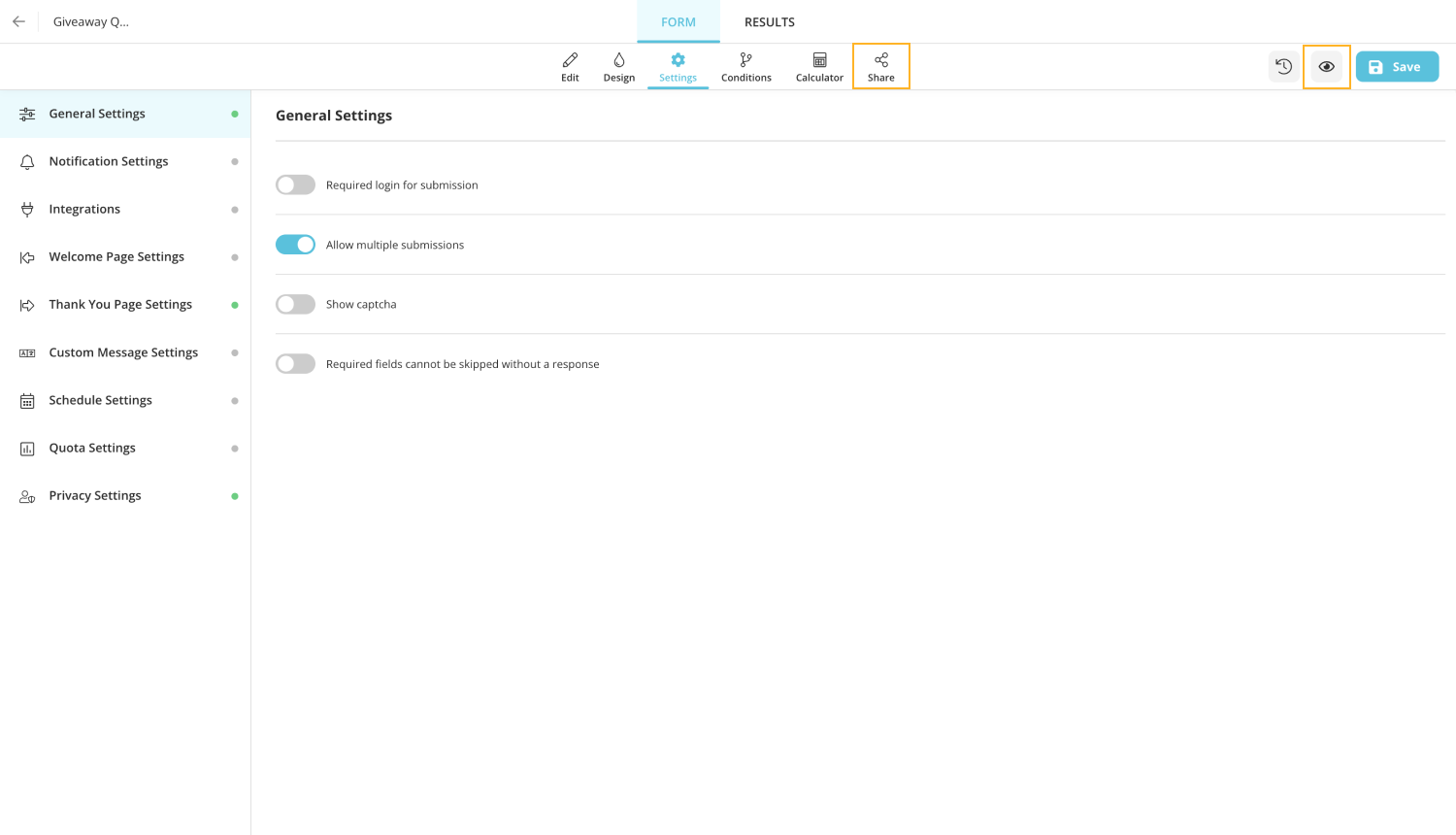 * * *
5 - Promote the giveaway and share it with your followers: Participation in the lottery can be pretty low if you do not promote it. If you are only doing this draw on a social network, you can also announce this draw on your other social media platforms. For example, you can inform the announcement of the raffle on Instagram on your Facebook page.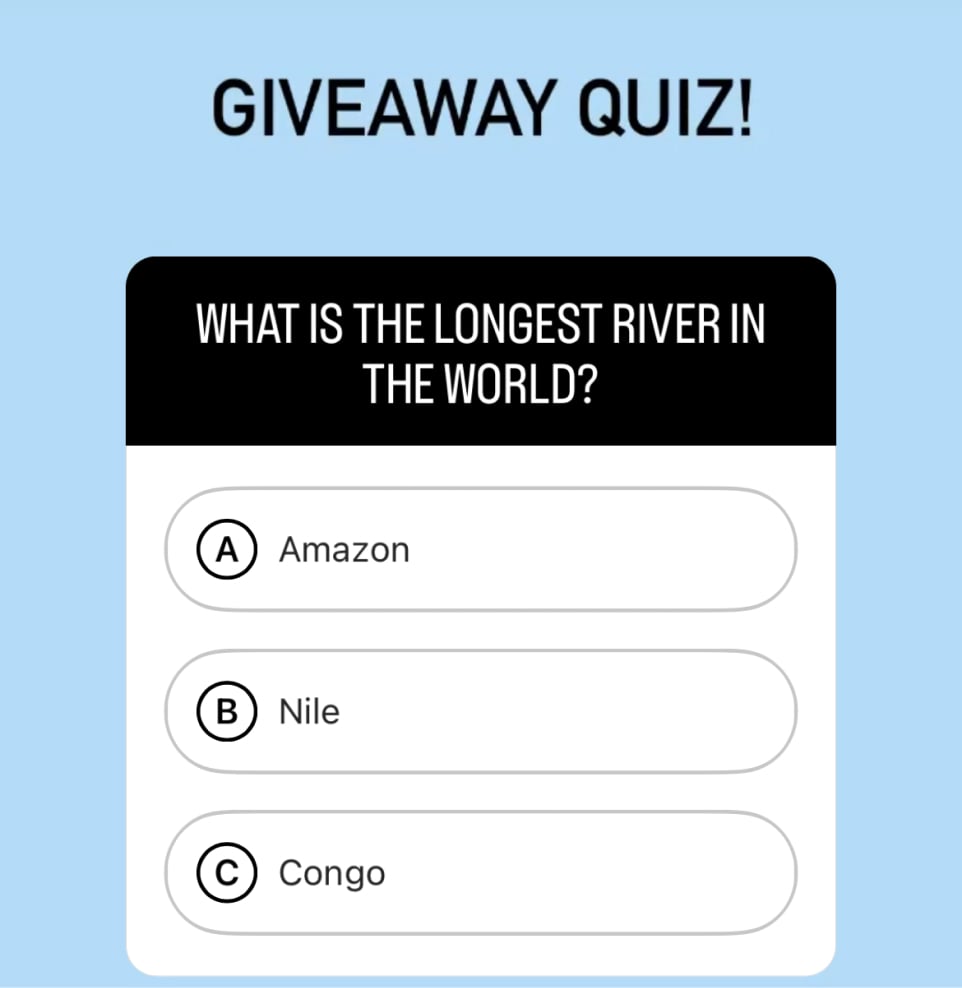 What's next?
You can ask about special days (Christmas, Valentine's Day, Mother's Day) while preparing giveaway contest quiz questions. At the same time, you can ask questions about fashion, football matches, and art, which everyone knows. You can increase the awareness of your brand by asking specific questions about your brand (logo, foundation year). You must predetermine the questions' answers and mark them on the quiz.
In determining the contest result and explaining the results, you should also show the users that the results are fair. To determine the lottery results, you must randomly select and share this result with a screenshot. The person who made the draw can review the answers and choose the person to give the prize. But, there are more practical methods for a multi-participant lottery.
So the answers can be thrown into a name picker app and randomly pick one. You can also use some tracking apps to be aware of mentions, analytics apps to get better insights, and other apps for better social media moderation. This way, you can complete the giveaway contest quiz effectively and fairly.
Free quiz templates to create your contest
Are you ready to prepare a giveaway contest quiz for your participants? This article has explained, step-by-step, how to make a quiz for a giveaway contest on forms.app that participants can simply access, understand, and complete. With the templates shown below, you can begin creating your quiz!