If you have ever wondered about selling stuff online you may have come across Shopify. Shopify is a popular platform for e-commerce for small businesses to use to set up their online stores. It offers everything you need to get started for your business, from web hosting to setting up your store without needing to write a single code. Therefore, Shopify can be a big help to your business plan. However, it should not be forgotten that it is not the only choice.
Currently, the business market irreversibly changes every passing day. And as shops, both small and big, want to explore the advantages of selling online, Shopify may not be for everyone. Some people may want more flexibility with their web design on the online store for their small business. Everybody deserves good software to help them with their online business needs and wants.
Just because something is popular, that does not mean it is the best and only solution. There are a few other Shopify alternatives that you can use to start your e-commerce business. In this article, we'll have a look at the 5 of the best eCommerce solutions for small businesses that are not Shopify.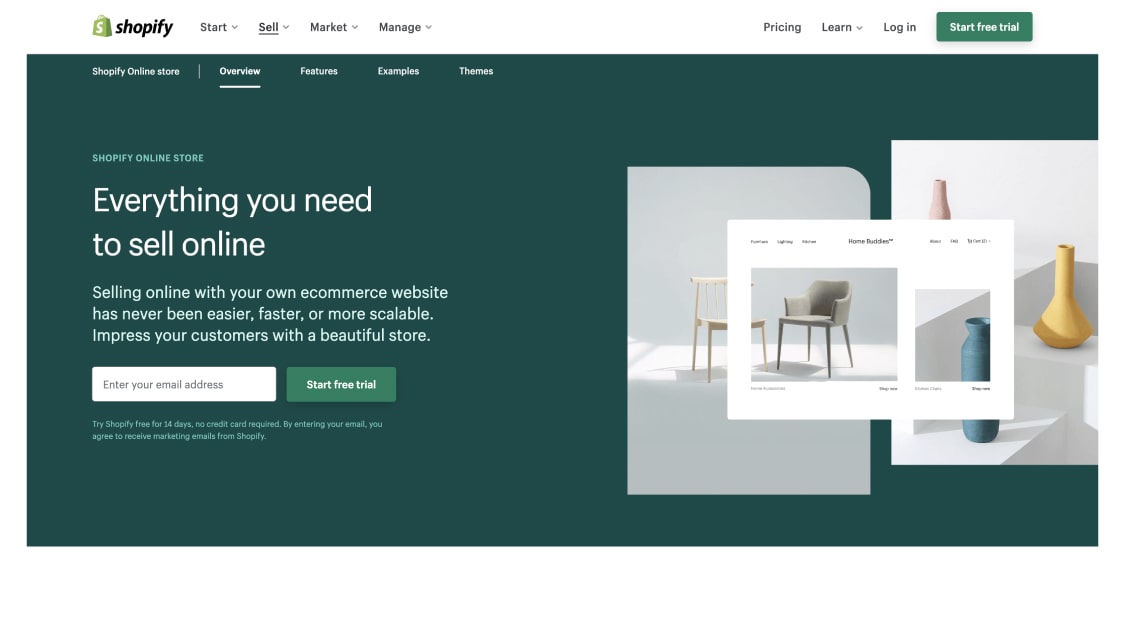 What is Shopify, and why is it so popular?
Shopify is a platform for businesses of all sizes to create an online store. It is one of the most commonly used platforms because it is easy to use and has a wide variety of features. Through the platform, you can build your website, manage products, sell across multiple channels, and more.
It can be the first website that comes to mind when one thinks about online stores. But, no matter how good it is there are always some aspects that have people look for other alternatives.
Price
The price of Shopify is more expensive than many alternatives as their basic plan starts from $29/month. In addition to this price, if you use any payment provider other than Shopify Payments, you still have to pay extra transaction fees (up to 2% of each sale).
And, unfortunately, the Shopify Payments system is still not available in multiple countries. Also, you will have to pay processing fees for credit cards. It is true that if you switch to a more expensive plan the fees decrease slightly, but it is still an extra cost.
Learning Curve
Shopify claims to be very easy for its users and this is true to some extent. But, it is also true that there is a steep learning curve for newcomers.
There are a lot of tutorials and 'How To' pages about using Shopify. They may be great sources to go through. However, this also proves there is a problem with its system that complicates the learning process. And, if you are busy with other work-related issues, you may have a hard time learning this website.
Advanced features
Shopify offers effective features to use, but it comes with a price. For example, real-time shipping rates, and the ability to accept gift cards are only available for more expensive plans. Therefore, even if the basic plan of Shopify is accessible to most, it lacks many advanced features. And, if you need extra functionality, you need to pay more.
As a business owner, you should always compare other options to see if an alternative is cheaper and its features are better. Because only then you can find the best online store platform for small businesses and make the right decision for your business.
5 Shopify alternatives you can use to start selling online
Starting an online store can be a great way to sell your products and services, but it can be difficult to know where to start. Each platform offers a different set of features and tools, so you'll want to choose the platform that best meets your needs. We went o a journey to find the best eCommerce software for small businesses and made our research. Without further ado, here are the top 5 alternatives to Shopify:
1. forms.app
forms.app is a simple, yet powerful, store builder platform that you can use to create an online store. forms.app is easy to use and comes with a variety of features, such as the ability to sell physical or digital products, add stack information, and accept payments. You can embed your forms on your website or use them standalone to sell your products.
forms.app is a known form builder platform that offers many smart and effective features to have the maximum result from your online store. It helps management from inventory management to placing product baskets to accepting payments. As forms.app is user-friendly even in a free trial plan, both small business owners and big company managers can benefit from using it.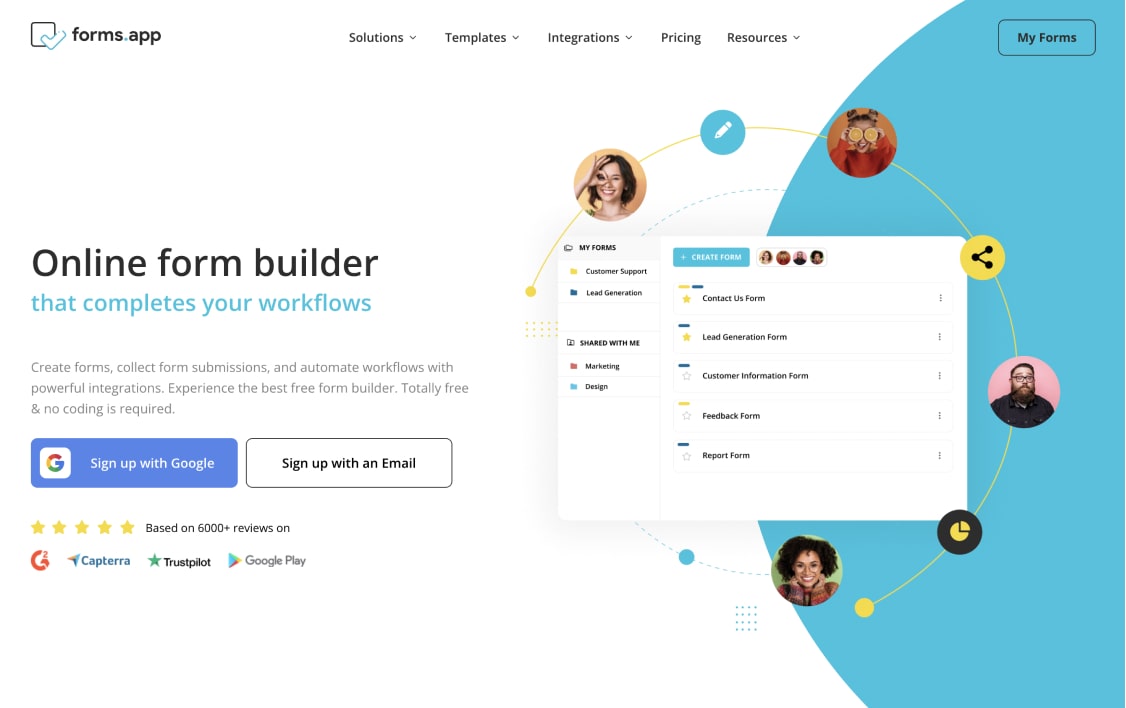 Pricing:
Free: 100 MB file space, 20 payment collections /month, 25 email notifications /month
Basic: $19 (monthly) / $12 (yearly) - 10 GB file space, 100 payment collections /month, Unlimited email notifications /month
Pro: $29 (monthly) / $19 (yearly) - 100 GB file space, 1.000 payment collections /month, Unlimited email notifications /month
Premium: $99 (monthly) / $59 (yearly) - 1 TB file space - Unlimited payment collections /month, Unlimited email notifications /month
Pros of forms.app:
Smart features such as conditions, calculator, and product basket.
Advanced customization features.
Quite helpful even in the free plan.
Colorful themes and background images.
Safe payment gateways.
It is simple and fast.
No need for coding.
No need for extra payments.
E-mail marketing advantages.
Up to 1 TB storage unit.
No commissions.
Cons of forms.app:
Limited payment options
200 product limit
2. Wix
Wix is a website builder that allows you to create an online store. Wix is free to use, but you'll need to upgrade to a paid plan to get access to features like unlimited products, coupons, and discounts. If you have limited experience with building a website, WIX could be a better option than Shopify. However, the eCommerce section of Wix came later and it can not really compare with eCommerce platforms.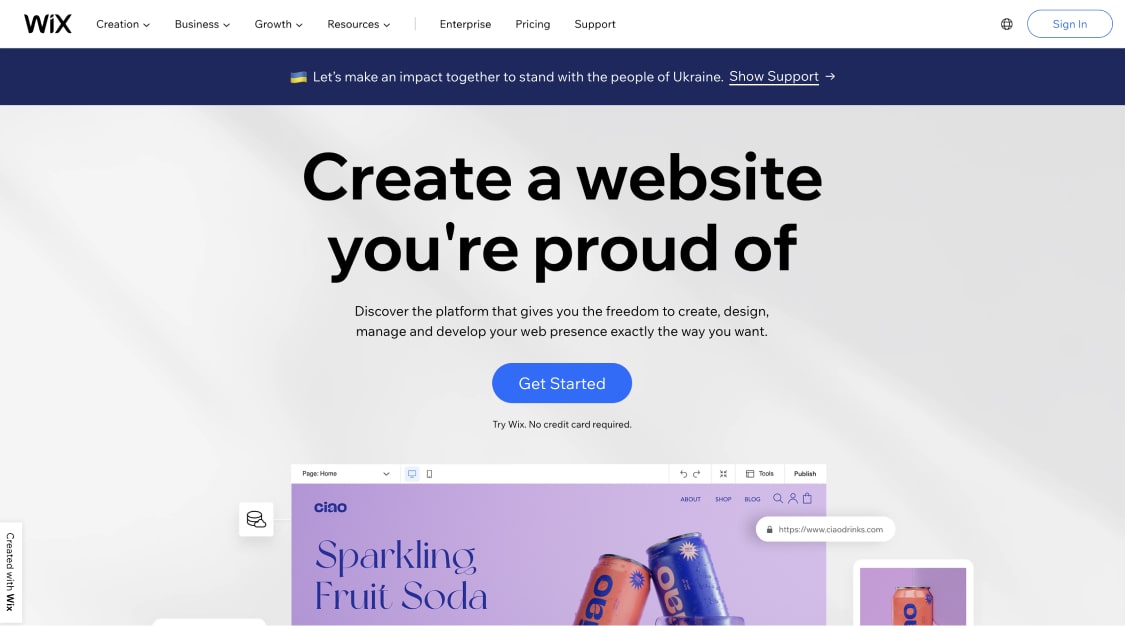 Pricing:
Business Basic: $27 - all the eCommerce features included, storage limited to 50 GB, up to 5 hours of video upload.
Business Unlimited: $32 -Subscriptions and recurring payments included, up to 100 GB storage, up to 10 hours of video upload.
Business VIP: $59 Includes custom reports, with unlimited storage and priority support.
Pros of WIX:
A drag-and-drop website builder.
Well-organized Help Center that's easy to search.
Each premium plan offers a free domain for one year.
It is simple and fast.
Smart features. (Subscriptions + recurring payments, dropshipping, label printing, product reviews, etc.)
An available mobile app.
Extensive add-on library.
Simple and easy-to-use interface for users.
Modern templates.
Advanced customizations and integrations.
Cons of WIX:
If you are not on an enterprise plan with custom storage space, you're limited to a maximum of 50GB.
It does not offer Apple pay or Amazon Payments as payment options.
No support via chat, so you have to call to reach them.
Wix offers many different website options that aren't focused on eCommerce. Therefore, Searching through the app store can be challenging.
There may be a feature to offer your store in multiple languages. But, unfortunately, it's not very SEO-friendly.
The real-time shipping option is only available in the US. It can not be used anywhere else in the world.
3. BigCommerce
BigCommerce is a popular Shopify alternative that offers a similar set of features and tools. Like Shopify, BigCommerce provides everything you need to create an online store, including a website builder, shopping cart, and payment processing. BigCommerce also offers a few unique features, such as the ability to create coupons and discounts, that you might find helpful for your business.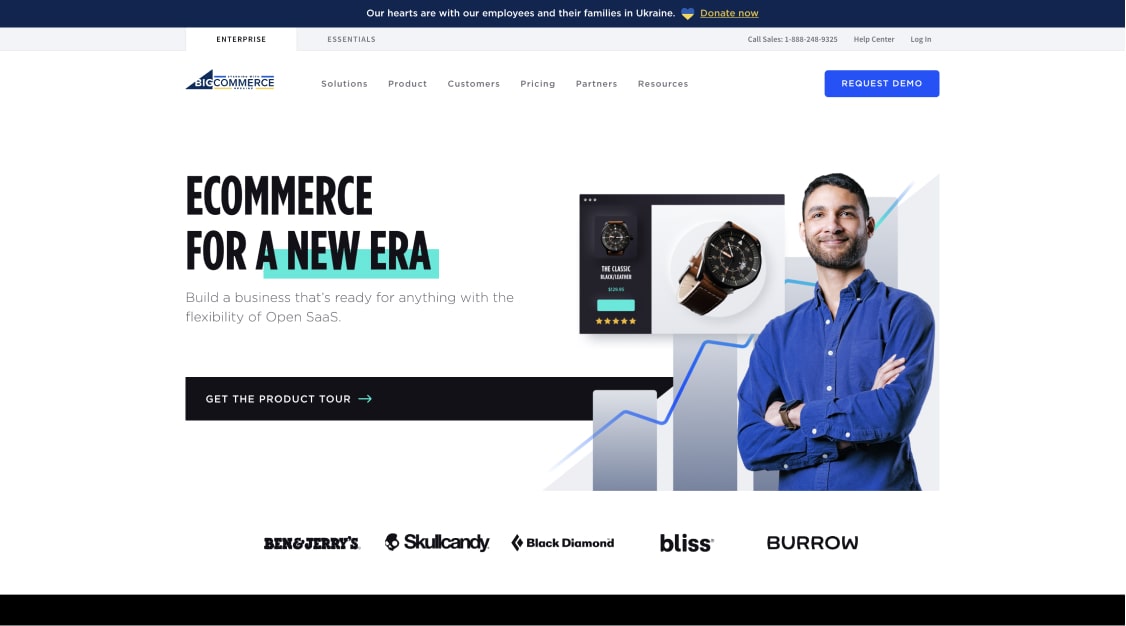 Pricing:
Standard: $29.95 monthly - ability to sell unlimited products.
Plus: $79.95 monthly - abandoned cart saver feature.
Pro: $299.95 monthly - Google reviews integration and product filtering.
Enterprise: A BigCommerce marketer will help you with a custom quote for your business.
Pros of BigCommerce:
Unlimited products, orders, file storage, and bandwidth.
24/7 live chat support for any plan.
Visual store builder.
Accept payments via PayPal, Stripe, Apple Pay, Pay with Amazon etc.
Manage orders and inventory easily.
Sell via Facebook, eBay, Amazon, and Pinterest.
Multiple marketing features.
Multi-layered hosting security.
Built-in product review functionality.
Encouraging return visits with email marketing.
Up to 600 product variants.
No transaction fees.
No need for coding.
Built-in SEO and marketing tools.
Cons of BigCommerce:
Because of the sales threshold, if you generate more sales than usual in one month, BigCommerce moves you up a pricing tier without asking first. And you are forced to pay more.
Creating regular content isn't as easy as it should be.
Unless you want to code it yourself, there is no multilingual store.
Store themes are limited (only seven) and they look too similar.
Premium themes are expensive if you want more than what BigCommers offers.
There is a limit to annual sales.
Loading speed is inconsistent.
Expensive for high-volume stores
There is a steep learning curve for beginners.
4. WooCommerce
WooCommerce is a popular WordPress plugin that turns your WordPress website into an e-commerce store. WooCommerce is free to use, but you'll need to pay for hosting and a domain name for your store. Once you've set up WooCommerce, you can use it to sell physical or digital products, create coupons and discounts, and manage your inventory.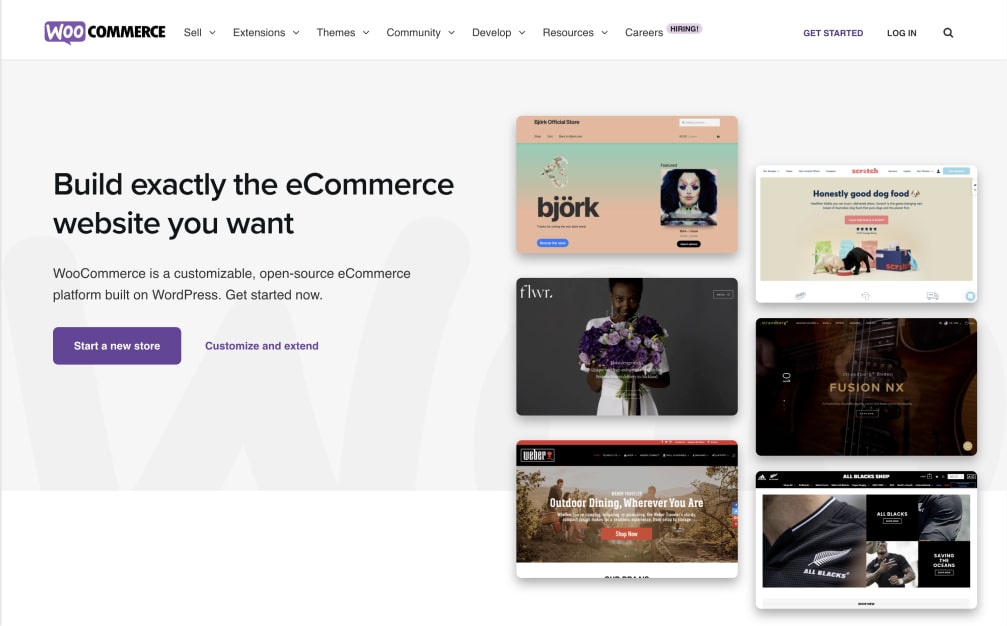 Pricing:
Hosting: between $8 – 25 / month
Domain: around $12 a year
Premium theme: around $59
Plugins and extensions: $25 each
Developer fees: $20-$150 / hour
Pros of WooCommerce:
Many add-ons and useful extensions.
Depending on the coding experience, it is 100% customizable.
The WooCommerce plugin is free.
The plugin itself is free to use with any WordPress site.
Integrating it with any WordPress site is easy.
It is open-source, so you can fully customize it.
Access to hundreds of free and paid extensions.
Cons of WooCommerce:
Learning and handling all the technical aspects of your site.
A WordPress website to start an online shop with the WooCommerce plugin is needed.
WooCommerce seems a lot cheaper than its alternatives however it actually may end up being more expensive because of the plugins, themes, and hosting.
It may not be the best option for beginners as it requires tech skills.
There is no direct technical support.
Even if the plugin is free, you still have to pay for the costs of domain hosting, an SSL certificate, finding an email provider, and other features.
If you don't know HTML or CSS you will probably need a dedicated developer or designer.
5. Magento
Magento is a popular e-commerce platform that's used by some of the world's largest online stores. Magento is free to download and use, but you'll need to pay for hosting and a domain name. Magento is a good option for businesses that want to have full control over their store's design and functionality.
Magento is ideal for rather larger businesses. If they have in-house programmers and the resources to alter the platform according to their needs it would be the best. Because the platform allows for advanced customizations if you know your way around coding.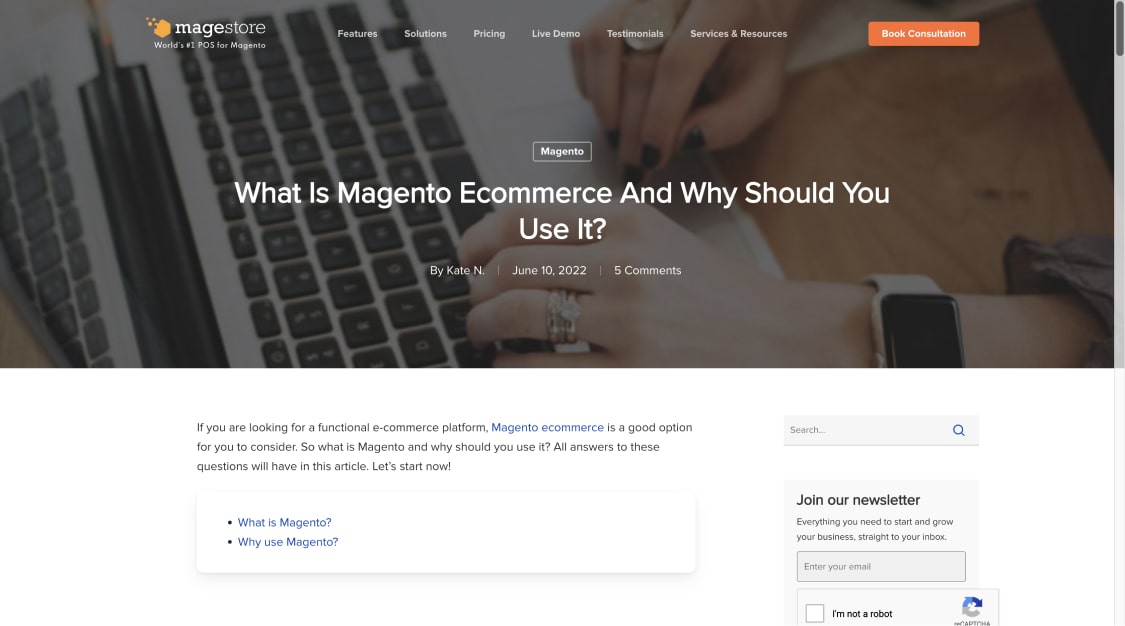 Pricing:
Magneto is free open-source software however, you will need to pay for web hosting and tons of additional costs for your store to run functionally.
The pros of Magento:
The customizing is flexible.
Rich inventory.
Effective feature list.
Many marketing tools.
A big user community. (over 260,000 developers)
Existing free plan.
No monthly service charges.
A wide selection of payment gateways.
Many extensions.
Advanced customizations.
Responsive designs.
The cons of Magento:
The necessity to have professional web design experience to set up a store.
Could be complicated for beginners.
Requires hosting,add-ons, and a theme.
High costs to complete the builds of your page.
No built-in payment processing.
No live support.
No built-in email marketing.
Requires hosting from you or a third-party web hosting provider.
No matter the plan you choose, you will need a developer to manage the maintenance of your website.
Magento provides patches and upgrades. However, as the user, you have to manage to install these updates.
Which Shopify alternative is right for you?
Shopify is a platform that enables entrepreneurs to start their own online stores. It offers users a wide range of features and tools to create an e-commerce business. However, there are some other platforms out there that may better suit your needs, depending on the type of e-commerce business you want to start. In this article, we've looked at 5 Shopify alternatives that you can use to start your own e-commerce business.
But which one is the right one? Which platform should you choose to start selling online without any hassle? Well, if you're looking for an alternative, forms.app may be a good option for you. forms.app is designed specifically for online forms and surveys, so it has some features that Shopify doesn't have. It's also less expensive, starting at just $12 per month.
forms.app offers numerous effective features to its users and it is completely safe and secure. Listing your products, giving them a price, selling them, and receiving payment will be no trouble if you use forms.app! There is no time for learning how to code for opening up your own online store. And there is no need either. Just go to forms.app find which design and form you are looking for, and you are good to go!
How to start selling online with order forms?
Order forms are a great way to collect your products on a safe platform. It is both easy and secure. Moreover, you can easily adjust the smart features to make it more appealing. And, here are what features to use to have better results on your order forms:
1. Add a product basket
What better way to show your awesome products to your customers than with a product basket? By using the product basket feature, you can visualize, list, and categorize your products to sell more, and easier.
2. Add pictures and details
Visualizing your product with some appealing photos will get your customers interested. You can specify the units, such as grams, pairs, packets, or servings. Adding stock limits to the form helps planning. When a product is out of stock, the customer will be informed and it will clear out confusion and mess.
3. Ask for their address
You can easily add a required address field to accurately collect the address on a purchase. Because, phone orders may lead to mistakes when writing the address, and this feature will ease this process.
4. Set the payment option
You can choose the best payment gateway by going through the options. It could be by visa, PayPal, Stripe, etc. Even though the transaction will be from afar it will be completely secure.
5. Create an email database
By using an online order form, you will have an opportunity to collect customer emails. You can collect their email address and use them as a marketing tool when you want to inform them that you launched a new product.
Our Verdict:
We gathered this information to answer the question 'what is the best eCommerce platform for small businesses and bigger businesses?' for those interested. On forms.app, you can open your form just by creating a simple order form. This of course comes with many advantages, let you sell without even a website, and it's free to try.
In conclusion, all of those alternatives offer something different from Shopify and are one of the best store builders out there. Once you decide on the right platform that has quality features to set up your online store, you are good to go!