Have you ever thought about creating a form on the web easily and do whatever you want with it? Now, it is not a dream and we are going to help you to understand what is a web form and that how you can customize it. Hang on to your hat, we are beginning.
What are the Web Forms?
Forms are easy-to-use and result-oriented tools that help people to get faster results. It can be both digital and in the paper. Through a form, you may conduct a survey, make sales, register members in your business and more. In manual forms, you must prepare every tiny detail, if it is a digital form you must also do coding, testing and debugging by yourself. By doing so, most probably you will have to make a lot of effort. However, with a form builder, you just need to enter the data you want it to be shown in your form. With the ease of use and pre-prepared templates, you can create the form you need in minutes. Besides, a large part of the form builders are totally free, so all you need to do is becoming a member and start creating.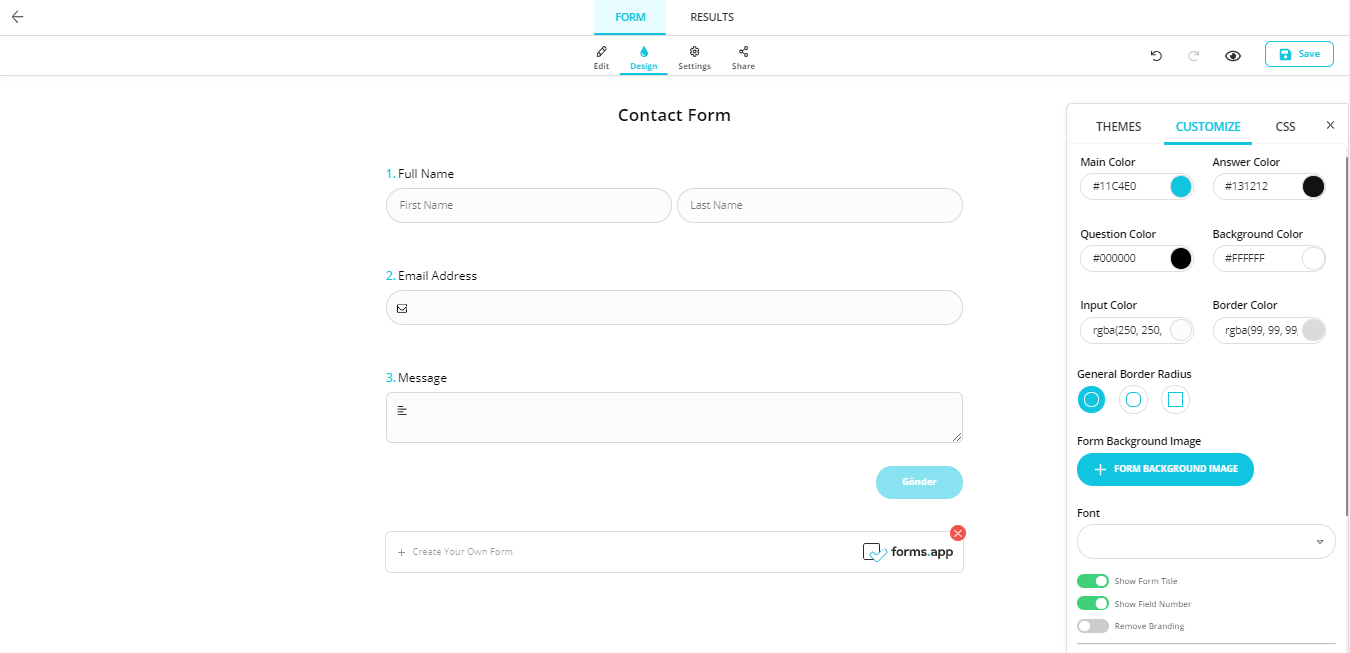 With a customized web form you can prepare attractive forms that keep your answerer away from boredom. You can also accept direct payment through PayPal through sales forms that you can prepare via https://forms.app/ for instance. On the other hand, the prepared forms are compatible with HTML, so you can directly upload these to your websites.
The best form builder
forms.app is one of the most efficient form builder websites. It can be said that the forms.app is among the most innovative form builder applications. With its easy-to-use and free features, you can customize your web forms and can create your own design. Even there are some premium packages that offer extra features, you can use the free form builder without any hidden cost. Moreover, there is not just a free-trial but a lifelong opportunity to use. The opportunities that forms.app offers are not limited to these. It also provides you with an opportunity to make online sells without a website. You can do that through creating an online sales form which is very easy to generate. Following the being a member of the application, "create click form" and fill out the necessary fields. In this customization page, you can add fields such as time, payment method and info like the name and delivery address of your customers that you will require. Here, you can add your products and get online payments if you choose to add the payment option. You can also share this form in your website, post it to your social media and redirect it to those you want to share with. There is also an opportunity to generate a QR code for that.
Do more things, use less storage
As you know, there are many mobile applications you should download to your phone in order to benefit their services. As a result, your smartphone swarms with applications that you use once a year and this may be annoying sometimes. Knowing this situation, forms.app offers you easy use without requiring a mobile application. With its mobile-friendly feature, you can use this form builder in your smartphone directly through your browser without downloading any extra app.
forms.app also allow you to share the survey results with people you want. You can also separate the answers and can share only graphics for instance. There is also an opportunity to set privacy settings allowing you to hide the results from specific people or groups. You can do that either creating a list or sharing the link of the results. Moreover, if you don't want any privacy you can set privacy settings as public. With such opportunities and features, forms.app is a candidate to become your number one form builder partner.