Mentimeter is a platform that allows you to transform traditional presentations into dynamic presentations. This platform is helpful for educational purposes, adding images, questionnaires, and more. Participants will answer questions and give instant feedback. The possibility to visualize the responses in real-time creates a unique experience.
The best part of the platform is that it allows you to collect real-time data and optimize data analysis. In any case, your presentations, which are a part of your business life, are now more professional, dynamic, and interesting with Mentimeter.
What is Mentimeter?
The Mentimeter platform enables you to create interactive presentations using digital tools like quizzes, surveys, and word clouds. For example, this app allows teachers to communicate with students in real-time, create surveys, and take quizzes.
This platform, where you can get live results, is ideal for seminars and events. Using the word cloud feature, the presenter can quickly collect data from the target audience, highlight the most frequent responses, and present information in an easily understood format.
Mentimeter Pricing
This platform, where you can reach unlimited participants, is free. The free plan offers you unlimited participants and unlimited slides. In addition, you can access up to 2 question slides and up to 5 quiz slides. All paid plans for professionals are as follows:
Basic Plan: $11.99 per month
Pro Plan: $24.99 per month
Enterprise Plan: You can find out the cost of this plan by contacting Mentimeter. In this plan, they provide you with enterprise-grade security and expert support.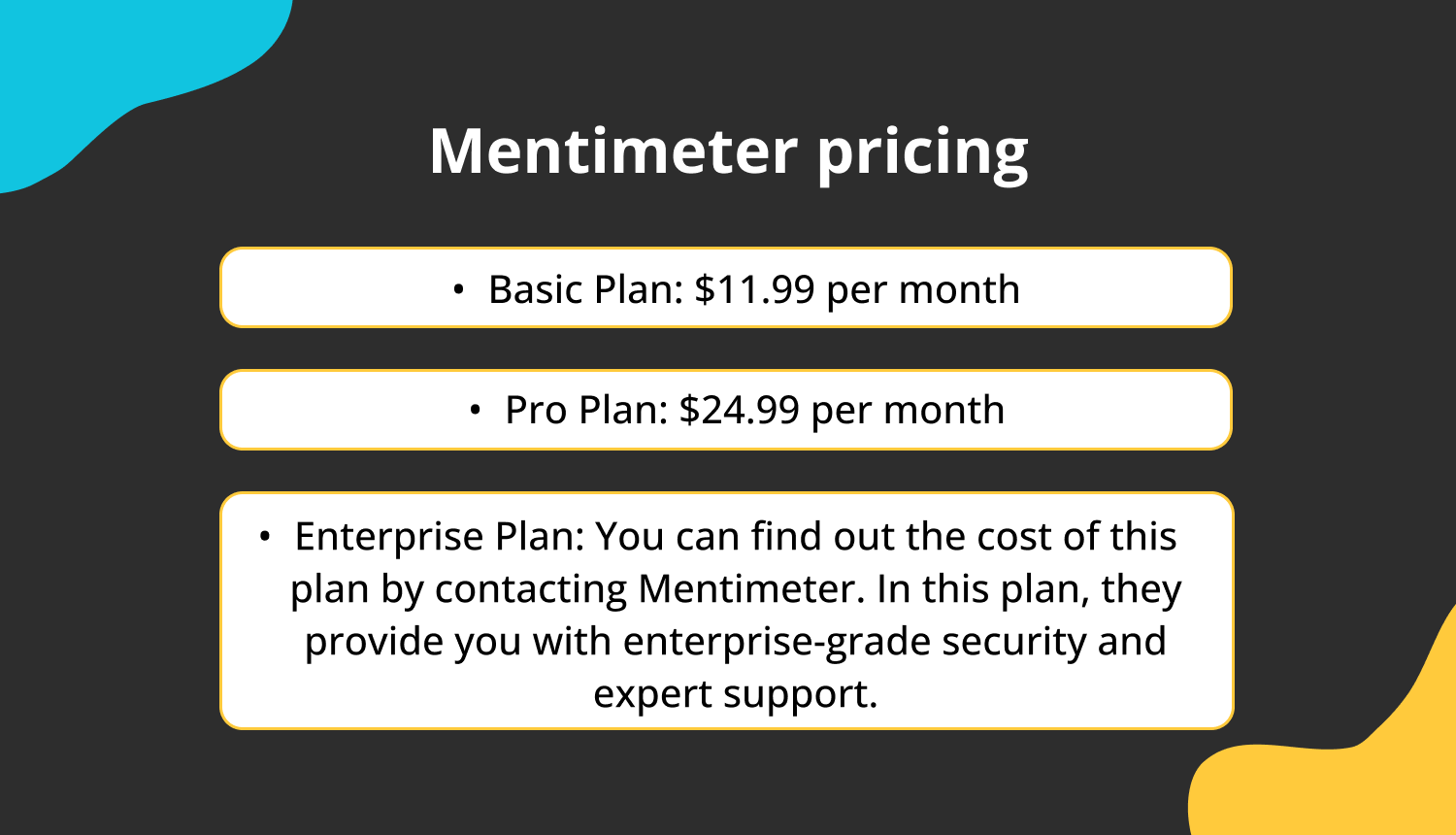 Mentimeter pricing
You will be charged a different price if you are a teacher or student: Basic Plan will be $8.9, Pro Plan $14.99, and you can find out the cost of this plan by contacting Mentimeter. Campus Plan.
Top 10 Mentimeter alternatives to use for free
Mentimeter attracts attention with its presentation, quiz, and survey features but does not satisfy the customer when it comes to price. We have listed Menetimeter alternatives free that offer you different features and plans. The best options for you are listed below.
1 - forms.app
The first alternative to Mentimeter is forms.app, which allows users to design online quizzes, surveys, and forms that are both aesthetically pleasing and professional. As a successful quiz creator, forms.app has rather an easy interface.
The quiz maker is free and available to everyone. It helps you in every field you need with a large selection of ready-to-use form templates. For more information on how to design your quizzes quickly and easily, see forms.app's article "How to create an online test".
Pros of forms.app:
There are various features that you can use in forms.app and it is quite useful even with its free plan. For example, using the calculator feature, you can easily show the outcome after assigning points to questions.
Thanks to its mobile application, you can access your quizzes from anywhere you want.
With forms.app, you can create a quiz with a wide variety of question types, as opposed to the free plan of Mentimeter, which only allows for two question categories.
Cons of forms.app:
The forms do not include certain types of questions. However, there is a question field that you can add according to your own wishes.
You can only receive a certain number of responses under the free plan. However, this problem is readily resolved by utilizing a chosen payment plan.
Price:
forms.app offers you a free plan that allows you to do many things easily. You need to subscribe to a paid plan to have all the features. These affordable plans offer great features for $12/month on a yearly basis. Otherwise, if we look at it on a monthly basis, only $19 will come out of your pocket per month. For more information on all plans, see the pricing page.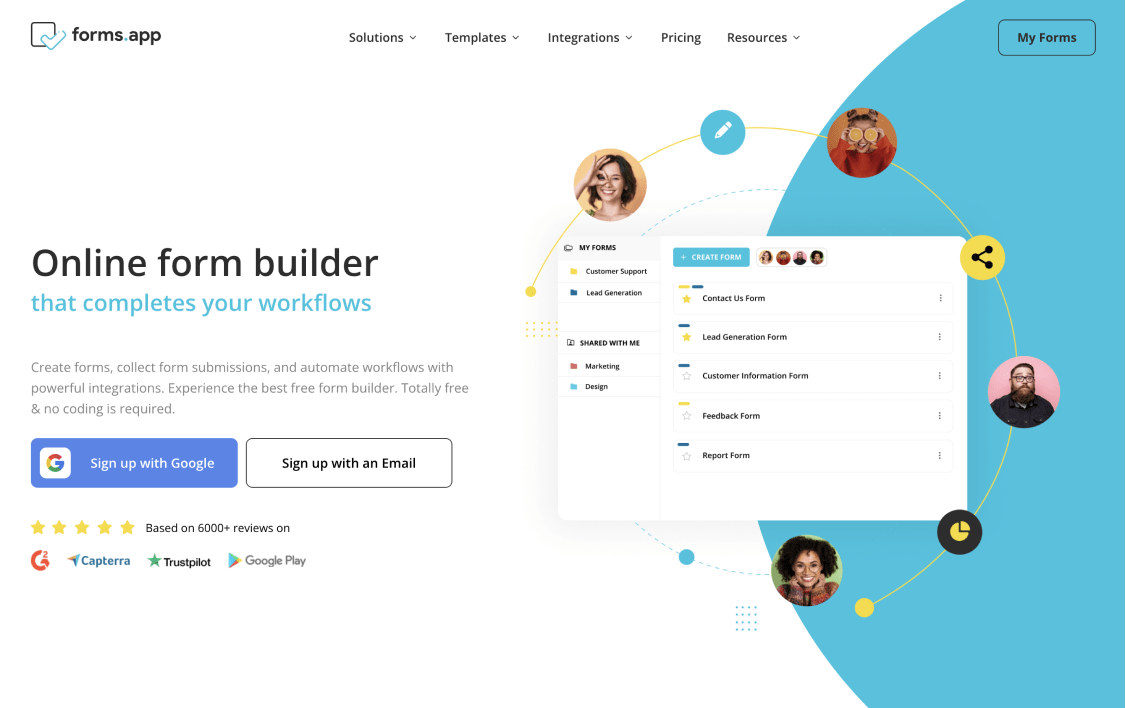 #1 Mentimeter alternative - forms.app
* * *
2 - EasyTestMaker
EasyTestMaker helps you create and manage automated tests online and is a platform from Mentimeter alternatives for free. There are various question types available with the tool, including multiple choice, matching, short answer, and true or false questions.
Pros of EasyTestMaker:
There are a variety of question types that you can choose from for your tests. These include true-false questions, short-answer questions, and more.
It lists the results to you with the smart scoring system. And you analyze these results quickly.
It is free, and this free plan gives you all the question types.
Cons of EasyTestMaker:
The free plan limits you to 25 tests, and this number is relatively low. You may have to choose a paid plan on this platform.
Price:
Paid plans have an acceptable price list on a yearly basis. If you are not satisfied, they will refund you your full payment, no question asked, within the first 30 days of purchase or upgrade. Plan prices start at $59.95 a year.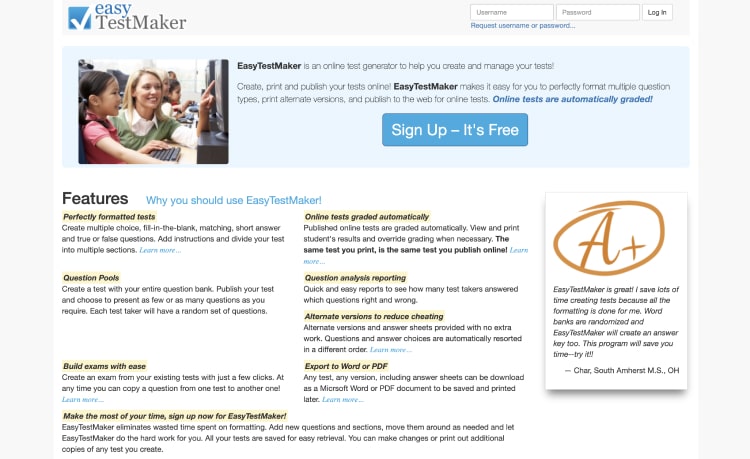 #2 Mentimeter alternative - EasyTestMaker
* * *
3 - Kahoot
Kahoot is a colorful quiz platform that lets you make fun quizzes. You have many options for creating tests using different types of questions, such as flashcards, yes/no questions, and multiple-choice questions. Also, Kahoot allows you to create interactive quizzes. Thus, you will be able to participate in the exams with your friends and make this situation fun. For more information on Kahoot, check out Kahoot alternatives.
Pros of Kahoot:
With this platform, tests, quizzes and exams are enjoyable. Thus, you will get more participants and provide a fun environment for them.
If you are unfamiliar with question types, Kahoot offers you a question bank.
You can create training slides and add pictures or videos to these slides. In this way, your slides will be more interesting, and the number of participants will increase considerably.
Cons of Kahoot:
Tracking student progress in Kahoot can be difficult. Only after you have a good understanding of the system can you overcome this problem.
It can be distracting and unpleasant to listen to background music. As a result, the student could get disengaged and lose interest in the lecture.
Price:
Kahoot is free to use in its basic plan. You can upgrade to a paid plan if you want more advanced features. If you are going to buy as a teacher, these plans start from 3 euros per month on a yearly basis. Paid plans welcome you with prices starting from 19 Euros per month.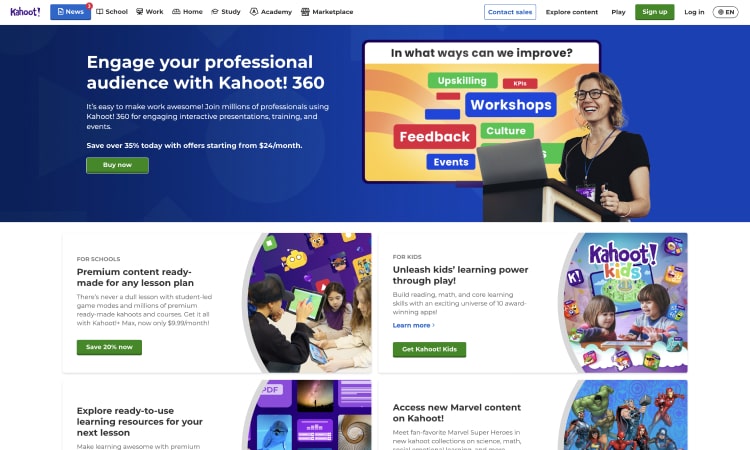 #3 Mentimeter alternative - Kahoot
* * *
4 - Quizlet
Quizlet is a platform that allows teachers and other users to create quizzes with different types of questions. It offers a wide range of topics and question types, including worksheets, games, and fill-in-the-blank exercises. With these materials, you can analyze your students better and create an efficient learning process.
Pros of Quizlet:
With the student activity monitoring feature, you can quickly determine the status of your student.
It includes a wide variety of learning modes. Thus, you can determine the best learning method for your student.
Cons of Quizlet:
It can be distracting as it contains ads in the free plan. Some ads are easy to ignore, but having ads on every page is quite annoying.
There is no assurance that the data is accurate because Quizlet allows any user to create and share a study set. For example, if a student signs in and chooses a set made by someone else, they may unintentionally examine inaccurate information.
Pricing:
Joining Quizlet and using it are both free of charge. Paid plans, on the other hand, give you various features, starting at $35.99 per year. On a monthly basis, it is only $7.99.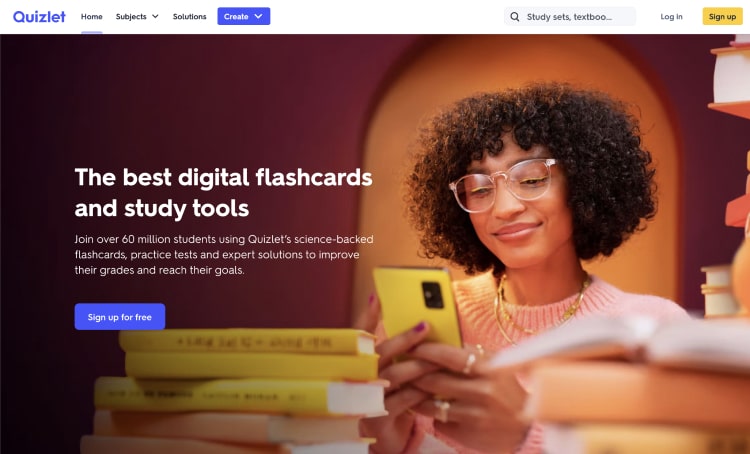 #4 Mentimeter alternative - Quizlet
* * *
5 - Canvas LMS
Canvas LMS is a platform that has adopted online learning management, used by educational institutions, teachers, and students to access online course materials, develop skills, and share knowledge. It offers educators an open-source learning management system.
Pros of Canvas LMS:
It allows the import and export of data via third-party programs.
This application allows you to add new technologies to the courses, so you have the opportunity to benefit from up-to-date training.
Cons of Canvas LMS:
Messages are not saved automatically. To do this, you must first reply to the message.
Whichever date an assignment or project is scheduled for, Canvas deletes these documents after the set date.
Pricing:
There is no exact pricing information for the other plans of the platform, whose basic features are free. Prices differ according to level, setting, and country of study.

#5 Mentimeter alternative - Canvas LMS
* * *
6 - FlexiQuiz
With the help of the online application FlexiQuiz, users can design tests and tests that can be distributed to staff or students. Quizzes can be made public or kept private. The platform offers eight question-type templates, time limits, question banks, and certificates, making it easy for anyone to create interesting quizzes or courses.
Pros of FlexiQuiz:
You can create unique tests using a simple interface without any technical knowledge.
The number of points awarded for each question or answer can be set. You can manage how quizzes or assessments created this way are scored.
Cons of FlexiQuiz:
There is no built-in survey on the site to evaluate candidate comments. For this, you need to find a survey site.
Prices:
You can access all the necessary features in the FlexiQuiz free plan to build tests with up to ten questions. You can also take examinations for free indefinitely under the free plan. Monthly plans start at $25, while annual plans start at $17 per month.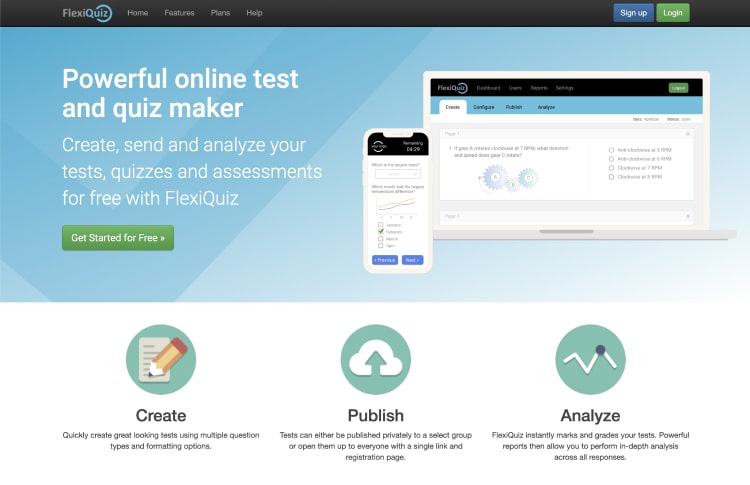 #6 Mentimeter alternative - FlexiQuiz
* * *
7 - AhaSlides
AhaSlides is interactive presentation software that enables teachers and public presenters to transform boring lectures and one-sided sessions into dynamic, impactful, and engaging presentations. AhaSlides is adaptable to your tastes and includes a variety of question forms.
Pros of AhaSlides:
You can use practically all of its features while on the free plan. But if you have more than 7 participants, this can become a problem. In this case, you need to upgrade by choosing one of the paid plans.
It offers affordable monthly and annual plans that you can cancel anytime.
Cons of AhaSlides:
While you can change the background, font, and color of the text, there aren't many options for placing your text and photos exactly where you want them on the slide.
You do not have the option to preview the presentation you have prepared. In this case, you must participate in your presentation from another device.
Prices:
Plans start at $15 per month and go up to $50 per month.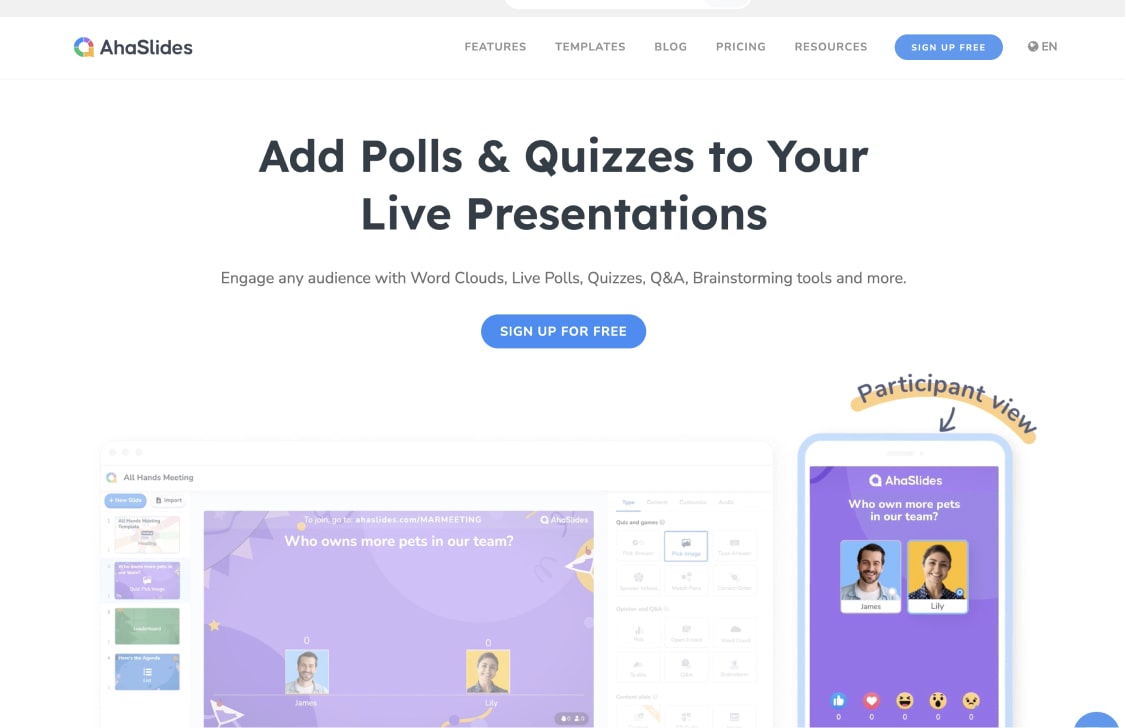 #7 Mentimeter alternative - AhaSlides
* * *
8 - ProProfs Quiz Maker
Another alternative, ProProfs, is a versatile platform like Mentimeter. This platform, which you can use to design interesting and interactive tests, is easy to use for both students and teachers. Besides being a classroom tool, it is also ideal for distance learning and blended classrooms.
Pros of ProProfs Quiz Maker:
The tool is simple to use and quick to set up. Besides, it offers you a simple and straightforward pricing structure with no hidden fees or month-end surprises.
With its multi-language feature, you have the advantage of creating tests that will appeal to everyone.
Cons of ProProfs Quiz Maker:
The free plan has limitations. And they give 15 days as a trial period.
Prices:
Prices start from $30 per month on an annual basis and from $40 per month if you purchase on a monthly basis.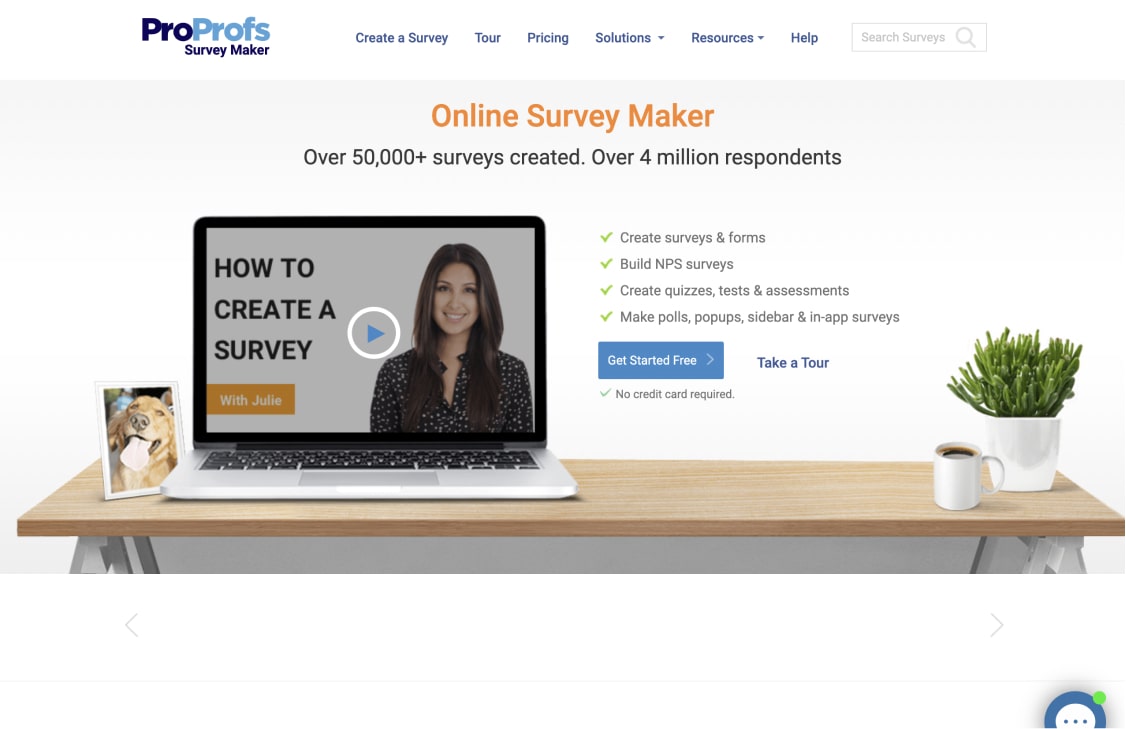 #8 Mentimeter alternative - ProProfs Quiz Maker
* * *
9 - Sporcle
Sporcle, a platform that includes online exams on any subject you can think of, makes learning easy and enjoyable with fun quizzes. Like Wikipedia, most of the content here is user-generated and edited. The four most important quiz categories entered by users are; Movies, Just For Fun, Sports, and Geography.
Pros of Sporcle:
It has a large number of exam categories. It is useful for teachers and students. A fun competition environment can also be created.
Prices are pretty affordable.
Cons of Sporcle:
Users are limited to 100 exams per month. When you reach 100 in a month, you have to wait until the 1st of the month to reset your total.
Price:
Prices are $44 per year; if you want to use it monthly, the monthly plan is $4.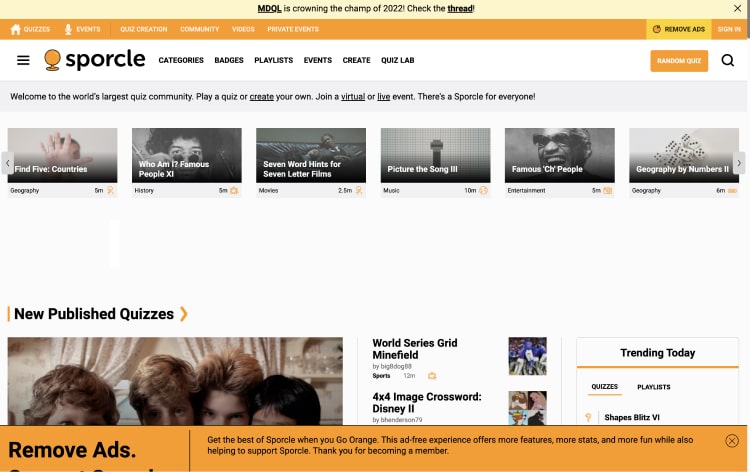 #9 Mentimeter alternative - Sporcle
* * *
10 - Quizizz
Quizizz is a handy quiz generator that helps learning and education. It offers you ready-made templates so you can quickly create tests. You can appeal to students of all ages with multiple-choice, fill-in-the-blank questions, surveys, checkboxes, and various other types of questions. Aside from this, after exams, it lets you display real-time quiz scores and quiz results on your screen.
Pros of Quizizz:
It is a great tool that students love to use to improve their educational skills. It motivates students with its gamification aspect.
Using the "teleport" feature, you can adapt the exams prepared by others to your own. Quizzes can be created quickly with these shortcuts.
Cons of Quizizz:
If you're looking for something more individual for group games, Quizlet might not be your game. Because you need at least six students to play a game and at least six cards in a flash card set.
The number of question types is lower than expected. When you can't find every question style, creating a quiz with the questions you need will be difficult.
Prices:
Upgrades to the 'Super' plan cost $3 per month, and get in touch if you want to learn about other plans.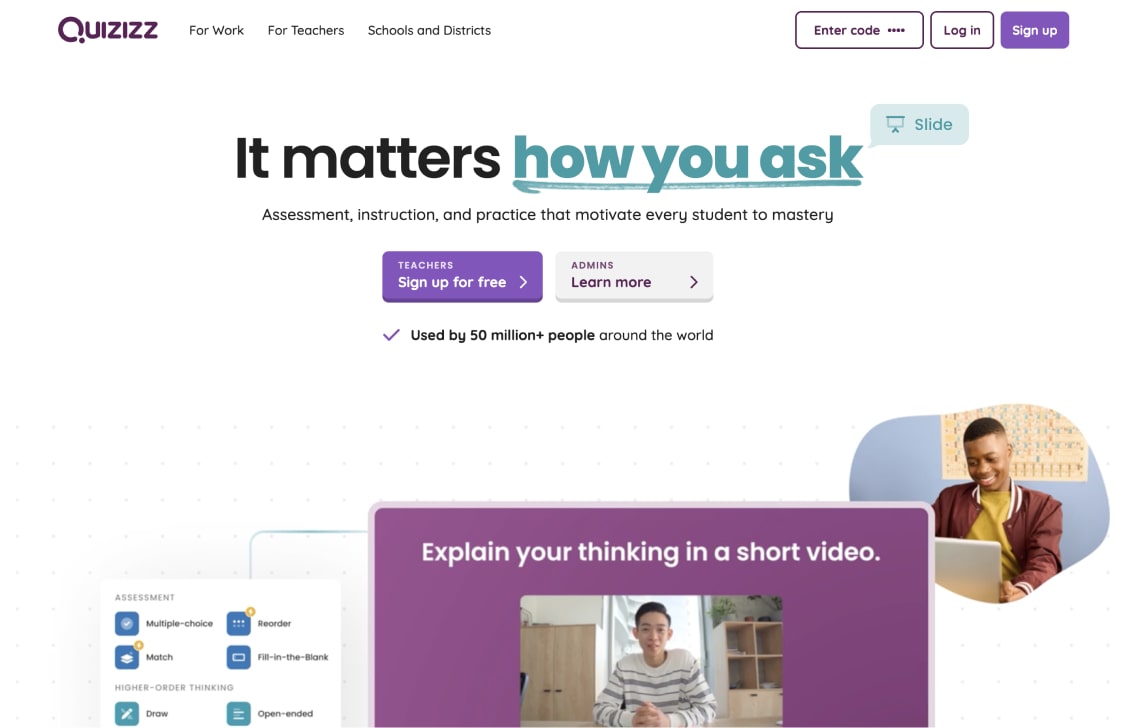 #10 Mentimeter alternative - Quizizz
Our verdict: The Best Alternative To Mentimeter
When we examine the Mentimeter alternatives mentioned above, it is obvious that forms.app would be the right choice. Standing out with its cheaper and eye-catching designs, forms.app is a professional online quiz maker.
forms.app, the online test maker, offers you free templates. You can use the quiz templates below to create your quizzes.