An excellent method to find out what people like and dislike about your company is to send out surveys. Designing a survey is simple, but getting people to respond to the survey you worked so hard to create can be quite a challenge. Because creating your survey is just the start. Getting potential and existing customers to accept this can sometimes be the biggest challenge. Of course, there are ways to make this easier for you.
You need a good survey response rate to get the information you need when you need it. The validity of your research depends on your capacity to generate additional surveys from your data. In general, it is understandable that if you give individuals what they want, they are more likely to participate in your feedback surveys. Based on the results of our study, we developed four strategies to increase the likelihood that your customers will participate in your surveys. In this article, we'll explain four effective ways to increase survey response rates, from sending the right message to offering incentives.
Why do you need to reach more people in your surveys?
Customer feedback is one of the most powerful tools for marketers and business owners to improve their strategies. And this is quite easy to do with online surveys. When conducted correctly, surveys provide numerical data that can be used to guide important decisions about people's needs and actions. Also, surveys are relatively inexpensive. Especially online surveys and mobile surveys have a very low cost per respondent.
As you gather the opinions, suggestions, and comments of your clients, you can learn what is significant to them. So when you compare it to your previous survey reports, you will notice changes that can move your company forward or hold it back. That means:
How much audience you reach matters
The more audiences you reach, the more data you collect.
The more data you collect, the more accurate results you will get.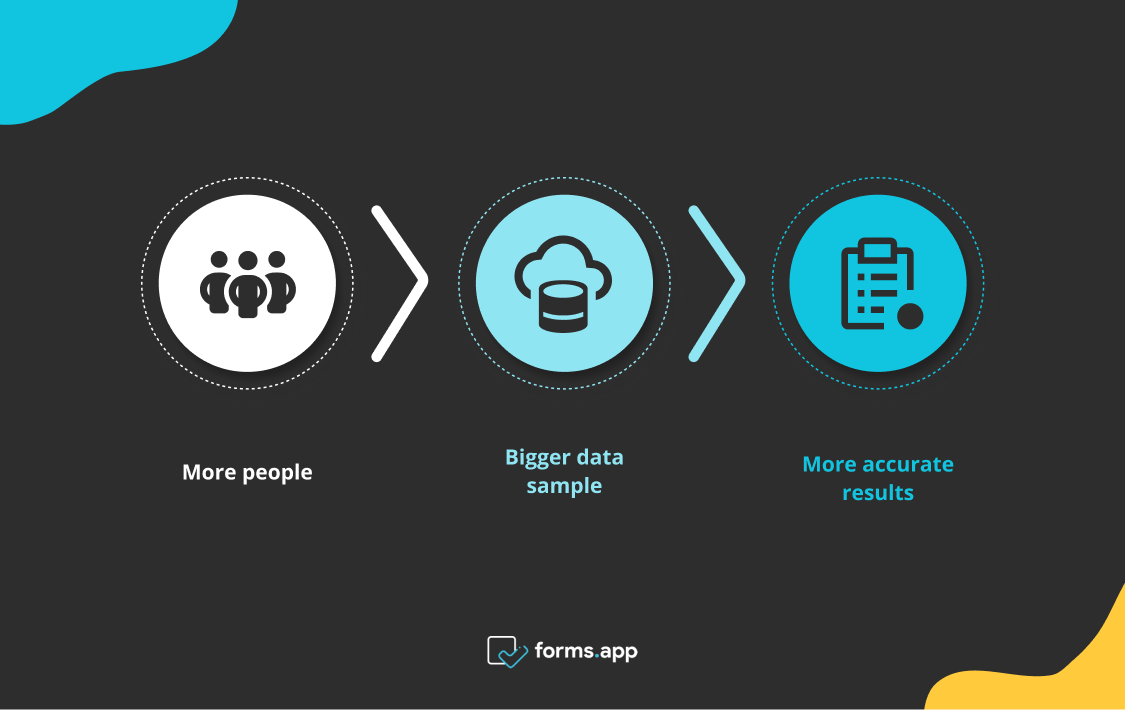 Why do you need to reach more people in your surveys?
4 simple ways to get more survey responses for free
Let's be honest; not everyone considers filling out surveys to be fun. But there are strategic ways to encourage survey participation. For example, you can identify your target audience and show your surveys to people who can relate, customize your questions based on them, and make your survey more engaging in terms of looks.
Achieving all of these is possible and actually very simple on the forms.app, the best online survey maker. You can take a look at our blog post and encourage people to participate if you are interested. Here we talked about four simple ways you can increase your survey responses. Now it's up to you to collect more answers to your surveys.
1 - Keep your surveys shorter
Long and multi-question surveys can always be boring. With many questions and long questions, they can have bad consequences for both the respondent and your business. Let's explain it like this. When the questions are long and long, it can cause the respondent to lose focus and choose random answers, and it will also cause the survey result data to be confused for your company. You should avoid them during the survey process. You should give only what you need for them and yourself.
Use short questions in your surveys and avoid unnecessary questions. If you want to ask the question to the person concerned, you can simply bring the next question to the person concerned, using the conditions feature of forms.app. Or you can continue the person who is not related to the question directly from the next questions. This way, people will be less likely to leave the surveys before they have finished. Therefore, you can make the survey shorter by not extending it.
2 - Send an engaging email to your subscribers
Emailing your survey is the simplest approach to making sure it reaches your subscribers because you already have their email addresses. Delivering your surveys with the perfect mix of different email types is key to keeping them engaged with your brand. This will increase the open rates and click-through rates of your emails, resulting in higher conversions.
Include their email address in your automated email queue as another opportunity to send a compelling email and request that your subscribers complete your survey. Considering that your mail will be delivered automatically, this method may be one of the most practical ways to ensure that your message reaches your new subscribers.
3 - Provide Incentives
If you're having trouble getting individuals to finish your surveys, try providing incentives to increase your completion rates. Undoubtedly, incentives increase the response rates of surveys. This will benefit both parties. Such incentives for your target audience to fill out surveys will make both parties happy. You will see this in your survey result data as well.
The most efficient strategy to increase survey completion rates is to run a giveaway. Encouraging a chance to win a prize in exchange for answering some relevant questions will help fill your survey without losing the limelight. Consider sharing the survey results with your respondents once you've gathered all of the responses if you're on a tight budget and can't provide discounts or incentives.
4 - Approach your target audience more personally
The final method you should use to reach your target audience is a personal approach, which involves approaching members of your personal network and asking them to take and share your survey. You can use several private messages where you can contact them. This message can be something like:
You can say, "We want to know what you think." This shows that you value their opinion.
Send custom reminders.
You can say, "Please take 5 minutes to complete our survey." This shows that you are respectful of their time by letting them know how long they have to complete your survey.
Include a few words of thanks in which you express your gratitude to them for taking the time to assist you during their busy day.
Wrapping it up
With the aforementioned pieces of advice, raising your survey response rate has never been simpler. The first step to truly understanding what it's like to take a long survey, which you then drop off, is to put yourself in your customers' shoes. If you still have trouble testing, experimenting, deducing, deciphering, reviewing samples, and creating the most responsive surveys available, forms.app has a great customer success team committed to helping users achieve their goals. Wondering what to do next? To collect your own survey responses, use forms.app.