Nowadays free online forms are a tremendous help in so many aspects of life. Does not matter whether you are a business owner, a freelancer, or a teacher. There is always a form that will help your needs. The forms help save time and automates workflows. Moreover, form submissions are easier than ever as online web forms are accessible to all.
For example, you may own a bakery and wish to collect orders from the comfort of your chair, then using a bakery order form will be your little helper. Or, you may organize an event and you want the registration process as smooth as it can be. In that case, using an online registration form will solve any problems that may come up.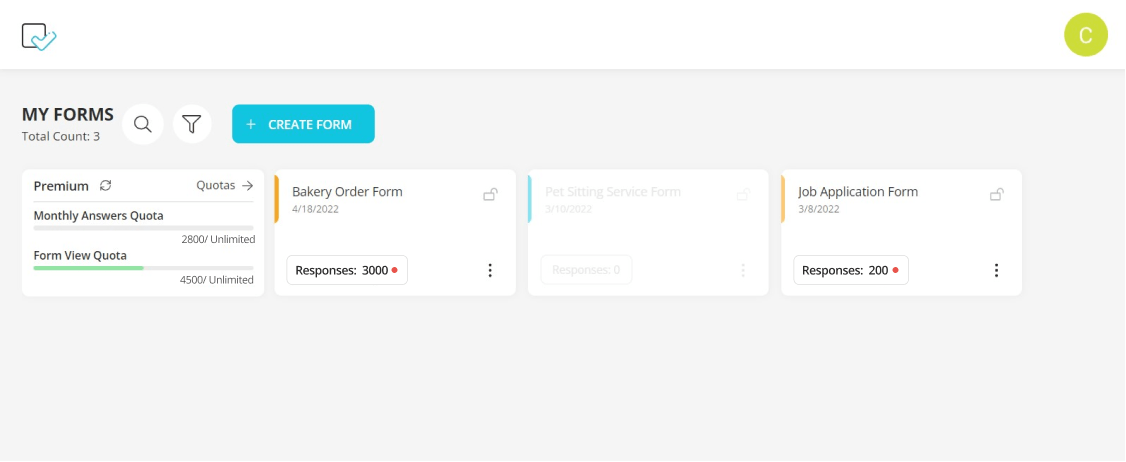 As we mentioned above, finding the suitable form to use is up to your purpose in creating that form. And, if you have doubts concerning which forms to use, you can check out great form types you can use for your business. Afterward, all you need is submissions. And, there are some smart ways to make sure you get more form submissions from your target audience. In this article, we will cover 8 awesome tips to get more submissions.
How to get more form submissions
When you choose the perfect form for you, the next step is creating your free forms online with the help of an online form builder, such as forms.app. forms.app is a powerful form builder that helps create beautiful forms. These forms can allow you to accept payments or to use them as a tool for email marketing.
There are many reasons why you might want to increase the number of form submissions on your website. Perhaps, you need more leads for your business, or maybe you're looking to collect more data from your users. In any case, here are 8 tips that will help you get more form submissions:
1 - Make simple forms
The first tip is to make forms as easy as possible for visitors to complete. This might mean making sure the fields are large enough or supplying helpful hints and directions. It might also mean ensuring that all of the information a visitor needs is readily available.
If a visitor on your website clicks on your form to complete it and is met with long and time-consuming questions, they are less likely to finish that form. The more submissions you get, the more data you collect.
2 - Use a headline that will stand out
The second tip is to use an attention-grabbing headline. This headline should be brief and to the point, and it should explain what the visitor will get by filling out the form.
3 - Use fewer fields
The third tip is to limit the number of fields on the form. The fewer fields there are, the easier it will be for visitors to fill out the form. Try to limit the form to only the essential information that you need. When a form taker looks at the form they should be able to see the entirety of the form to not get intimidated.
In addition, you can also use conditional logic forms.app offers to its users. By using that feature you can go into more detail by showing appropriate questions after certain answers.
4 - Make your form pleasing to the eye
The fourth tip is to have your forms fun and colorful. Just because you make your form short does not mean you should make them boring. As a form creator, forms.app offers many themes and designs to choose from. You can use one of the existing ready-to-use templates or start your own from scratch. If you do not have an idea to start, go through themes or choose the colors of your business.
5 - Use different question types
The fifth tip is to go with different question types. forms.app allows its users to use many question types to choose from. You can use open-ended questions, multiple-choice, or grid questions. If you want to know more about the subject, you can visit the article the ultimate guide to form questions on the blog of forms.app!
6 - Make an eye-catching form button
The sixth tip is to use an eye-catching call-to-action button. This button should be big and easily visible, and it should be clear what will happen when the visitor clicks it.
7 - Make people feel appreciated
The seventh tip is to offer something in exchange for the form submission. This could be a discount, a freebie, or anything else that would entice visitors to fill out the form.
Or, if you do not have the budget or means to give something out having a thank-you page, or sending a notification email with a nice message will get the same result. As time is very valuable nowadays, people like to feel appreciated when they spend that time on you.
8 - Embed the form on visible part of your website
Last but not least, the final tip is to share your form with the world. After you are done with your form, the next step is to embed it on your website's landing page, place it on your social media or share it via email. One of the most important tips to collect more submissions is to share that form with the target audience of choice. If people are not aware of your form, other steps will not matter as much.
These are just a few tips that will help you get more form submissions on your website. By following these tips, you'll be able to increase the number of leads or data that you collect from your users.

Conclusion
It is a known fact that web forms help in a number of ways. And, as the owner of the form, it is your obligation to make sure you have more form submissions. This will be no problem for you after these 8 awesome tips we have gathered for you. If you have these tips in mind the next time you assemble your form, you will succeed in your goal.