When it comes to forms, Google Forms can be the first thing that comes to one's mind. It is easy, free to use, and accessible to all. You can create your form in a matter of minutes and share it with your audience. But as with all good things, Google Forms also has some downsides.
For example, it is free and easy to use, but there are not many options for being creative. One might even say it is limited in the names of having a uniform. As a business owner, freelancer, or even someone who is looking to create fun forms, Google Forms is not the only choice. There are equally good or better form builders that will meet your needs. And we have gathered the 5 best Google Forms alternatives (free of charge) for you to check out!
What is Google Forms?
Google Forms is a form creature that is accessible to everyone with a Google account. It is free of charge and easy to use. People of any age can create forms as it requires no coding experience It allows its users to create forms in a matter of minutes.
If what you are looking for is a simple and effective form creature that is completely free, Google Forms is a good choice. But is it the best option? It could be effective for personal use however businesses could find it lacking in some ways. Let us have a look at the pros and cons of Google forms to have a better understanding:
Pros of Google forms:
There is no price for creating a form.
It is accessible via phones, tablets, and computers.
You can change the background colors.
You can add questions.
The results can be viewed in multiple forms, such as charts, percentages, etc.
You can add images to questions.
Everyone is familiar with the Google Forms theme.
Cons of Google forms:
The customization is very limited.
You can only change background colors, and that is it.
The number of templates is limited. There are only 17 templates that can be used.
There is no calculation feature to use.
No condition feature to go with.
Google forms do not offer safe payment gateways.
There are not enough collaboration capabilities.

The best Google Forms alternatives
Google Forms is usable by many people because of numerous reasons. However, it is not the only choice. There are differences between creators that offer various features that Google forms do not. As a business owner, freelancer, or someone who is interested in making forms, you should be mindful of the futures you value the most. Now, without further ado, here are five different forms create alternatives:
1 - forms.app
forms.app is a powerful form creator that offers many smart futures. It has more than 350 ready-to-go templates to choose from, and its colorful design is very eye-catching. Its free plan is very usable and allows its users all the futures. Moreover, anyone of any age can easily navigate their way through forms.app as it does not require any coding experience or knowledge. Now, let us have a look at the pros and cons of forms.app:
Pros of forms.app:
Simple and fast.
Advanced customization features to go with.
Very helpful in the free plan.
Professional themes and background images.
Useful features such as conditions, calculator, and product basket.
Safe payment gateways.
No need for extra payments.
Up to 1 TB storage unit.
No commissions when accepting payments.
Cons of forms.app:
Limited payment options.
200 product limit.
Lİmited responses in the free plan.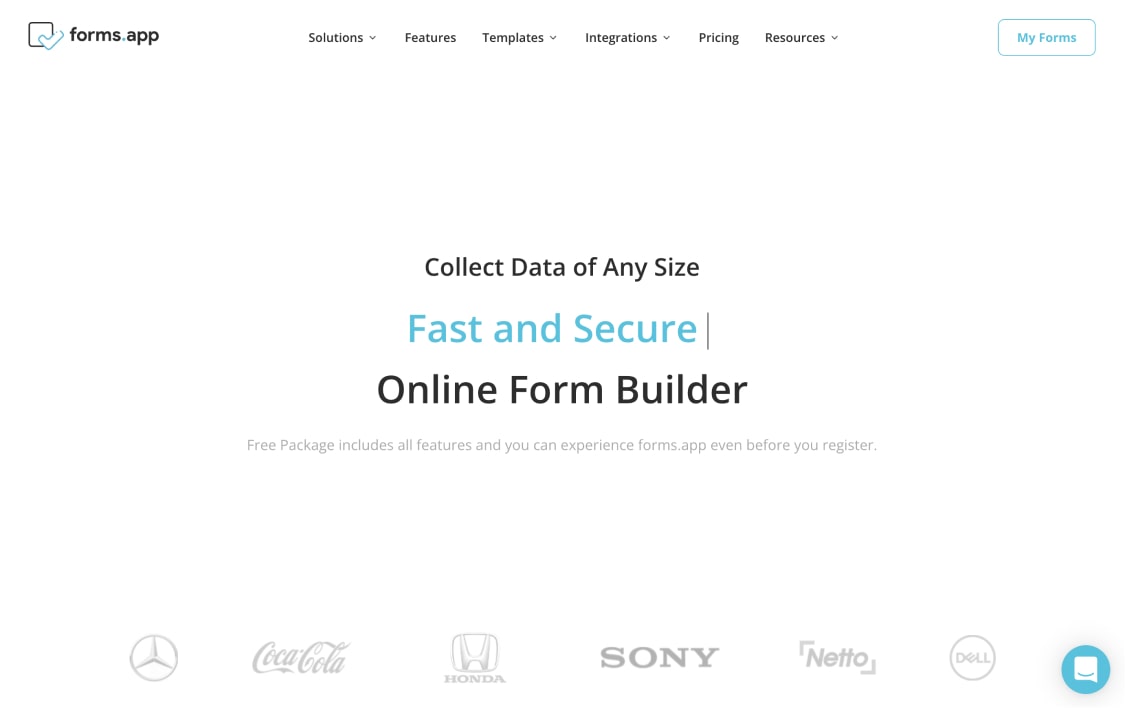 2 - Microsoft Forms
Microsoft's form builder is easy to use, and it is similar to Google Forms. As the name suggests, it is Microsoft's equivalent of Google Forms. Microsoft Forms is a good alternative for people who already have an Office 365 subscription. Because it is free for users with an Office 365 license. Microsoft Office allows you to gather form entries and view data in Excel. And here are the pros of cons of Microsoft Forms:
Pros of Microsoft Forms:
Multilingual support.
Easy to use.
With Outlook integration, it is possible to share your form via email.
Compatible on any device.
Bringing data over Excel is effortless.
Built-in AI and smart recommendations.
Cons of Microsoft Forms:
The folder organization is not available.
Text editing features are limited. There are no options for bold fonts, italic, underlined, subscripts, superscripts, or colors.
No calculation function.
Users can't save an online form for later use.

3 - formplus
formplus is a form builder with ready-to-go templates and offline use options.
With Formplus, you can create mobile-friendly forms from pre-made templates and embed them on your website. You can also do all these without writing a line of code.
There are numerous sharing options as well. You can share your form on social media with QR codes, email Invitations, and offline forms. formplus is a good Google Forms offline alternative that is free of charge.
Pros of formplus:
Formplus allows integrations with apps such as PayPal, Stripe, Google Drive, Dropbox, Microsoft OneDrive, and much more.
You can submit a file along with your form.
It allows collecting signatures from clients.
It is possible to use this form builder offline.
You can collect online payments and applications.
Cons of formplus:
If not set otherwise (after trying), you will not be informed when there is a new submission.
The options in gathering data are limited.
There is a big learning curve.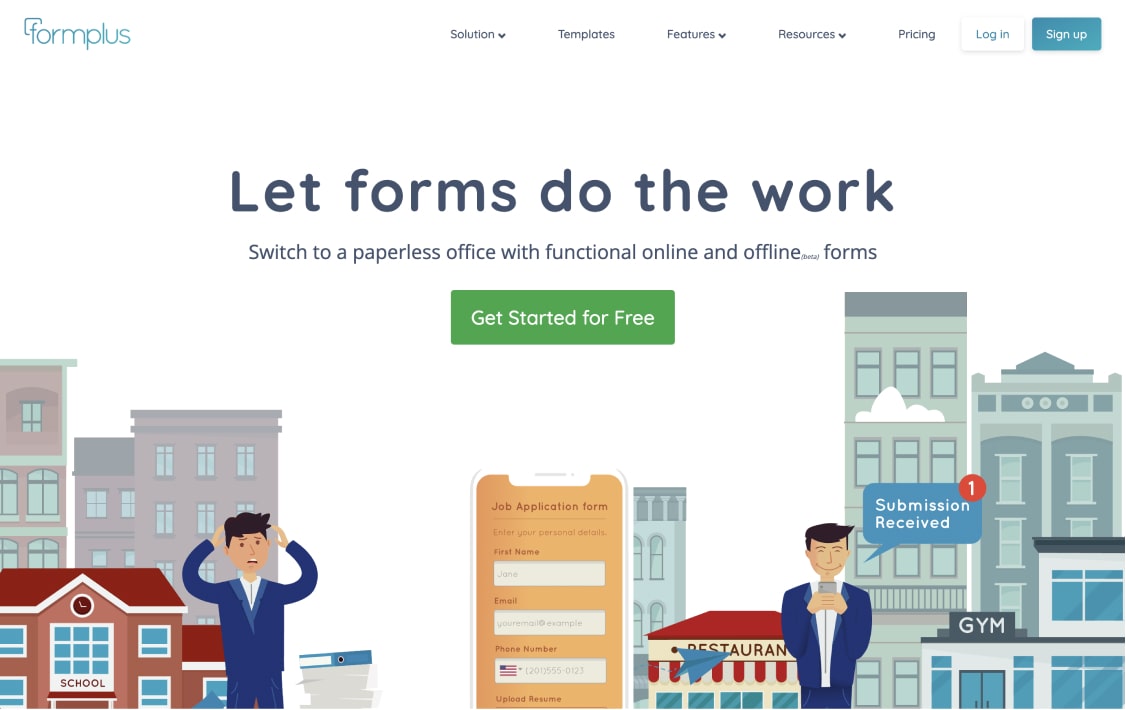 4 - Typeform
If you're looking to make unique and appealing forms, Typeform could be the one thing you are looking for. The design of Typeform is quite nice on the eyes. But it may require at least intermediate technical skills to go through. In addition to this, as it is a bit expensive, it may not be the best for small businesses or start-ups. Plus plan starts at 50 USD monthly, and only 3 users can use it at once.
Pros of Typeform:
There is a template for pretty much everything.
It can be used on any device.
Photo and video libraries support you in building good forms.
Advanced customization capabilities.
Integrations with third-party apps such as Google Sheets and Zapier.
Conditions feature allows going into detail.
It lets you accept file uploads through your forms.
Shareable reports help to analyze the performance of a form.
Cons of Typeform::
In the free plan, there is a minimal number of forms.
The paid plans can be expensive for some.
You can not get rid of Typeform branding unless you are in the "Premium" plan.
The interface begins to lag when creating long and complex forms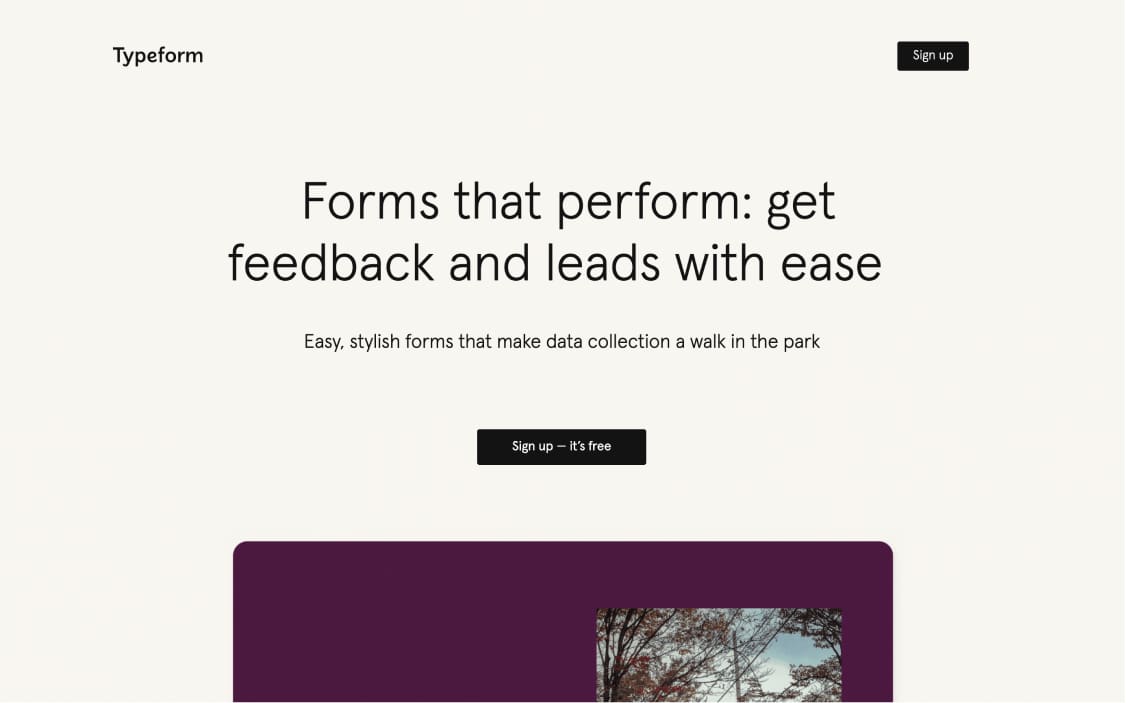 5 - Jotform
Jotform is an online form builder that is best for mobile-friendly and responsive forms. It has an online form builder, and you can start creating for free. The free version allows you to make up to 5 forms, hold 100 submissions, and have storage space of 100 MB. However, if you're looking for more form submissions, storage space, and no Jotform branding, you should think about upgrading to one of its paid plans.
Pros of Jotform:
10.000+ templates to use.
It is possible to move Google Forms to JotForm easily.
Each field in the form template is customizable
Report Builder to analyze form response data.
Safe payment gateways accept credit payments, such as PayPal, Square, Stripe, and other services.
Jotform has smart features such as conditional logic, calculation, skipping, or hiding a page.
Cons of Jotform:
The user interface isn't very easy and can be a little difficult.
Form scripts can slow your website sometimes.
The free version is limited.

Conclusion
Having a form on your website or your social media account for whatever reason is very smart. Because it saves time, budget, and manpower to achieve a goal. When you have an online form, you can get the job done without wasting any paper or making unnecessary phone calls.
And Google forms is the number one website that comes to mind for creating an online web form; however, it is not the only option. There are many good online form builders, and they all offer different features. We wanted to begin with google forms vs the 5 best alternatives, and after gathering all the information, we've come to a decision.
According to all the information, features, and functionality, forms.app is one step ahead of its competitors. It offers its users many smart features, collaboration options, and templates. Therefore for any business of any size and for any person who wants to create forms, forms.app will help them. you want to check out best form builder and survey tools of 2022.